Are you looking for a cenote near Playa del Carmen to visit? Well, you're in luck because there are many cenotes close to Playa del Carmen. Cenote Azul and Cenote Cristalino are two of my favorite, and they are close enough to walk from one to the other, so you can do them both in a day!
The Yucatan peninsula is famous for many things, but my favorite is the cenotes. There are thousands! Some are easier to get to than others. If you are staying in Cancun, Tulum, or Playa Del Carmen there are 2 really easy to get to and beautiful Cenotes just off the main road between Playa del Carmen and Tulum.
In this post, I will share everything you need to know about visiting this cenote near Playa del Carmen, Cenote Azul, and Cenote Cristalino. Including getting there and back and some things to be aware of before your visit. Wondering what a Cenote is? Read this great post explaining all about Cenotes.
Want to Do a Cenote Tour in the Riviera Maya?
QUICK TIP: Book your tours, rental cars, and transfers through my local contacts

I've been working with Living Dreams Mexico for years and they are who I send all my family and friends to when they visit the Riviera Maya. I really can recommend them enough for private tours and experiences. They have solid 5* reviews on Trip Advisor and Google from almost 4000 reviewers! You can view all their tours here.

If you're looking for private airport transfers and rental cars then Vanessa and Oliver from Turismo Channel are personal friends of mine and I can 100% recommend them to make an inquiry click here and complete the form. Someone will be in touch within 24 hours.
What to Bring With You:
Non-toxic natural sunscreen and repellent – You will not be allowed to use sunscreen in the cenotes as it kills the fish. So either bring a cover-up like a rash vest or invest in some non-toxic sunscreen.
Food if you are going to want to eat as there won't be anything available
Did You Get Travel Insurance Yet?

The Insurance companies I recommend are Hey Mondo, Safety Wing, and Travel Insurance Master

Hey Mondo is great if you are looking for a great value flexible policy. They offer single-trip cover, annual multi-trip cover, and long-term travel cover. Safety Wing is great value, with monthly coverage starting at $39. It's super easy to use, and it just renews each month. I currently use them as they offer me free cover for my son as part of my policy. I also use Travel Insurance Master for short trips.

Read my full travel insurance post here, where I go into detail about all companies.
The Cost to Get Into Cenote Azul and Cenote Cristalino
It costs 100 pesos to enter and it is 40 pesos to rent a mask and snorkel (you will be asked to leave your ID as a deposit for the snorkel set).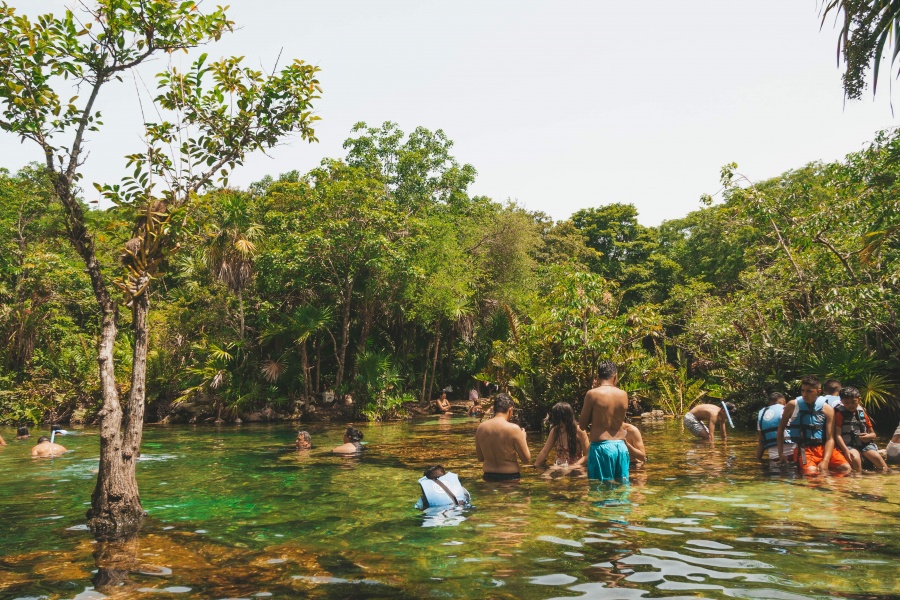 How to Get To Cenote Azul and Cenote Cristalino
This is by colectivo. Simply wall to Calle 2 between Ave 5 and 10 is where you will find all of the colectivos. Just look out for signs to Tulum or someone shouting Tulum. As you don' want to go all the way to Tulum just tell the driver cenote Azul or cenote Cristalino and he will stop for you. There will likely be others heading there if it is a nice day.
Hop on and take a seat. The prices are all fixed and you will pay on the way off. To get from Playa Del Carmen to either cenote you will pay 35 pesos each way.
To get back to Playa simply cross over the road and wait for a colectivo heading back towards Playa. When you see one put out your arm and if there is space it will stop.
Quick Tip: I highly recommend booking all of your Mexico transportation with GottoGo. You can search for buses, shuttles, ferries, and Flights on their website. What I love most about them is their customer service. I know these guys personally from living in Guatemala, and they look after their customers.

If anything happens and you get delayed and miss your bus, you can just call them, and they are always there to help. If you book through them, you will pay a little more than booking in person at the bus station. But it's worth it for the ease and security. Click here to search for transportation in Mexico.
Cenote Azul
This one is my favorite. There are lots of different pools and one side is mostly shallow so you can chill with your friends and chat while keeping cool in the water. There are some fish to see but it's not as great as there as so many people. It's the better one if you have children because of the smaller pools and it is also more undercover so the sun isn't such an issue.
One of the pools is very deep and has a platform you can jump off.
This one is also the best for photographs if you want to get some good pics for your Instagram.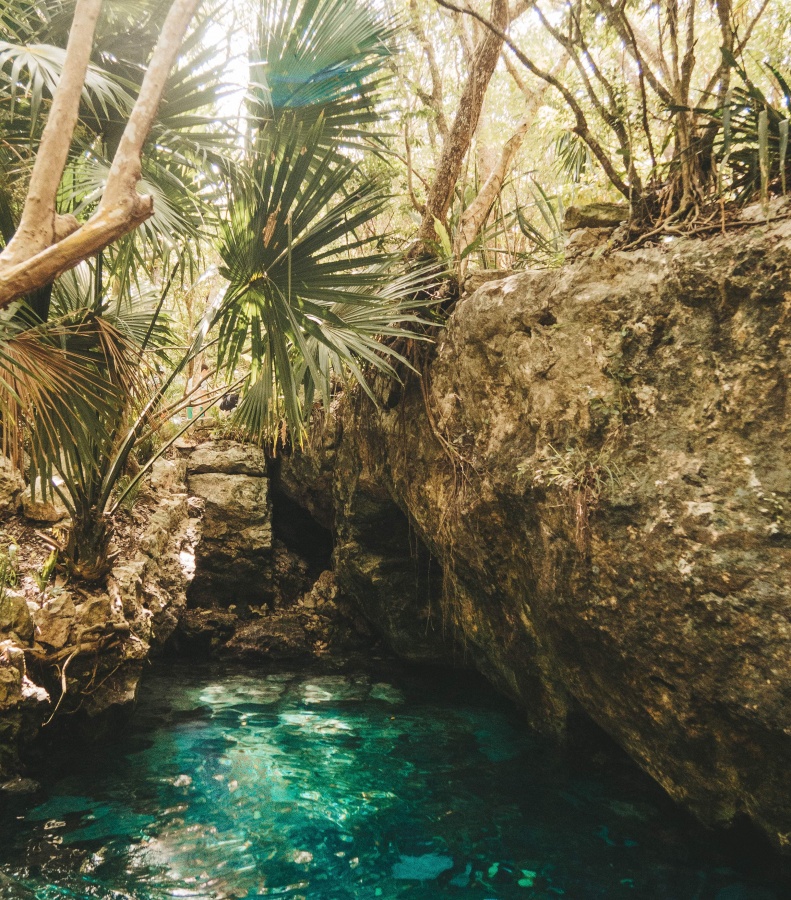 Cenote Cristalino
This is generally a bit quieter. It is just one big cenote and had a place you can jump in from quite a height. The pool is deep although there are some places around the edge you can sit and chill while the fish eat your feet.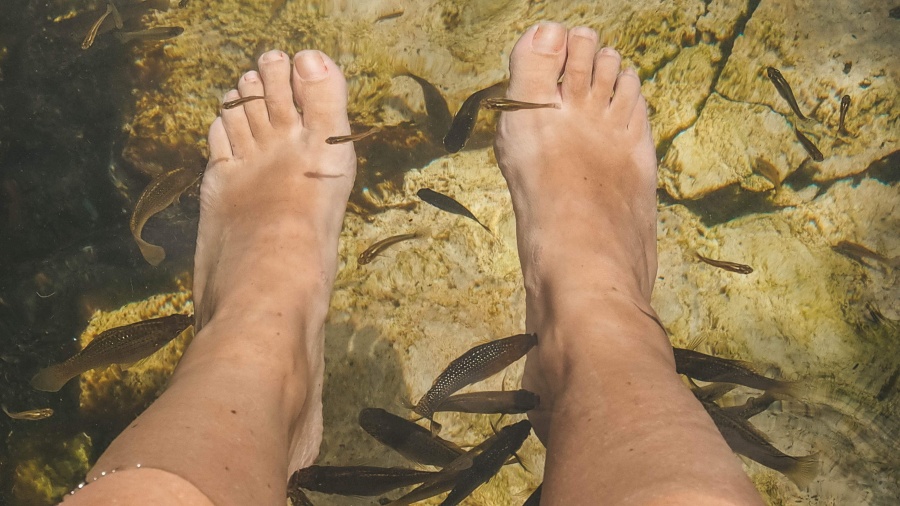 Final Thoughts
Both cenote Azul and cenote Cristalino are beautiful and worth visiting. They are the perfect place to cool off in the summer heat. Although you do have to pay a fee it is well worth it and you won't regret going.
Need somewhere to stay in The Riviera Maya?
I wrote a whole post to help you decide the best area in Tulum, Playa del Carmen, and Cancun to stay with my recommendations depending on your budget.
Here are my top picks if you are in a rush:
Kore Tulum Retreat and SPA Resort
Looking for things to do in the Riviera Maya?
Check out these articles:
The Complete Guide to Chichen Itza in Mexico
How to see the Mayan Ruins in Tulum
How to spend a weekend in Merida
Food Tour in Playa Del Carmen Review
Doing a cooking class in Tulum
Choosing a Scuba Diving Company in Playa Del Carmen
Scuba Diving in Puerto Morelos
Pin For Later!