Are you looking for a cenote near Playa del Carmen to visit? Well, you're in luck because there are many cenotes close to Playa del Carmen. Cenote Azul and Cristalino are two of my favorite, and they are close enough to walk from one to the other, so you can do them both in a day!
The Yucatan peninsula is famous for many things, but my favorite is the cenotes. There are thousands! Some are easier to get to than others. If you are staying in Cancun, Tulum, or Playa Del Carmen there are 2 really easy to get to and beautiful Cenotes just off the main road between Playa del Carmen and Tulum.
In this post, I will share everything you need to know about visiting this cenote near Playa del Carmen, Cenote Azul, and Cenote Cristalino. Including getting there and back and some things to be aware of before your visit. Wondering what a Cenote is? Read this great post explaining all about Cenotes.
Want to Do a Cenote Tour in the Riviera Maya?
If you wanted to do more of an organized cenote tour while in the Riviera Maya then I highly recommend contacting Vanessa from Tourismo Channel. She is one of my trusted partners in Playa and to enquire about the tour all you need to do is complete the form below and someone will be in touch with you within 24 hours.
What to bring with you:
Non-toxic natural sunscreen and repellent – You will not be allowed to use sunscreen in the cenotes as it kills the fish. So either bring a cover-up like a rash vest or invest in some non-toxic sunscreen.
Food if you are going to want to eat as there won't be anything available
Did You Get Travel Insurance Yet?
If you are planning a trip right now then you NEED to think seriously about insurance. If 2020 taught us anything, it's that you need to be prepared for anything! Travel insurance has always been high on the list of things to get before you travel but now more than ever it should be at the top of your list! I'm pretty sure we have all had travel plans messed up because of COVID and not all insurers covered this. So you need to find an insurer that covers travel disruption due to COVID-19, World Nomads, Safety Wing, or Travel Insurance Master are the ones to go for.

World Nomads is great for incidents that happen prior to your trip, so if you get sick or are unable to travel due to travel restrictions some of their policies will cover that as cancellation cover.

Safety Wing goes the extra mile and covers quarantine outside your home for up to 10 days, they also have a really handy map on their website showing requirements and restrictions for each country.

I also use Travel Insurance Master for some short vacation type trips as they are cheaper than World Nomads a lot of the time.

If you are doing shorter trips or a longer backpacking trip then WorldNomads or Travel Insurance Master are the best option. If you are a digital nomad or planning travel of at least 6 months then go for SafetyWing.
The Cost to get into Cenote Azul and Cenote Cristalino
It costs 100 pesos to enter and it is 40 pesos to rent a mask and snorkel (you will be asked to leave your ID as a deposit for the snorkel set).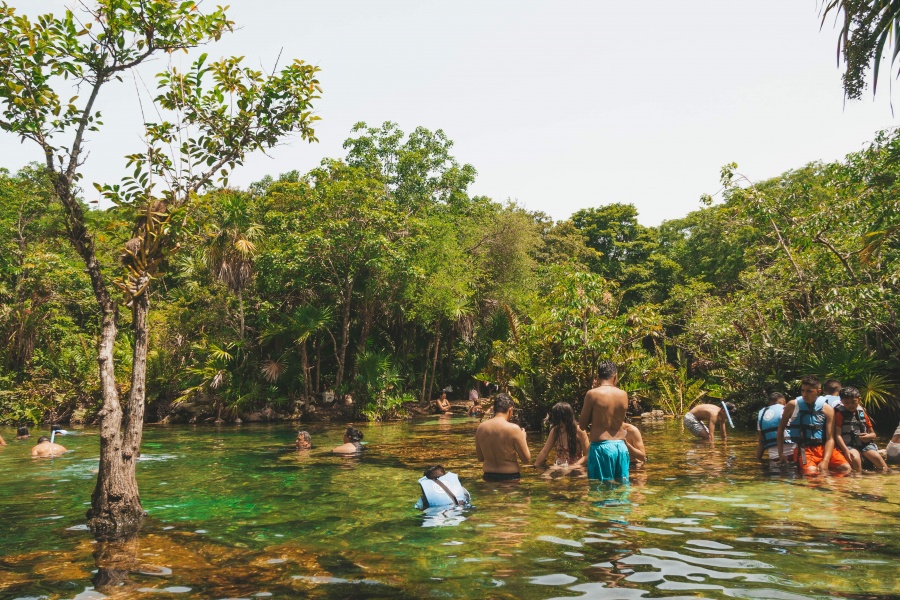 How to get to Cenote Azul and Cenote Cristalino
This is by colectivo. Simply wall to Calle 2 between Ave 5 and 10 is where you will find all of the colectivos. Just look out for signs to Tulum or someone shouting Tulum. As you don' want to go all the way to Tulum just tell the driver cenote Azul or cenote Cristalino and he will stop for you. There will likely be others heading there if it is a nice day.
Hop on and take a seat. The prices are all fixed and you will pay on the way off. To get from Playa Del Carmen to either cenote you will pay 35 pesos each way.
To get back to Playa simply cross over the road and wait for a colectivo heading back towards Playa. When you see one put out your arm and if there is space it will stop.
Cenote Azul
This one is my favorite. There are lots of different pools and one side is mostly shallow so you can chill with your friends and chat while keeping cool in the water. There are some fish to see but it's not as great as there as so many people. It's the better one if you have children because of the smaller pools and it is also more undercover so the sun isn't such an issue.
One of the pools is very deep and has a platform you can jump off.
This one is also the best for photographs if you want to get some good pics for your Instagram.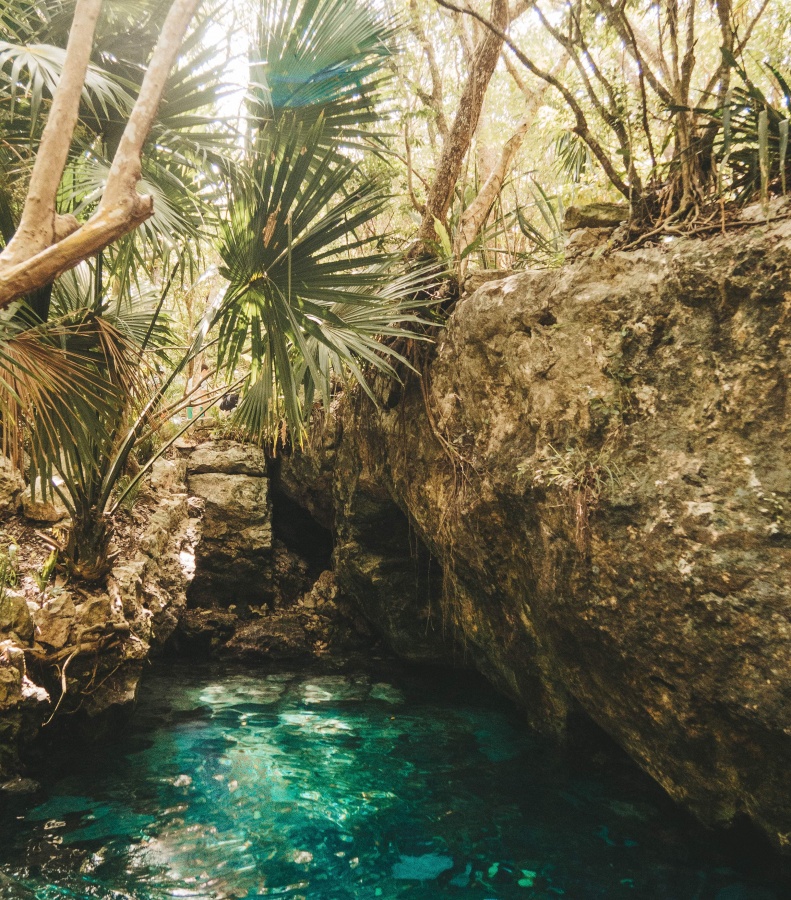 Cenote Cristalino
This is generally a bit quieter. It is just one big cenote and had a place you can jump in from quite a height. The pool is deep although there are some places around the edge you can sit and chill while the fish eat your feet.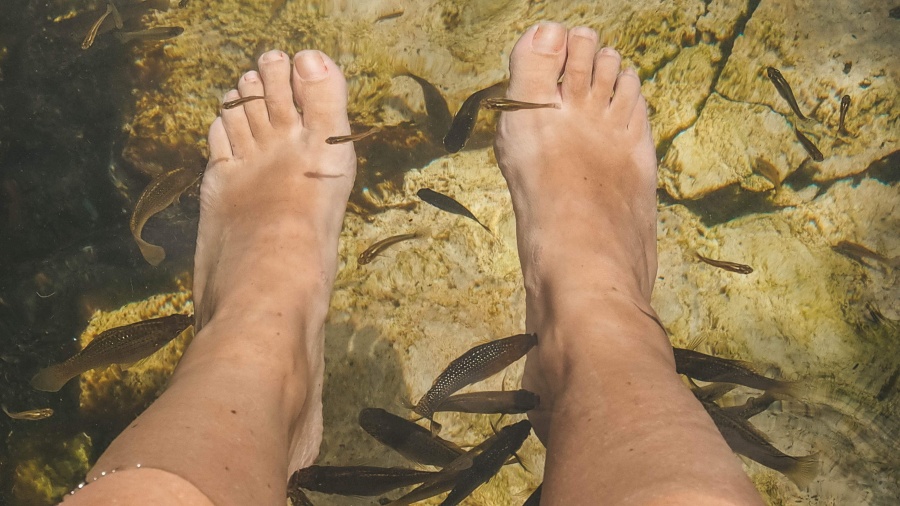 Final Thoughts
Both cenote Azul and cenote Cristalino are beautiful and worth visiting. They are the perfect place to cool off in the summer heat. Although you do have to pay a fee it is well worth it and you won't regret going.
Need somewhere to stay in The Riviera Maya?
I wrote a whole post to help you decide the best area in Tulum, Playa del Carmen, and Cancun to stay with my recommendations depending on your budget.
Here are my top picks if you are in a rush:
Kore Tulum Retreat and SPA Resort
Looking for things to do in the Riviera Maya?
Check out these articles:
The Complete Guide to Chichen Itza in Mexico
How to see the Mayan Ruins in Tulum
How to spend a weekend in Merida
Food Tour in Playa Del Carmen Review
Doing a cooking class in Tulum
Choosing a Scuba Diving Company in Playa Del Carmen
Scuba Diving in Puerto Morelos
Pin For Later!