Looking for the best beach in Playa del Carmen? I can't lie, I love living in Playa, but sadly we do not have the best beaches in the Riviera Maya. That said there are some nice public beaches in Playa del Carmen and just outside Playa that you can spend the day relaxing on. Also, when I say the public beaches in Playa del Carmen aren't that nice I'm comparing them to other beaches here in the Caribbean, if you compare them to beaches in other countries outside of Mexico, they are pretty amazing!
Looking for a reputable tour company in The Riviera Maya?
I've been working with Turismo Channel in Playa del Carmen for years and they are who I send all of my family and friends to when they visit the Riviera Maya. I really can recommend them enough for tours, private airport transfers, and rental cars. Vanessa and Oliver are personal friends of mine and I have 100% faith that you will have a wonderful time with them.
You can check out their tours by clicking here and using the following discount codes for the best prices clairecaroff (car rental), claire10off (for 10% off group tours), claireprivate (for a discount on private tours). You can also send her a WhatsApp message quoting the above codes to receive the discount.
Playacar phase 1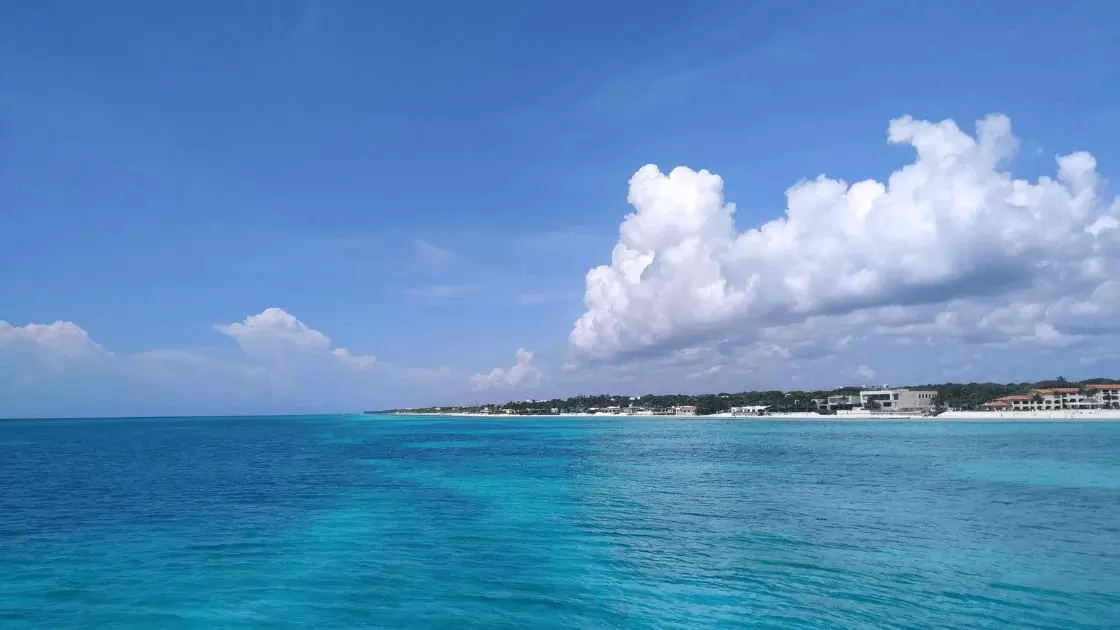 If you are looking for the best public beach in Playa del Carmen then that award has to go to the beach in Playacar Phase 1. You will be forgiven for thinking this beach is private, as it's inside of a private community and in front of a private development. But newsflash, ALL beaches in Mexico are public. No matter what some hotels, resorts, restaurants, or beach clubs might have you believe.
The issue will be getting into Playacar, if you are white and look like a tourist, you won't have an issue, sadly many Mexicans are refused entry by security… but that's another matter! You can enter Playacar Phase 1 by walking right to the end of 10th avenue and then walking through the security gate. Keep to the left and then when you see a path going left take it, walk through the jungle a little and you will come out on the beach. Alternatively, you can walk along the beach past the Cozumel ferry.
What I love about the beach in Playacar is that it's really wide (not all beaches in Playa are wide like this), and they generally keep the seaweed cleaned up. The further down into Playacar you go, the better the beach is so if you'd like to make your travelling photobook album stand out, this beach is an ideal spot. Playacar beach is popular with the locals here especially the bit closest to 5th as most tourists don't know about it. Meaning it's a nice quiet part of the beach… why am I even telling you about it?!?
The good thing about this Playa del Carmen beach is that there are places you can get some shade here. Most other public beaches in Playa del Carmen don't have that unless you pay for it! There are always lots of activities happening here too, kitesurfing, volleyball, and parasailing mostly.
Be sure to take food and drink with you as there are no facilities here.
Punta Esmerelda
Need to book transportation in Mexico?
I highly recommend booking all of your Mexico transportation with GuateGo. You can search for buses, shuttles, ferries, and Flights on their website. What I love most about them is their customer service. I know these guys personally from my time living in Guatemala and they really do look after their customers. So if anything happens and you get delayed and miss your bus, you can just call them and they are always there to help.

If you book through them you will pay a little more than if you book in person at the bus station. But it's worth it for the ease and security in my opinion. Click here to search for transportation in Mexico.
Again, I don't even know why I'm writing this post telling you all about these local Playa del Carmen public beaches haha. The reason why this beach is so awesome is mostly that it's void of tourists. However, I must also say you should avoid coming here on a Sunday as it is always packed full of families enjoying some beach time and looking for some of the best Playa del Carmen boat tours.
So why do I love Punta Esmarelda? Firstly it has a super pretty open cenote running into the sea. Secondly, it's right at the end of the main Playa del Carmen beaches and it's on a corner, so you can basically see the whole of Playa del Carmen waterfront from here. It's quite a view!
I like to come here early and fly my drone, there are always others here flying too early in the morning so it feels pretty safe to do so.
To get to this beautiful beach in Playa del Carmen you have a few options, walk (I would avoid this during the day as it's too hot), take a taxi, drive, or my personal favorite, rent a bike, and cycle there. To get there it's very easy, you just take 5th Avenue all the way up to 110 Norte then turn in. You can park easily here during the week and you will find places to lock up your bike too.
There are some facilities here, but not many. So I'd recommend that you bring food and drink with you and keep some smaller notes to buy things from the beach vendors if they walk by. There is also an area just to the side of the beach with lots of trees and picnic benches, perfect for cooling off in the shade and having a picnic. This is my favorite family-friendly Playa del Carmen beach.
Playa 38 and Colosio Beach
This is my part of the beach, I say mine because I live off Calle 38 and so this is the beach I venture out to most days. From Calle 38 onwards there aren't so many beach clubs and so the beach is mostly populated by locals. It's not the most beautiful stretch of beach in Playa del Carmen, but it is one of the quieter areas that are still in El Centro.
To get here just enter at Calle 38 or any of the other entrances between there and Colosio. No issue with food or amenities here are you are still in the center and so there are plenty of places you can get food and drink close by.
3 Calle 10 Beach
If you decide you want to chill in a beach club for the day then this is probably the best part of the beach to find what you are looking for. There are a lot of awesome beach clubs in Playa del Carmen, but here you will find firm favorites like Zenzi, Tompson Beach, Indio, and Kool. All of them have either a minimum consumption which can be anything from 400 pesos to over $1000.
The best thing to do is to take a walk down the beach and see which one you like the look of and then ask. If they are looking empty then you might be able to negotiate a discount, especially if you are with a group.
Did You Get Travel Insurance Yet?
If 2020 taught us anything, it's that you need to be prepared for anything! Travel insurance has always been high my list of things to get before I travel but now more than ever its at the top of my list.

I'm pretty sure we have all had travel plans messed up because of COVID and not all insurers covered this. So when looking for travel insurance it's important to check it covers travel disruption due to COVID-19, Hey Mondo, Passport Nomads, Safety Wing, and Travel Insurance Master all provide cover for this.

Hey Mondo is great if you are looking for a great value flexible policy. They offer single trip cover, annual multi trip cover, and long term travel cover. You even have the option to start the cover when you are already on your trip, although you won't be covered for the first 72 hours. For me my favourite feature is their app which offers you a 24/7 Dr chat and the ability to file a claim direct in the app.

Passport Nomads provides the most comprehensive cover for Digital Nomads. The game changer with them is that you have a red card and if you find yourself in need of medical care you just contact them and they will pre load your card with the funds to cover your treatment, meaning you won't need to pay out of pocket and then put in a claim later.

Safety Wing is great value with monthly cover starting at $39. It's super easy to use and it just renews each month. They have an excess of $250 and it's simple to make a claim through their website. I currently use them as they offer me free cover for my son as part of my policy and I like that it renews on a monthly basis, so I don't have to pay out a big lump sum up front.

I also use Travel Insurance Master for some short vacation type trips.

If you are doing shorter trips or an extended backpacking trip then Hey Mondo or Travel Insurance Master are the best option. If you are a digital nomad or planning travel of at least 6 months then go for Passport Nomads or SafetyWing.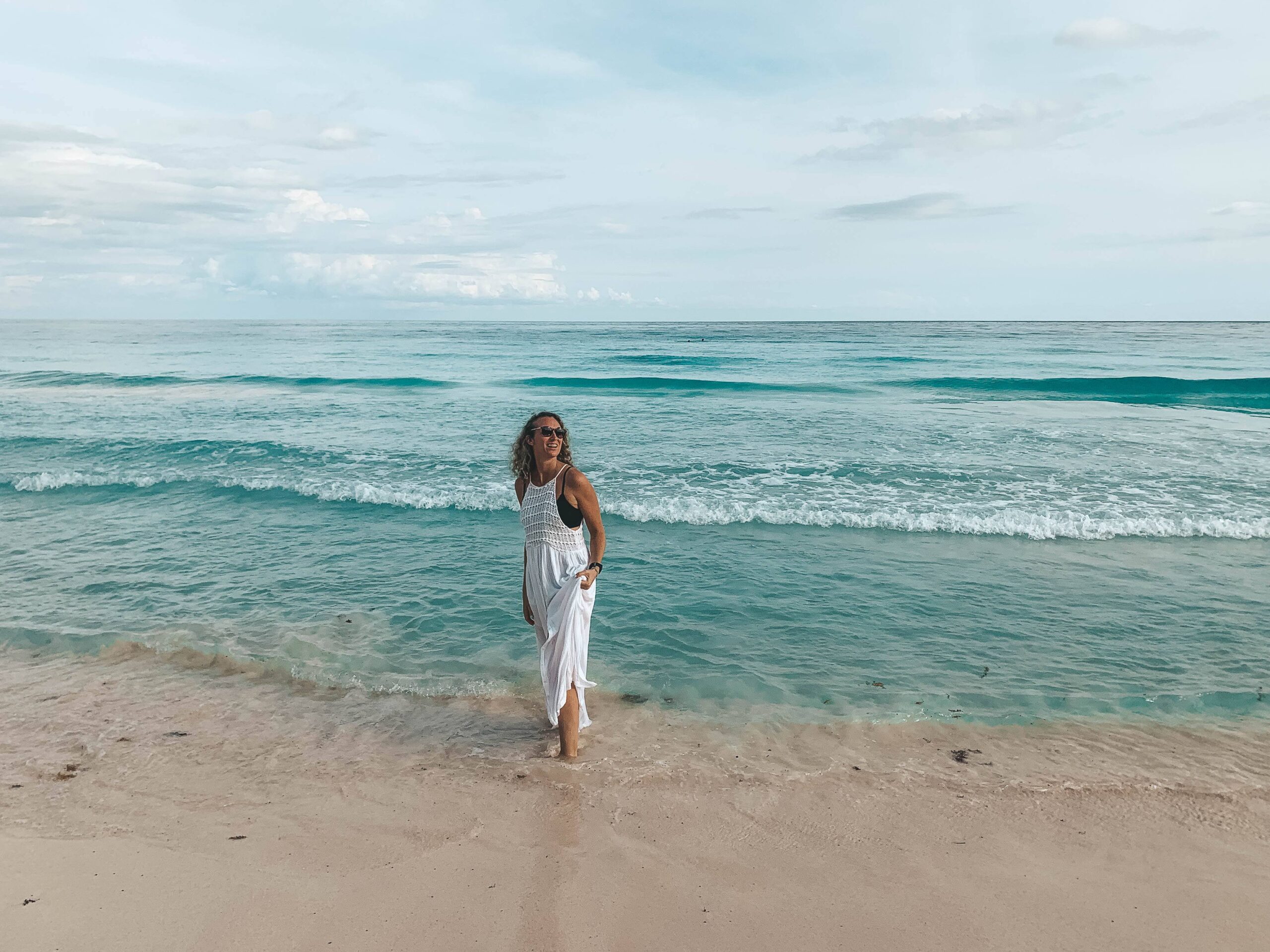 I'm going to let you into another secret when my friends and I go for a beach day. We head just outside of Playa to the beautiful beach at Xpu Ha. Even when the sargasso is bad in the rest of the Riviera Maya, here it is normally clear. The beach is BEAUTIFUL and it's mostly very quiet (not Sundays).
You will find Xpu Ha beach just south of Puerto Adventuras about 30 minutes outside Playa del Carmen. The best way to get here is to rent a car and drive. Failing that you can take the Playa del Carmen to Tulum colectivo and tell them you want to go to Xpu Ha. They will drop you off on the federal highway and you will then need to make your way down the long road to the beach.
We like to bring drinks and snacks with us, but there are places you can buy food and drink and a beach club if you want to rent a bed for the day.
Pin for Later