Looking for the best beach in Playa del Carmen? I can't lie, I love living in Playa, but sadly we do not have the best beaches in the Riviera Maya. That said there are some nice public beaches in Playa del Carmen and just outside Playa that you can spend the day relaxing on. Also, when I say the public beaches in Playa del Carmen aren't that nice I'm comparing them to other beaches here in the Caribbean, if you compare them to beaches in other countries outside of Mexico, they are pretty amazing!
Playacar phase 1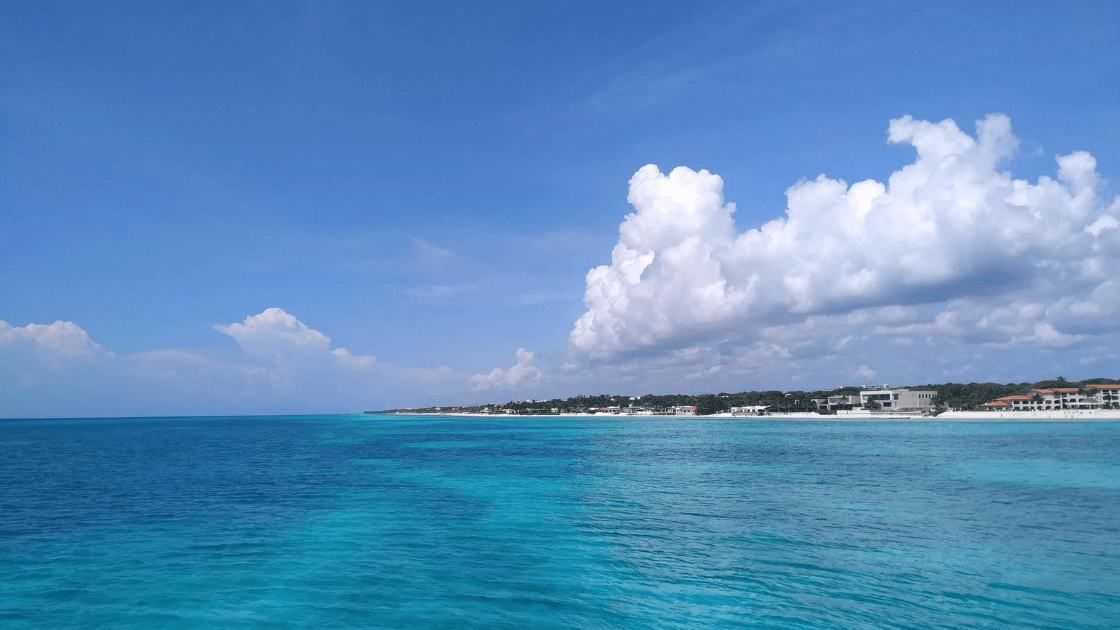 If you are looking for the best public beach in Playa del Carmen than that award has to go to the beach in Playacar Phase 1. You will be forgiven for thinking this beach is private, as it's inside of a private community and in front of a private development. But newsflash, ALL beaches in Mexico are public. No matter what some hotels, resorts, restaurants, or beach clubs might have you believe.
The issue will be getting into Playacar, if you are white and look like a tourist, you won't have an issue, sadly many Mexicans are refused entry by security… but that's another matter! You can enter Playacar Phase 1 by walking right to the end of 10th avenue and then walking through the security gate. Keep to the left and then when you see a path going left take it, walk through the jungle a little and you will come out on the beach. Alternatively, you can walk along the beach past the Cozumel ferry.
What I love about the beach in Playacar is that it's really wide (not all beaches in Playa are wide like this), and they generally keep the seaweed cleaned up. The further down into Playacar you go, the better the beach is. Playacar beach is popular with the locals here especially the bit closest for 5th as most tourists don't know about it. Meaning it's a nice quiet part of the beach… why am I even telling you about it?!?
The good thing about this Playa del Carmen beach is that there are places you can get some shade here. Most other public beaches in Playa del Carmen don't have that unless you pay for it! There is always lots of activities happening here too, kitesurfing, volleyball, and parasailing mostly.
Be sure to take food and drink with you as there are no facilities here.
Punta Esmerelda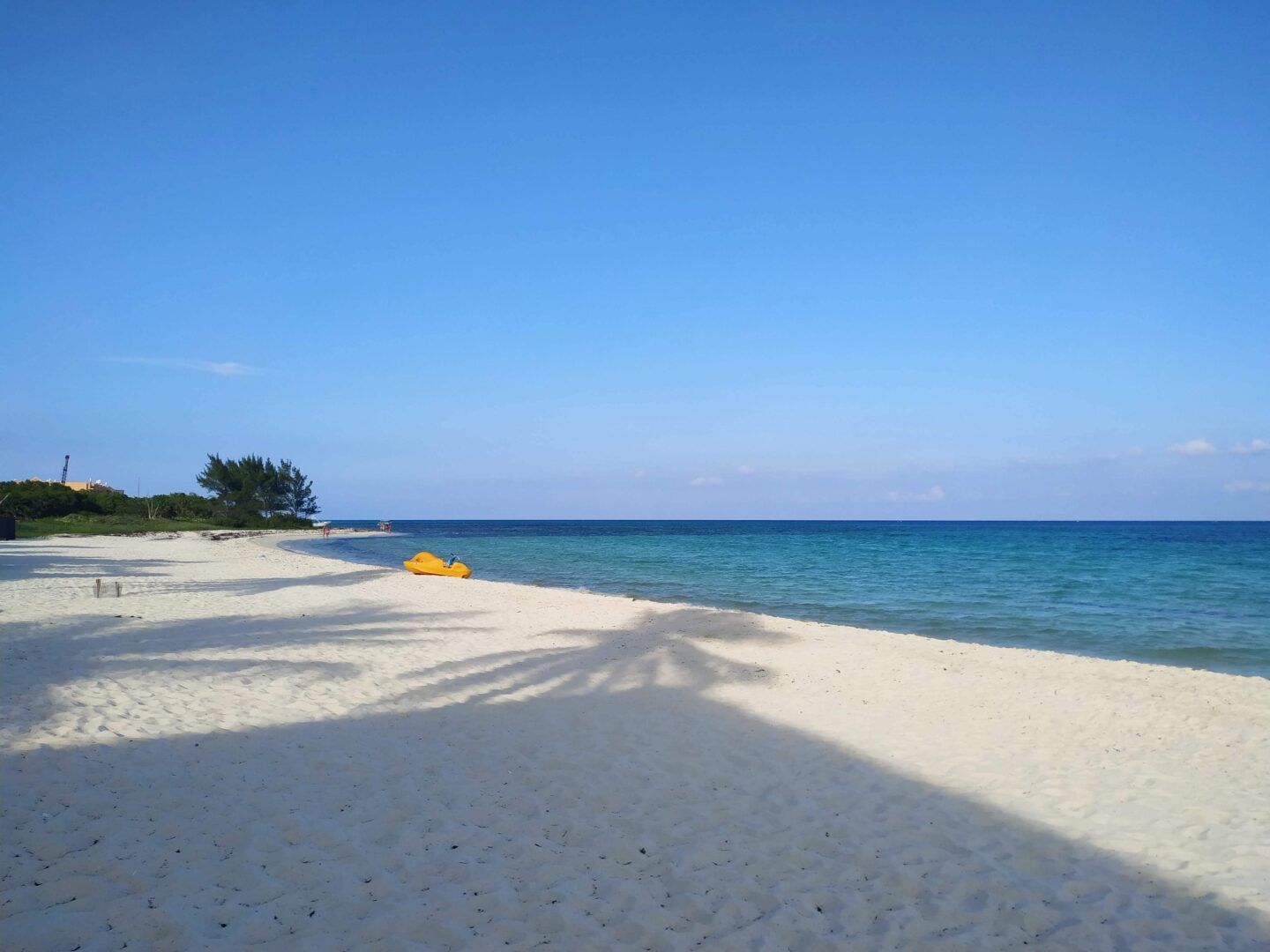 Again, I don't even know why I'm writing this post telling you all about these local Playa del Carmen public beaches haha. The reason why this beach is so awesome is mostly that it's void of tourists. However, I must also say you should avoid coming here on a Sunday as it is always packed full of families enjoying some beach time.
So why do I love Punta Esmarelda? Firstly it has a super pretty open cenote running into the sea. Secondly, it's right at the end of the main Playa del Carmen beaches and it's on a corner, so you can basically see the whole of Playa del Carmen waterfront for here. It's quite a view!
I like to come here early and fly my drone, there are always others here flying too early in the morning so it feels pretty safe to do so.
To get to this beautiful beach in Playa del Carmen you have a few options, walk (I would avoid this during the day as it's too hot), take a taxi, drive, or my personal favorite, rent a bike and cycle there. To get there it's very easy, you just take 5th Avenue all the way up to 110 Norte then turn in. You can park easily here during the week and you will find places to lock up your bike too.
There are some facilities here, but not much. So I'd recommend that you bring food and drink with you and keep some smaller notes to buy things from the beach vendors if they walk by. There is also an area just to the side of the beach with lots of trees and picnic benches, perfect for cooling off in the shade and having a picnic.
Playa 38 and Colosio Beach
This is my part of the beach, I say mine because I live off Calle 38 and so this is the beach I venture out to most days. From Calle 38 onwards there aren't so many beach clubs and so the beach is mostly populated by locals. It's not the most beautiful stretch of beach in Playa del Carmen, but it is one of the quieter areas that is still in El Centro.
To get here just enter at Calle 38 or any of the other entrances between there and Colosio. No issue with food or amenities here are you are still in the center and so there are plenty of places you can get food and drink close by.
3 Calle 10 Beach
If you decide you want to chill in a beach club for the day then this is probably the best part of the beach to find what you are looking for. There are a lot of awesome beach clubs in Playa del Carmen, but here you will find firm favorites like Zenzi, Tompson Beach, Indio, and Kool. All of them have either a minimum consumption which can be anything from 400 pesos to over $1000.
The best thing to do is to take a walk down the beach and see which one you like the look of and then ask. If they are looking empty then you might be able to negotiate a discount, especially if you are with a group.
Xpu Ha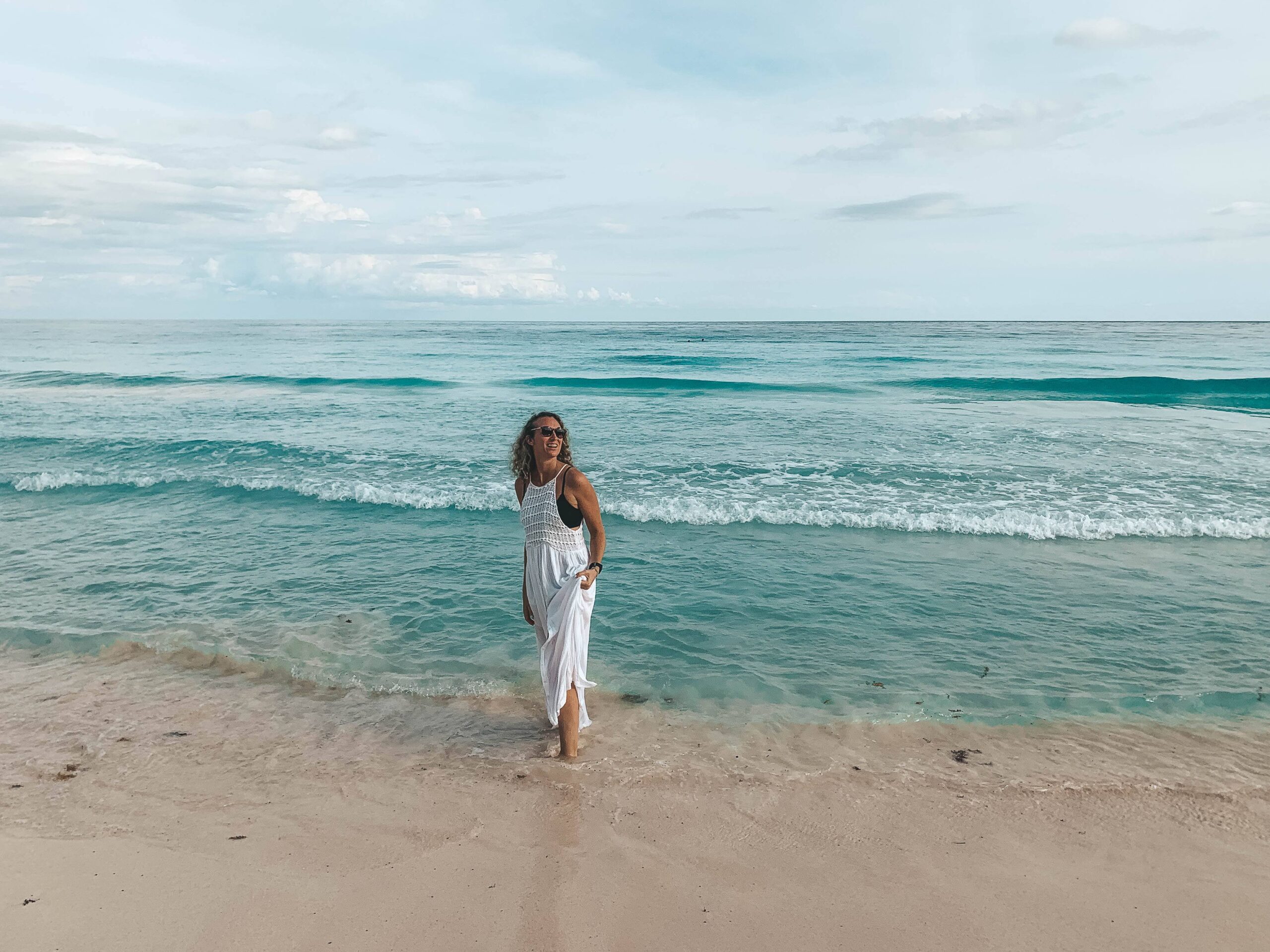 I'm going to let you into another secret when my friends and I go for a beach day. We head just outside of Playa to the beautiful beach at Xpu Ha. Even when the sargasso is bad in the rest of the Riviera Maya, here it is normally clear. The beach is BEAUTIFUL and it's mostly very quiet (not Sundays).
You will find Xpu Ha beach just south of Puerto Adventuras about 30 minutes outside Playa del Carmen. The best way to get here is to rent a car and drive. Failing that you can take the Playa del Carmen to Tulum colectivo and tell them you want to go to Xpu Ha. They will drop you off on the federal highway and you will then need to make your way down the long road to the beach.
We like to bring drinks and snacks with us, but there are places you can buy food and drink and a beach club if you want to rent a bed for the day.
If you are interested in visiting this beach as a day tour and combining it with some cenotes my trusted partner Tourismo Channel runs an epic 5 cenotes and XpuHa beach trip. For more information, you can watch the video above and then pop your name and email in the form below and hit send. Someone will get back to you within 24 hours. Alternatively, you can also send her a WhatsApp message, please quote Claire's Itchy feet for a good price deal.
Looking for somewhere to stay in Playa del Carmen?
I wrote a whole guide to Accommodation in Playa del Carmen you can read here. I also recommend booking one of these Airbnb's. They are all in great locations and are super reasonably priced.
Budget Airbnb Studio on 5th Avenue
Stunning Studio Close To The Beach In Playa del Carmen
Cute Studio In Central Playa (close to 5th & the beach)
Stylish Apartment with Parking Close to the Beach
Downtown Playa del Carmen Apartment with Balcony and Rooftop Pool
Are you ready to book your trip?  To help you get the best deals and service here are the companies that I personally use to book all of my travel online. I always shop around before booking anything, but these are my tried and tested starting places.