As a certified scuba diver, the top of my bucket list was to experience Tulum cenote diving and experiencing Mexico's Mayan Riviera Cenotes. Scuba diving in a cenote is the closest you can get to cave diving with just an open water qualification. Cenotes were there sacred ground for offerings to the gods and something very unique to this area of Mexico. I love swimming and snorkeling in cenotes and I was desperate to explore these incredible underwater caves for myself.
There are so many cenotes near Tulum and a lot of diving companies operating in the area so choosing the right company and picking the best cenotes is important.
Everything you need to know about Tulum cenote diving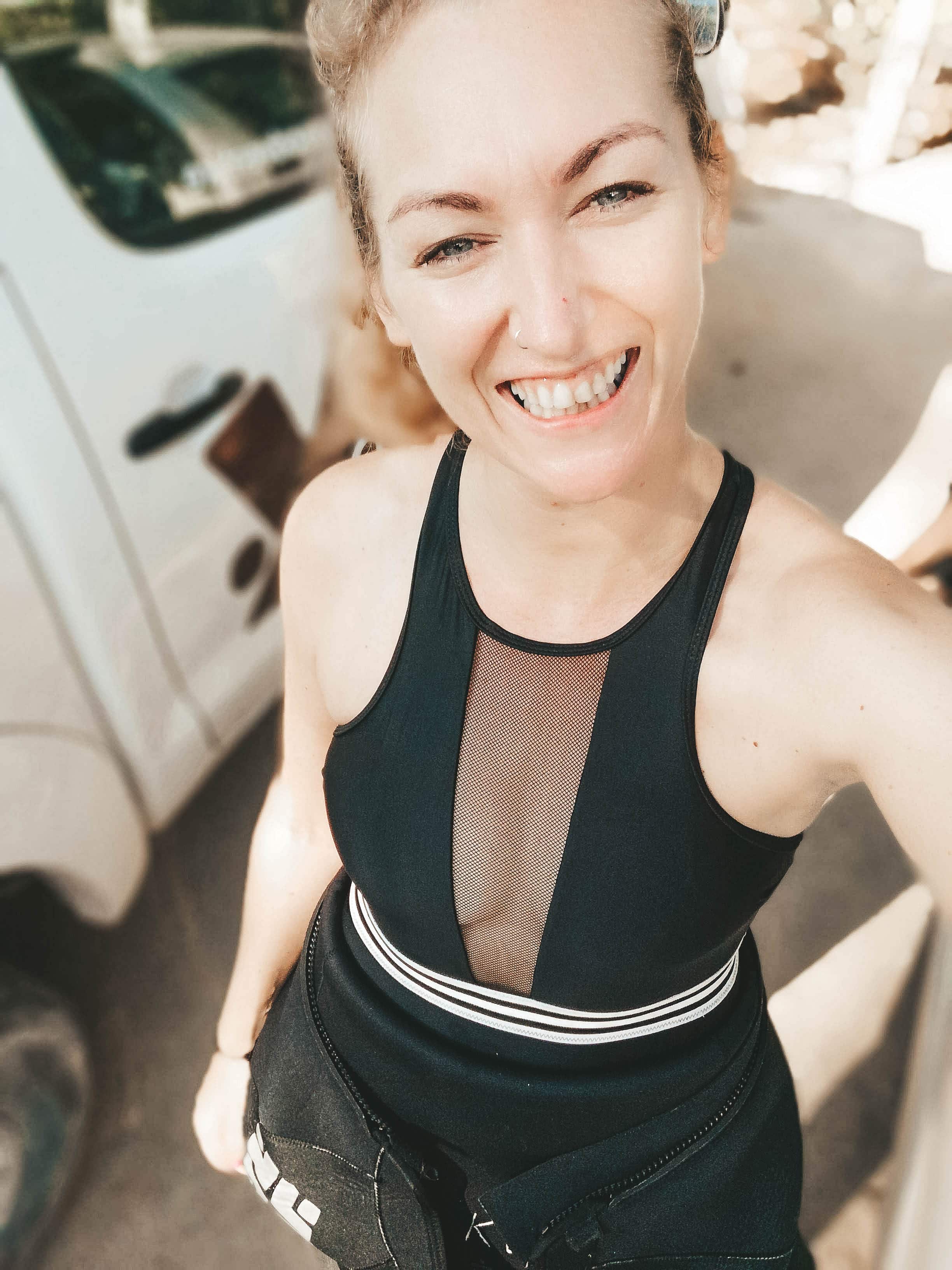 Why Scuba Dive in Tulum
Diving cenotes in Tulum can be a lot of fun, it can also be a little bit terrifying. Especially if you are a new diver or have a fear of being in enclosed spaces. Tulum diving in the sea really isn't that great. If you want to dive in the open water then my suggestion would be to dive in Cozumel. But to explore the magic of diving in cenotes you can't get any better than scuba diving in Tulum.
What you need to know before diving in a cenote
Diving in a cenote is very different from diving in the sea. For one, you are diving in freshwater so your buoyancy is going to be very different. This means you will use less weight than you would when diving in open water. Secondly, and this is the big one. You are diving in an enclosed space. This means depending on the cenote you dive in you may not be able to surface so easily as you would in the open water.
When diving in the open water normally you let the divemaster know when you have 1000 bar of air left and then you surface at 700. However, in a cenote, you will need to let the divemaster know when you have 2/3 of your tank left so he/ she can plan the appropriate route for safety reasons. But don't worry about this, it will all be explained to you in the pre-dive briefing.
I am a pretty new diver (even though I actually qualify in 2005), I don't have so many dives under my belt. But I have been diving quite a bit in the weeks leading up to my cenote dive. It is important that you are comfortable diving and have experienced before diving in a cenote. Although you can dive in many of the cenotes with just the open water qualification, this is more of an intermediate experience and I really wouldn't recommend it for novice divers.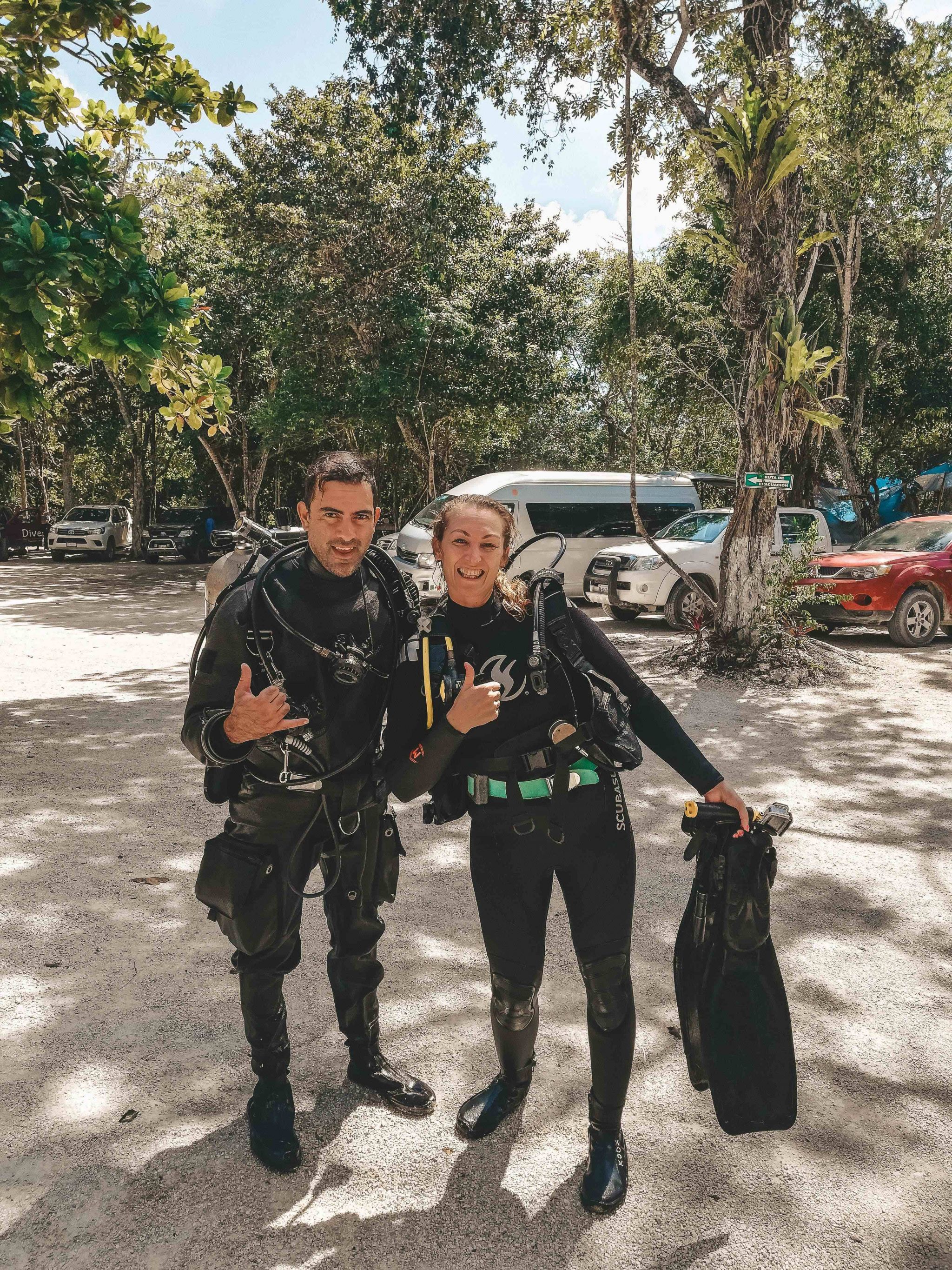 For 2 reasons:
Mentally knowing you are in an enclosed space can be pretty unnerving and you will need to be able to keep yourself calm while underwater. Something many novice divers struggle within the open water.
Buoyancy is different in the freshwater and as there are often a lot of swim-throughs it can be pretty tricky for novice divers to keep their body under control.
However, as I said, I am a novice diver and I was totally fine. So it really depends on the individual.
Choosing the best diving company in Tulum
I can not stress how important this is. For me choosing a good dive company to dive in a cenote with was even more important than choosing a good company to dive in the open water with. I felt like there was a lot more that could go wrong in a cenote. I wanted to find a company that I could trust with my safety as well as a company that matches up with my ethics and values. This can often be a challenge in itself!
If you read my blog regularly you know I don't work with just any old company. I make sure they are as plastic-free as possible, support the local economy, sustainable, ethical, professional… The list is long! And when scuba diving it is even longer because there is often marine life and conservation to think about.
However, it was actually pretty easy to find the perfect company in Tulum. Koox stands out a mile! The work Koox means 'Let's go" in Mayan and this energy and positive attitude run throughout the company. I had been following them on Instagram for a long time before I approached them to talk about diving with them. I love their commitment to the environment, employment of local people and professionalism.
Yes, with Koox you will pay a little more than some of the other dive shops in Tulum. But for me, it is worth it to know I'm diving with the best most ethical company I can find.
Where to dive in Tulum
Scuba diving in Tulum offers you a lot of options from open water diving in the sea with bull sharks / to night diving with crocodiles in a cenote.
For this post, though I am going to focus on diving in Cenotes and more specifically the cenotes you can dive in with an open water qualification.
Most people book a two dive package in two different locations. I personally did my first dive in Casa Cenote and my second in Dos Ojos.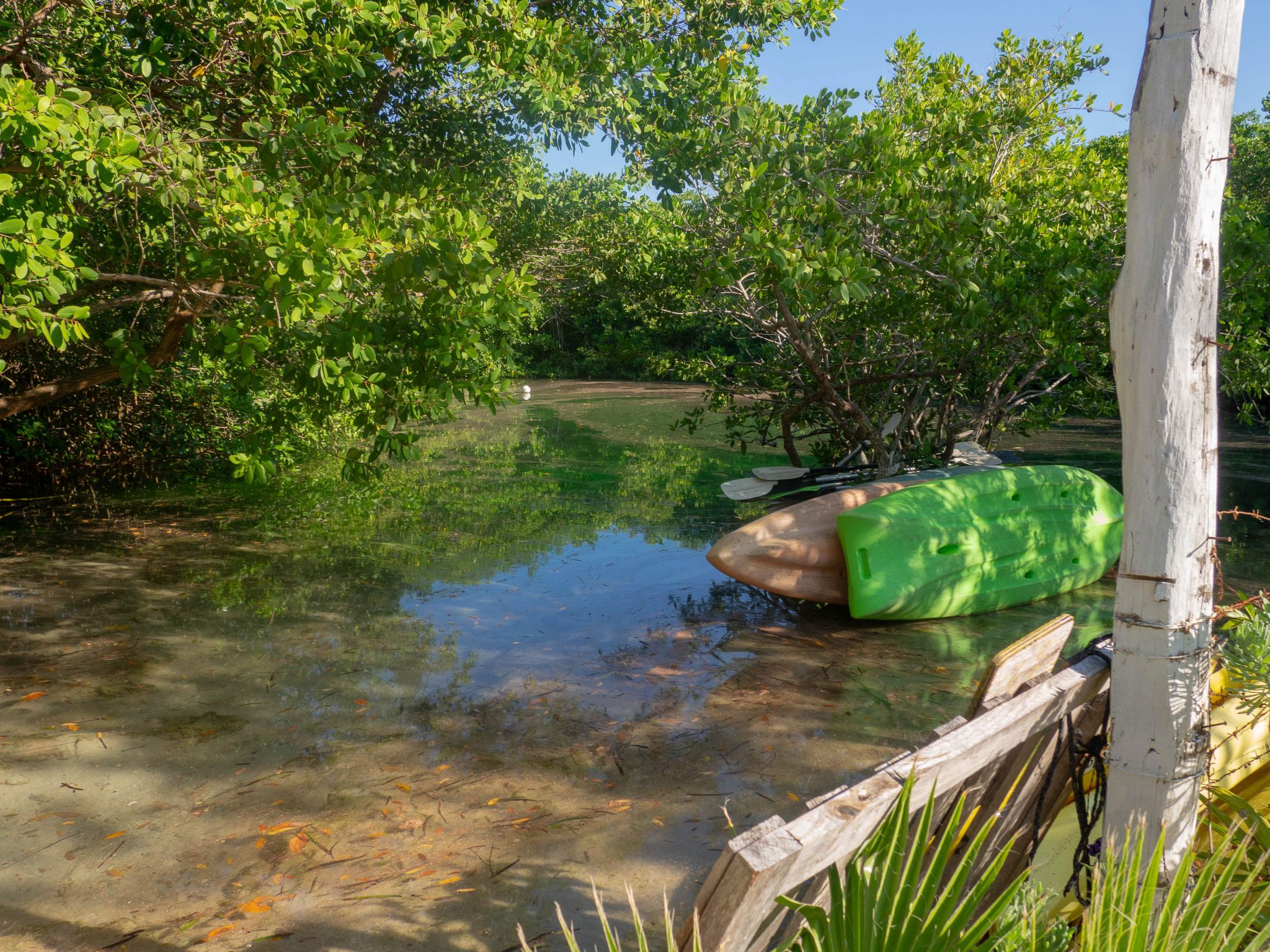 Dos Ojos is probably the most popular cenote to dive in and it is the one everyone asks for. Casa Cenote is a great place to do your first dive as the cenote is mostly open. So if you are new to diving in cenotes and feeling a little nervous I highly recommend requesting this as your first dive site.
Tulum Cenotes to Dive in:
Cenote El Pit
Ideally, you need to hold your advanced certificate to dive here unless you can prove you have done some deep dives already. This is not a dive for new divers. On a sunny day, the light is magical and this is one of the 'dream dives' especially if you have your camera to capture the magic. The water is pretty cool and it is one of the deepest cenotes in the area (hence the name el pit). You will dive to depths of around 120ft.

Gran Cenote
If you have a friend who is not diving and wants to snorkel this is a great spot for you both to have underwater fun. It has beautiful light and underwater scenery both in the shallow areas and the deep parts. You will dive to depths of around 30ft.
Dream Gate Cenote
Because of the delicate cave formations, this is not a dive you will be able to do unless you have already done a few dives with Koox and the divemaster has given you the ok. They just need to check you are in control of your buoyancy so you don't do damage in the cenote. You will dive to depths of around 30ft.
Cenote Dos Ojos
This was one of the cenotes I dove in and I highly recommend it especially if you are new to diving in cenotes. The waters are beautiful and it was a real highlight for me. It is a pretty shallow dive (just 10 meters) and there is also an area for snorkeling if you are with a nondiving friend.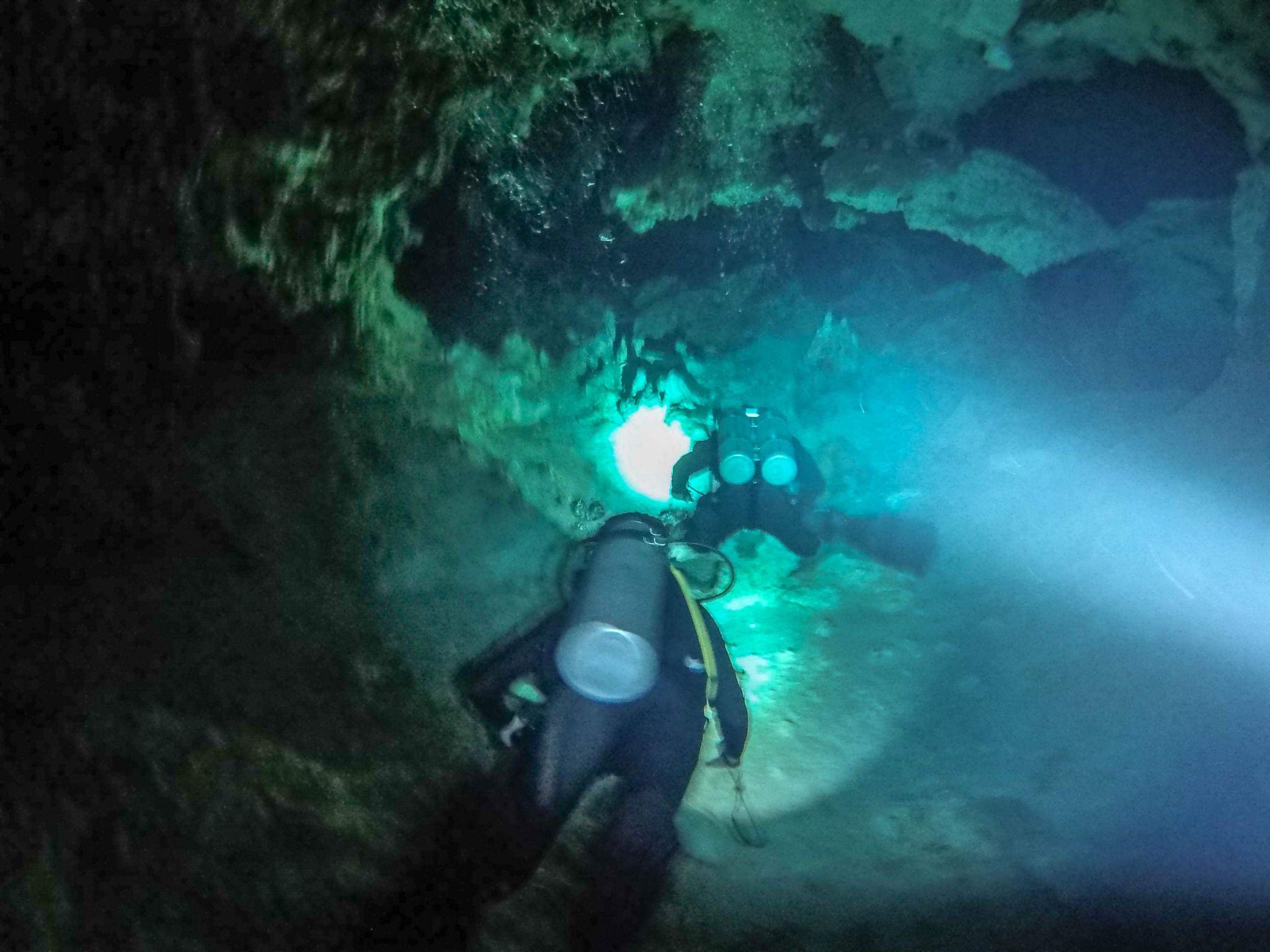 Casa Cenote
This was my first cenote dive and it was a perfect choice. As most of the cenote is uncovered it built up my confidence diving in enclosed spaces and gave me a chance to get my buoyancy right before doing the swim-throughs which come midway through the dive. If you are nervous about doing in a cenote I recommend requesting this as your first dive.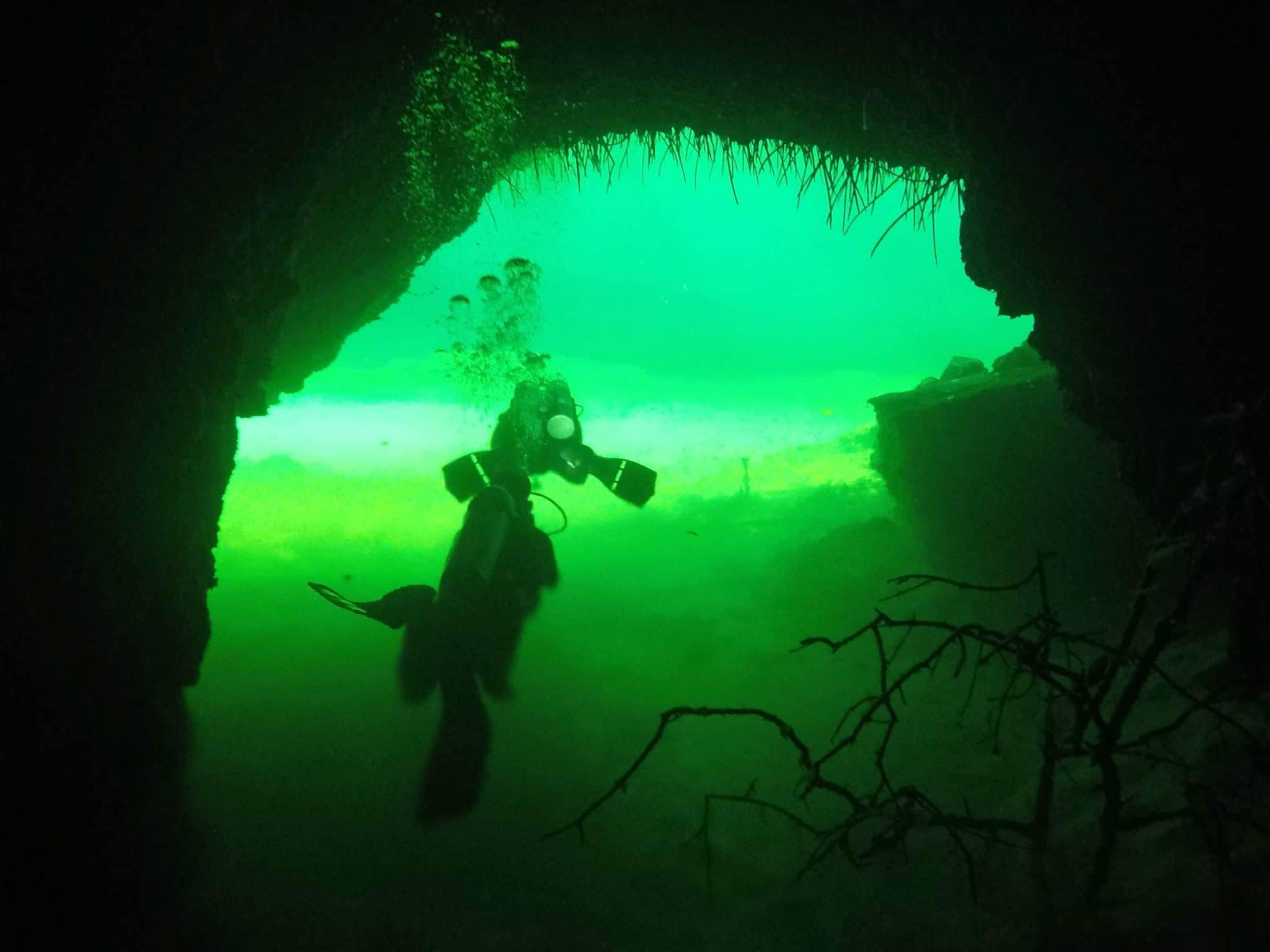 Car Wash Cenote
This is another great cenote to dive in if you are a new diver. It is a big sinkhole so very open generally but with plenty of places where once you have got your buoyancy in check you can explore the cave formations. There is a shallow section, but in the deepest area, you can go down to 50ft.
Cenote Calavera
Otherwise known as the temple of doom… It is a well-known cenote on the road to Coba where you can see the halocline (where seawater meets freshwater). Don't let the whole temple of doom thing put you off though. It actually gets its name because of the way the three holes in the cavern roof look like a skull as you look up at them from inside. Expect depts of up to 57Ft.
Cenote Angelita
This cenote involves a little walk through the jungle to get to it, totally worth it though! The cenote is very deep so be sure to hold on to your belongings as they may be hard to recover if you loos anything! Fallen trees, voodoo dolls, and hydrogen sulfur clouds make this one crazy dive you need to experience! This dive is only for advanced divers though so you will need to be experienced in doing deep dives to be taken here. Expect depths of up to 120ft.
How much does it cost to dive in a cenote
For a one tank dive, you can expect to pay around $159
For two tanks at two different cenotes, you will pay $189
If you just want to snorkel then you will be looking at around $80 and if you want to try diving without a diving certification then you can do what is called a Discovery Dive for around $150.
You can find the full price list here.
Did You Get Your Travel Insurance Yet?
If you are planning a trip right now then you NEED to think seriously about insurance. If 2020 taught us anything, it's that you need to be prepared for anything! Travel insurance has always been high on the list of things to get before you travel but now more than ever it should be at the top of your list! I'm pretty sure we have all had travel plans messed up because of COVID and not all insurers covered this. So you need to find an insurer that covers travel disruption due to COVID-19, World Nomads and Safety Wing are the ones to go for. World Nomads is great for incidents that happen prior to your trip, so if you get sick or are unable to travel due to travel restrictions some of their policies will cover that as cancellation cover. Safety Wing goes the extra mile and covers quarantine outside your home for up to 10 days, they also have a really handy map on their website showing requirements and restrictions for each country. If you are doing shorter trips or a longer backpacking trip then WorldNomads is the best option. If you are a digital nomad or planning travel of at least 6 months then go for SafetyWing.
Final Thoughts
I loved my experience diving in cenotes in Tulum and I'm determined to check a few more off my list while in Mexico. It is such a different experience to diving in the open water and I loved it. Especially the part where I didn't feel seasick traveling between dive sites or struggle to put on my dive gear in a rocking boat. If you are in the Riviera Maya I highly recommend diving in at least one cenote.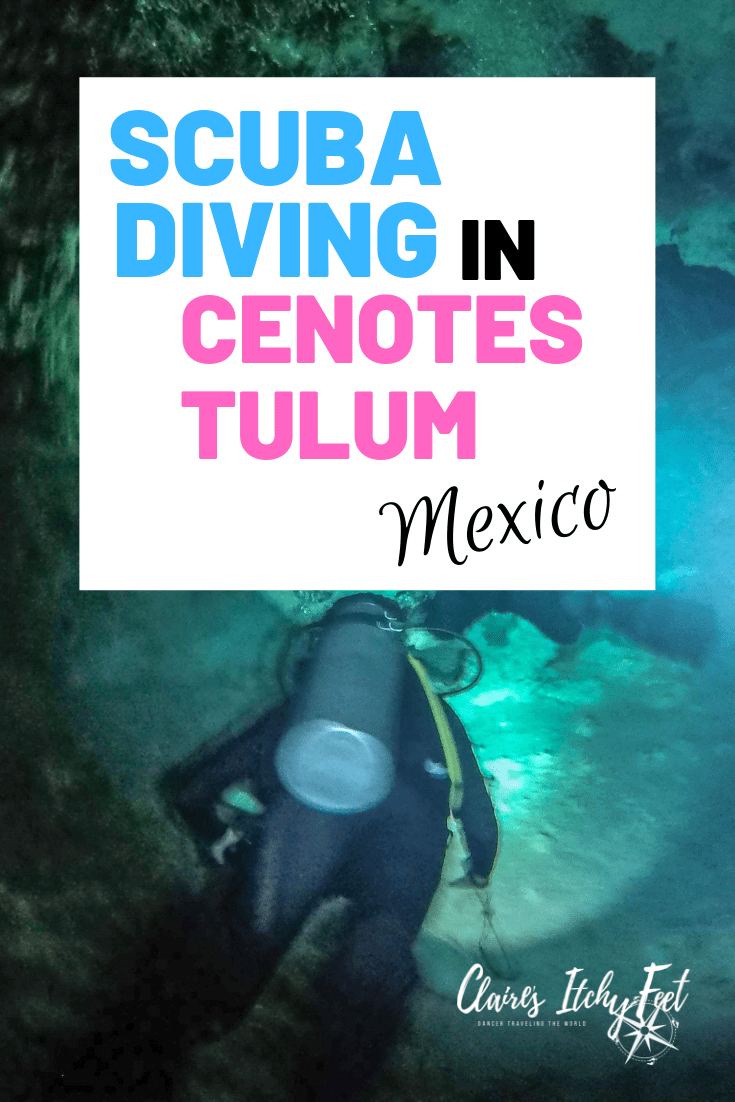 Looking for things to do in the Riviera Maya?
Check out these articles:
Visiting Cenote Azul and Cenote Cristalino
The Complete Guide to Chichen Itza in Mexico
How to see the Mayan Ruins in Tulum
How to spend a weekend in Merida
Choosing a Scuba Diving Company in Playa Del Carmen
Scuba Diving in Puerto Morelos
Diving in Cozumel is Always a Good Idea
This post was proofread by Grammarly