Planning a visit to San Pedro La Laguna in Guatemala? Having spent the best part of a year living in Guatemala, I can honestly say it captured a piece of my heart. I try and return once a year to keep all of my Guatemala posts updated so you can trust the information in this guide is still correct. I've pulled together all of the most important information that you will need into this guide to San Pedro La Laguna to help you plan your trip. I've included
It's true what they say about visiting different places in Guatemala. Each new place feels like visiting a whole other country, San Pedro is like nowhere else in Guatemala for all the best reasons! It is the first place I landed when I visited Guatemala for the first time back in 2017.
Did You Get Travel Insurance Yet?
Why Visit San Pedro La Laguna
The likelihood is that San Pedro La Laguna will be the first place you visit on your trip to Lake Atitlan unless you decide to stay and spend a few days in Panajachel. Most people skip Pana, as it's really more of a jumping-off place.
San Pedro on the other hand has a lot to do and it's high on the well-trodden backpacker trail. There is an abundance of hostels and budget accommodation, Spanish Schools, Coffee shops, and because of its location it's the perfect place to be based so you can easily access the other places on the lake.
How to Get to San Pedro La Laguna
The closest airport is Guatemala City. There are a few ways to get to San Pedro. On my way in I decided to splash out and asked for someone to pick me up from the airport. I didn't arrive in Guate (Guatemala City) until 4 pm and I really didn't want to stay there. There is only one direct bus a day and that's in the morning. It cost me $110 USD, but it gave me peace of mind. It also meant that I would have to NOT be a princess the rest of my trip and take the public buses!
First things first you do not want to be traveling at night on a bus. If you arrive in the afternoon or evening stay in Guatemala City (or Antigua) and get a bus in the morning. Or get a shuttle to Antigua and then you can get transport from there the next morning. A shuttle to Antigua can be arranged before you arrive through GuateGo.

How to get to San Pedro From Guatemala City
Either book a transfer direct to San Pedro or jump on the shuttle to Antigua and then take a bus from there to Panajachel (Pana). When you arrive in Pana walk or take a Tuk-tuk to the doc and get the water taxi over to San Pedro.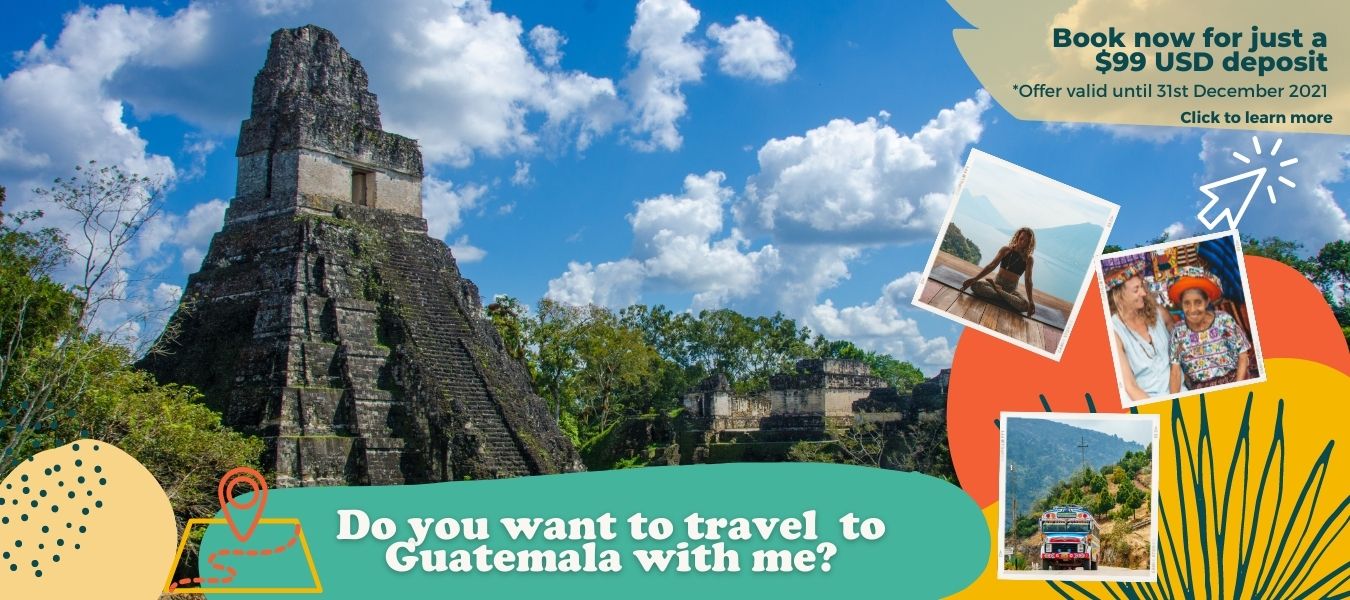 How to San Pedro from Antigua
There is an 8 am shuttle that will take you to Pana from there get the boat across the lake. The boat will cost you 25Q and take about 30-40 minutes.
You can book transport in Guatemala with GuateGo here and Guatemalan tours with them here.
Changing Money in San Pedro Guatemala
There are two cash machines. One by Pana dock, as you walk down towards the dock it on your right-hand side uFrenchhe French/ Italian wine bar. Look for a white door with a yellow sign above it. The other cash machine is up at the top of the hill on the main road just past the market. This is next door to the main bank. Once again look for a white door.
A little note about the cash machines in San Pedro La Laguna.
There are some old posts in forums about San Pedro Lake Atitlan cash machines not being safe to use. This is old information, they are both very safe now. One thing you do need to be warned about though has they put caps on how much money you can withdraw. One day I could only get out 200Q I managed to do this twice but the machine charges you 45Q for each withdrawal!
The best time to do is in the morning once they have filled the machines, don't bother going at weekends, go Friday if you can. Of better still get cash out before you arrive that was you won't have the stress of not being able to get any out. While I was there one girl tried every day for 3 days to get money out to pay for Spanish school and they wouldn't let her take it out as she needed 2000Q. If you know you will need large amounts to pay for school bring it with you.
Best places to eat in San Pedro
Breakfast
I spent most days at the Italian bakery and I have to admit there were a few times I had a second breakfast there! The bread and croissants are amazing and the coffee is Italian, need I say anymore. They also have plug sockets everywhere and fast internet.
Lunch or Dinner
Ha-falafel – hands down the best falafel I have EVER had. The staff are really cool and always up for a chat and its 25Q which is a bargain dinner! Do not leave San Pedro without eating there.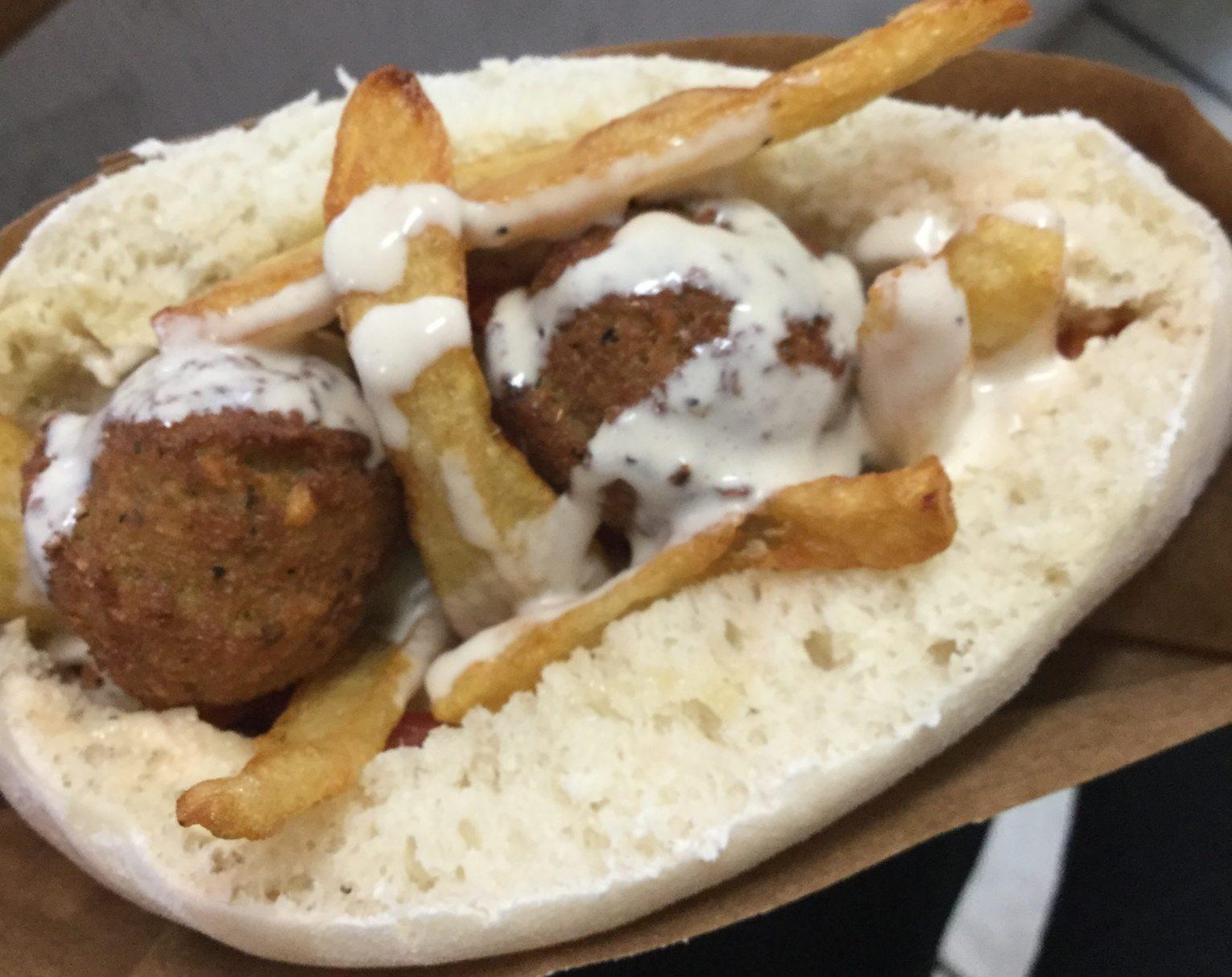 Cristalinas – I was in two minds about adding this to my list as one of the members of staff was so rude to me. But apart from that one rude girl, the staff were great and the food was really nice. The coffee is also amazing there, treat yourself to a hot chocolate, you won't regret it!
Fifth Dimension – even if you aren't a veggie this place is a must. It's cheap and the food is incredible! It has a reputation around the Laguna for a reason.
Shanti Shanti – Expect great views across the lake, slow service, 10Q Mojitos, and good food.
I would love to recommend more places to eat but as I was in a homestay I didn;t get much chance to eat locally!
Best places for evening drinks in San Pedro Lake Atitlan
San Pedro is known to be a bit of a party place, now that wasn't my experience. Possibly because I went there in January which is out of season. I'm pretty sure it gets wild over the summer. Because a lot of people staying there are either working or studying, there is a real sense of a weekend that you don't always get in party places like this! I am far from a party person these days but I did enjoy a few nights out.
So here is my low down of the few bars I frequented:
There is always something going on here. They have themed nights, great pizza and there is normally a bottle of tequila being passed around that you can pour into your mouth! Go on a Friday for the quiz night. It starts at 7:30 but gets there early as if it gets too busy you won't get it. If partying with 20 something backpackers isn't your thing, maybe give this place a miss!
Along with Hostel Fe this is the main place to go in the evening. I much prefer the vibe there to Fe and it's also great during the day for a bite to eat and a drink staring out across the lake. Again this is one of the backpacker's favorites so give it a miss after dark if that not your thing.
Yes, there is an Irish bar in San Pedro, nowhere is safe from the Irish pub culture! Monday night is an open mic and worth a visit. Although don't expect it to be particularly Irish. They serve Guinness but that's about as Irish as it gets.
The Blue Parrot
More chilled out that Fe and Submile this is just along from the Wild Rover. Cocktails will set you back 15-25Q and I highly recommend the screaming parrot to wash down your loaded fries.
In general, expect to pay the following prices for drinks in San Pedro Guatemala:
Mojito 10-15Q
Cuba Libre 5-10Q
Cocktails 15-25Q
Bottle of local beer 16-19Q
Large bottles of local beer 25Q
For guidance, 10Q is about $1.30 or £1.10
I'm never normally a big drinker, mostly as its expensive, at 10Q a Mojito I've been drinking rather a lot!
Best places to work from in San Pedro Guatemala
If you are a digital nomad like me, or you just need to do a bit of work then head to the Italian bakery. It's called Ideal Connection and it has amazing coffee, plugs everywhere and great Wi-Fi! You can even get your post delivered there.
They only open until 3 pm but San Pedro Wi-Fi slows down dramatically during the afternoon. If you are planning on working here get up early and work until lunch.
Day trips and Excursions from San Pedro Guatemala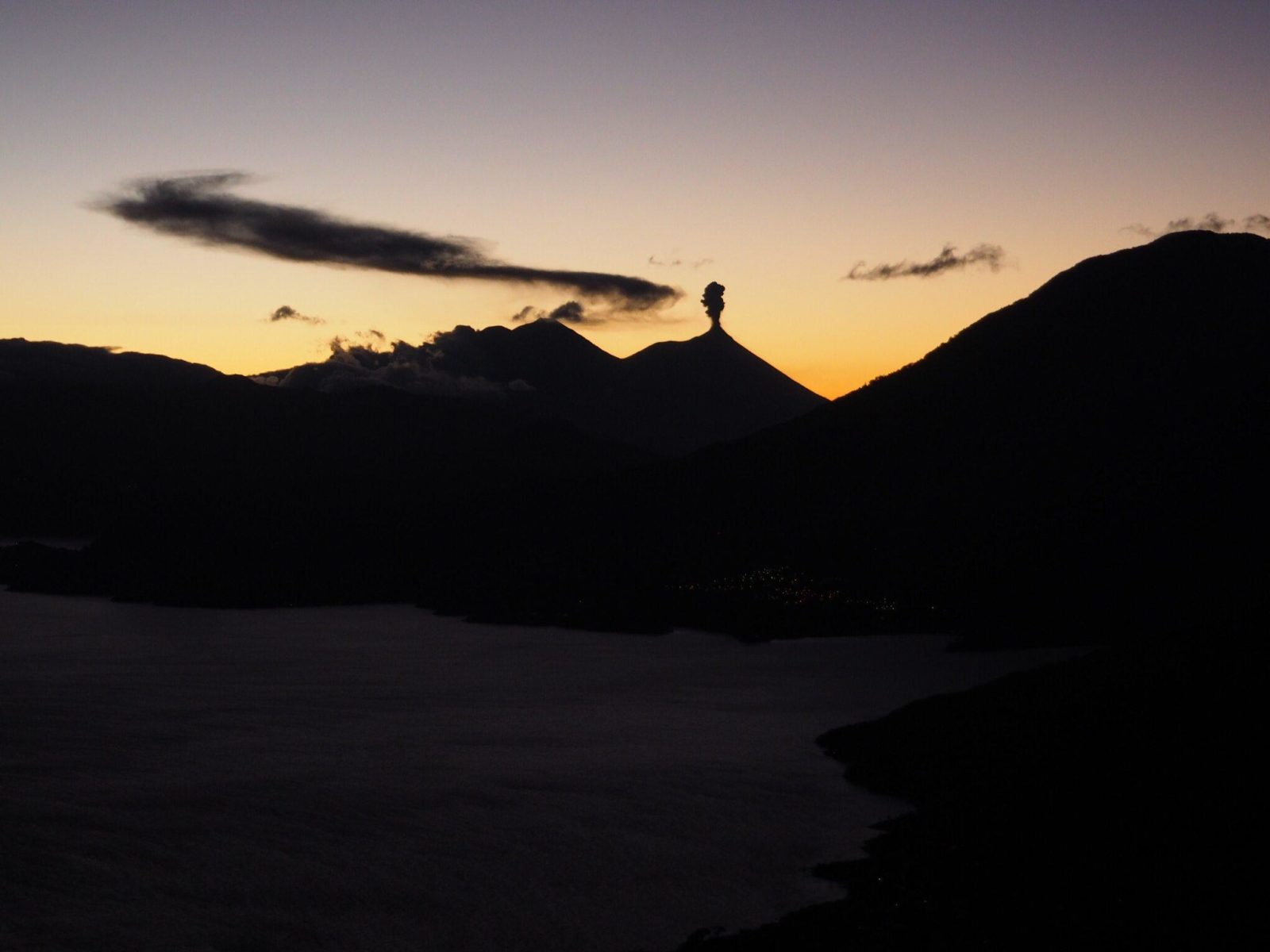 The main ones are:
Climbing the San Pedro Volcano, you can easily do this alone without a guide. Although check with locals when you arrive as there has been some recent trouble so you may need a guide.
Climbing Indian Nose (Mayan Nose) – you do need a guide for this. If you use one of the local agents it will cost 100Q. Of if you want a more in-depth tour to contact Matt. He charges 200Q but its well worth the extra.
Visit the other village around the Laguna including San Marcos, Santiago, and Pana

Kayaking- make sure you go in the morning as it gets pretty choppy on the water in the afternoon.
I have written a full guide full of 11 things to do in San Pedro so take a read for more inspiration.
Getting around San Pedro
You can pretty much walk everywhere you need to go as its a small place full of windy roads and narrow alleys. It is height up and there are some pretty steep roads, though. So if you aren't used to the altitude and/ or carrying baggage you can always grab a tuk-tuk. It will cost you 5Q in the daytime and 10Q at night.
The safest and easiest way to get to the other villages around the island is by boat. It's cheap, quick they run regularly.
Final Thoughts
Need to know how to get to San Pedro or away? I have lots of information on transport in Guatemala you can read here:
Visiting Chichicastenango Market in Guatemala
How to get from Lake Atitlan to Chichicastenango Market
How to get from Antigua to Lake Atitlan
I hope you have found this post useful if you are planning a trip to Guatemala make sure you read my other posts!
Looking for somewhere to stay in San Pedro? Check out these places:
Cristalinas Cafe, Hotel & Restaurant at Lake
This post was proofread by Grammarly