In this solo girl's guide to Uzbekistan Gloria from Midlife Safaris shares with you everything you need to know when visiting Uzbekistan alone.
The solo girl's guide to Uzbekistan
I spent the last three years exploring different cities in South and South-East Asia and thought it was time to see what Central Asia has to offer. A lot of people that go there tend to visit at least two to three of the Stans at a time, but I thought I would spend ample time visiting Uzbekistan and work my way to the others on subsequent trips.
Things to do in Tashkent
You will most likely land in the capital Tashkent which is a vibrant mix of modern and traditional culture. A city tour includes some museums and visiting the Amir Temur and Independence Squares, Shopping at its famous Broadway Street. But if you do not have much time, I suggest spending less time in Tashkent and head off to the Silk Road cities Khiva, Bukhara, and Samarkand, famous for having the most stunning cultural architecture imaginable.

Uzbekistan Itinerary
My itinerary was seven days which was ample time to see the main attractions.
Here are the top suggestions of things to do in Uzbekistan:
KHIVA
Recommended stay 1 day.
Take a tour of the mystical city built more than 2500 years ago enshrined within a fortress called Ichan Kala or the walled city. A full day is sufficient to visit most of the sites.
There is a lot to learn about the history of the city from visiting its beautiful mosques, madrasahs, and shrines. Some of the iconic things to see include the minaret of Djuma mosque, Kunya Ark which is iconic for its blue majolica floral patterns with elegant Arabic writing, Isfandiyar palace, Kalta minor minaret, and Tash Hauli's harem where one of Khiva's aristocrats lived with his wives and concubines.
The best view in town is on the rooftop of the Ak Sheykh minaret which gives you a bird's eye view of the whole city. You can get good bargains on souvenirs and Uzbek fabric and clothing from within the city.
BUKHARA
Recommended stay 2 days.
This holy city is mostly known for its ancient buildings that have been beautifully restored and will transport you into a prehistoric dreamscape.
Tour the old city
Relish the beauty of the thousands-old holy land to get a taste of its timeless tradition. Must see places include the Kalyan minaret which takes prime place at the center of the city (you should see it during the day and at night when it is lit up to appreciate its beauty) Chasma Ayub and the 12 century Magoki Attari mosque, the mausoleum of Ismail Samani and three of the most stunning madrasahs; Ulgbek, Abd Al Aziz Khan, Miri-Arab. Most of these are characterized by brightly colored bricks and blue and yellow majolica patterns.
Lyabi Hauz
The tour meeting point in Bukhara and is located at the city centre. Most hotels are around this area. Surrounded by an artificial pond, it makes for a great spot to stop for tea and snacks.
Uzbeks are the ultimate tea lovers, so be prepared to drink a lot of sumptuous tea in Uzbekistan.
Shopping
Bazaar shops and kiosks have excellent bargains on jewelry, carpets, souvenirs, and local textiles. I purchased a multi-colored winter trench coat that's to die for.
Hammams
Hammams are also a popular attraction. The ladies' one is located behind Kalyan and is run by the loveliest grannies who will warm your heart and soul. Be prepared for a thorough scrub, relaxing massage, and healing facial to boot. The treatment costs about 20$ and must be booked in advance.
See a Puppet Show
Puppet shows are also available at the theatre in Bhukara.
Visit a Palace
If you have time, a 30 minutes' drive outside of the city will take you to the mausoleum of Bakhautdin
Naqshband, founder of one of the ancient Sufism orders.
The Makhi Xossa palace, also 30 minutes from the Old City but is worth the drive. With most of its rooms and furniture still intact, the palace boasts of decadent rooms inspired by opulent artifacts from far-away lands, imagine an Eastern version of the Versailles.
SAMARKAND:
Recommended stay 2 days.
Registan square
The highlight of a trip to Uzbekistan. It is as beautiful as only an ancient architectural wonder can be. Which explains why it is always packed with tourists. That said, strolling through its beguiling rooms including over 50 madrassahs gives you a sense of inner peace. For about 3$ you can climb up a narrow stairway to the top of one of the minarets for a panoramic view of the square.
Bibi Khanym mausoleum
The Bibi Khanym mausoleum and mosque, a walking distance away from the Registan is also a must see, mostly because of its history as well as its magnificence.
Gur Emir mausoleum where the famous Mongol ruler Amir Temur and his close relatives are buried underneath tombstones made from precious stones like jade and onyx. It is said that the mausoleum is adorned with almost 5kg of gold.
Some stunning madrasahs as seen on Instagram shots include Ulugbek, Sher Dor, and Tillya-Kari. Most of them are still places of worship so it's important to be respectful as you will see people praying.
Afrosiab museum
Other attractions slightly out of town include the Afrosiab museum where you can learn about the city's rich history and the excavation site behind its building.
If you are interested in astronomy, make a stop
at the Ulugbek Observatory a walking distance from the Afrosiab museum.
Uzbek Nightlife
Tashkent has a vibrant creative scene buzzing with the latest fashion trends and passionate artists. Food is as diverse and fascinating as the people. If you want to go traditional, the plov (rice dish) is legendary and the shashlik (meat skewers of beef, lamb or chicken) finger licking good. There is a wide array of trendy cafes and restaurants in Tashkent, you'll be spoilt for choice when it comes to western food.
While I only stayed a night in the beginning and the end of my trip I still got invited to a fashion show and a musical performance, there is clearly much more to be explored.
As the second largest city Samarkand also has a vibrant nightlife.
Nightlife is more low-key in Khiva and Bhukara as most sites close by dusk but they remain lit up until around 11:00 p.m. So it is possible to take evening walks on the periphery to get a refreshing night view. A tip for the guards could still get you in after hours. Khiva evenings are made for lazy strolls giving you a distinct perspective of the city.
Nadir Divanbegi madrasah
If you are keen on fashion or just want to chill over a nice glass of wine
and dinner, the Nadir Divanbegi madrasah in Bukhara is the place to be. A very well-choreographed folk dance and a fashion show showcasing modernized chic traditional attire are held in the evenings. An advance booking is required as it is on very high demand.
Restaurants
You can enjoy a sumptuous meal in quaint beautifully decorated restaurants many of which are adorned with stylish traditional ornaments and colorful décor. You need a reservation for most of the restaurants as they have a very limited capacity.
Alcohol is available in most restaurants and cafes. Please see restaurant recommendations below.
Getting around in Uzbekistan
It is easy and cheap to get around between cities including to and from the airports and train stations.
In-country flights and trains cost as little as 50$.
Trains
There are daily connecting high speed and normal trains between the cities. The only catch is that you have to book early especially during the peak season. I ended up staying a day longer in Bhukara because the train was full. In Tashkent there is a reliable metro system.
Taxis and Driving
Taxis are quite reasonable and safe. If you have time you can consider driving between some of the cities to enjoy the view.
Safety in Uzbekistan
Uzbekistan is relatively safe for solo female travels. You stand out a lot as a foreigner so expect a lot of stares and requests for selfies from locals. It's mostly harmless as they are genuinely welcoming to foreigners.
How to dress in Uzbekistan
There are no restrictions on dressing for foreigners just dress for comfort. Like in most places of worship you occasionally have to remove your shoes at some sites. The weather can be bipolar, I had days that had predicted bad weather that turned out to be gorgeous and vice versa.
What language do they speak in Uzbekistan?
Not many people speak English. Russian is more widely spoken in Tashkent and Tagik in Samarkand and Bukhara. But again you can still get by.
Internet
You can get a 7-day tourist sim card that will guarantee you decent internet across the country.
Money
Cash is the preferred mode of payment. International credit cards are not widely accepted. Marked bills are not accepted and can only be changed at the bank and attract a 5% commission. A minimal entry fee is charged at the sites.
Where to Stay and Eat in Uzbekistan
Accommodation is quite reasonable and can be easily booked through Booking, TripAdvisor or Air B&B. However, you need to book early as they fill up quite first. In Tashkent I recommend staying closer to the city center so you can easily walk around.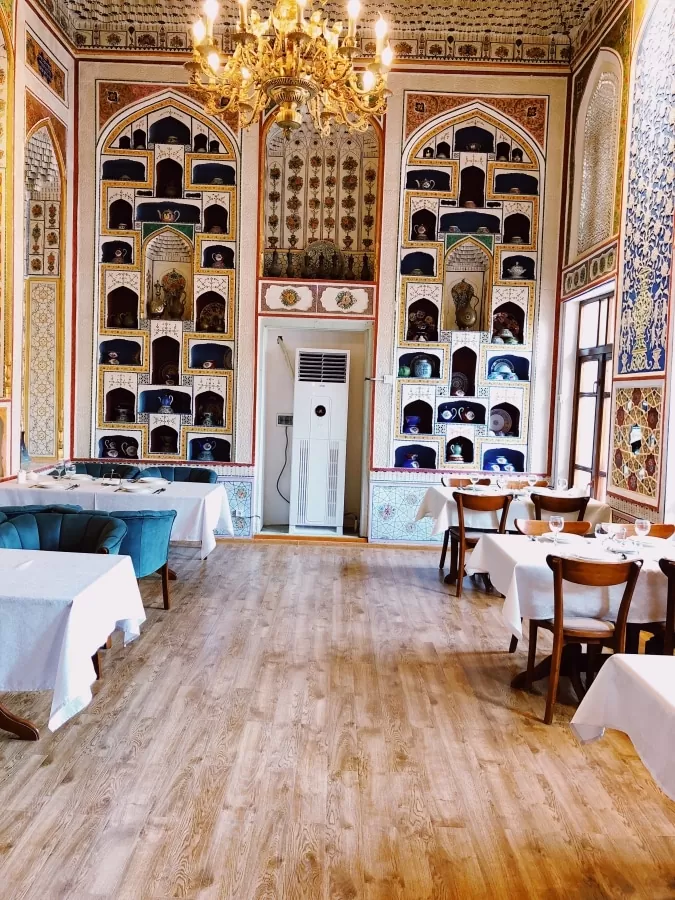 Khiva: All the hotels are inside the walled city. I stayed at the Orient Star hotel which is a renovated former madrasah. Access to the rooms is through a narrow flight of stairs and the rooms are tiny with very low ceilings but very warm and comfortable.
For meals check out the Terrassa restaurant where food is delicious and you can sit on the rooftop and enjoy the views.
Bukhara: Most of the hotels are quaint, cozy, renovated old homes which adds to their charm. The city is undergoing a massive restoration exercise of historical buildings. One thing that really caught my eye was the elegantly maintained courtyards. I stayed at Lyabi house which is one of these traditional boutique hotels. It was very comfortable and the staff very friendly.
The restaurant at the hotel had amazing décor and food was decadent. You must try the pumpkin soup. On some nights they have young locals coming in to do magic shows. Salom inn also has good food and a gorgeous courtyard.
Komil hotel, a beautiful family-owned establishment is also a good option. Food at the nicely decorated restaurant is good but you need a reservation.
Samarkand: Despite being a big city it also has charming traditional hotels in the old city. I stayed at the Jahongir B&B, a walking distance from the Registan which again was quiet, warm and beautifully decorated.
Final Thoughts
The best time to visit Uzbekistan is before and after the summer so between March and May and again from August to October. The summers can be quite hot.
If Uzbekistan is not on your bucket list yet, it should be.
Love
Gloria x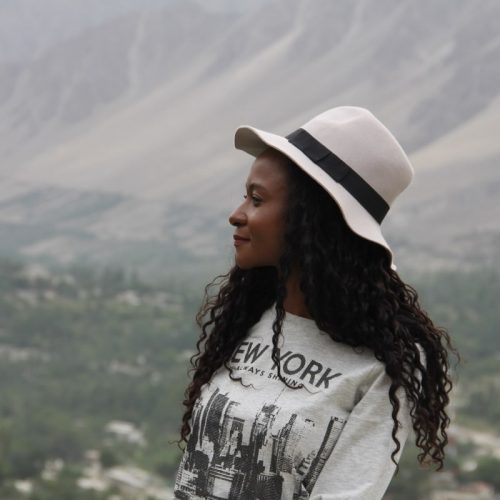 Biog
Gloria works in international development and travels frequently for work and pleasure. She currently is living and exploring Asia.
Check out our other Solo Girls Guides
Barcelona | Copenhagen | Israel | Kuala Lumpur | Moscow | Nepal | Queenstown | Prague | Santa Barbara | Stockholm | Uzbekistan | Vegas | Zurich
This post was proofread by Grammarly