If you clicked on this post then it's a pretty sure bet that you have heard about the magical place in Mexico that is Bacalar. And now you want to know how to get to Bacalar. There are several different ways that you can visit Bacalar and in this blog post, I'm going to cover them all.
I'm also going to throw in a few extra 'good to knows' like some recommended hotels in Bacalar, and things to do in Bacalar.
Ok, so let's dive right in, here are the best ways to get to Bacalar:
Need to book transportation in Mexico?
I highly recommend booking all of your Mexico transportation with GuateGo. You can search for buses, shuttles, ferries, and Flights on their website. What I love most about them is their customer service. I know these guys personally from my time living in Guatemala and they really do look after their customers. So if anything happens and you get delayed and miss your bus, you can just call them and they are always there to help.

If you book through them you will pay a little more than if you book in person at the bus station. But it's worth it for the ease and security in my opinion. Click here to search for transportation in Mexico.
1. Taking the ADO Bus to Bacalar
I'm a big fan of ADO. the buses are always clean, air-conditioned (sometimes too much), and apparently have WiFi… although it's never worked for me personally.
Getting the ADO bus to Bacalar couldn't be easier. I would recommend booking your ticket the day before though. You can do this online through GuateGo *forget about using the ADO website or APP as it's always super glitchy and you normally need a Mexican debit card to pay. GuateGo is just easier, but you will pay a little more as they add on a booking fee (obviously).
You will catch the bus from the ADO bus station on Juarez by the Cozumel ferry in Playa del Carmen and you may need to change in Tulum, depending on the bus you take. There are 10 buses from Playa del Carmen to Bacalar each day, and it will take around 4 hours.
Expect to pay around $400 pesos to get from Playa del Carmen to Bacalar by bus.
Not traveling from Playa del Carmen? There are buses from Tulum, Cancun, and Merida to Bacalar. Again I recommend booking the day before, either in person from the bus station, or online via GuateGo. GuateGo has all of the most up-to-date information about bus timetables so you can check which bus you want to take.
Did You Get Travel Insurance Yet?
If 2020 taught us anything, it's that you need to be prepared for anything! Travel insurance has always been high my list of things to get before I travel but now more than ever its at the top of my list.

I'm pretty sure we have all had travel plans messed up because of COVID and not all insurers covered this. So when looking for travel insurance it's important to check it covers travel disruption due to COVID-19, Hey Mondo, Passport Nomads, Safety Wing, and Travel Insurance Master all provide cover for this.

Hey Mondo is great if you are looking for a great value flexible policy. They offer single trip cover, annual multi trip cover, and long term travel cover. You even have the option to start the cover when you are already on your trip, although you won't be covered for the first 72 hours. For me my favourite feature is their app which offers you a 24/7 Dr chat and the ability to file a claim direct in the app.

Passport Nomads provides the most comprehensive cover for Digital Nomads. The game changer with them is that you have a red card and if you find yourself in need of medical care you just contact them and they will pre load your card with the funds to cover your treatment, meaning you won't need to pay out of pocket and then put in a claim later.

Safety Wing is great value with monthly cover starting at $39. It's super easy to use and it just renews each month. They have an excess of $250 and it's simple to make a claim through their website. I currently use them as they offer me free cover for my son as part of my policy and I like that it renews on a monthly basis, so I don't have to pay out a big lump sum up front.

I also use Travel Insurance Master for some short vacation type trips.

If you are doing shorter trips or an extended backpacking trip then Hey Mondo or Travel Insurance Master are the best option. If you are a digital nomad or planning travel of at least 6 months then go for Passport Nomads or SafetyWing.
2. Take a Colectivo From Playa Del Carmen to Bacalar
If you want to save money and don't mind being a bit uncomfortable then you can also take a colectivo from Playa del Carmen to Bacalar. Take the Tulum colectivo from Playa del Carmen (more info on this here), and then when you get off in Tulum you get on the Tulum – Bacalar Collectivo from the same place. It's likely to take up to 6 hours and will cost around 100-150 pesos.
3. Rent A Car And Drive To Bacalar
If you are planning on spending a couple of days in Bacalar then I'd recommend renting a car and driving yourself to Bacalar. The road between Cancun (Playa del Carmen, and Tulum) and Bacalar is pretty good and the signs are easy to follow… it's pretty much just one straight road.
Here are the distances and drive times to Bacalar:
Playa del Carmen to Bacalar: 3 hours approx (279 KM)
Merida to Bacalar: 4 hours 30 minutes approx (345 KM)
Cancun to Bacalar: 4 hours approx (345 KM)
Tulum to Bacalar: 2 hours 30 minutes approx (215 KM)
Chetumal to Bacalar: 50 minutes approx (39 KM)
As always, do be careful renting a car in Mexico, it's very easy to get ripped off! If you are planning on renting a car in Playa del Carmen then read this first, and then book a car with Turismo Channel. It's who I always use when renting a car in Playa del Carmen. PS, if you want to get a Mexican Drivers license in Playa del Carmen so you can take advantage of local discounts, read this.
It's definitely useful to have a car in Bacalar to be able to get around. Most accommodation is in the town, but if you want to enjoy the nicer parts of the lake then you will want to go further south.
Need to rent a car in Playa del Carmen?
Whenever I'm in Playa or Tulum I always rent a car through Turismo Channel as they include everything in the quoted price. Car rental companies in Mexico are notoriously tricky to deal with and 9 times out of 10 they will quote you a low price but then when you get there they add on all kinds of insurance and won't give the car to you unless you pay up. It can also take weeks or even months to refund your deposit. I wrote a whole blog post you can read here for more information. If you rent with Turismo channel use the code clairecaroff for a discounted price. You can also send her a WhatsApp message quoting the above codes to receive the discount.
4. Book a Private Shuttle to Bacalar
There are several companies that will take you to Bacalar via a private transfer in a mini bus, a bit like taking a colectivo, but the vans are normally nicer. Ask the travel agents for this option, or you can book via GuateGo here. Not something I have ever done really as I prefer to take the ADO as there is more space and better AC!
5. Book on a Private Tour of Bacalar
If you are limited by time then this is the best option. The last time I went to Bacalar from Playa del Carmen this is what I did. I did a one-day tour to Bacalar from Playa del Carmen with Turismo Channel.
I was picked up early in the morning and dropped back off again by 7pm. It was a long day, but not having to drive, or take a bus was perfect. Much less stress! And we got to do everything on my Bacalar bucket list.
Looking for a reputable tour company in The Riviera Maya?
I've been working with Turismo Channel in Playa del Carmen for years and they are who I send all of my family and friends to when they visit the Riviera Maya. I really can recommend them enough for tours, private airport transfers, and rental cars. Vanessa and Oliver are personal friends of mine and I have 100% faith that you will have a wonderful time with them.
You can check out their tours by clicking here and using the following discount codes for the best prices clairecaroff (car rental), claire10off (for 10% off group tours), claireprivate (for a discount on private tours). You can also send her a WhatsApp message quoting the above codes to receive the discount.
Breakfast in Bacalar town
Chill by the lake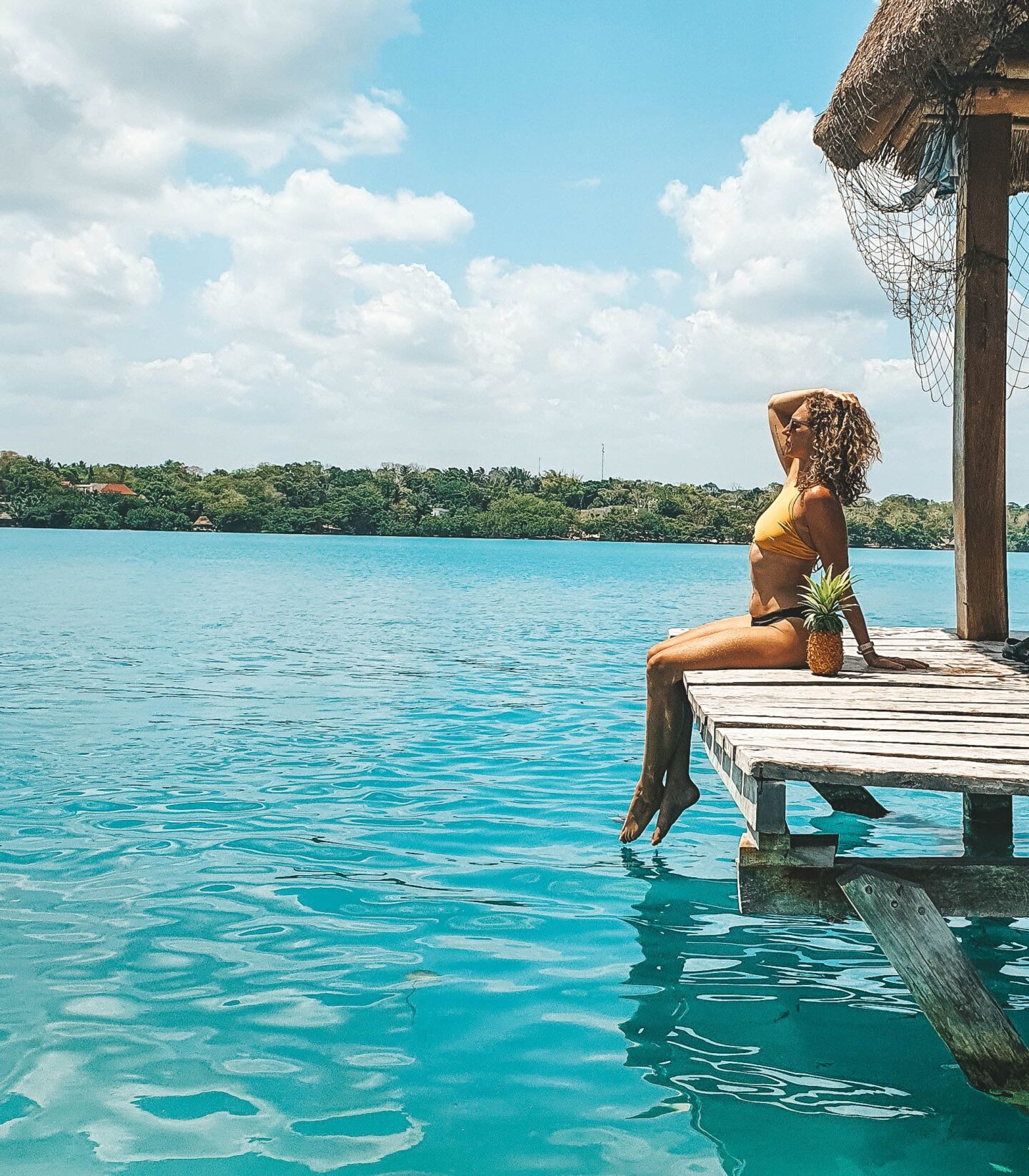 Take a boat trip in Bacalar
I loved that everything was included in the tour which made it very affordable and also saved us a lot of time and stress.
You can check out the vlog I made of our day in Bacalar with Turismo Channel here.
5. Fly to Chetumal and Then Take a Bus
This seems like a bit too much stress and hassle for me if you are already in the Riviera Maya. But if you are traveling from outside then it could be an option if you only plan on visiting Bacalar.
The closest airport to Bacalar is Chetumal and you can fly into Chetumal airport and then take a taxi or a bus to Bacalar.
Need Accommodation in Bacalar?
Check out these options: