There are no shortage of Playa del Carmen Spas that's for sure. But with so many how do you pick the best spa in Playa del Carmen? In this post, I've rounded up my top spas in Playa del Carmen for you based on my personal experience using their services, the price, and of course the overall experience. There are many Playa del Carmen spas I've not included, mostly because their prices are ridiculous. They are more inline with USA pricing and therefore not somewhere local people visit!
I'm on a mission to visit as many Playa del Carmen spas as possible so I will continue to add to this post. If you know of a spa in Playa del Carmen that you think I should visit contact me and let me know.
Jungle Salon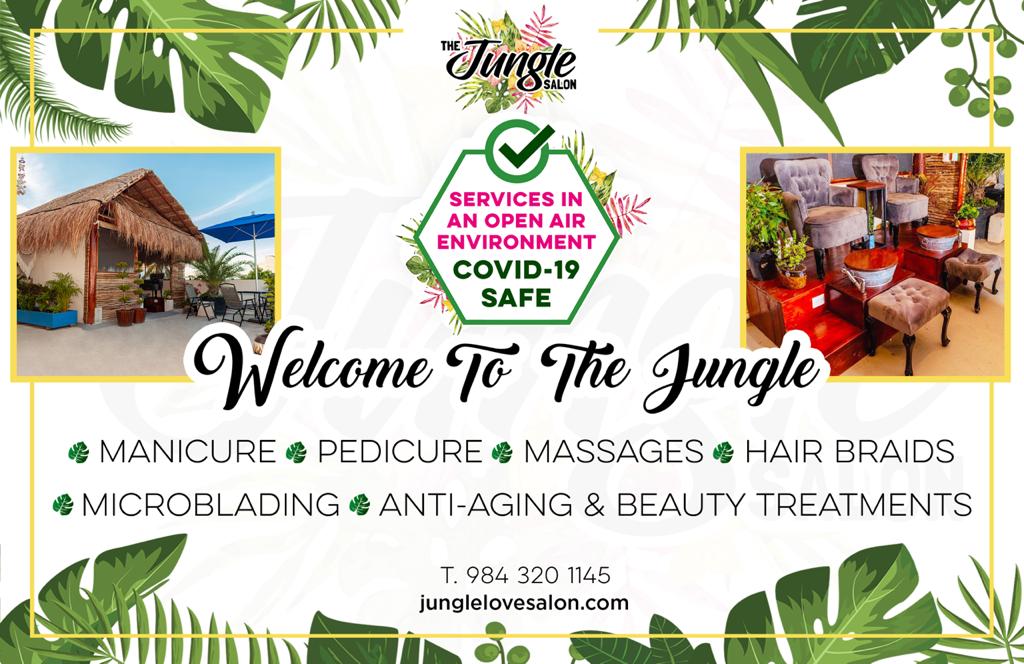 What a gem this place is. Walking in here for the first time I felt like all of my beauty wishes had been answered! Not only is Jungle Salon / Spa Playa del Carmen in a great location, but it's also outdoors (perfect during COVID), and has everything I need under one roof. Nails, Massages, Anti-Aging, Hair, and Education!
Everyone in here speaks perfect English, so you won't struggle to be understood if your Spanish is still a work in progress and unlike a lot of the Spas in Playa del Carmen, here it's all about community. They even have a chill-out area if you aren't quite ready to leave the Jungle after your treatments.
Unlike other Spas in Playa del Carmen they don't just perform anti-aging treatments, they work with you to create a skin care plan that can include treatments like Botox and fillers, but always with advice about improving your diet supporting treatments with regular facials and sun protection.
I've got to be honest, before moving to the Caribbean I never paid too much attention to my skin. But after 4 years in Latin America, I've noticed sun spots on my face and I am not ok with it! I'd advise anyone to go in for a consultation with Jessica their skincare specialist (that includes you, boys, too, skincare isn't just for us chicas).
Treatments on Offer:
Manicures and pedicures
Body treatments
Facials
Massages
Anti-Aging (including PRP (vampire) facials, Botox, fillers, and more)
Hair
Eyelashes
Thinking of getting the PRP Facial? Take a look at the video I made of me getting it done at the Jungle Salon below.
Cost:
Prices vary and they do special offers all the time. Expect to pay from $200pesos for a manicure and $800 for a basic facial)
For current offers and prices visit their Facebook.
**SPECIAL OFFER: Mention Claire's Itchy Feet when you book your first nail services at Jungle Spa and you will get a special 20% discount exclusively for my readers.
How to get there:
The Jungle Salon is in central Playa del Carmen just off Ave 30, but you will need to contact them for directions.
Okomo Spa Playa del Carmen
This is my personal favorite spa in Playa del Carmen. I'm a member here so I try and go at least once a week. They have a hydro room which includes a sauna, steam room, cold showers, cold plunge pool, and then a pool full of other water jets that help to relax me after a week of sitting at my computer!
The staff are all super friendly and helpful, soft drinks are included, I recommend trying one of the tea infusions. If you are just coming for the day then it's actually worth booking a massage or another treatment as the use of the spa is included and you can be in there for up to 2 hours.
Is it the best spa I've ever been to? No, but it's the best spa in Playa del Carmen I've been to.
If you are local to Playa del Carmen or a digital nomad planning on staying for a few months then it's worth enquiring about their spa memberships. The memberships can range from 1 month to a full year and include spa treatments such as massages and facials, yoga classes, use of the gym and rooftop pool area, plus 20% off all services.
I've had several of the spa treatments in Playa del Carmen and all have been wonderful. Before and after your spa treatment you are seated in the relaxation room. After your treatment, they will bring you a drink and you can stay there until you are ready to leave… bliss.
Treatments on Offer:
Manicures and pedicures
Body treatments
Facials
Massages
Hydrotherapy
Yoga
Cost:
For access to the hydrotherapy for 2 hours, it costs around $400 pesos. I would recommend booking a massage which will give you the same access to the hydrotherapy. Prices start at $800 pesos for a 30-minute massage.
Opening Hours:
9 am – 10 pm Monday – Sunday
How to get there:
Soul Spa Playa del Carmen
Review coming soon…
Treatments on Offer:
Cost:
Opening Hours:
How to get there:
GH Spa Playa del Carmen
Oh, how I love GH Spa. It doesn't have the hydrotherapy, but it is still one of my top spas in Playa del Carmen. If I'm ever in the need of a quick pamper session I check their monthly offers. You can often get a facial and a massage for around $1000 pesos when they do offers. The first time I had a facial there I think I fell asleep! Seriously, not only was my skin glowing but I felt so relaxed I think I went home and slept for 10 hours.
Price-wise they are not as expensive as the fancy spas within the hotels, but they also aren't very cheap like some of the more local places. I find them pitched perfectly in the middle. You pay a little extra for the incredible quality and service, without paying silly tourist prices.
Treatments on Offer:
Manicures and pedicures
Body treatments
Facials
Massages
Waxing
Makeup
Cost:
prices vary and they almost always have some special offers on so it's best to get in touch with them (English or Spanish) via Facebook.
Opening Hours:
Monday to Saturday 11:00 am – 2:00 pm & 3:00pm – 8:00pm
How to get there:
The Best Massage Playa del Carmen
If you are looking for a good massage in Playa del Carmen then other than the places I have already recommended above (who are all amazing) I know several local people who give amazing massages and will come out to visit your home, or in some cases you can visit them.
They are all people I know personally and I can vouch for each of them as trustworthy, honest, and offer amazing service.
Huitzilin Sanación Integral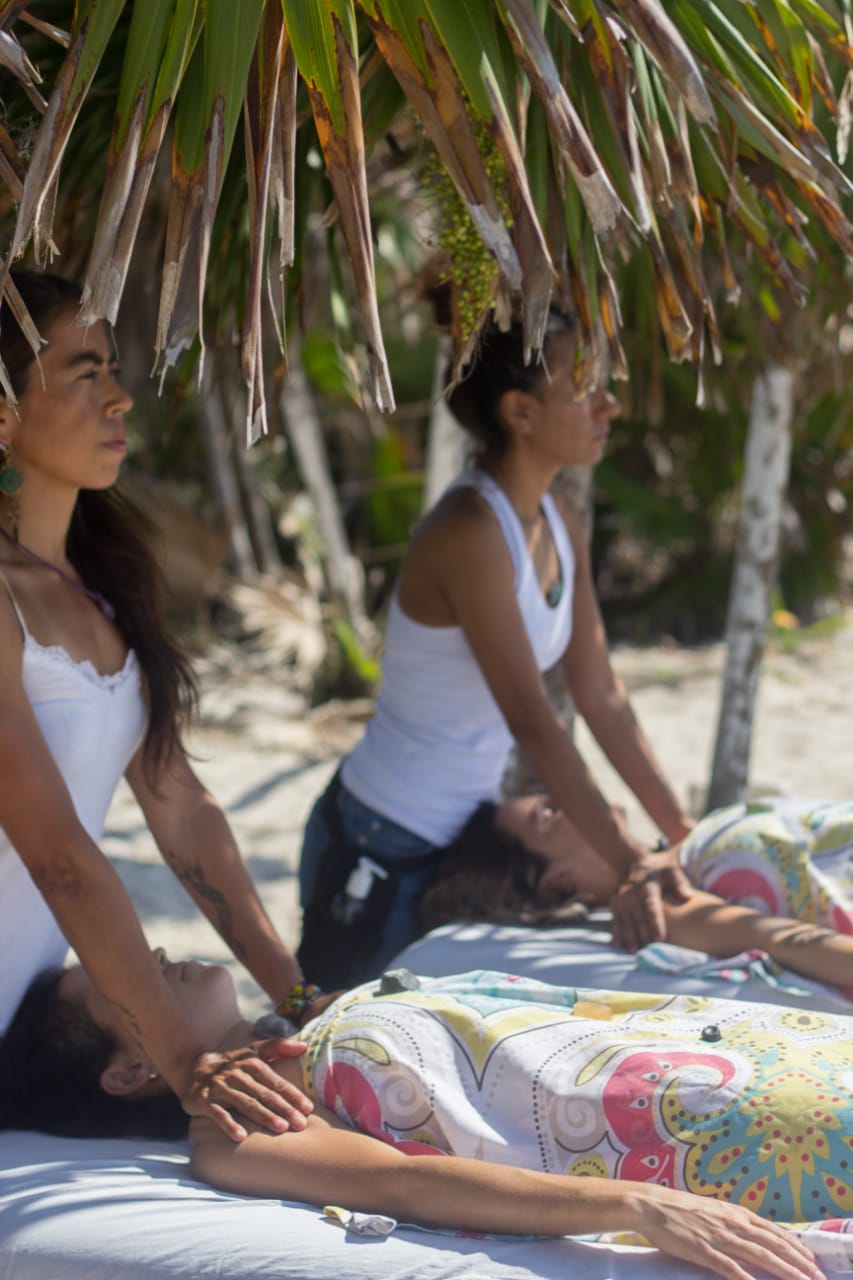 I have no idea how you pronounce this, so don't even ask!
But this company belongs to a very dear friend of mine Gisela. She speaks perfect English so you can send her a message in English or Spanish. With the treatments that Gisela offers it's more of an energetic massage treatment, so don't go expecting a deep tissue massage.
The treatments are around 2 hours and include a lot of energetic work, crystal therapy, body brushing, and singing bowls. Honestly, it's a very deep energetic treatment and I swear I don't understand where the time goes. I go into such a deep state of relaxation and openness that it always takes me a while to come around after. Talk about blissed out!
Treatments are done in her home and you will need to book an appointment with 24 hours' notice. She also does Mayan readings which are super interesting. Please be sure you let her know I sent you!
Cost varies but starts from $600 pesos for 1 hour
About the Bio-Energetic Treatment
This is a full-body therapeutic-relaxing massage that includes a combination of reiki, reflexology, pranic healing, lymphatic drainage, working with crystals, aromatherapy, and music therapy (1hr-2hrs sessions).
This treatment will help you feel more balanced, it will restore and brings your vital energy and energetic centers to an enhanced state of wellbeing.
Benefits include lowering stress, anxiety, and anguish levels due to day to day routine. These therapeutic-bioenergetic sessions will help enhance your current level of physical, relational, emotional, mental, and spiritual wellness: to support you in living your life to its fullest and guide you to a higher level of consciousness.
Contact her through her Facebook page here or via WhatsApp +52 656 278 8651
Adrian – Mayan Massage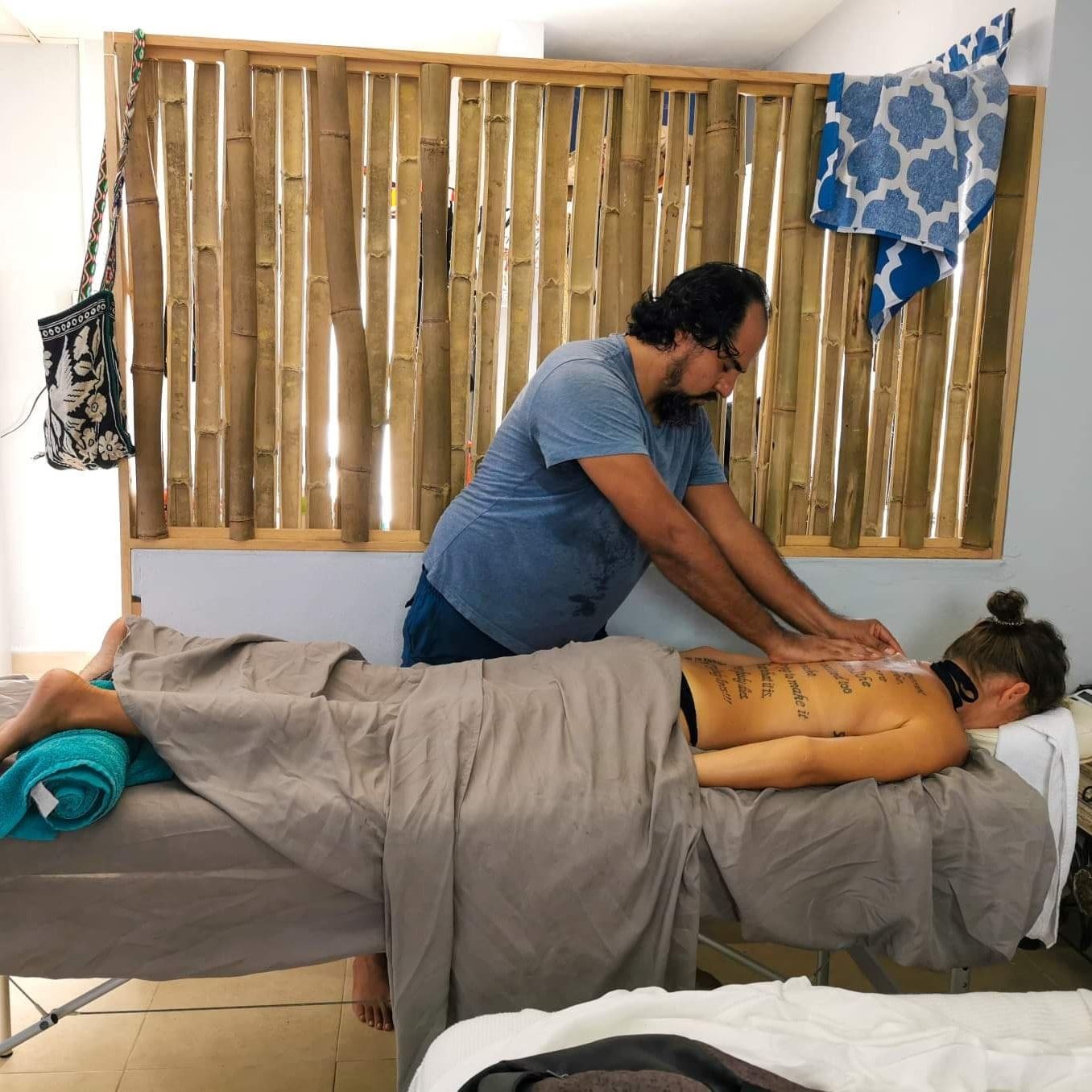 Adrian offers traditional Mayan massage, this guy is the real deal when it comes to massages in Playa del Carmen, he is my top pick. Each session lasts for one hour and a half and he comes to you in your home or hotel.
The cost is by donation, with a minimum donation of $400 pesos. This is a ridiculously low price as Adrian wants everyone to be able to access his service. I would suggest paying a minimum of $700 pesos, more if you can afford it.
What is Traditional Mayan massage therapy?
As Adrian states, Mayan massage is perfect for anyone, especially people that have joint pain, back problems, or stress fatigue. It involves very deep tissue stimulation and stretches. Mayan massage helps the accumulated energy in the body to flow out, so the divine energy can flow in.
Contact him through his Facebook page or via WhatsApp +52 984 135 6750