Just arrived and wondering what safe and fun things to do in Playa del Carmen. I got you covered. Tourism is important here and so the government is being very strict on the protocols businesses have to adhere to if they want to open and serve the public.
On this list of fun things you can do in Playa del Carmen, Mexico right now, I've listed activities with the least risk and recommended companies I trust with your safety.
Need to book transportation in Mexico?
I highly recommend booking all of your Mexico transportation with GuateGo. You can search for buses, shuttles, ferries, and Flights on their website. What I love most about them is their customer service. I know these guys personally from my time living in Guatemala and they really do look after their customers. So if anything happens and you get delayed and miss your bus, you can just call them and they are always there to help.

If you book through them you will pay a little more than if you book in person at the bus station. But it's worth it for the ease and security in my opinion. Click here to search for transportation in Mexico.
Visit a Cenote
The beaches may be closed, but the cenotes are not! They have a 30% capacity but there are lots of options to choose from so if one is full you can just try another. If you don't have a car then your best bet is to hop on a colectivo towards Tulum and stop at one of the cenotes on the way.
But honestly, I wouldn't be getting on a collectivo right now unless I had to. I took one form Cancun to Playa del Carmen a few weeks ago and there wasn't much social distancing going on, plus the AC isn't great and you will have to be in the mask the whole time.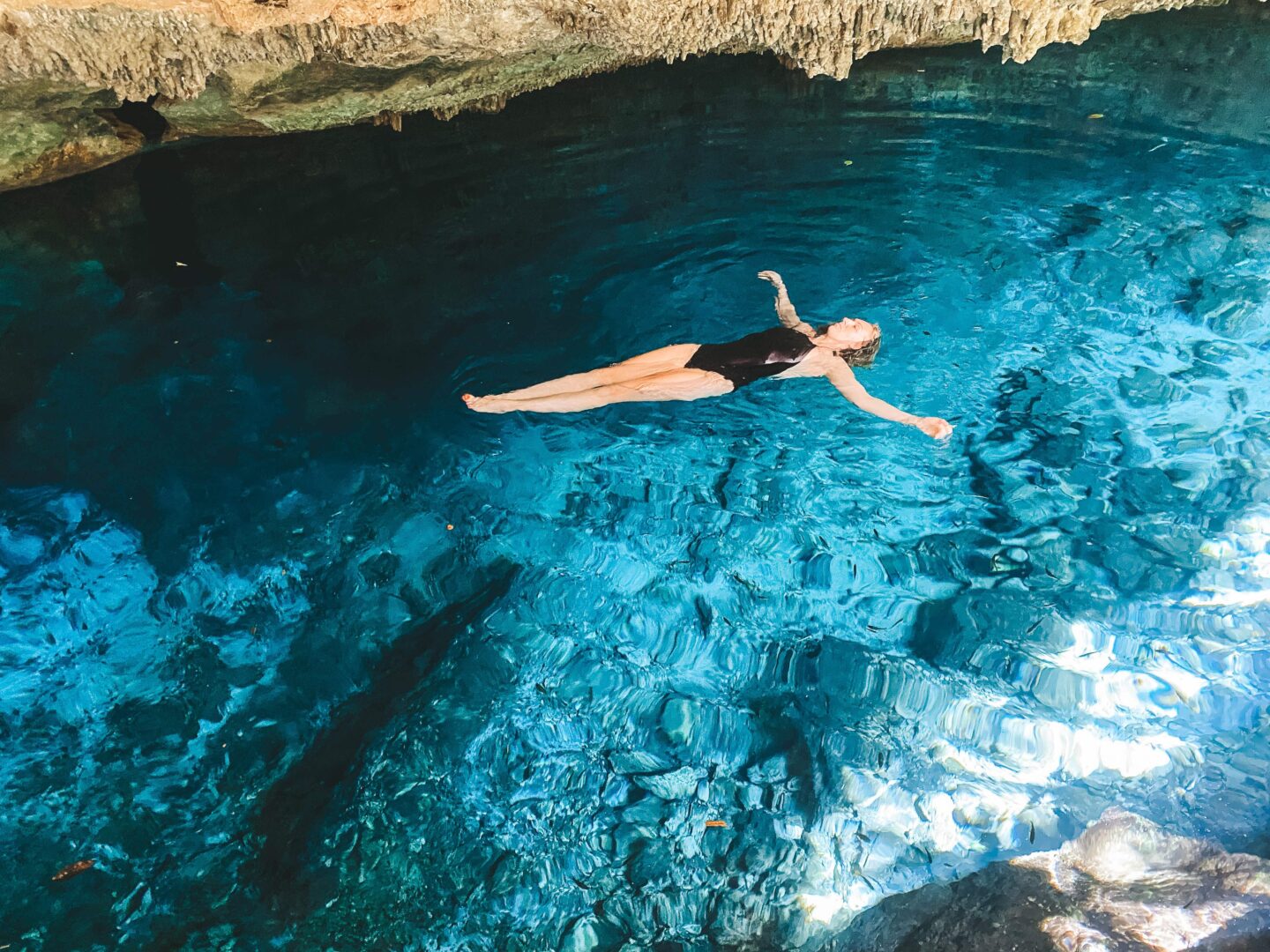 Instead, call my friend Vanessa and rent a car from Turismo Channel, tell her I sent you and she will give you a good price. If there are a few of you going it really won't be expensive. She also has an amazing tour to visit 5 Cenotes and a secret beach if you prefer to book on a full-day tour and make the most of your time.
Hit play on the video below to see some of the tour highlights.
The best way to contact Vanessa to rent a car or book on the 5 cenotes tour is via WhatsApp, just click this link and make sure you tell her I have referred you for a special Claire's Itchy Feet price.
If you do rent a car then you have way more options so maybe consider Puerto Morelos.
Looking for a reputable tour company in The Riviera Maya?
I've been working with Turismo Channel in Playa del Carmen for years and they are who I send all of my family and friends to when they visit the Riviera Maya. I really can recommend them enough for tours, private airport transfers, and rental cars. Vanessa and Oliver are personal friends of mine and I have 100% faith that you will have a wonderful time with them.
You can check out their tours by clicking here and using the following discount codes for the best prices clairecaroff (car rental), claire10off (for 10% off group tours), claireprivate (for a discount on private tours). You can also send her a WhatsApp message quoting the above codes to receive the discount.
Go to one of the Xcaret Parks
Visiting the parks is still high on my list of things to do in The Riviera Maya right now, especially as once inside you can be pretty free to enjoy your day. They are also at 30% capacity so no waiting around or big crowds now is the perfect time to go!
They had to do a lot of work to be able to open again and you can read about the safety measures here. They also have some great offers on right now so you can get your all-inclusive ticket even cheaper. It's also easy to social distance, just go with a group and stay together.
And that make things even easier, you can stay at Hotel Xcaret Arte and get all-inclusive access to all of the Xcaret parks.
Here are some links to the current Xcaret park offers.

Get your 15% discount booking online.
Get your SUP on with Aloha Paddle Boarding Club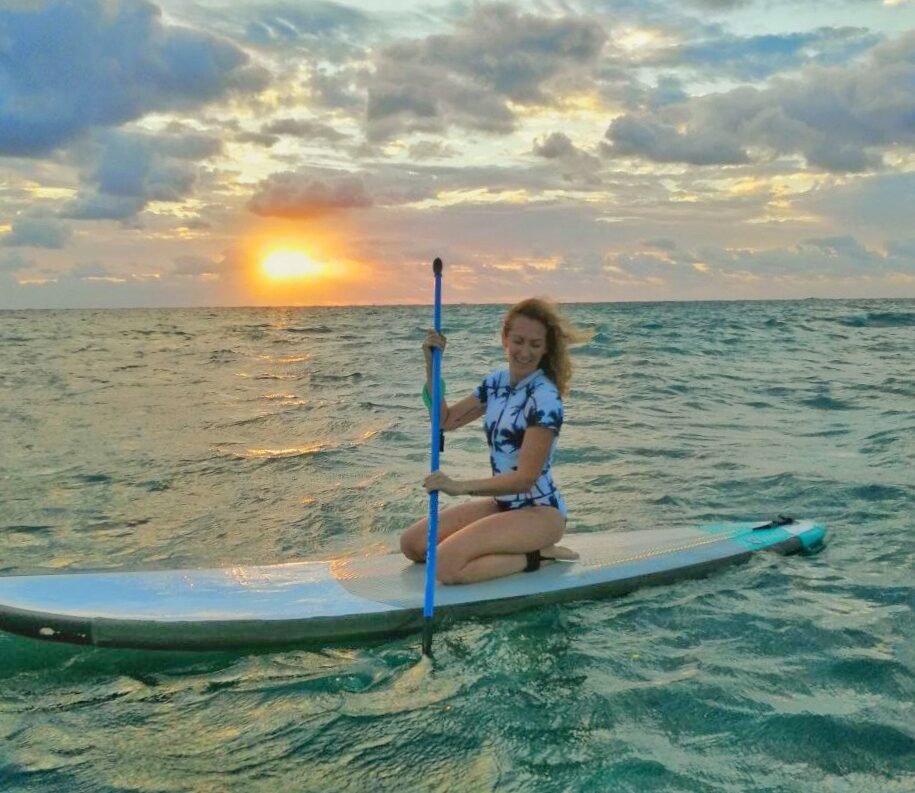 This is one of the most fun, and of course, safe things to do in Playa del Carmen is stand-up paddle boarding with Aloha. I mean really, what can be more fun than stand-up paddleboarding in the Caribbean sea? What I love about Aloha is you can enjoy a session as a tourist or if you are a local person then you can join their club and get incredible discounts on SUP in Playa del Carmen if you go regularly. It works out cheaper than a guy membership and it's way more fun, and far easier to social distance!
The most popular session is always the sunrise session, so if you want to go for sunrise you need to book in advance, especially during the high season.
Go Horseback riding in Playa del Carmen
I did this recently and I loved it! I went riding with Tsimin Ha it was a 20-minute car ride outside Playa and they can pick you up, so no need to worry about that. There are a few different places for horseriding in Playa del carmen, but this one is one of my favorites. They were very professional and we were even given an earpiece and a safety cap to wear. Before we went horseback riding in the jungle they made sure we knew what we were doing on the horses, a first for me, normally they just get you up there and away you go.
After being cooped up for months in quarantine I can't even tell you how nice it was to get on a horse and go riding through the jungle. Social distancing is easy here so it's a pretty low-risk activity!
Get a Day Pass to one of the all-inclusive resorts in Cancun
Don't let the closed beaches put you off, just get a day pass for one of the big resorts. You can then use the pool, access their beach, plus eat and drink as much as you can for the day. Right now I've seen day passes for Cancun for as low as $600 MX which is about $30 USD, normally you can't get a day pass for less than $100 USD!
Take a trip to Isla Mujeres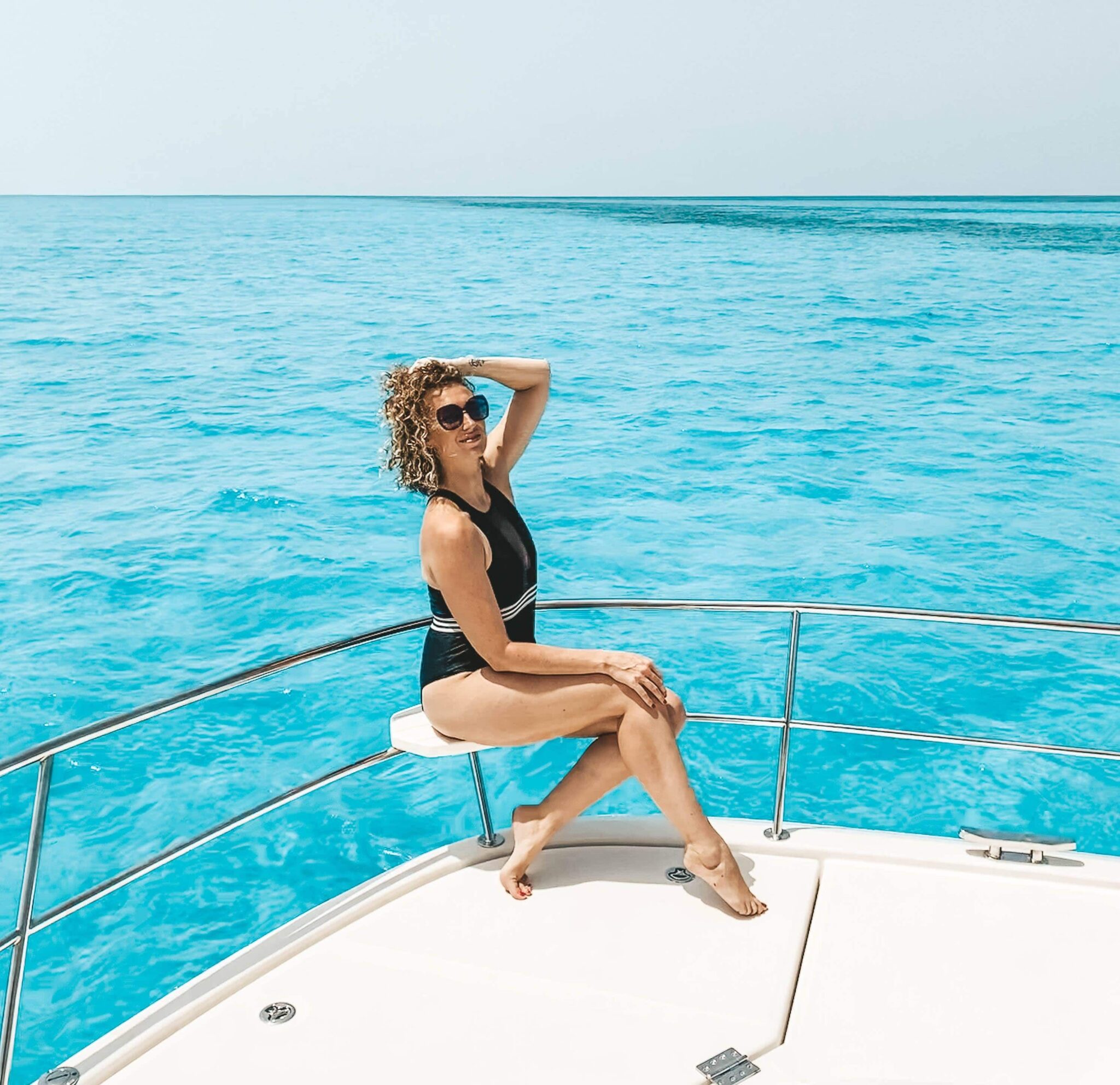 Another one of the amazing day trips from Playa del Carmen I've had recently was sailing on a private Yacht from Cancun to Isla Mujeres. It was dreamy, and thanks to the 30% occupancy rule plenty of space for laying about and posing for Instagram photos haha.
I did a trip with Tribeca Viajes (Facebook) and once we arrived at Isla Mujeres they took us to Hotel Beló Isla Mujeres day club. We got to spend time hanging by their rooftop infinity pool before eating some food and then coming back. Highly recommend the tour, or staying at the hotel for a few nights!
If you are interested in this tour then contact Vanessa Via WhatsApp remembering to tell her I sent you for a special Claire's Itchy Feet discount! Alternatively, fill in the form below and someone will get back to you within 24 hours.
Go Diving in Cozumel
Another great activity you can do during COVID in Playa el Carmen is scuba diving, although I don't recommend diving in Playa del Carmen, instead head over to Cozumel, where the diving is way better!
ScubaTony is the company I recommend and I know they have been working super hard to keep divers safe. The boat capacity s 4 (unless you are a group in which case it can be 6) so you can keep your distance from other divers, and if you are renting equipment from them they include the price of the mouthpiece in the cost, and this you can keep. Once you are under the water you are probably in one of the safest places you can be right now.
If you are looking for somewhere to stay in Cozumel check out these deals, and if you want to read more about ScubaTony's COVID 19 protocols you can find them here.
Go Cenote Diving Playa del Carmen
If you don't want to make the trip from Playa del Carmen to Cozumel, then consider diving in a cenote instead. I recommend diving with Koox in Playa del Carmen or Tulum, they also have discounts right now on most of their diving tours.
Snorkeling in Puerto Morelos
Last but not least, head to Puerto Morelos for the day. The beach there is open and snorkel tours are running. Get there early and get breakfast at El Nicho then book a spot on a boat with lighthouse tours. Once you are back on dry land head over to My Paradise beach club and chill there for the rest of the day. I have a full guide to Puerto Morelos you can read here. You can book a private snorkel and cenote tour to Puerto Morelos with Living Dreams Mexico from Playa del Carmen if you prefer to have everything arranged for you.
Did You Get Travel Insurance Yet?
If 2020 taught us anything, it's that you need to be prepared for anything! Travel insurance has always been high my list of things to get before I travel but now more than ever its at the top of my list.

I'm pretty sure we have all had travel plans messed up because of COVID and not all insurers covered this. So when looking for travel insurance it's important to check it covers travel disruption due to COVID-19, Hey Mondo, Passport Nomads, Safety Wing, and Travel Insurance Master all provide cover for this.

Hey Mondo is great if you are looking for a great value flexible policy. They offer single trip cover, annual multi trip cover, and long term travel cover. You even have the option to start the cover when you are already on your trip, although you won't be covered for the first 72 hours. For me my favourite feature is their app which offers you a 24/7 Dr chat and the ability to file a claim direct in the app.

Passport Nomads provides the most comprehensive cover for Digital Nomads. The game changer with them is that you have a red card and if you find yourself in need of medical care you just contact them and they will pre load your card with the funds to cover your treatment, meaning you won't need to pay out of pocket and then put in a claim later.

Safety Wing is great value with monthly cover starting at $39. It's super easy to use and it just renews each month. They have an excess of $250 and it's simple to make a claim through their website. I currently use them as they offer me free cover for my son as part of my policy and I like that it renews on a monthly basis, so I don't have to pay out a big lump sum up front.

I also use Travel Insurance Master for some short vacation type trips.

If you are doing shorter trips or an extended backpacking trip then Hey Mondo or Travel Insurance Master are the best option. If you are a digital nomad or planning travel of at least 6 months then go for Passport Nomads or SafetyWing.
Interested in booking a private tour to Puerto Morelos?
Fill out the form below and someone will get back to you within 24 hours.
As more things start to open up here in Playa del Carmen, I'm sure I'll think of more things to add to this list. Have fun and most importantly, stay safe!
Looking for somewhere to stay in Playa del Carmen?
Also, I wrote a whole guide to Accommodation in Playa del Carmen you can read here.
Pin For Later!