Looking for things to do in Puerto Morelos? One of my favorite places to visit in the Riviera Maya is Puerto Morelos. In this article, I have tried to cover everything you need to know about visiting this fast-growing Mexican fishing village.
Puerto Morelos is a cozy spot tucked away between the lively cities of Cancún and Playa del Carmen. It's a quiet escape in the Riviera Maya that offers a more laid-back atmosphere without sacrificing the rich experiences of a seaside town.
If you're wondering what to do in Puerto Morelos, there's a range of options to satisfy your curiosity. Diving into the crystal-clear waters to explore the coral reef or meandering through the local zócalo, you'll find that the town is ripe with authentic experiences.
For those looking to blend relaxation with adventure, Puerto Morelos excursions present the perfect opportunity. You can immerse yourself in the natural beauty of the area, unwind on its soft sandy beaches, or mingle with the locals over a refreshing margarita. When it comes to accommodation, you'll find a variety of Puerto Morelos hotels that cater to both comfort and exploration. This town may be smaller, but it's rich with character and warm welcomes.
Did You Get Travel Insurance Yet?

The Insurance companies I recommend are Hey Mondo, Safety Wing, and Travel Insurance Master

Hey Mondo is great if you are looking for a great value flexible policy. They offer single-trip cover, annual multi-trip cover, and long-term travel cover. Safety Wing is great value, with monthly coverage starting at $39. It's super easy to use, and it just renews each month. I currently use them as they offer me free cover for my son as part of my policy. I also use Travel Insurance Master for short trips.

Read my full travel insurance post here, where I go into detail about all companies.
Where is Puerto Morelos?
Wondering where is Puerto Morelos? Well Puerto Morelos is a coastal town in the Quintana Roo state of Mexico, situated on the Caribbean Sea. It is part of the Yucatán Peninsula and lies in the northeastern part of the state. This tranquil fishing village is located between two major tourist destinations and is the place to go if you want to enjoy the Mexican Caribbean without the crowds and inflated prices.
Puerto Morelos is approximately 36 kilometers (about 22 miles) south of Cancún and roughly 32 kilometers (around 20 miles) north of Playa del Carmen.
Its proximity to the Cancún International Airport, which is about a 25-minute drive, makes Puerto Morelos easily accessible for international travelers. The town is known for its National Marine Park, which is part of the Mesoamerican Barrier Reef, and offers excellent opportunities for snorkeling and diving. Despite its growth and popularity among tourists, Puerto Morelos has managed to retain a laid-back, small-town ambiance.
Quick Tip: Book accommodation, tours, and transport ahead of time online to save money and stress.
Best Puerto Morelos Tours: Click here to check out the top Puerto Morelos tours
Best Puerto Morelos Accommodation: Click here to check out the best accommodation in Puerto Morelos
Best Puerto Morelos Transport: Click here to book a bus, ferry, or train in Puerto Morelos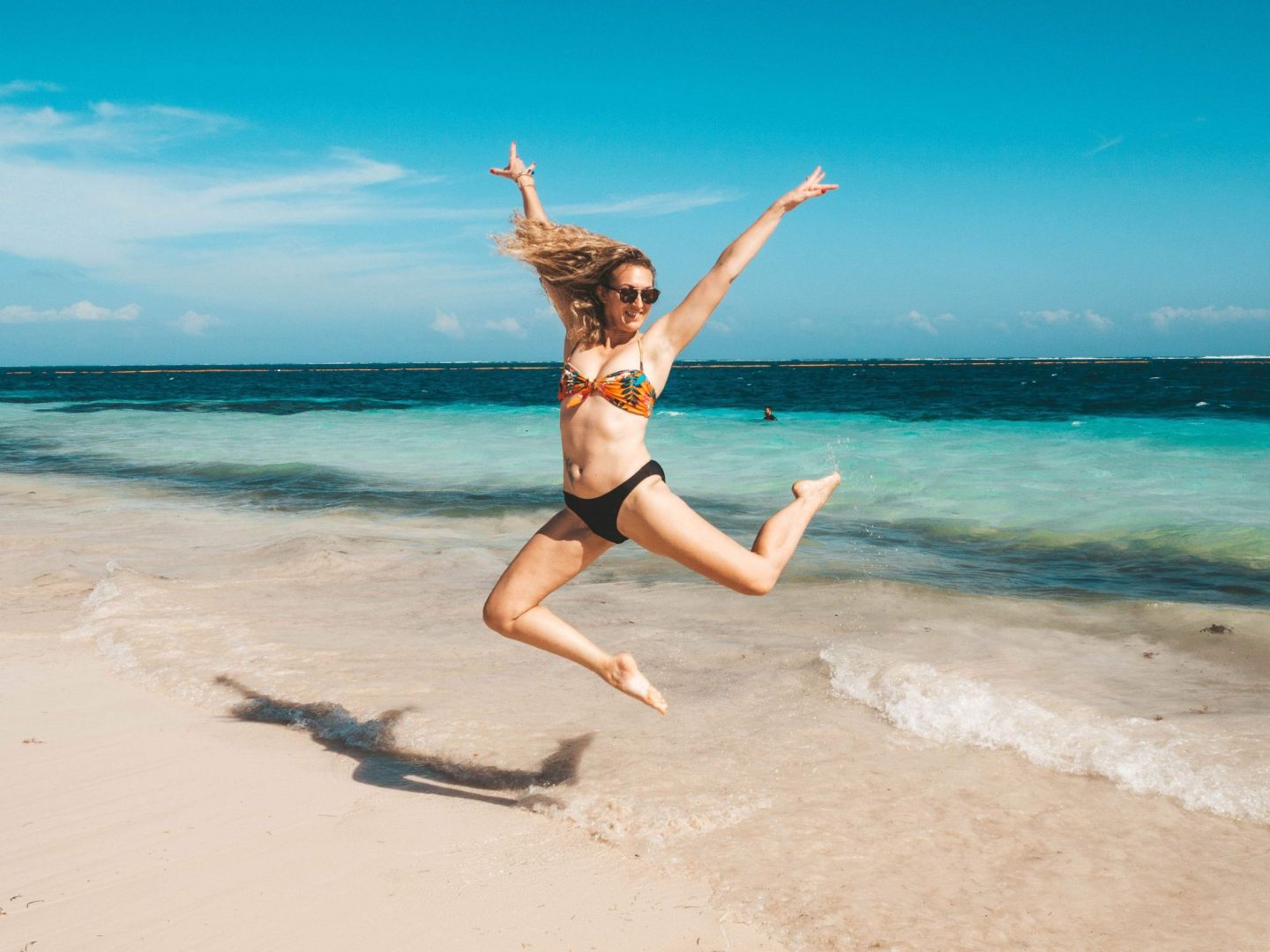 How to get to Puerto Morelos
How far is Puerto Morelos from Cancun airport?
Puerto Morelos is only 25 kilometers from Cancun airport making it a quick onward journey for anyone to get here. Check out prices and schedules to get to Puerto Morelos from Cancun airport with GuateGo here.
Quick Tip: I highly recommend booking all of your Mexico transportation with GottoGo. You can search for buses, shuttles, ferries, and Flights on their website. What I love most about them is their customer service. I know these guys personally from living in Guatemala, and they look after their customers.

If anything happens and you get delayed and miss your bus, you can just call them, and they are always there to help. If you book through them, you will pay a little more than booking in person at the bus station. But it's worth it for the ease and security. Click here to search for transportation in Mexico.
How to get from Cancun to Puerto Morelos
You have a few different ways to get from Cancun Airport to Puerto Morelos:
Taxi – If you are flying into Cancun you won't have any difficulty in finding a taxi to bring you to Puerto Morelos. They will be waiting outside the airport. This is probably the easiest way to get to Puerto Morelos from Cancun, but not the cheapest. You should expect to pay around $60.
If you need a taxi to get you from Puerto Morelos to Cancun, or to get you around in Puerto I can't recommend this driver enough. He saved my ass one morning when I almost missed a flight as I'd left my laptop, kitten documentation, and passport at home! He drove to my house and brought the bag to me in Cancun airport. Send him a message on WhatsApp to book him, Piter Ventura.
Uber – there is no uber in this part of Mexico. Please, I beg you don't risk trying to use Uber even if you log in and can see drivers. It is very unsafe here. I don't want to go into this too much but there have been a lot of violent clashes between Uber drivers and Taxi drivers. If a taxi driver suspects someone of being an Uber driver thing can get nasty. Any brave Uber drivers attempting to pick up at Cancun airport are very unlikely to pick up non-Mexicans anyway.
Private Transfer – If you prefer to be a little more organized and don't want to take public transport then booking a private transfer is a great idea. I tend to book mine through Viator as they often give discounts making it great value for money.
Last time I took a private transfer I was greeted with a cool damp towel to freshen up and a bottle of cold water. After a day of travel, it was very welcome!
ADO Bus – This is the cheapest option and one I (almost) always take, especially if you are traveling solo or as a couple. The ADO bus is so easy to use, the buses are clean, run on time and it is cheap!
To take the bus just follow the signs for ADO or ask someone "Donde puedo tomar el bus ADO?" buy your ticket and hop on board. Puerto Morelos will be the first stop. Once you get off the bus head towards the taxis and get a taxi to your accommodation in Puerto Morelos. The taxi should cost no more than $50-$100 pesos (depending on where you are staying).
Car Rental Puerto Morelos- Renting a car is a great option if you know you want to get out and about in the area. Although colectivos and buses between towns and cities in the Riviera Maya are great, anywhere off this main road can be hard to reach. Car rental in Puerto Morelos means you can visit everywhere with ease and save you having to book on an official tour. For example, Cenotes, Coba, Tulum, and Chichen Itza are so much easier to see by car.
You can rent a car in Cancun Airport or when you arrive in Puerto Morelos, however, I recommend renting from the airport as you can normally get some great deals.
On a Tour – I'm not always a fan of group tours but my friend runs a company called Living Dreams in Playa del Carmen and they have some great deals on Puerto Morelos excursions from Playa del Carmen. You can check them out here.


Why Visit Puerto Morelos
Okay, so now you know a little bit more about Puerto Morelos you may be wondering why you should visit Puerto Morelos. What makes it such a great place to go?
The Riviera Maya is, in my opinion, one of the most beautiful places in the world. Each area along the coast offers a visitor something different.
Cancun is huge, it is full of big resorts and somewhere people visit and stay in the resort for the whole vacation.
Playa del Carmen is more budget-friendly, it attracts a much more diverse crowd and it is especially great for families on a budget and those wanting to party Mexico style.
QUICK TIP: Book your tours, rental cars, and transfers through my local contacts

I've been working with Living Dreams Mexico for years and they are who I send all my family and friends to when they visit the Riviera Maya. I really can recommend them enough for private tours and experiences. They have solid 5* reviews on Trip Advisor and Google from almost 4000 reviewers! You can view all their tours here.

If you're looking for private airport transfers and rental cars then Vanessa and Oliver from Turismo Channel are personal friends of mine and I can 100% recommend them to make an inquiry click here and complete the form. Someone will be in touch within 24 hours.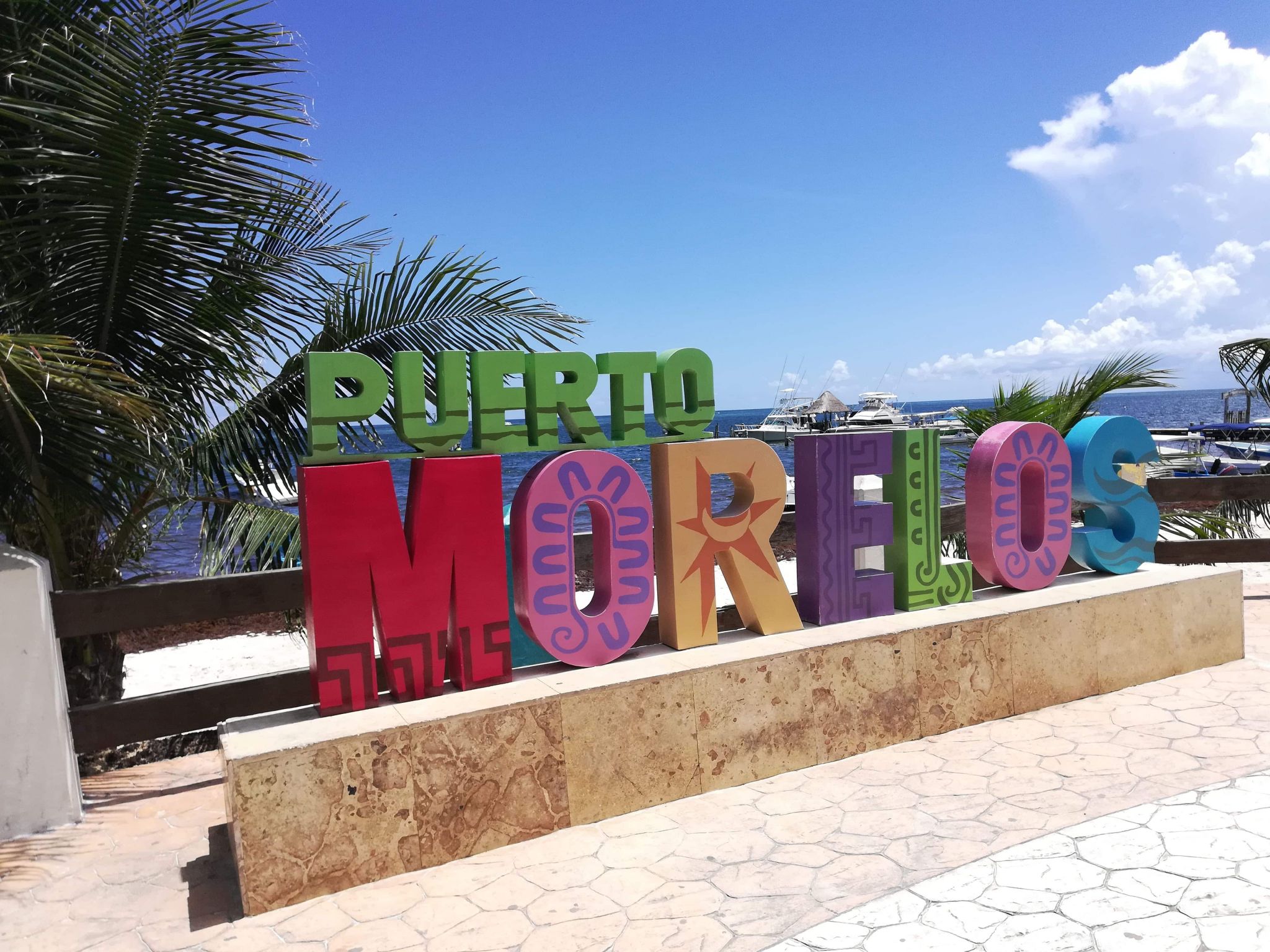 Tulum is getting more and more popular especially with those wanting a more holistic vacation full of yoga and vegan food, or on the flip side, you have the jet-set crowd to fly in for a long weekend of luxury accommodation, fine dining, and cocktails. To truly appreciate Tulum you need money!
Puerto Morelos has something none of these places have, a glimpse into the real Mexico.
It is actually one of the oldest towns in the area and although it has grown substantially over the past few years it still remains a small (slightly sleepy) fishing village. It is lively enough that you can have a good night out with friends and family but just don't expect to be partying until dawn to EDM DJs here like you would in Cancun, Playa, or Tulum.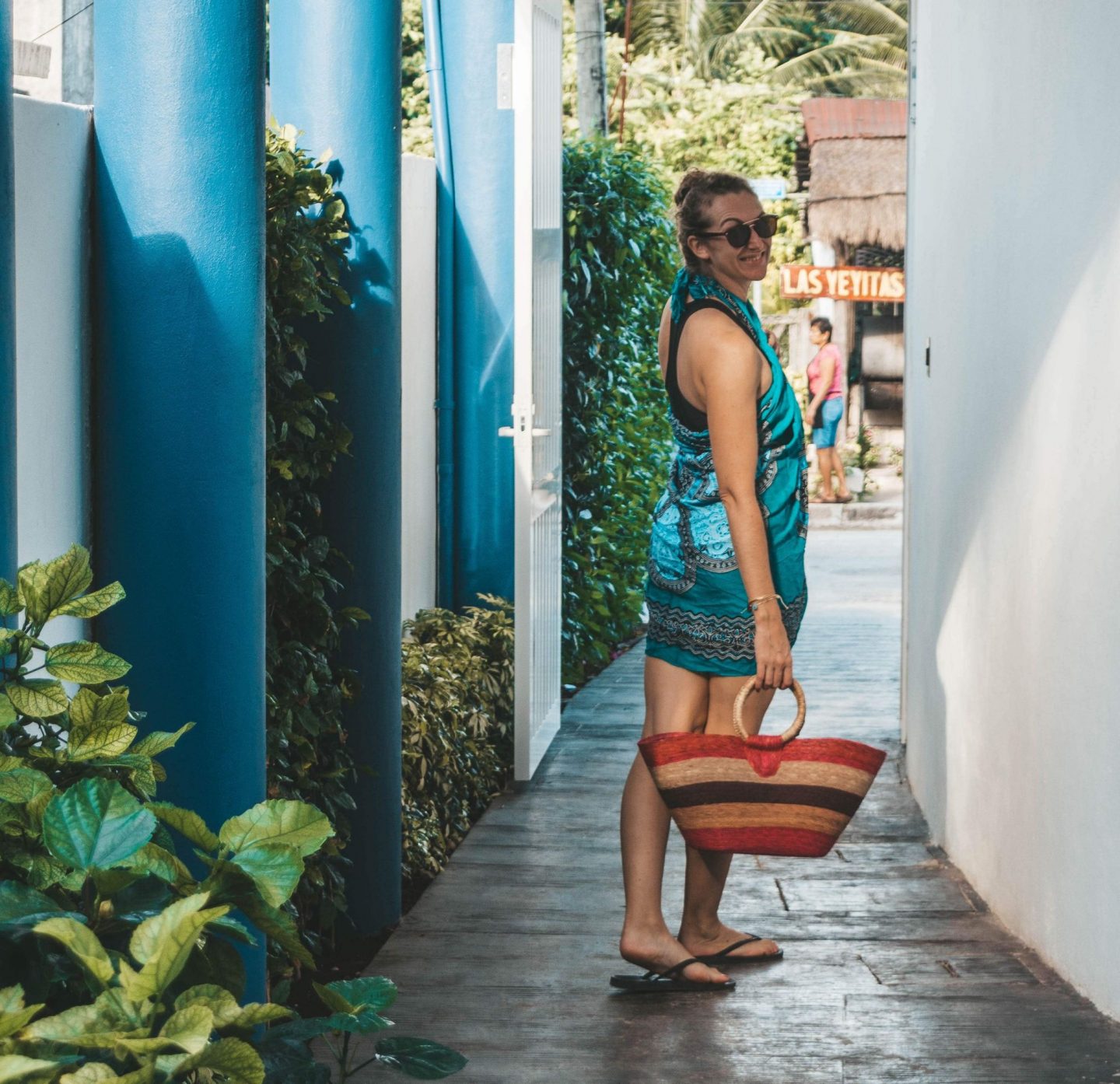 In Puerto Morelos, you can expect great food, great beaches, friendly locals, and excellent snorkeling and it won't break the bank.
Of all of the main tourist places in the Riviera Maya, I have found Puerto Morelos, in general, to be the best value if you are eating and drinking in the 'tourist places'. The only downside is there isn't much on the side of budget food and accommodation for the backpackers. I didn't see a single food cart although they do have a supermarket now in the town center so you would easily be able to cook cheaply for yourself.
Things to do in Puerto Morelos
Puerto Morelos may be a small town but that doesn't mean there isn't plenty to do if you get bored of lazing on the beach every day. As well as the obvious excursions to the Mayan Ruins at Tulum, Coba, and Chichen Itza, you can visit the neighboring destinations of Cancun, Playa del Carmen, and Tulum.
Visit a Puerto Morelos Cenotes
One of the best Puerto Morelos things to do has to be visiting a Puerto Morelos cenote! And there are a lot to choose from close by. In fact, there is an entire road full of them and it is called Ruta de Los Cenotes.
To get to these Puerto Morelos cenotes you are going to need to either rent a car or book a tour to get to there. You could also just take a taxi but if you do that make sure you plan ahead so you know which Cenotes near Puerto Morelos to go to.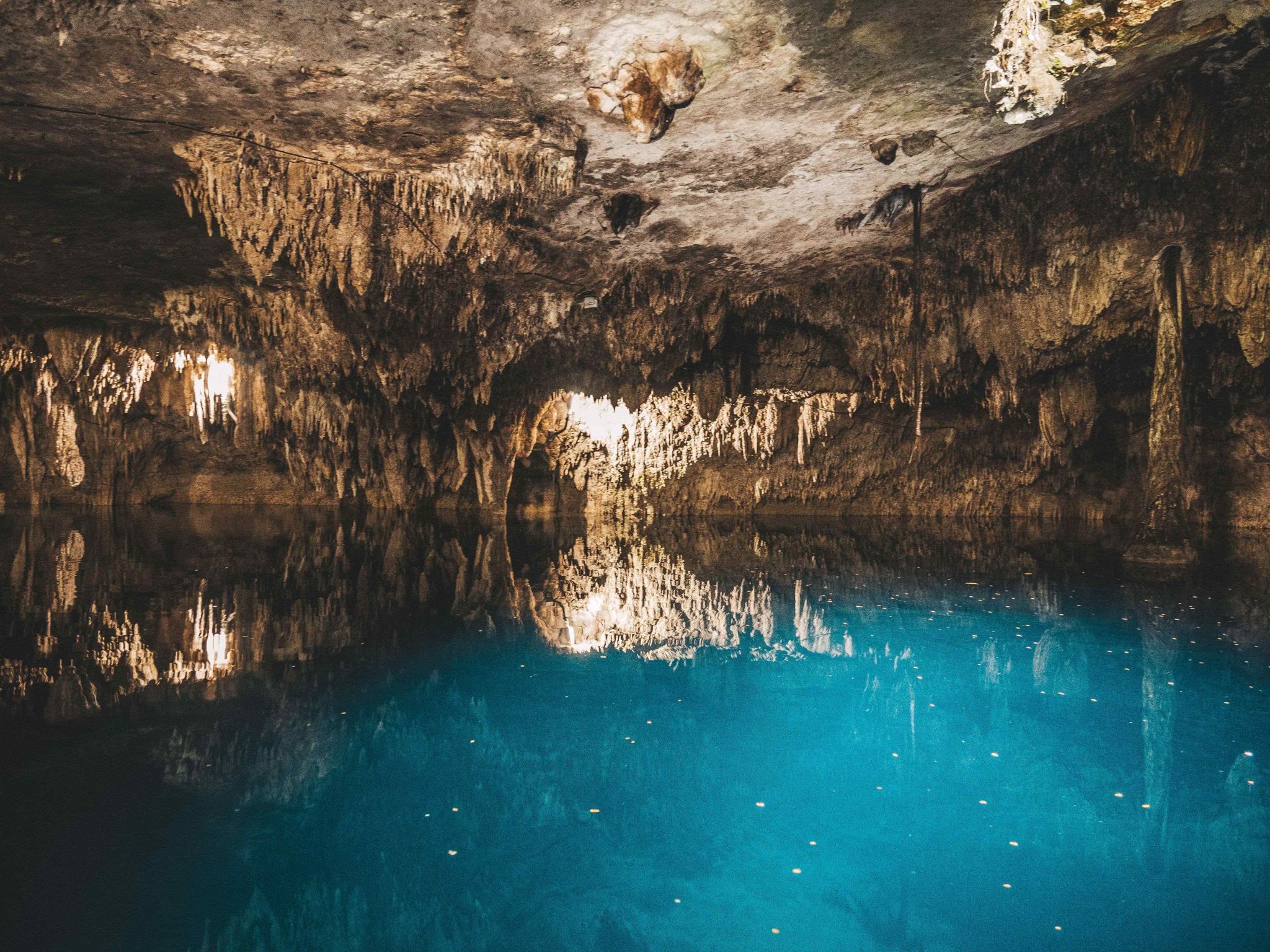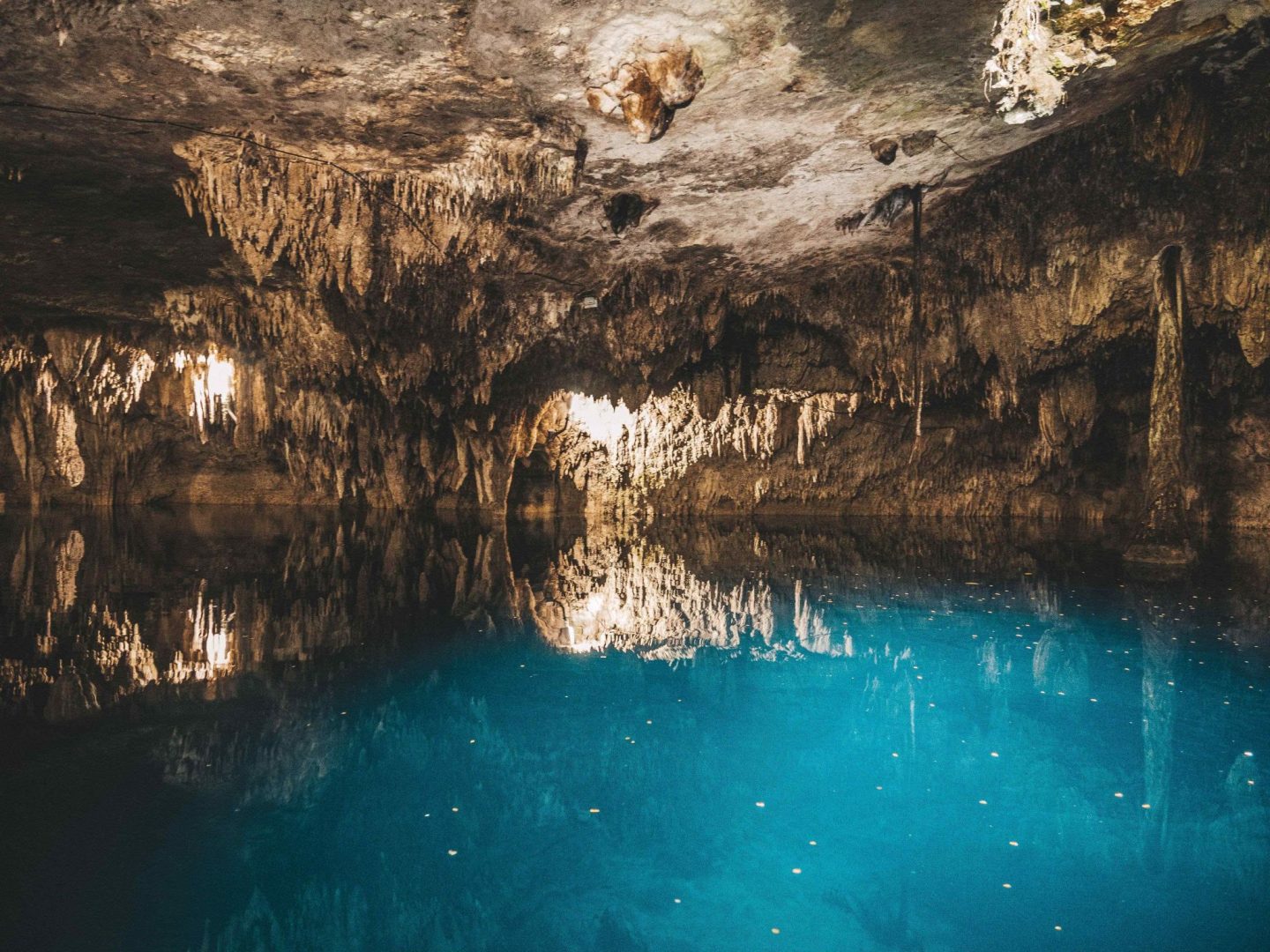 My personal favorite Cenote near Puerto Morelos is Cenote Kin Ha.
Now it isn't the cheapest Cenote I have visited but it is the most developed and fun! This is a Cenote you can go to in the morning and stay for the full day. Most of the other Cenotes I have visited have very little in the way of facilities, ie nowhere to eat or get a drink. Here there is a restaurant and bar as well as changing facilities, and even hammocks and other chillout areas where you can sunbathe or cool off in the shade.
It is also more of an outdoor adventure place, they have horse riding, ATV tours, zip lines, and more. My recommendation is to do a ATV tour for $1200 pesos ($60 USD it is a bit cheaper if there are two people booking) for this price you go to the two Cenotes near Puerto Morelos I visited, traveling between them on the ATV's, the zip line (see the below video of me doing it), and food.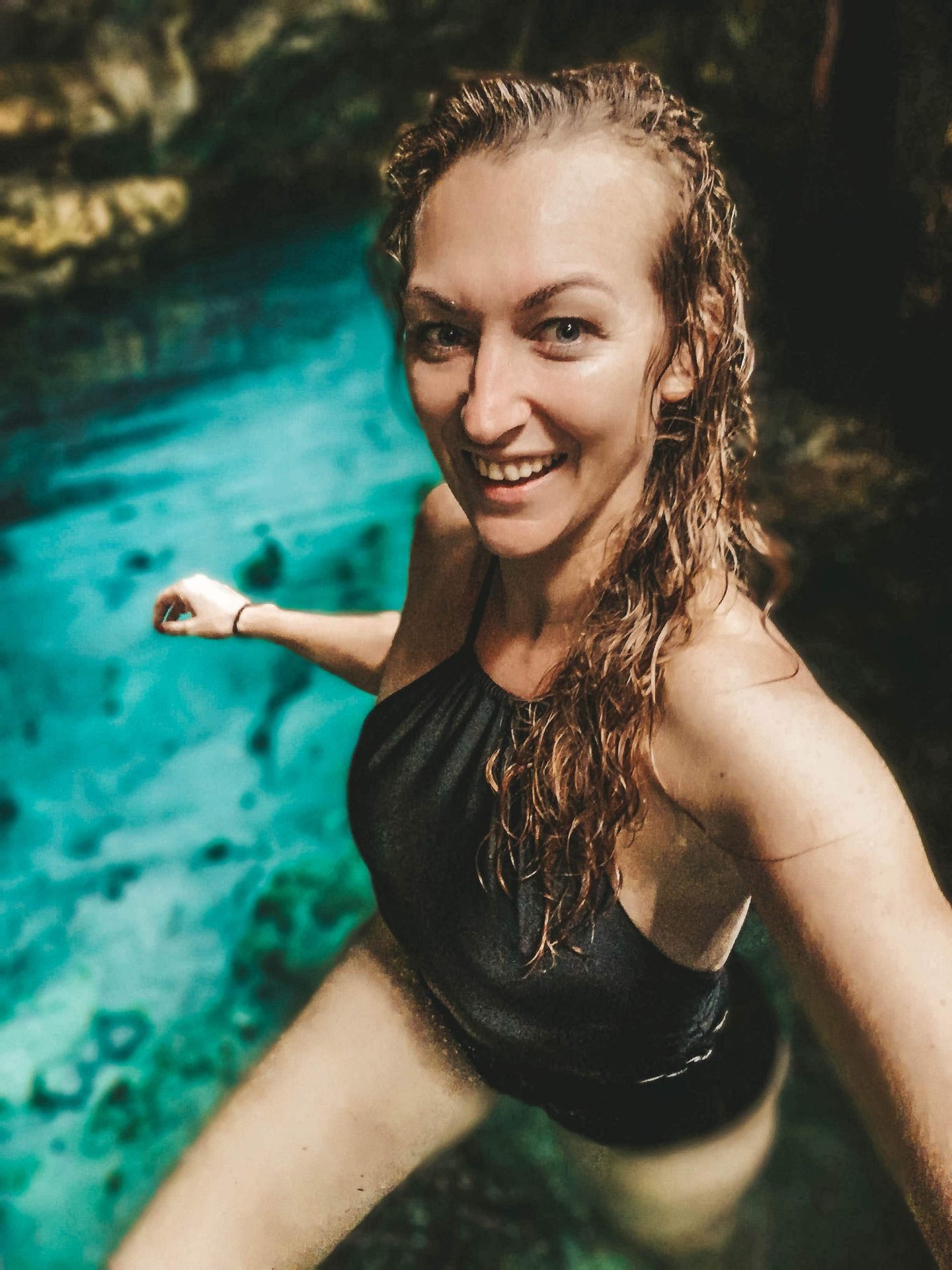 Snorkeling in Puerto Morelos
Sadly the first time I went to Puerto Morelos the port was closed so I was unable to go snorkeling. But I did manage to go back and did the bike and snorkel tour with Lighthouse Tours. It was a lot of fun and I highly recommend it. Sadly I had some issues with my GoPro that day, but I'll be heading back soon to snorkel again and finish up making the vlog… stay tuned!
Puerto Morelos scuba diving
In Puerto Morelos, one of the top things to do is go Scuba Diving there are plenty of dive shops in Puerto Morelos to choose from. You can read more about my experience diving with Rodman Divers here.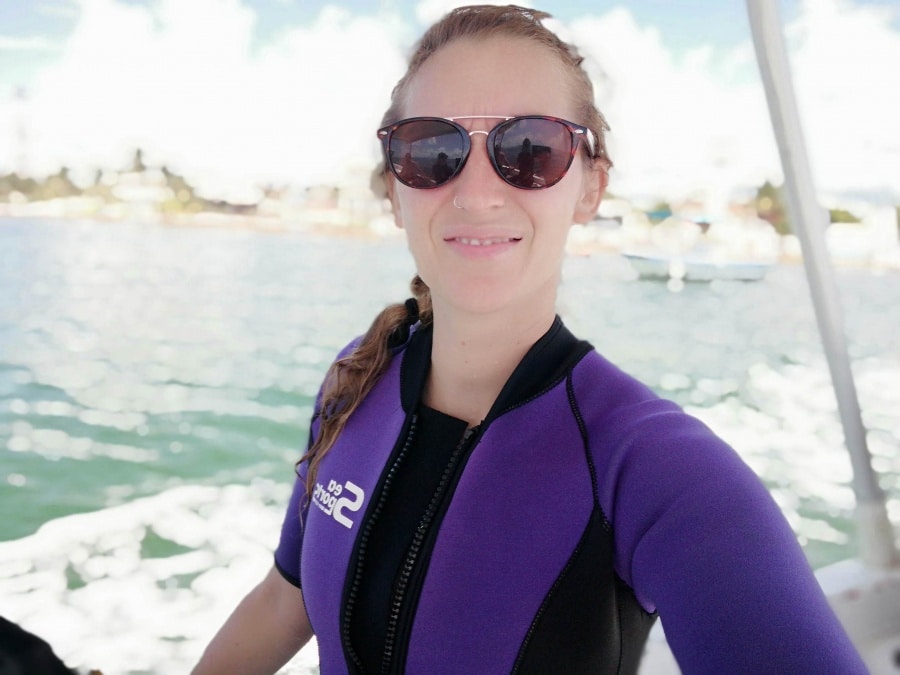 Puerto Morelos shopping
There are some really nice shopping spots in Puerto Morelos, especially if you want to buy local crafts. On Friday and Saturday evenings you will find a local market in the central square and twice per month, there is a craft market at My Paradise beach club where you will find over 40 different vendors.
Quick Tip: Book Puerto Morelos tours here from Living Dreams Mexico
Spend the day at Puerto Morelos Beach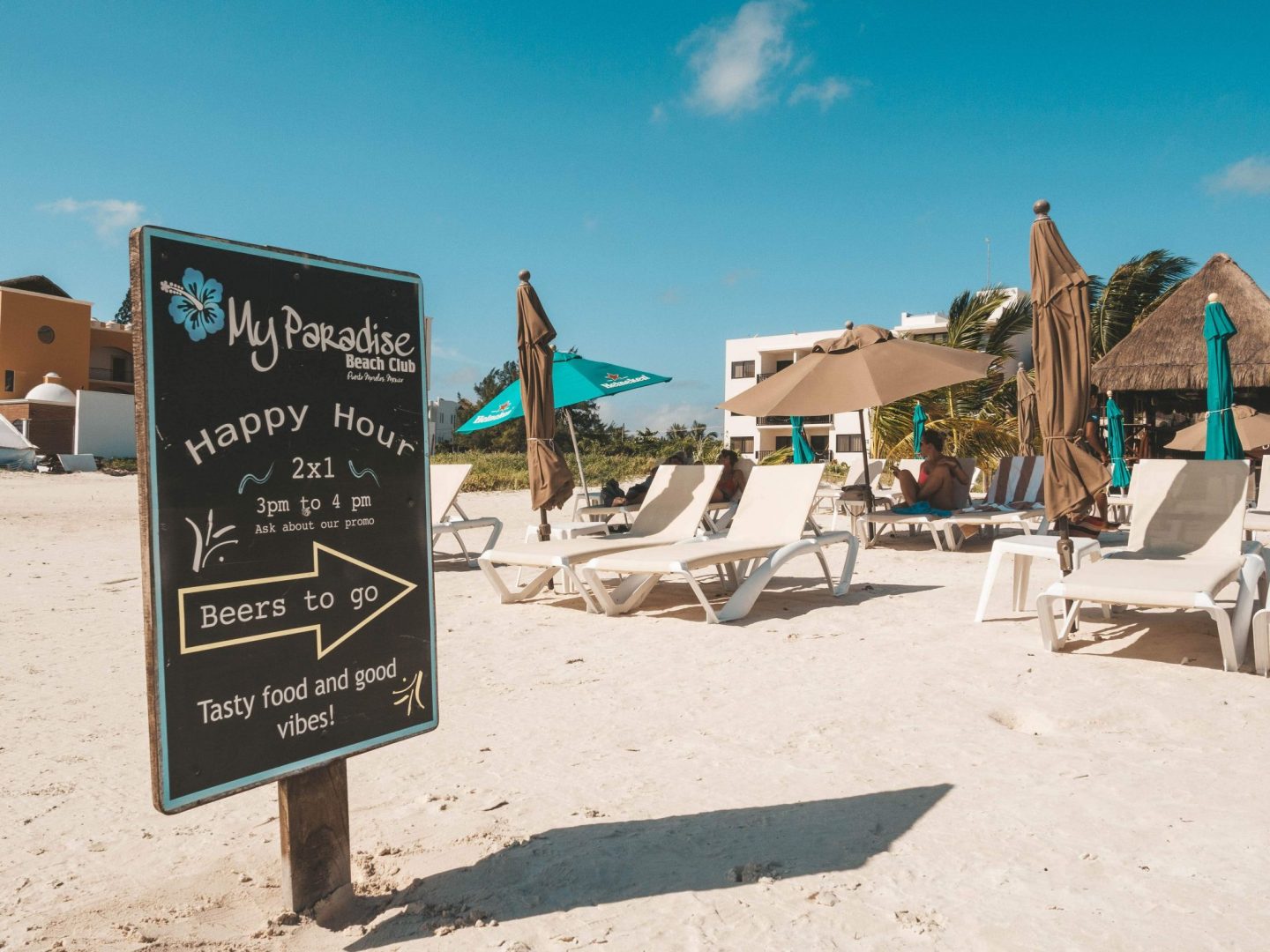 You can not go to Puerto Morelos and not spend at least one day at a Puerto Morelos beach club! My personal favorite is My paradise beach club. They have a low minimum consumption for the sunbeds. A great menu and from 4 pm every day it is happy hour. I highly recommend the fish tacos and Guacamole.
They also have amazing Cocktails!
The beach in Puerto Morelos is known for its clear, calm turquoise waters, making it an excellent choice for swimming, snorkeling, and diving, especially since it's part of the Mesoamerican Barrier Reef System, the second-largest coral reef system in the world. The reef is a protected national park, and the shallow waters near the shore are perfect for families with children.
Visitors to Puerto Morelos beach can also enjoy long walks along the shore, with the occasional pelican flying overhead and the soothing sound of the waves. The beach is dotted with quaint fishing boats, adding to its authentic feel. The town square, just steps away from the beach, offers a variety of dining options where you can savor fresh seafood and local cuisine.
For those looking to unwind and soak up the sun, the beach has numerous lounging options, from beachfront resorts providing comfortable sunbeds to public areas where you can lay down a towel and relax under the sun.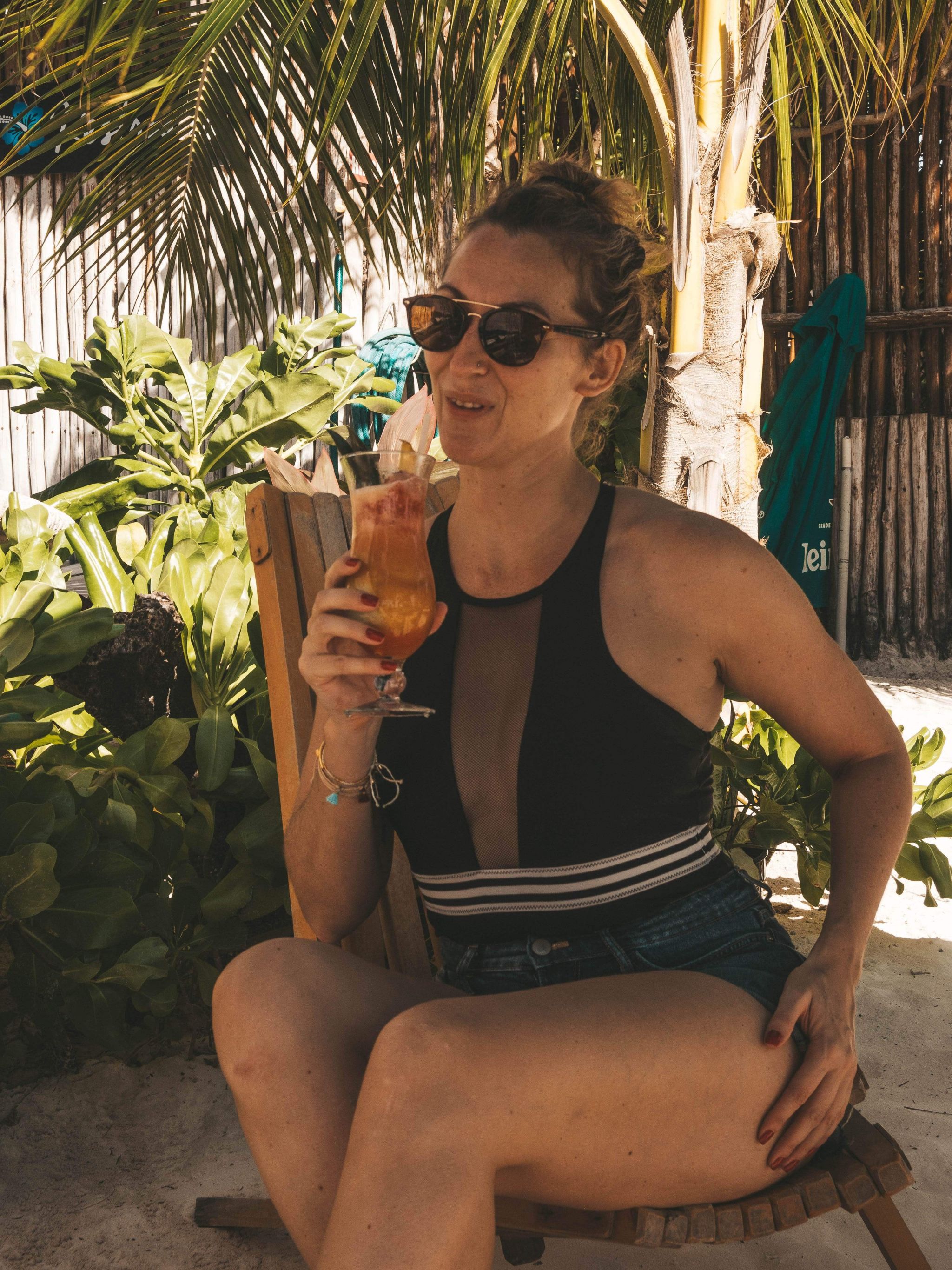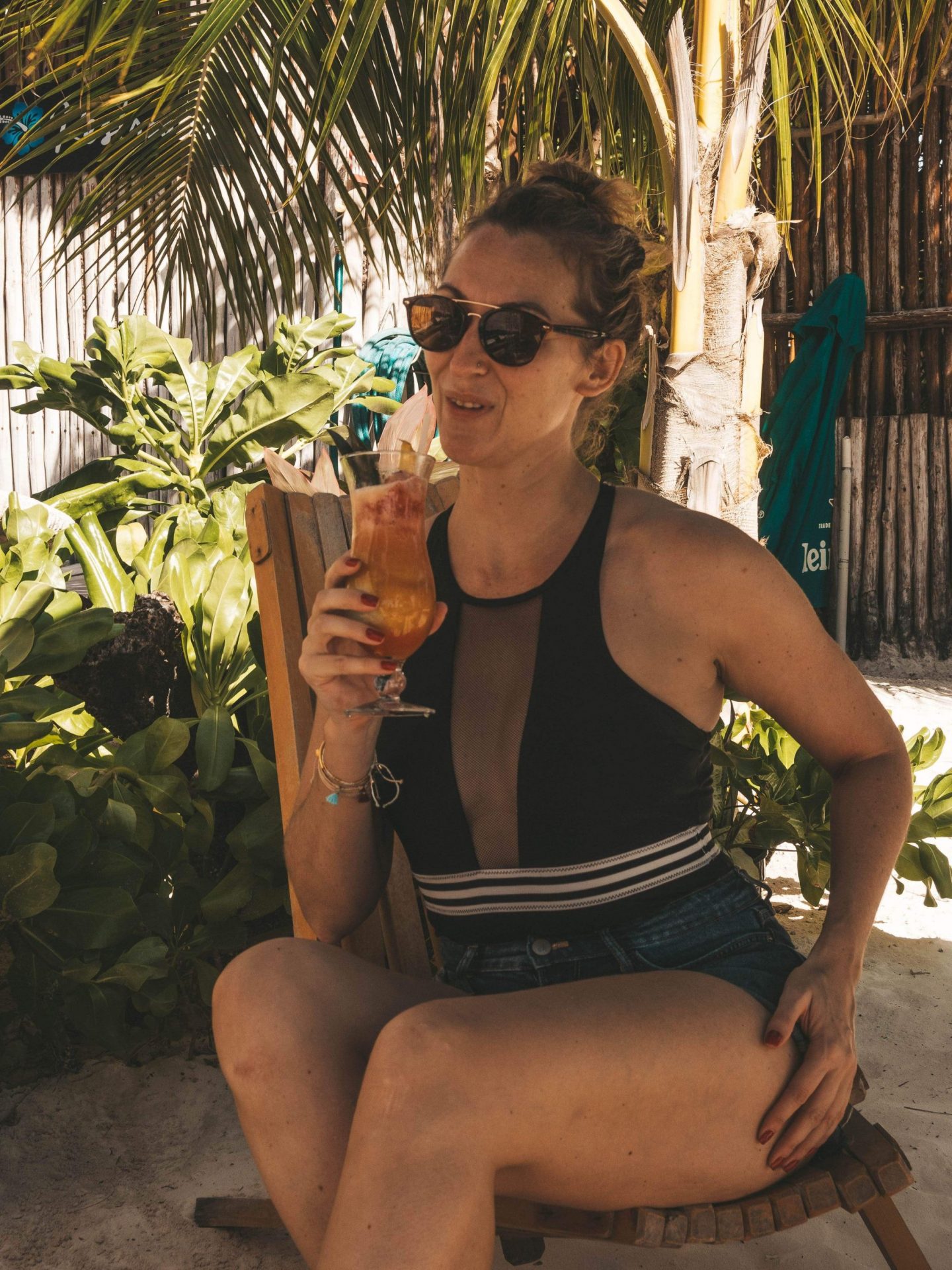 Swimsuit from Be Karibbean
In peak season it is recommended that you book a sunbed in advance as it does get very busy. They will only hold the bed for you until 11 am though so be sure to arrive early.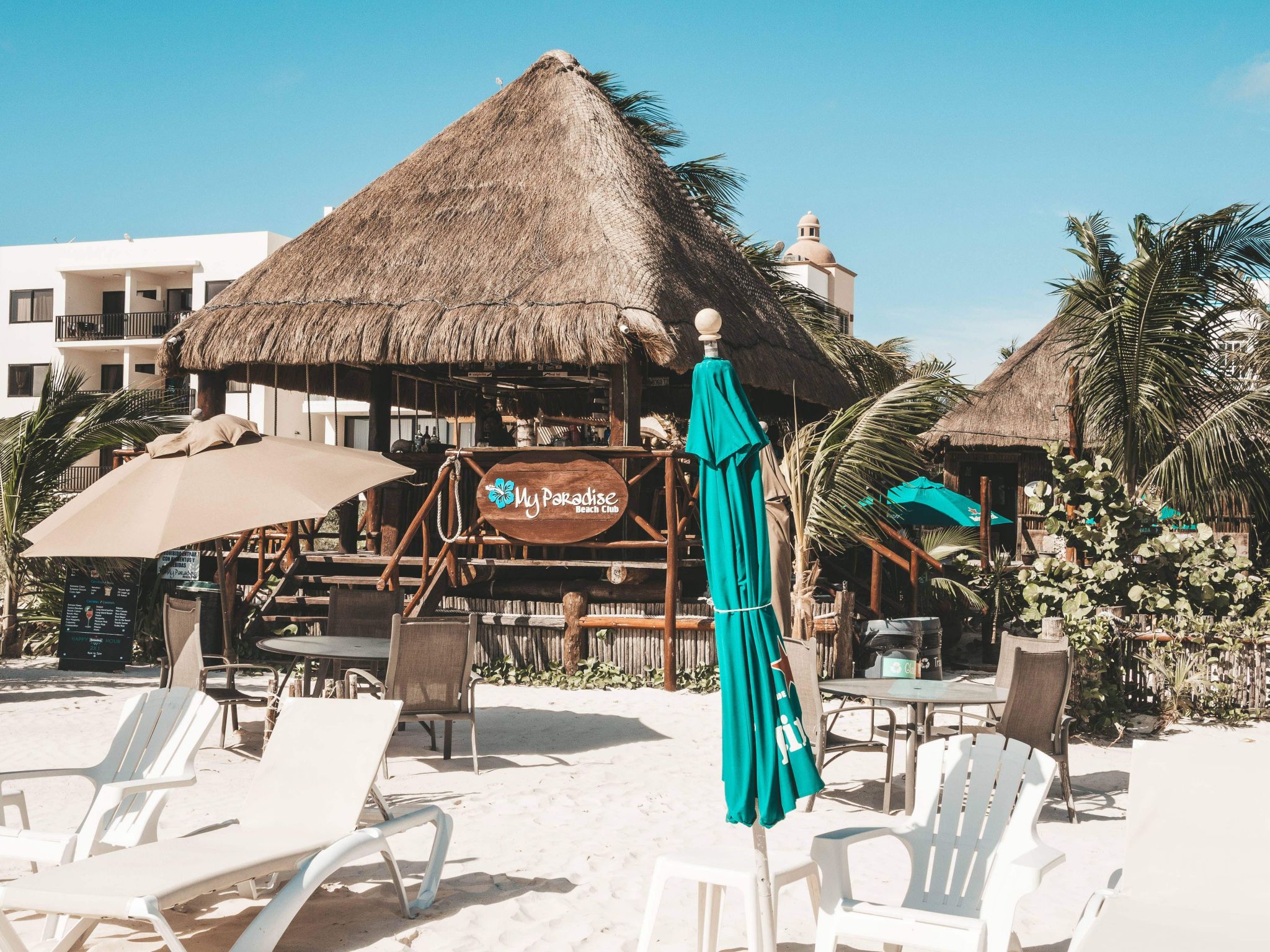 Go Salsa Dancing
As you may know, if you have read a few other blog posts of mine, I am a dancer, and so, every opportunity I get to dance salsa and bachata, I take it! If you are looking to have a great time and learn or undust your Latino moves, The Salsa Dance Academy in Puerto Morelos run by Steve and Mariane is a great option.
Where to eat in Puerto Morelos
It is no secret that I love nothing more than eating. Especially in Mexico. Puerto Morelos has a lot of great options for food. Remember, it is a fishing village so be sure to make the most of all of the super fresh fish available here.
Puerto Morelos restaurants I have personally eaten at and highly recommend are:
Known for their 'comfort food' this was one of my favorite spots to eat in the evening. They also have an open mic/ jam session on a Thursday at 9 pm which I really enjoyed.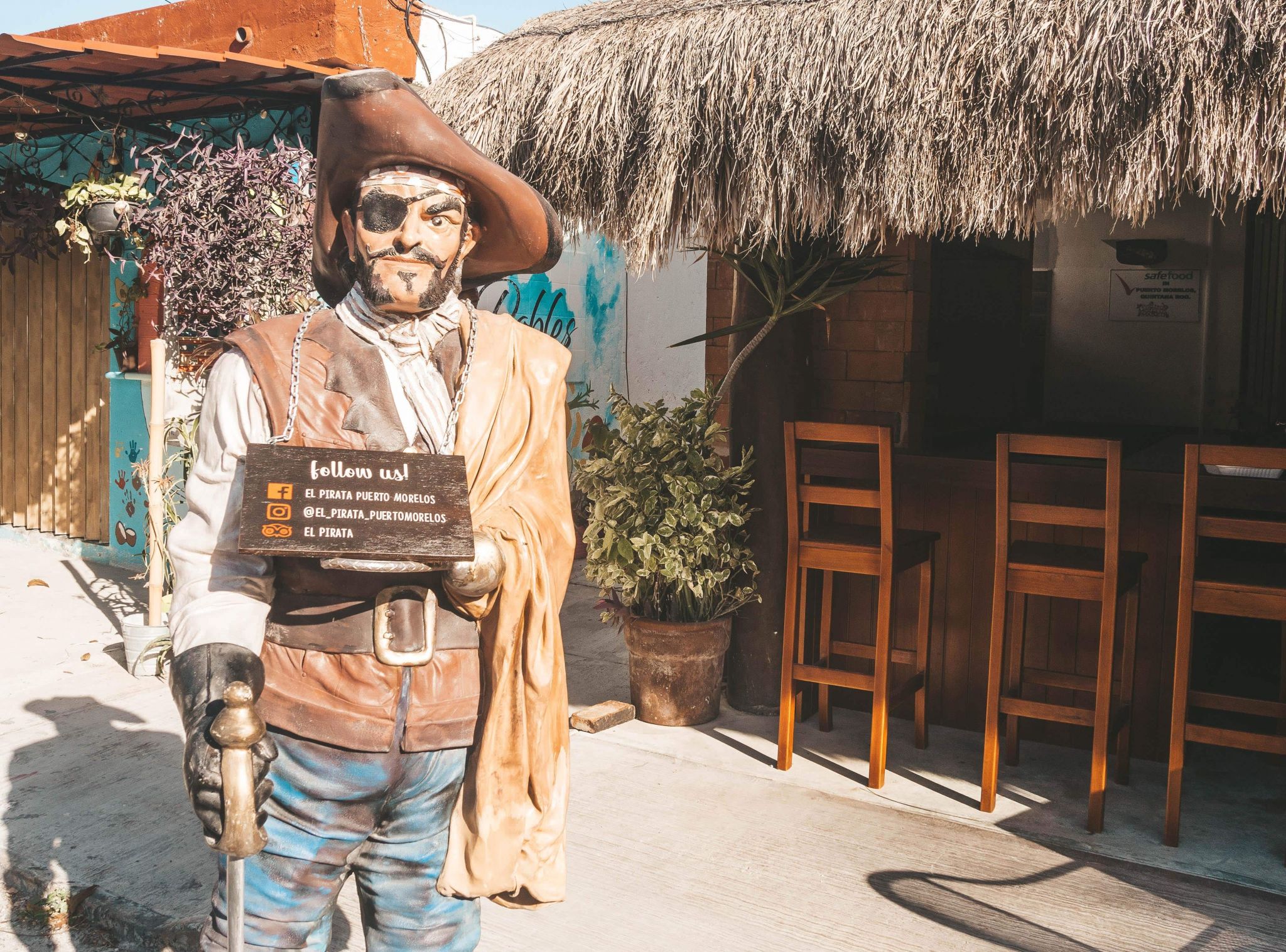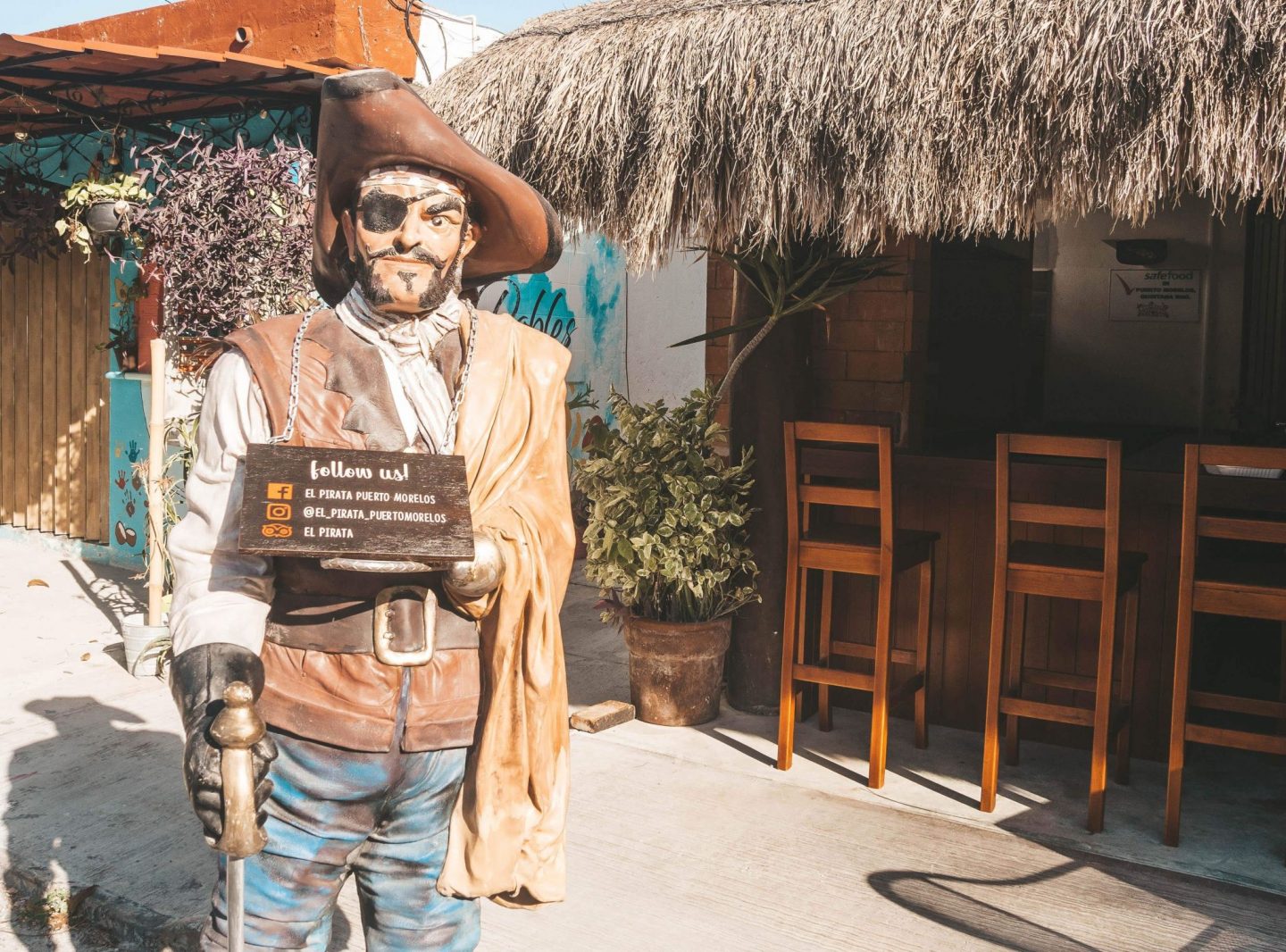 I recommend the Fish Fajitas. Served in a traditional Mexican Molcajete with fresh tortillas it tasted as good as it looked.
They also have an outdoor grill where they prepare a lot of food. The most popular grilled dishes are the whole arrachera, the whole artichoke and the whole octopus (sorry I didn't get a photo!).
Good quality fast food can be found at The Burger Underground. I ate lunch here and it was delicious. My favorite thing is that if you are a vegetarian they can adapt anything on the menu for you. So many options! Make sure you get the combo as the fries are soooo good!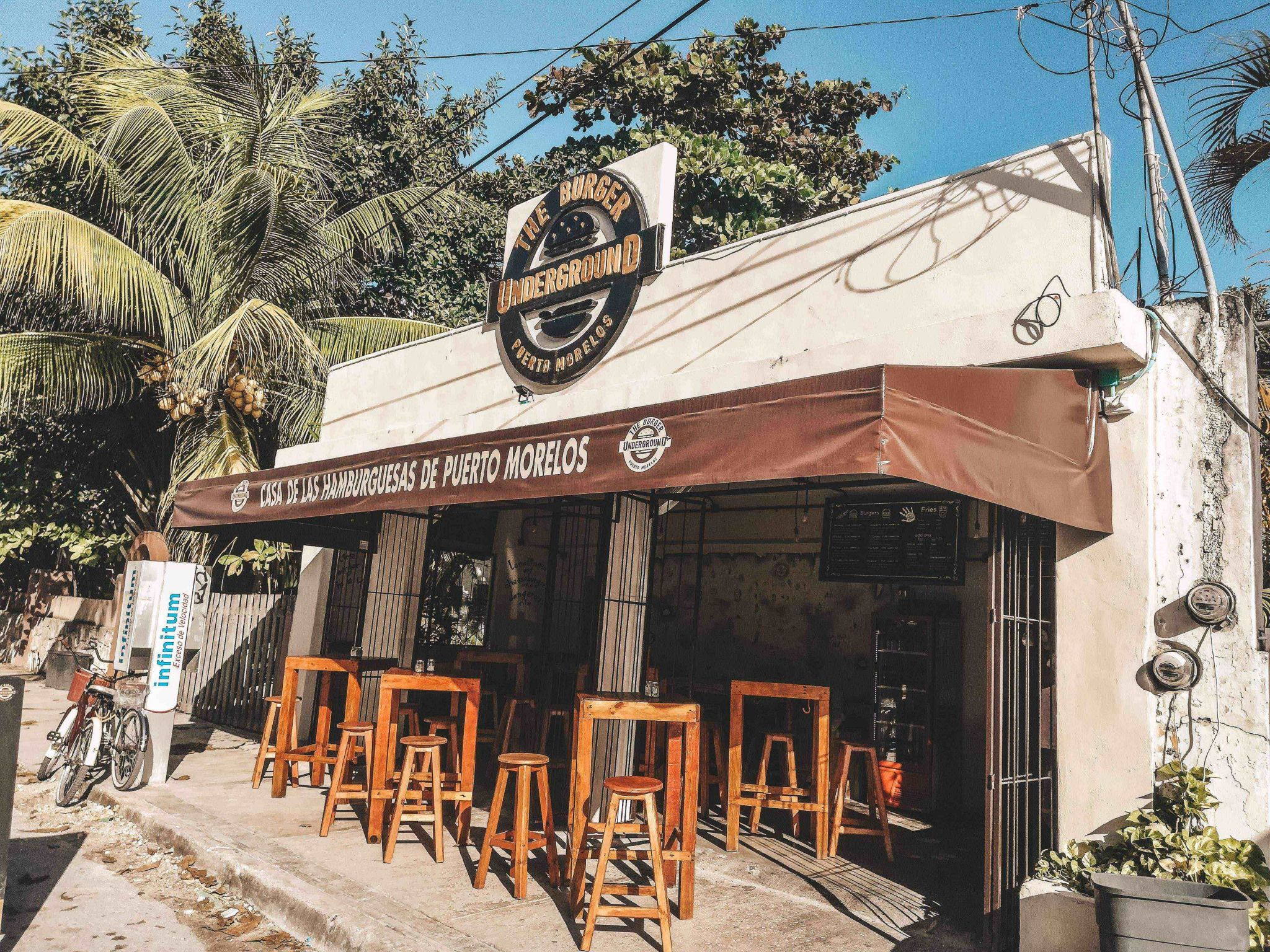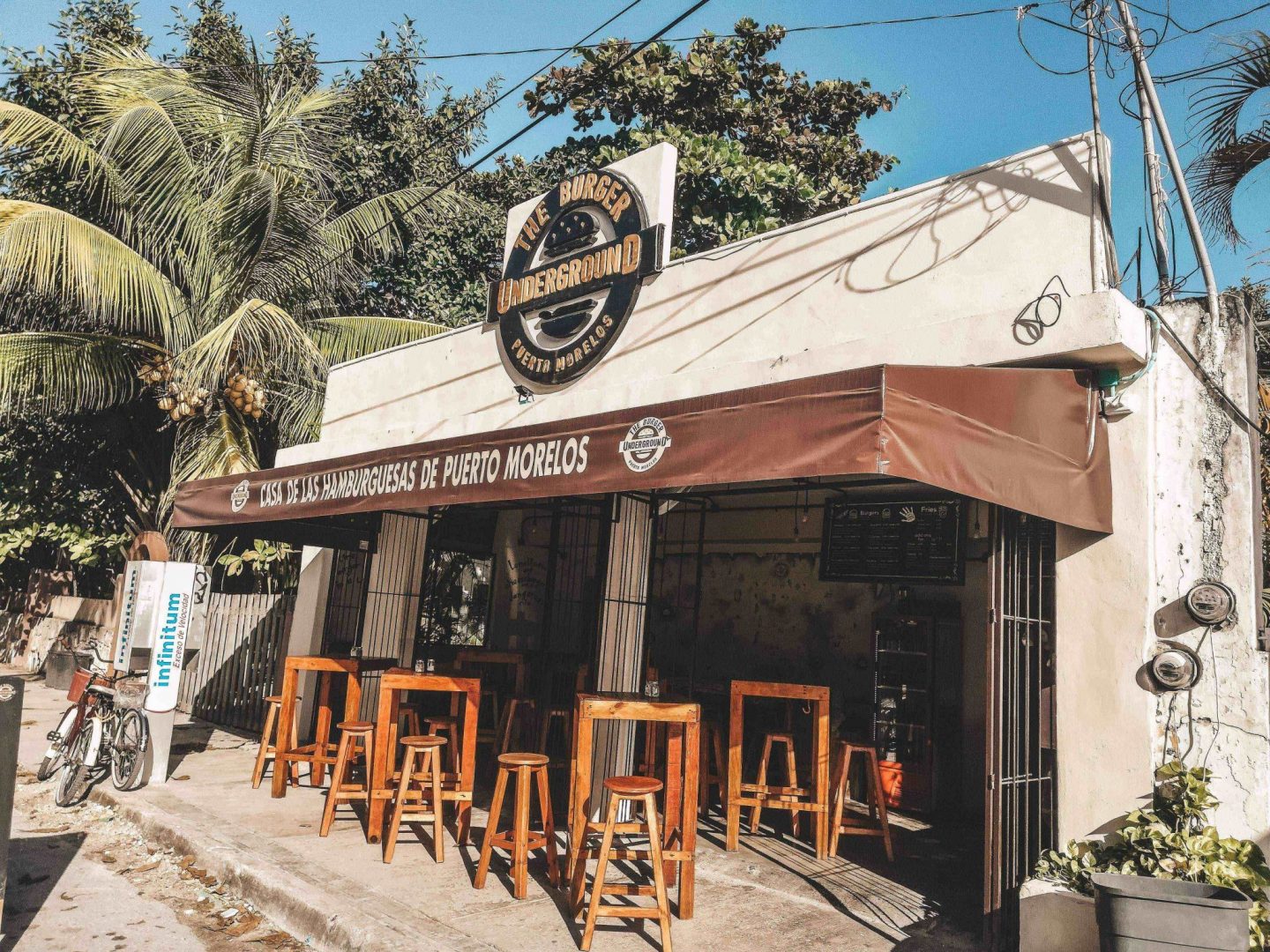 Oh, I do love Pizza. This place is super cute with twinkly lights everywhere and a relaxed vibe. It seemed like a very local place which I enjoyed and the pizza was very good.
If you are looking for the best breakfast spot in town then this is it. They have a huge variety of different breakfast/ brunch items from bagels to traditional Mexican dishes such as Chilaquiles.
I highly recommend any of the eggs benedicts. I personally had the Benny Lox and I was in breakfast heaven!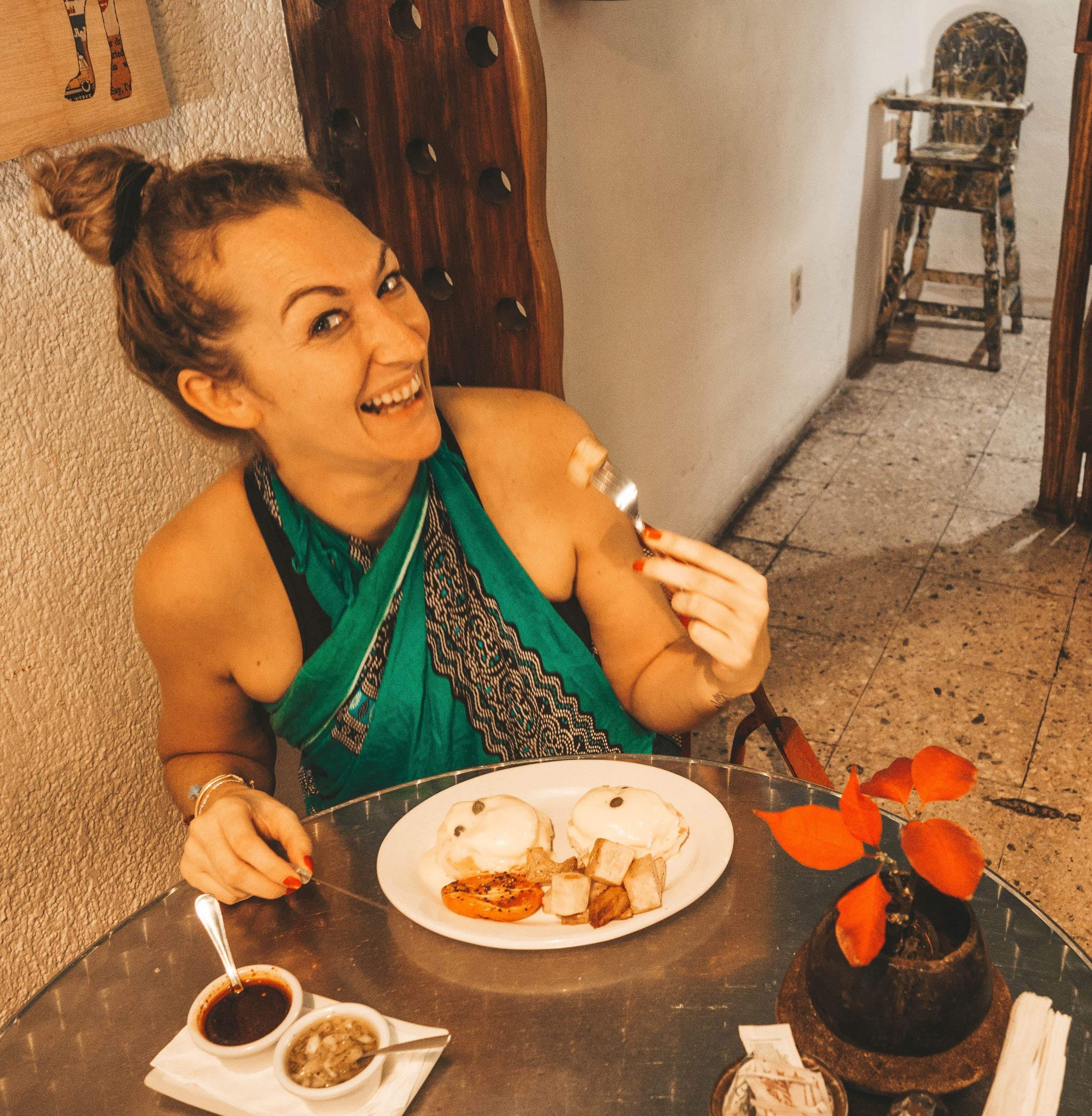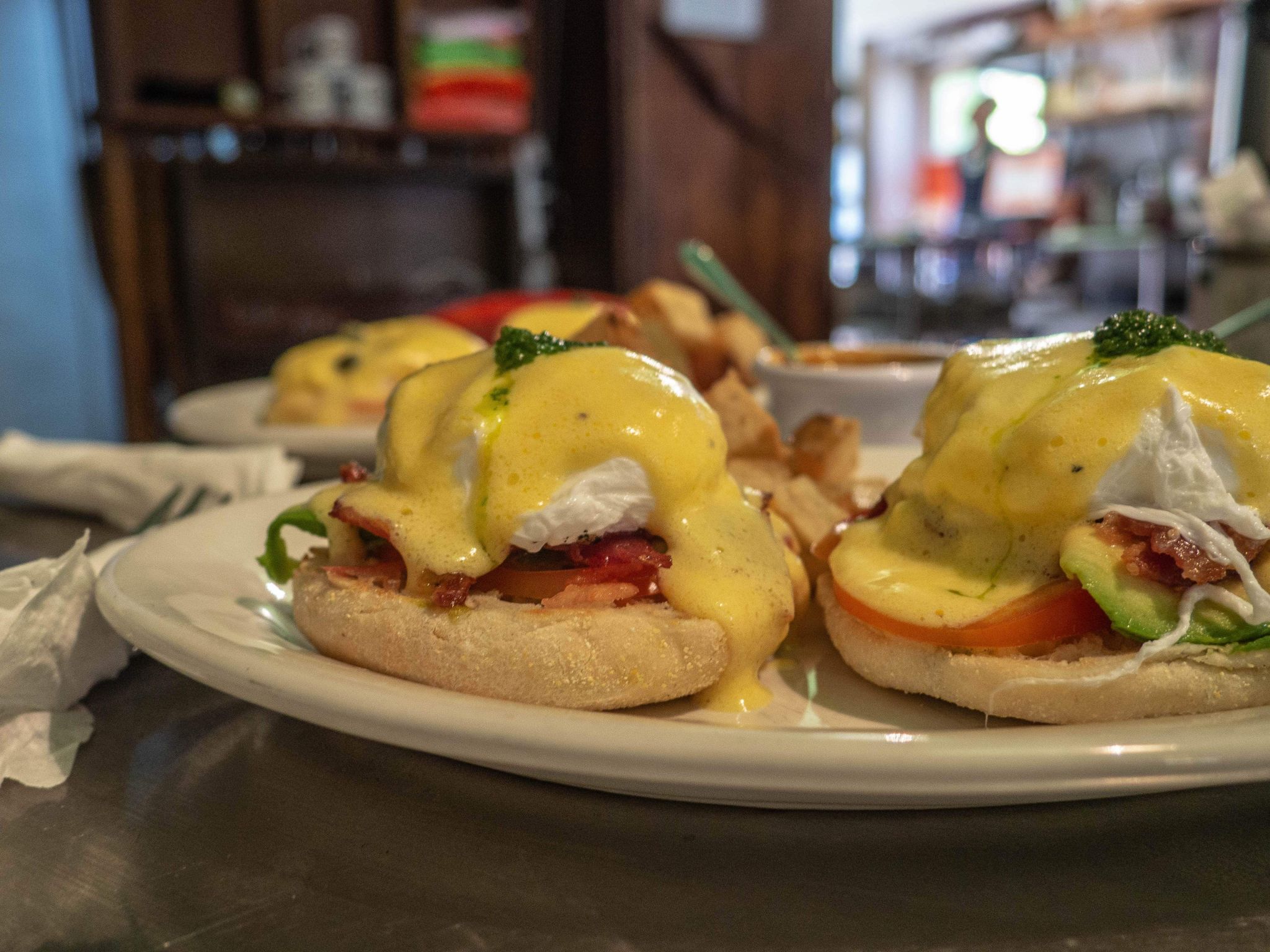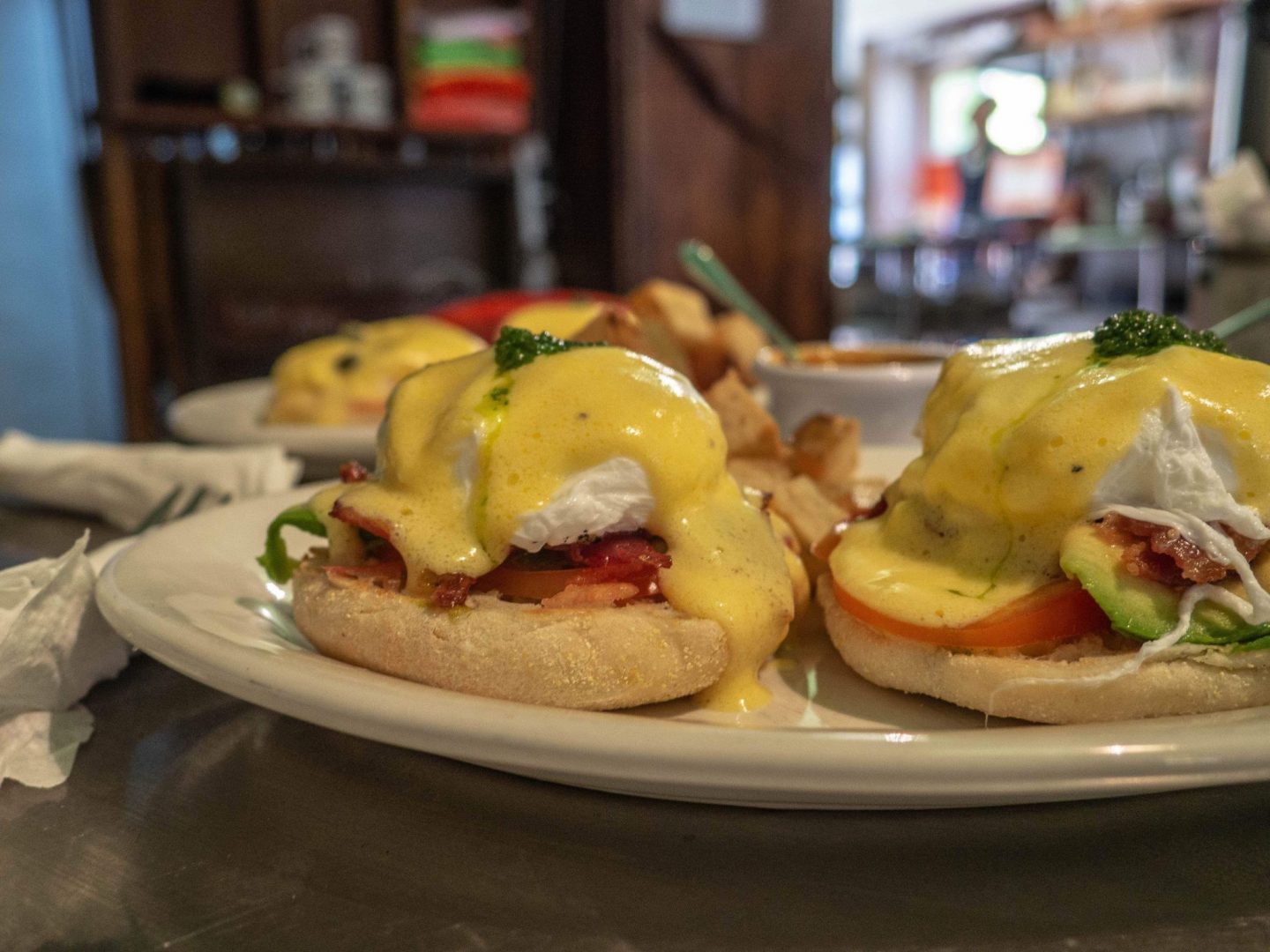 Puerto Morelos Nightlife
Wondering how to spend an evening in Puerto Morelos. If I'm honest you aren't going to find the best places to party here. If your idea of a top night out is dancing in a club until the sun comes up then you probably need to consider Playa del Carmen or Cancun. But if you want to spend the nights eating amazing food and sipping cocktails with friends in a more relaxed low-key environment then Puerto Morelos won't disappoint.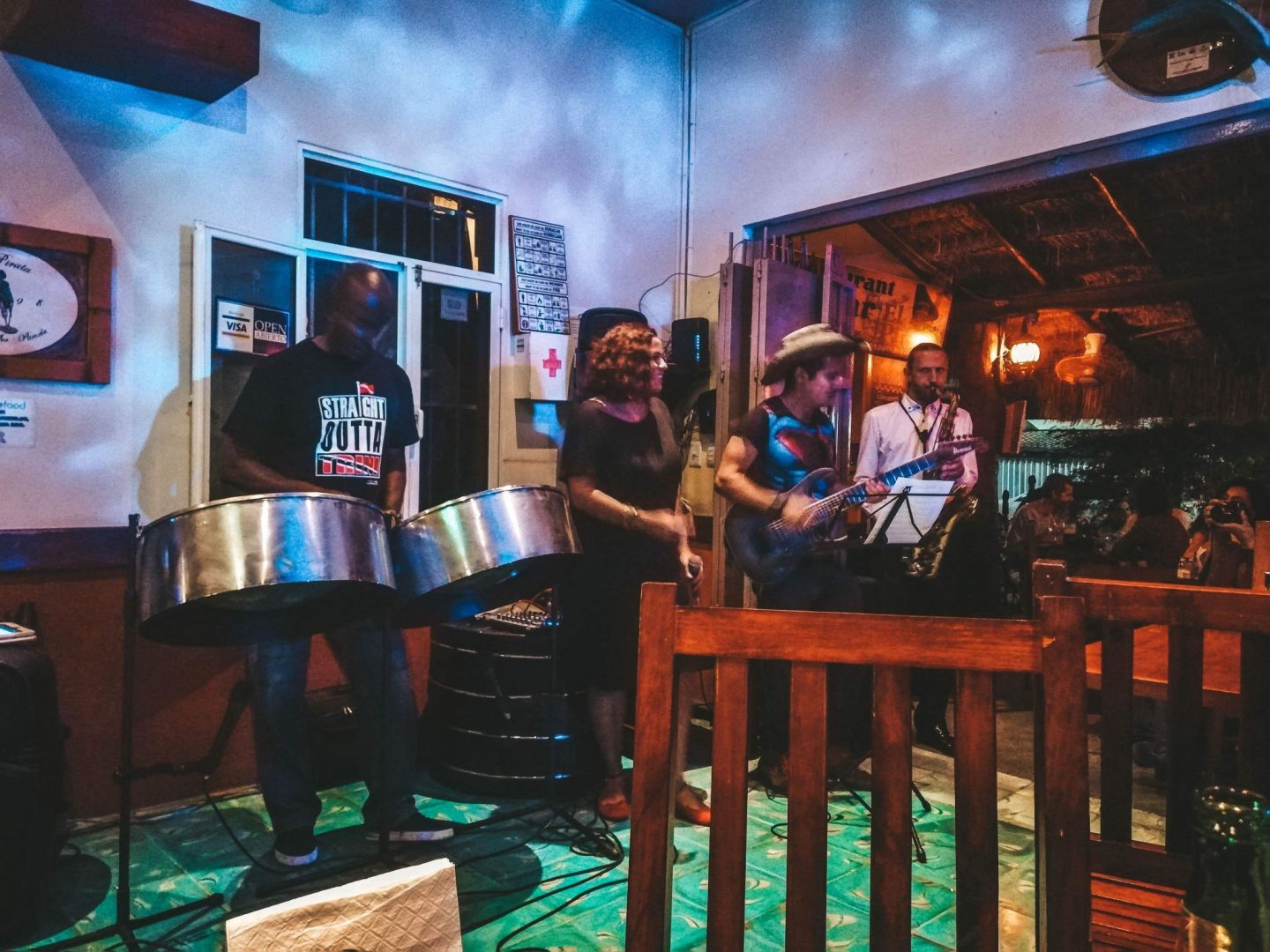 For those of you who like to dance Salsa or Bachata, or who would like to learn, there are some great schools that regularly run classes and social. Even if you aren't that into dancing but like to watch you would be welcome to go along to the socials and enjoy the show!
Where to stay in Puerto Morelos
So now that I have convinced you that Puerto Morelos is a great place for your vacation or to stop off at on your trip through Mexico you may be wondering where to stay!
Quick Tip: View my full Mexico packing guide here including a downloadable checklist. And check out my Mexico Essentials shopping list here.
Hotels In Puerto Morelos
Whether you're seeking luxury resorts or cozy boutique accommodations, you'll find a place that aligns with your desires for comfort and experience.
There are three main areas that people stay in Puerto Morelos:
In the tourist area by the beach (known as The Hotel Zone)
In the town on the other side of the federal highway (a taxi ride away, known as The Colonia)
On the outskirts of Puerto Morelos in one of the huge resorts
Here's a snapshot of the types of Puerto Morelos hotels you might consider:
All Inclusive Resorts – These provide guests with a worry-free vacation, with meals, drinks, and often various activities included in the price. My recommendations for all inclusive resorts in Puerto Morelos are:
Boutique Hotels – These establishments offer a more personalized and intimate atmosphere, often featuring unique decor and attentive service. My recommendations for boutique hotels in Puerto Morelos are:
Eco-friendly Hotels – For those who prioritize sustainability, these hotels offer eco-conscious accommodations that are often in harmony with the surrounding natural environment. My recommendations for eco friendly hotels in Puerto Morelos are:
Family Friendly Hotels – If traveling with family, these hotels cater to guests of all ages with amenities and activities designed to entertain children and relax parents. My recommendations for Family Friendly Hotels in Puerto Morelos are:
Luxury Villas and Condos – For those who prefer a more private and exclusive stay, there are various rental properties that offer luxury amenities. My recommendations for Luxury Villas and Condos in Puerto Morelos are:
Budget Accommodations – These are for travelers looking to extend their stay or who prefer a no-frills approach to lodging. My recommendations for budget accommodation in Puerto Morelos are:
If you are a backpacker on a tight budget then maybe Puerto Morelos hotels are out of your budget! But you can find a few options for hostel-style accommodation but over in Colonia. Expect to pay from $15-25 for a night in a dorm but be aware it is a 4k walk into town (in the Caribbean sun) so you will either need to hire a bike, take the local bus, or take taxis so be sure to budget that in.
Here are a few places I recommend staying in Puerto Morelos, depending on your budget
I personally stayed in Kaam Condos and I highly recommend them if you are looking for somewhere central, with great amenities, and who are eco-friendly.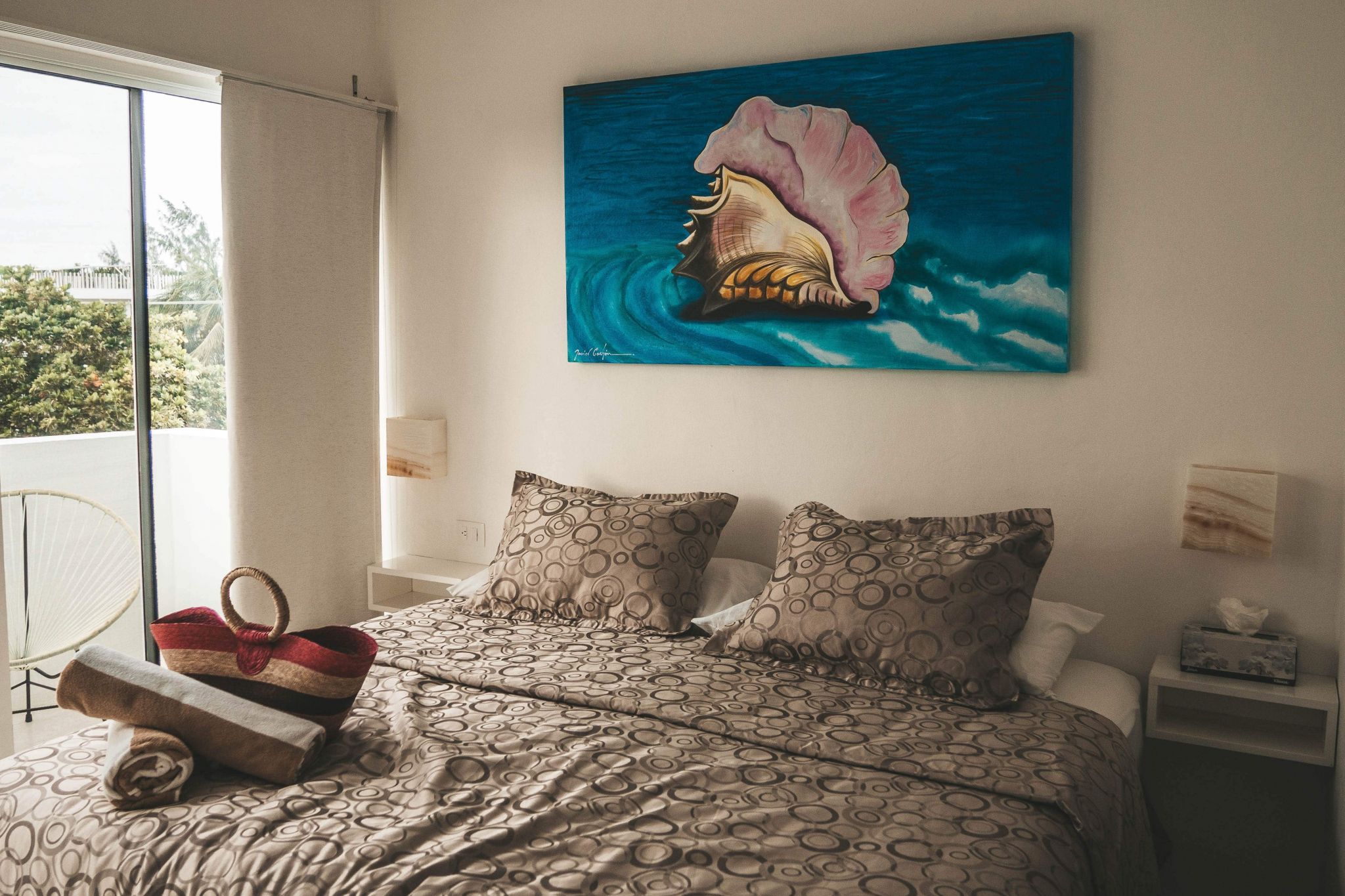 I'm all about the plastic-free life and so being given a reusable water bottle was a big tick from me. Plus they use reusable coffee pods. Disposable coffee pods kill me!
In my condo, I really appreciated the attention to detail. It made me feel really at home there and I loved that they displayed work by local artists which you could buy and take home with you.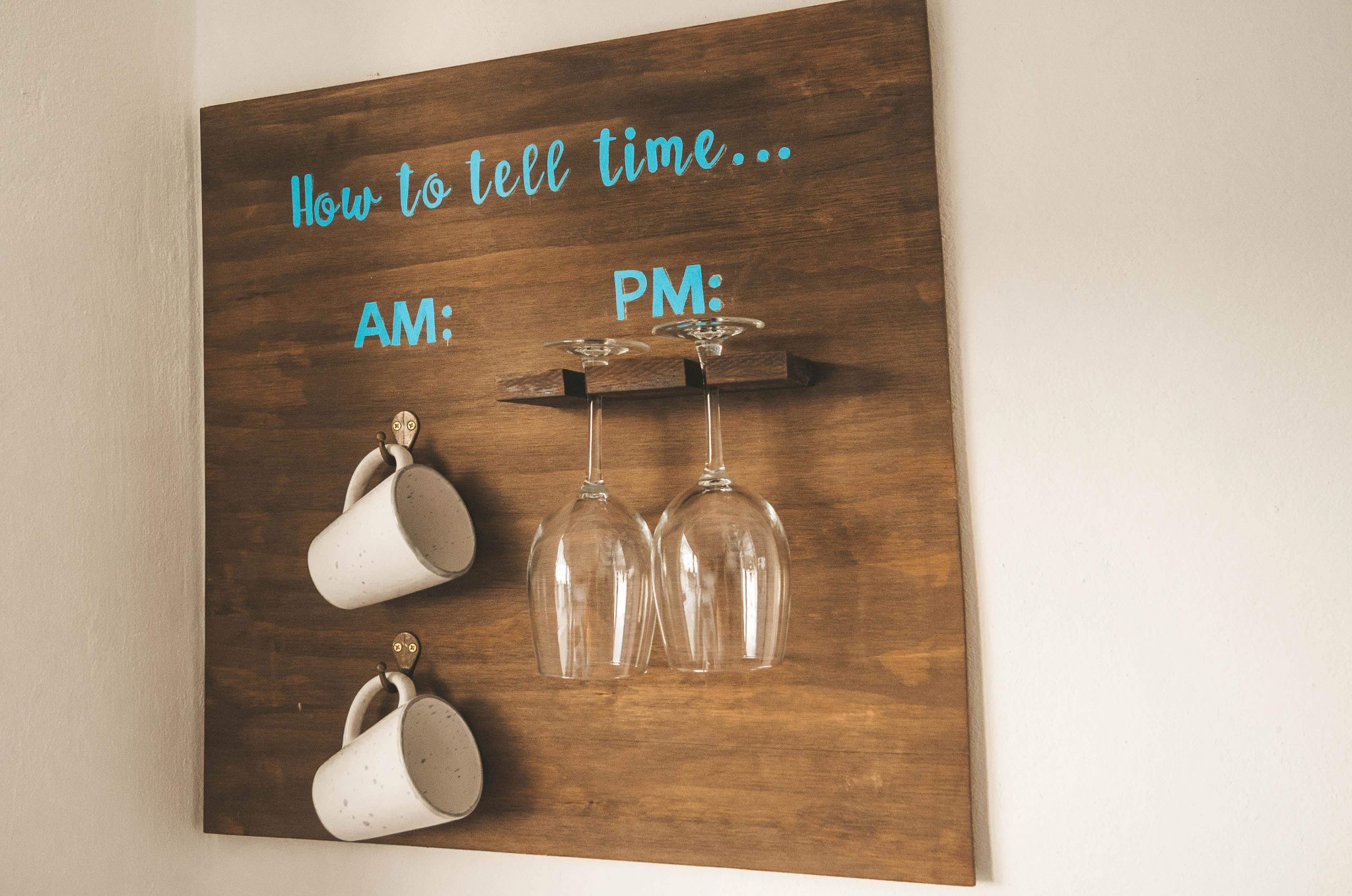 They also had a fully equipt kitchen, plus dining and living space, not to mention the two balconies and walk-in shower I had. Winning!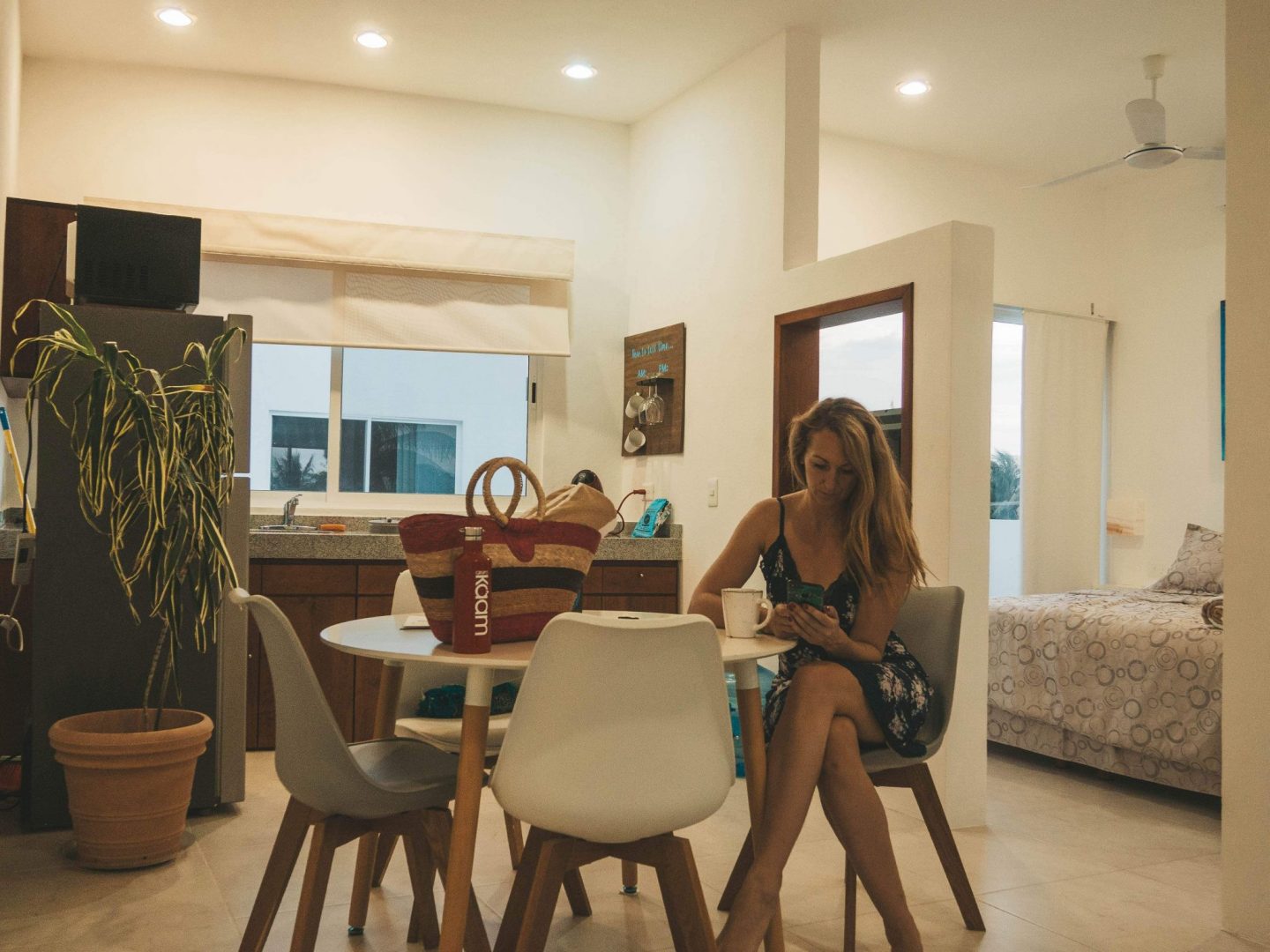 Being a solo traveler I'm always very conscious about the area I stay in and I prefer to be a little more central so I can easily walk everywhere. I avoid anywhere with concealed entrances or that feel a bit unsafe at night. I'm pleased to say the location for me was one of the key selling points. I felt completely safe walking back alone at 1 am after a night of salsa dancing.
Oh, and they also have a pool!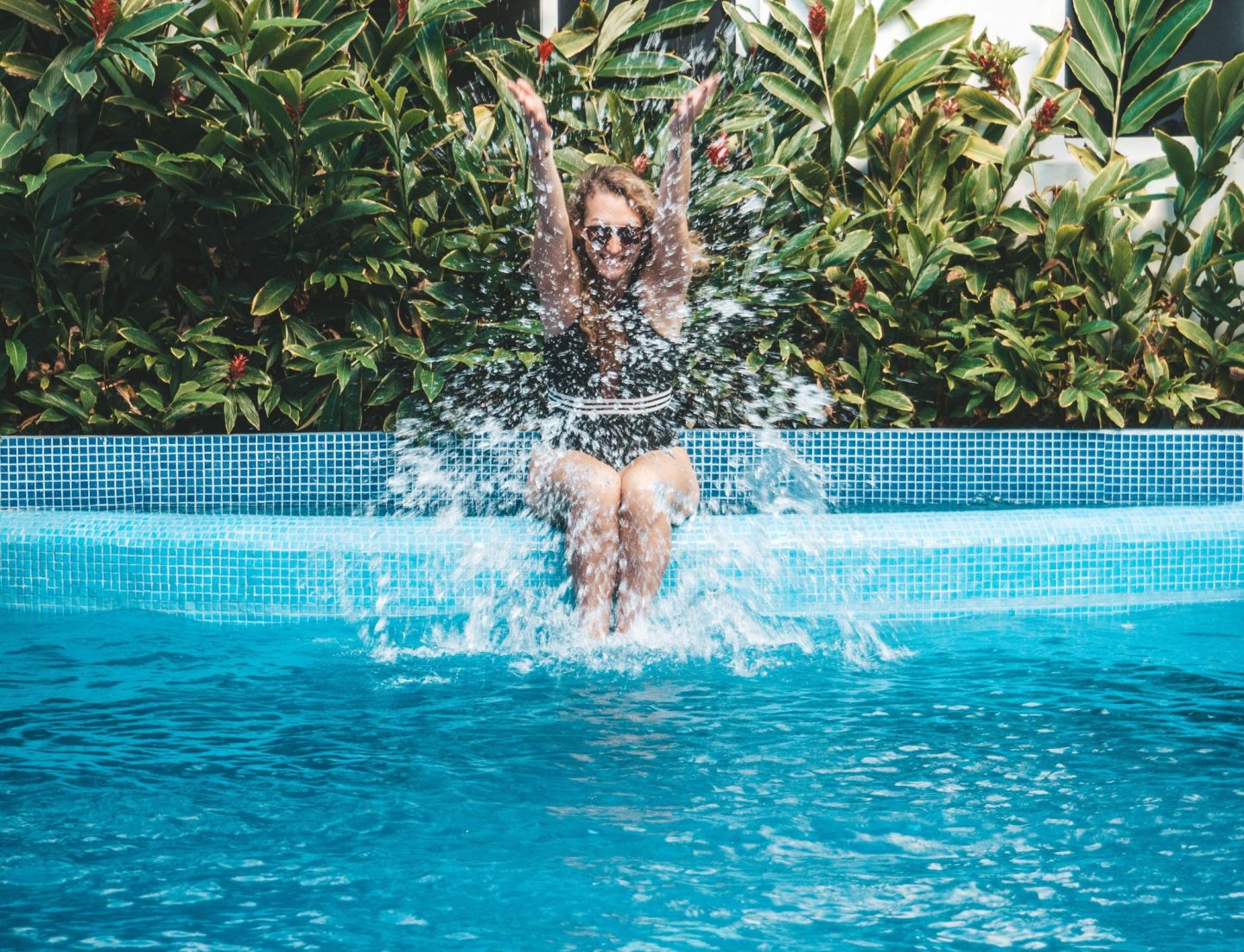 Plus a rooftop area perfect for watching the sunrise over the Caribbean sea.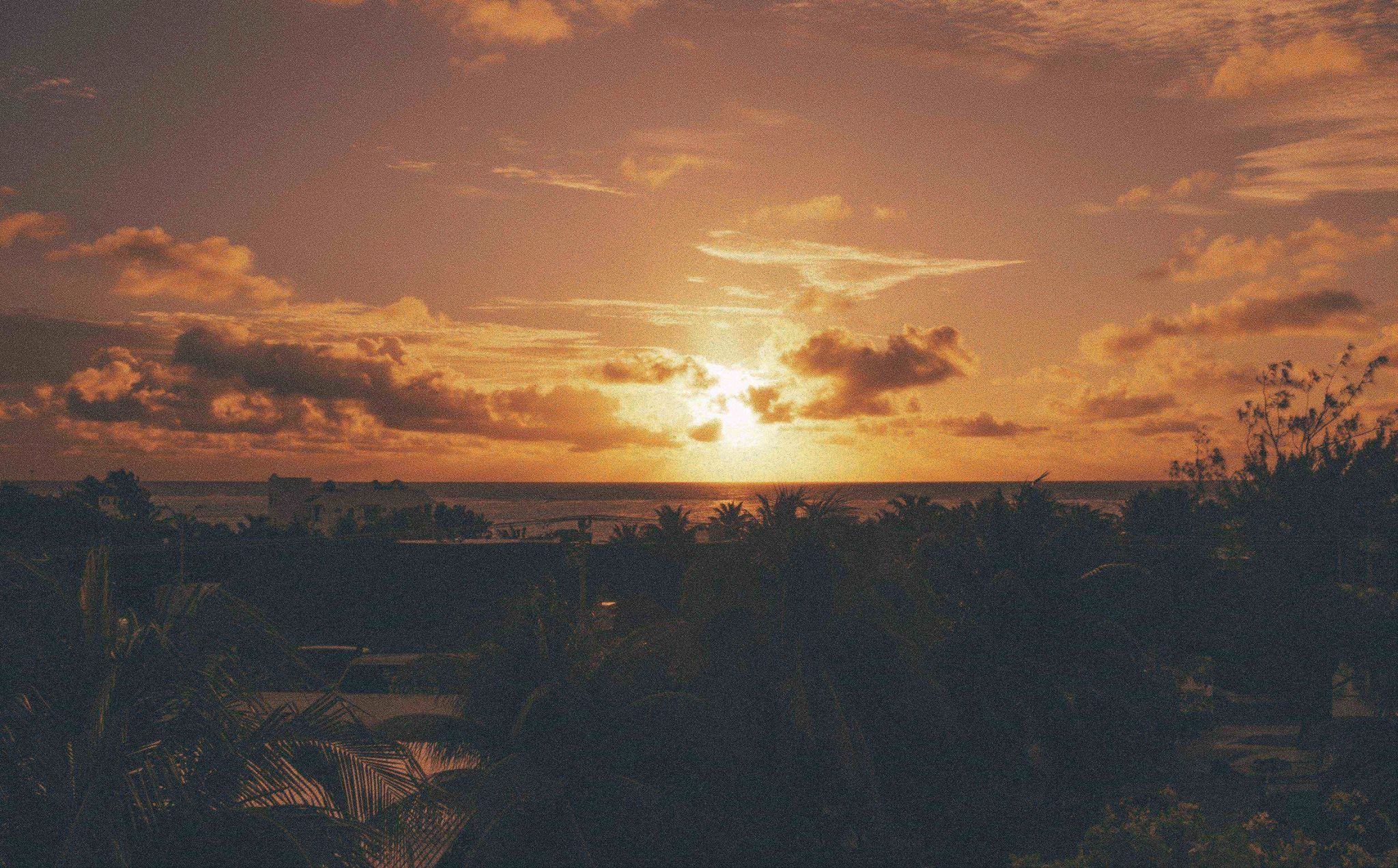 The staff at Kaam were so lovely and helpful too and gave me so many recommendations for puerto Morelos things to do locally.
The price is also very reasonable especially if you are a couple with prices starting from $150 per night which includes a continental breakfast.
However, if you want to stay for 1 month then the price drops a lot especially out of season. This would be perfect for Digital Nomads wanting somewhere quiet to work and enjoy the Riviera Maya for a while (breakfast not included with the monthly rate). Check them out here on Booking.com.
Did You Get Travel Insurance Yet?

The Insurance companies I recommend are Hey Mondo, Safety Wing, and Travel Insurance Master

Hey Mondo is great if you are looking for a great value flexible policy. They offer single-trip cover, annual multi-trip cover, and long-term travel cover. Safety Wing is great value, with monthly coverage starting at $39. It's super easy to use, and it just renews each month. I currently use them as they offer me free cover for my son as part of my policy. I also use Travel Insurance Master for short trips.

Read my full travel insurance post here, where I go into detail about all companies.
Is Puerto Morelos safe?
If you have been paying attention to the media you may be wondering: is Puerto Morelos safe? I won't lie to you and tell you there are no safety concerns, this whole area of Mexico has issues with organized crime. There are often targeted shootings and attacks in all of the towns and Cities from Cancun to Tulum and beyond.
But what I can give you is my personal perspective as a woman living and traveling alone here as well as the inside information from the people who actually live in Puerto Morelos.
In the summer of 2018, there was a small explosion in a popular bar in Puerto Morelos, one local person was injured and after the attack, that bar closed and has not reopened. Leading up to this there were several targeted shootings. I'm sad to say this is very normal in this part of Mexico, it is something that happens often.
I know it may seem crazy but it is not something I personally worry very much about. As a tourist in Mexico, you are very safe in general. There is very little petty crime or theft. The biggest issue is low-level scams like taxi drivers overcharging of service staff adding extra on to your bill. But I have never personally experienced any of these things. In fact of all of the places, I have visited in Latin America it is in Mexico, I feel the safest.
While I was in Puerto Morelos I felt completely safe. I walked home alone at 12:30 pm after spending the evening salsa dancing. Just to show how safe I felt.
I spoke to a local resident about safety and she told me although she was initially a little worried after the bar attack right now she has never felt safer living here. There have been no more shootings or incidents since that one due to an increase in security from the police and military.
What you have to remember is this area of Mexico depends on tourism. The bad guys causing the issues depend on tourism. So no one wants any harm to come to tourists or for things to get out of hand so tourists stop coming to visit. So is Puerto Morelos safe? In my opinion yes, it is very safe.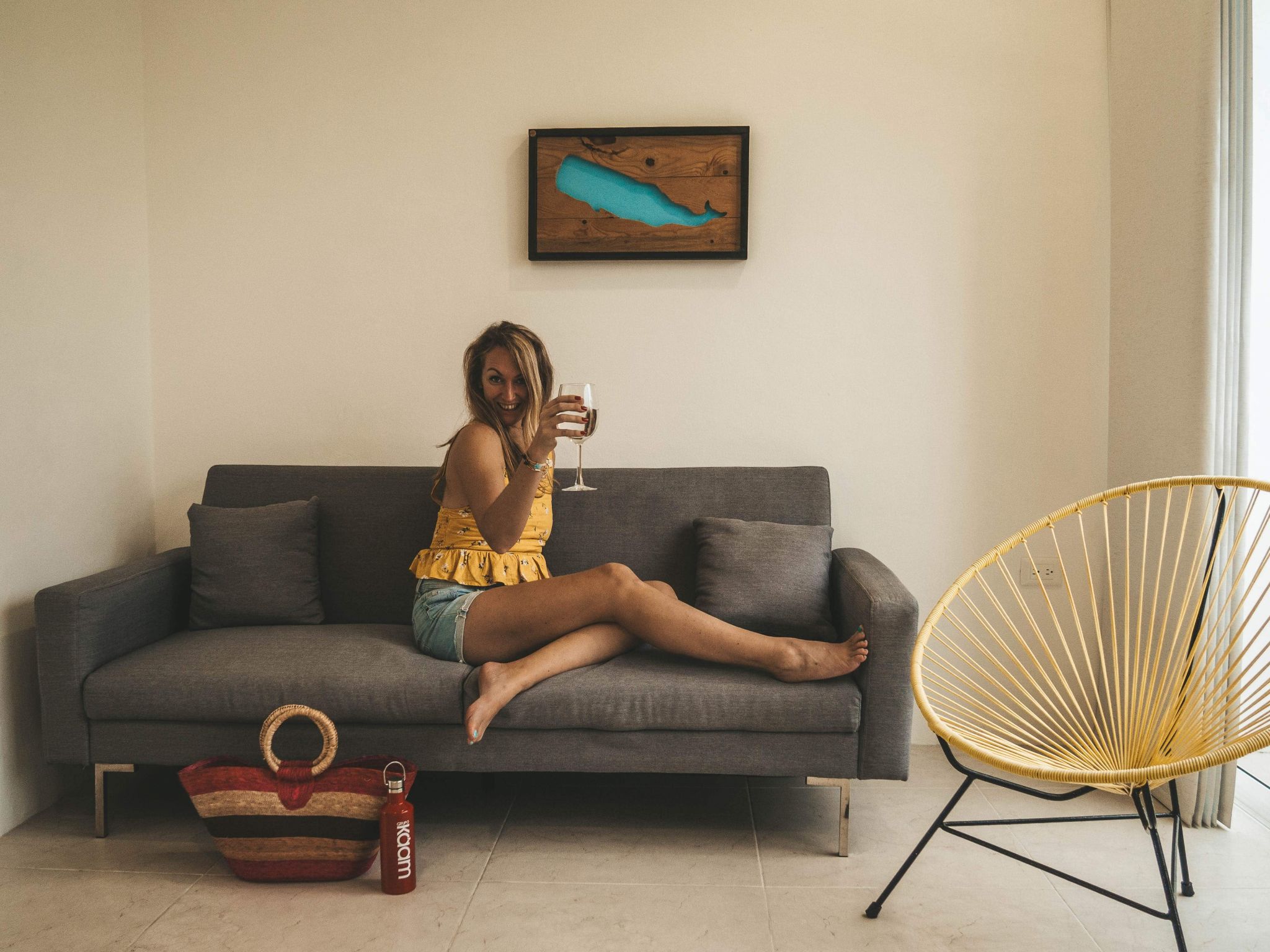 Puerto Morelos Travel Guide Planning
🧳 Any recommendations on what I should pack for Mexico?
Yes! I have created a whole packing guide to Mexico which you can read here and you can also check out my packing list for Mexico on Amazon here.
🚗 Where can I book bus or private transportation while I'm in Mexico?
I strongly recommend using GottoGo. You can book almost all transport in the major Mexican tourist destinations through them online. They don't just cover buses they also cover shuttles, ferries, and private drivers.
🎫 Where can I buy tickets for museums, attractions, and tours in Mexico?
First and foremost check out all of the amazing Mexico tours Where Sidewalks End has. They are a small local company and they have some really special experiences.
For everything else I recommend either Viator or GetYour Guide.
If you are traveling to Cancun you can use GoCity and save up to 55% of the initial cost of entrance tickets to various museums, tours, and attractions!
If you are traveling to Playa del Carmen then I recommend booking through my friend Vanessa at Turismo Channel. You can check out their tours by clicking here and using the following discount codes for the best prices clairecaroff (car rental), claire10off (for 10% off group tours), claireprivate (for a discount on private tours). You can also send her a WhatsApp message quoting the above codes to receive the discount.
👩‍⚕️ What is the best insurance to have while traveling?
I recommend using Heymondo for a great value policy. The app also offers you 24/7 Dr Chat. For Digital Nomads check out SafetyWing digital nomad insurance.
I have also written a blog post covering all my recommended travel insurance here
✈️ Any flight recommendations?
WayAWay offers you cheap flights with cashback. You can use this code CLAIRE22 to get 10% off. Otherwise Skyscanner or Expedia are my go-to flight searching platforms.
📱What do you use for internet connection while traveling?
I'm a big fan of personal WiFi devices and they have saved my ass so many times when traveling. I wrote a full review of the top travel WiFi devices you can read here. I personally use GlocalMe as I can either pop in a physical sim card or use their local carrier.
With regards to my phone connection, I use e-sims while traveling, so rather than having to swap out my regular sim card I can download the app and buy a virtual sim card. I recommend using eitherAirhub or Alosim. Both have great coverage of multiple countries and are very easy to use.
🛏️ What is the best platform to use for booking accommodation?
The 3 best platforms that I normally use are Booking.com, Hotels.com, and Expedia They offer great deals and multiple options. I always check all three to be sure of the best deals.
🛅 Do you have any luggage recommendations for traveling?
I do have a complete list of the best packing and luggage products that I recommend, you can check the list here. I'm currently traveling with this suitcase and this backpack.
Final Thoughts
I really enjoyed my weekend in Puerto Morelos and I'm already planning another trip back here to explore the local area a bit more. So I will continue to update this post adding on any new experiences I have.