Thinking about scuba diving in Puerto Morelos, Mexico? Scuba diving in The Riviera Maya is awesome and after diving in Playa Del Carmen and Cozumel I decided I needed to check out some other good dive spots in the Riviera Maya. Take a read to find out everything you need to know about diving in Puerto Morelos.
Where is Puerto Morelos? And how to get to Puerto Morelos
Puerto Morelos is a small fishing village with amazing scuba diving between Cancun and Playa Del Carmen. It is the perfect place to come if you are looking for great scuba diving near Playa del Carmen (without having to take a ferry over to Cozumel).
The distance to Puerto Morelos from Cancun is just under 40 Kilometers and it takes around 40 minutes in a car. The best way to get here is either by a ADO bus or by Colectivo. You can take a colectivo heading to Playa Del Carmen just across the main road from the ADO station. Just walk across the footbridge and the vans will all be parked up at the foot of the bridge. You will pay almost double on the ADO bus but it is more comfortable. I personally prefer traveling like a local and saving my money (for more diving).
If you want to rent a car and drive yourself just get on the highway heading towards Chetumal and turn off when you see the signs to Puerto Morelos.
Quick Tip: I highly recommend booking all of your Mexico transportation with GuateGo. You can search for buses, shuttles, ferries, and Flights on their website. What I love most about them is their customer service. I know these guys personally from my time living in Guatemala and they look after their customers.

If anything happens and you get delayed and miss your bus, you can just call them and they are always there to help. If you book through them you will pay a little more than if you book in person at the bus station. But it's worth it for the ease and security. Click here to search for transportation in Mexico.
Need to rent a car in Playa del Carmen?
Whenever I'm in Playa or Tulum I always rent a car through Turismo Channel as they include everything in the quoted price. Car rental companies in Mexico are notoriously tricky to deal with and 9 times out of 10 they will quote you a low price but then when you get there they add on all kinds of insurance and won't give the car to you unless you pay up. It can also take weeks or even months to refund your deposit. I wrote a whole blog post you can read here for more information. If you rent with Turismo channel use the code clairecaroff for a discounted price. You can also send her a WhatsApp message quoting the above codes to receive the discount.
The distance to Puerto Morelos from Playa Del Carmen is 35 kilometers and takes around 35 minutes in a car. The best way to get to Puerto Morelos from Playa Del Carmen is by ADO bus from the local terminal or a colectivo which you can catch on Calle 2. You want to take a colectivo heading towards Cancun and don't forget to let them know you want to be dropped off at Puerto Morelos.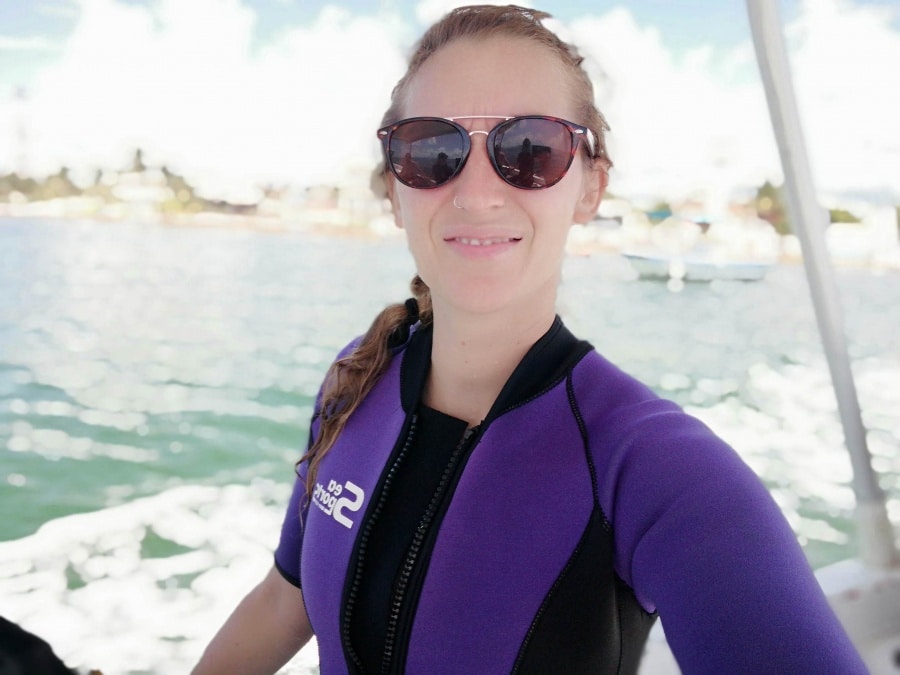 If you want to rent a car and drive yourself just get on the highway heading towards Cancun and turn off when you see the signs to Puerto Morelos.
Do I need scuba diving lessons to dive in Mexico
Yes and no. If you want to dive you need some instruction before they will let you loose in the sea with all the equipment. This is for your own safety. Their primary concern is to keep you safe. To do this you need to learn some basic drills just in case something happens.
I would always recommend doing a scuba diving certification rather than just having some scuba diving lessons. But, if you want to test the water (excuse the pun) and would rather do a fun dive first then the Discovery Diver course is a great option and it is just one day. You do some basic instruction in the morning, some pool drills and then you do a shallow dive. If you live in (which I'm sure you will) then you can normally get a discount off doing the full Open Water Course if you go with the same company (so be sure to ask). I recently did my Advanced Open Water over in Cozumel and I'm so glad I did. Sometimes it is good to advance your learning. I'd also strongly recommend investing in a dive computer even if you buy nothing else.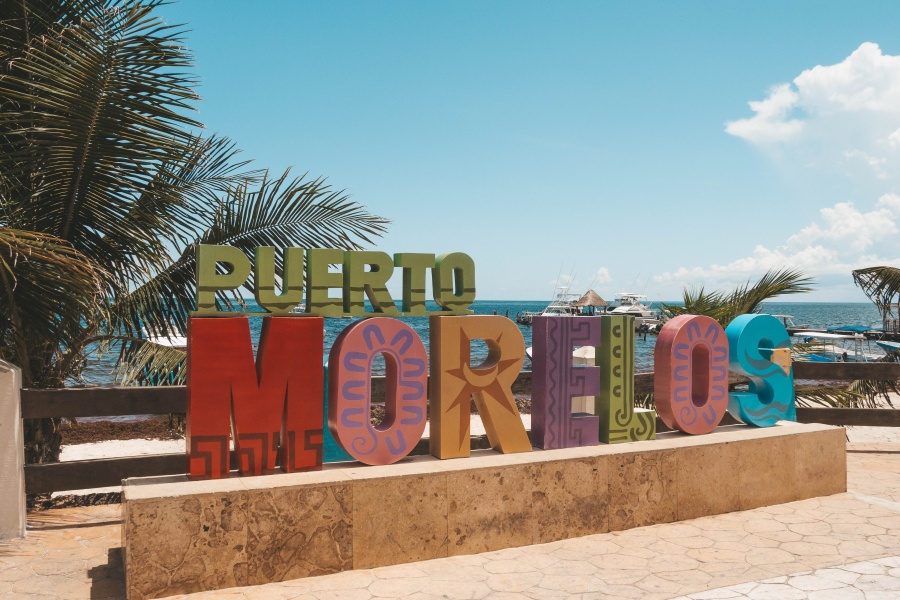 Did You Get Travel Insurance Yet?

If 2020 taught us anything, it's that you need to be prepared for anything!

The Insurance companies I personally recommend are Hey Mondo, Passport Nomads, Safety Wing, and Travel Insurance Master

Hey Mondo is great if you are looking for a great value flexible policy. They offer single-trip cover, annual multi-trip cover, and long-term travel cover.

Passport Nomads provides the most comprehensive cover for Digital Nomads. If you find yourself in need of medical care you just contact them and they will pre-load your card with the funds to cover your treatment, meaning you won't need to pay out of pocket and then put in a claim later.

Safety Wing is great value with monthly cover starting at $39. It's super easy to use and it just renews each month. I currently use them as they offer me free cover for my son as part of my policy.

I also use Travel Insurance Master for short trips.

Read my full travel insurance post here where I go into detail about all 4 companies.
Why Scuba Diving in Puerto Morelos is Awesome
Scuba diving in Mexico is great and very varied and scuba diving in Puerto Morelos will not disappoint! Unlike diving in some other areas of Mexico in here, you will get to dive in a National Marine Park on the protected Mesoamerican Barrier Reef. You might encounter stingrays, turtles, nurse sharks, eagle rays, lobster and a full display of colorful fish.
One of my favorite things about diving in Puerto Morelos is that you don't have to spend a long time in the boat as the reef is so close to the shore. It only took 15 minutes to get out to the first dive spot and then another 5 minutes to the second! Some of the places I've been diving here I've had to travel over 30 minutes just to get there.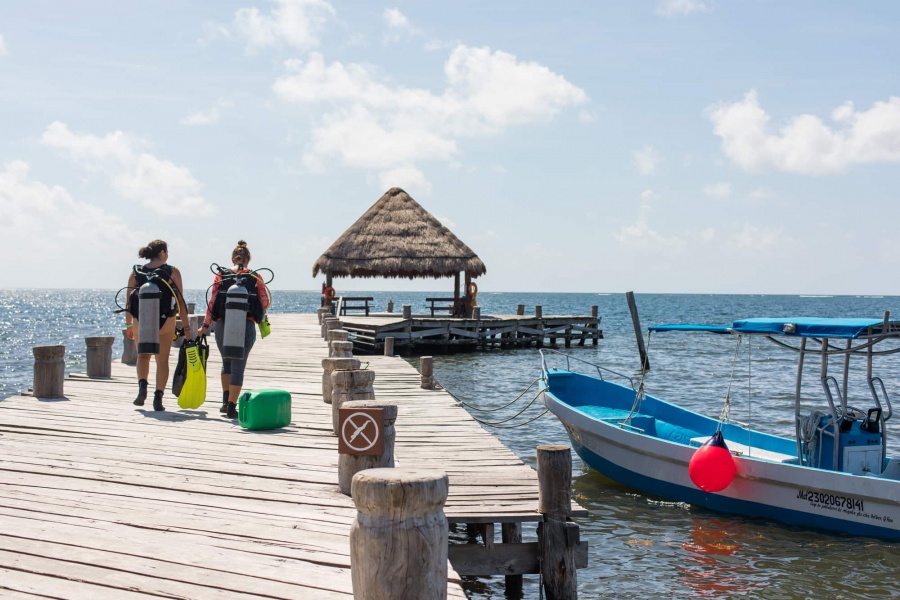 There is something for every level of diver in Puerto Morelos. Beginner divers can stick to the shallower areas of the reef. More advanced divers can go to the deeper areas or explore one of the two wrecks.
What makes scuba diving in Mexico awesome is that there is no bad time to go! It's always warm. But do be aware October it often rains a lot and during the high season (November – April) you will need to book in advance.
Choosing the best diving company in Puerto Morelos
If you want the best scuba diving in Puerto Morelos then you need to go with the best scuba diving company in Puerto Morelos. It really is that simple. From my experience living here in Mexico, the biggest companies with flashy website and huge dive shops aren't always the best companies to go with especially where our oceans are concerned.
I chose to dive with Rodman Divers after a recommendation by a friend. Now I'm not just saying this because I went there as a guest, or because they knew I would be writing this. I have never been treated so well be a diving company. I thought maybe they were putting it on for me, but no, they just really know how to look after their customers.
First of all their equipment is excellent. I let out a little squeal of excitement when I was handed a mask with a mask strap cover on it. I also got booties, a shortie wetsuit (thank the lord I didn't have to try and get into a full one in this heat), and good quality fins.
The groups are always small with 4 people plus an instructor and the captain per boat. Once we got out on the dive Daniela our instructor was an absolute pro. She made sure we all knew what we were doing, checked on us at regular intervals, and acted in the most professional manner possible. It takes a lot to impress me and I was impressed. I mean she even cleaned and defogged our masks for us. I felt like royalty.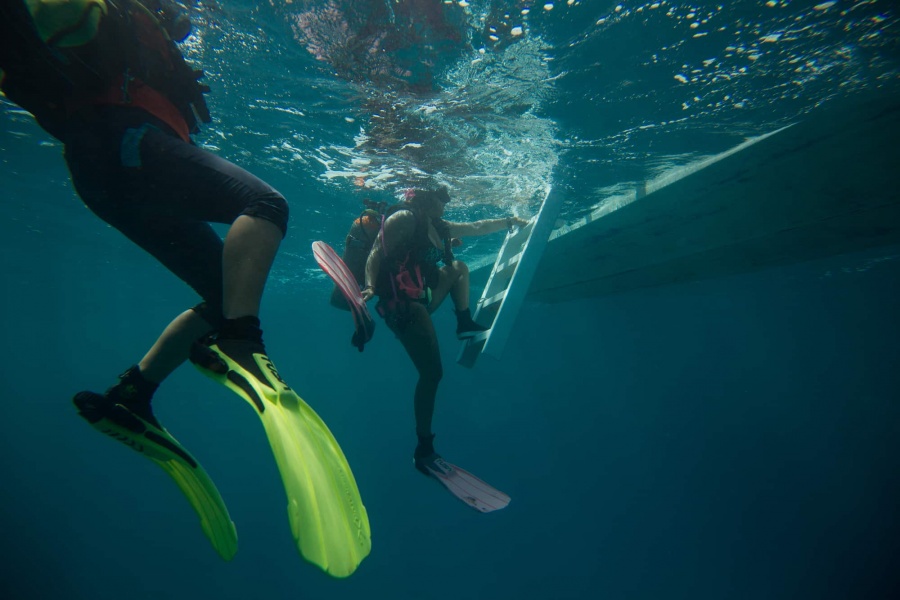 And before you cry 'yea but maybe that was just for you' I know for a fact it wasn't and it is just what they do because the other drivers on my boat told me. All three of my fellow divers had been diving with Rodman Divers in Puerto Morelos for years. Two of them did both their open water and advanced courses with them. All three return to Mexico each year and they always come back. That says it all to me.
I think their 5 * service comes from their original location within a 5* resort. Even though the company are now established in the Pueblo or Puerto Morelos itself with their own dive shop and access to a swimming pool for drills their roots are in 5* service. So with Rodman Divers, you can expect a 5* service with competitive prices to match other establishments in the area.
Here are some scuba diving pictures from Puerto Morelos
I'm still working on my underwater photography. Basically, all my pictures sucked haha. But luckily my friend Luna has some amazing ones she took in Puerto Morelos she has let me use. Thank you, Luna! Go check her out on Instagram.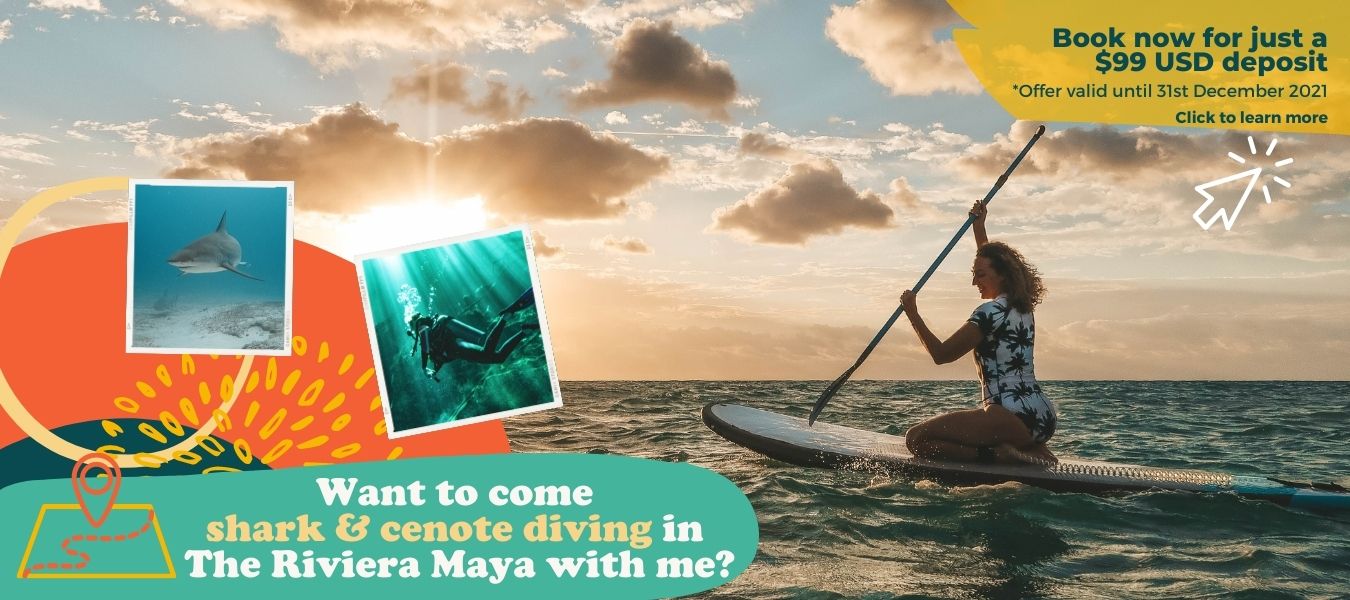 Puerto Morelos things to do…
If you are doing a half-day dive then I really do recommend spending at least one full day in Puerto Morelos. There are lots of things to do in Puerto Morelos as well as diving. Here are a few of my favorite things (most of them contain food haha).
Take a walk through the town
Before you do anything you need to take a walk through Puerto Morelos town, it's very small so it won't take you long and it is very pretty. If you have been to Playa del Carmen, this is like Playa 10 years ago! So make the most of the peaceful little pueblo while it lasts!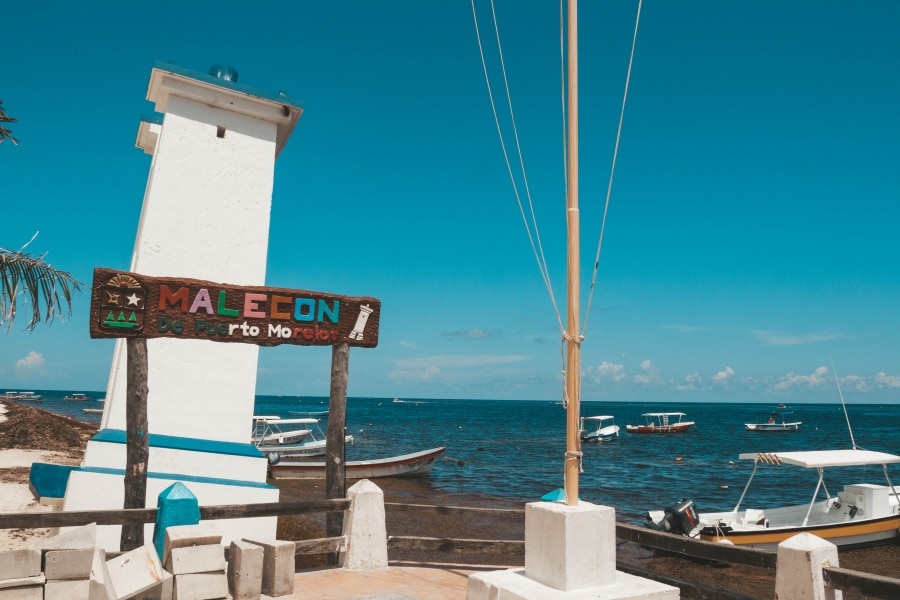 Eat some delicious food
Don't be fooled by its small size. Puerto Morelos is well known for its food, especially it's seafood. There are a lot of great restaurants in town, here are my favorites in no particular order.
Mangata – a cute vegetarian place that does amazing fresh food.
Chilpayas – Best place to eat seafood in Puerto Morelos. The atmosphere is incredible because of the wonderful staff and manager. It is not in the main town, you will need to get a taxi over to the other side of the highway. Don't worry though the taxi driver will know exactly where you want to go!
La Quinta Orquidea Coffee Shop – Super cute little coffee shop that does good food for reasonable prices. It is worth going in there just to have a look around the building. Just take a look at this!
You can actually stay there too.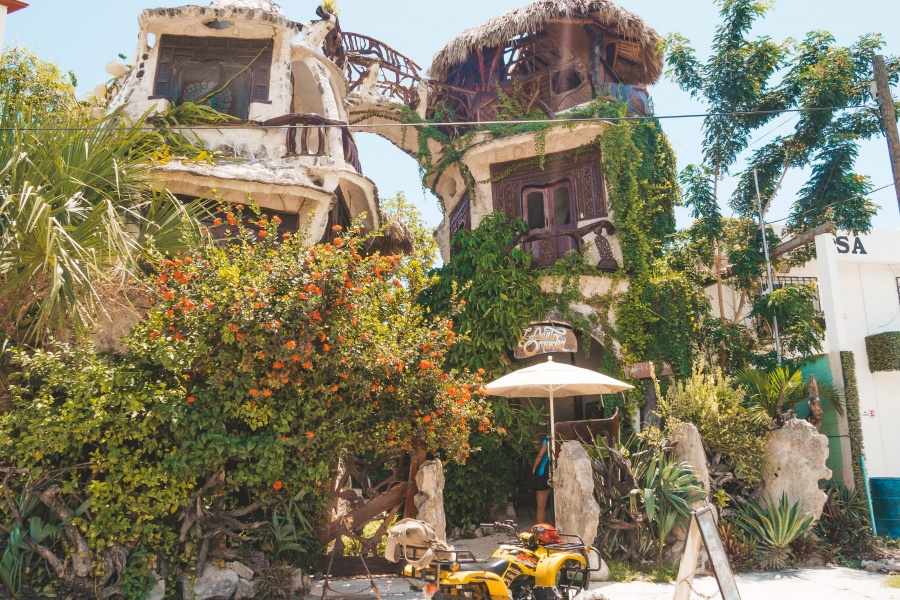 Hit the beach
My favorite beach club in Puerto Morelos is Unico Beach Club a short walk from the dock. It is the perfect place to spend the day relaxing with a margarita and a good book.

Where to stay in Puerto Morelos
If you are looking for somewhere to stay in Puerto Morelos here are my recommendations depending on your budget.
All inclusive
Great all-inclusive hotel in a prime location on the beach. If you can it's worth paying the extra to stay in the 'privilege' area.
Beach Front
Hacienda Morelos Beachfront Hotel
If you want direct access to the beach but don't want to stay in one of the big resorts then this Hacienda-style hotel is perfect. The rooms are large and an American-style breakfast is included.
Eco
If you don't mind staying out of the town there is magic to be found at this Ecolodge in the jungle. It is probably better for couples than solo travelers, but it is still somewhere I would recommend as it is so unique.
Boutique
Just a 2-minute walk on the beach this is a great budget-friendly boutique hotel. The location is great but it is very basic, so don't go expecting too much!
Budget
A relatively new place so it looks and feels very fresh. It is close to the ADO bus stop in the main town, rather than in the port or by the beach. It is a very nice area though with restaurants and bars close by. If you want to go to the beach just hire a bike!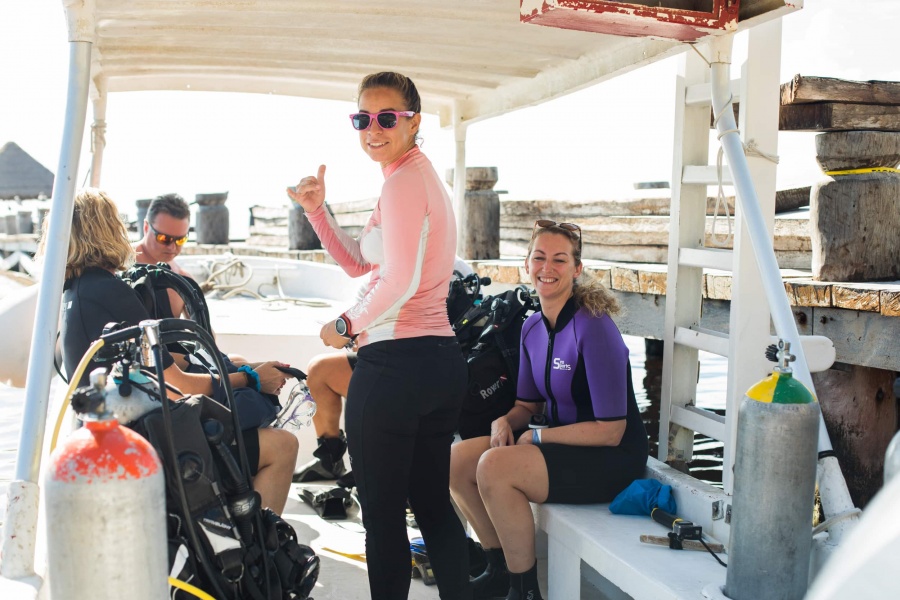 Looking for things to do in the Riviera Maya?
Check out these articles:
Visiting Cenote Azul and Cenote Cristalino
The Complete Guide to Chichen Itza in Mexico
How to see the Mayan Ruins in Tulum
How to spend a weekend in Merida
Doing a cooking class in Tulum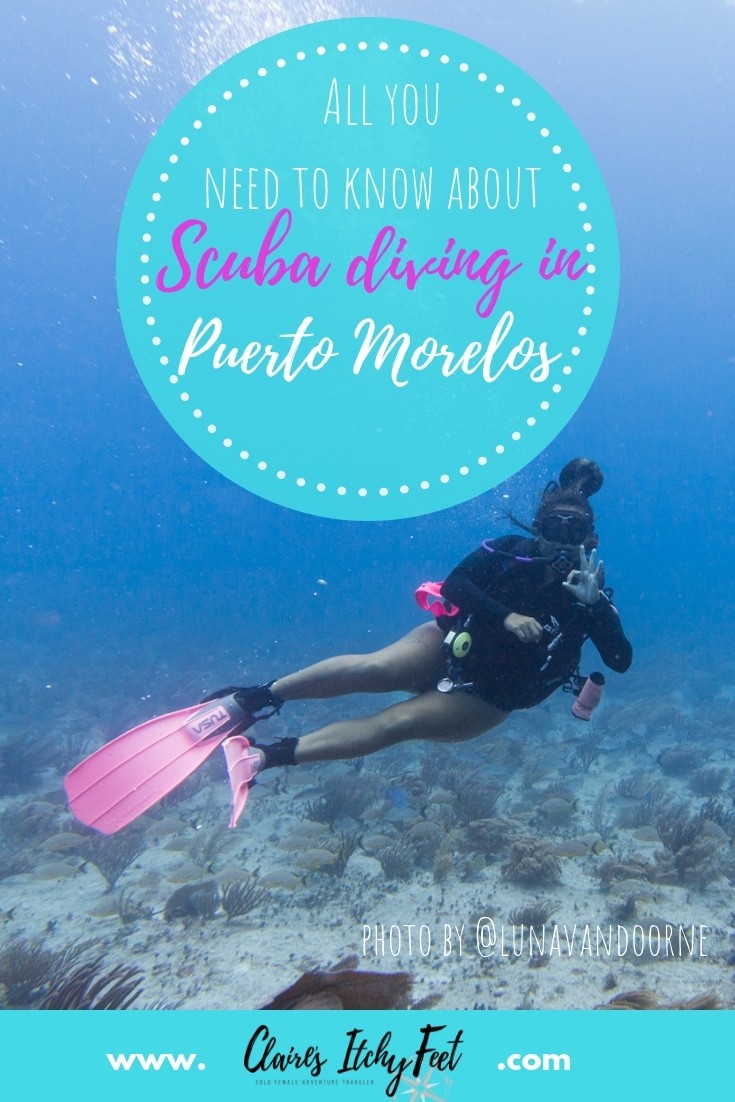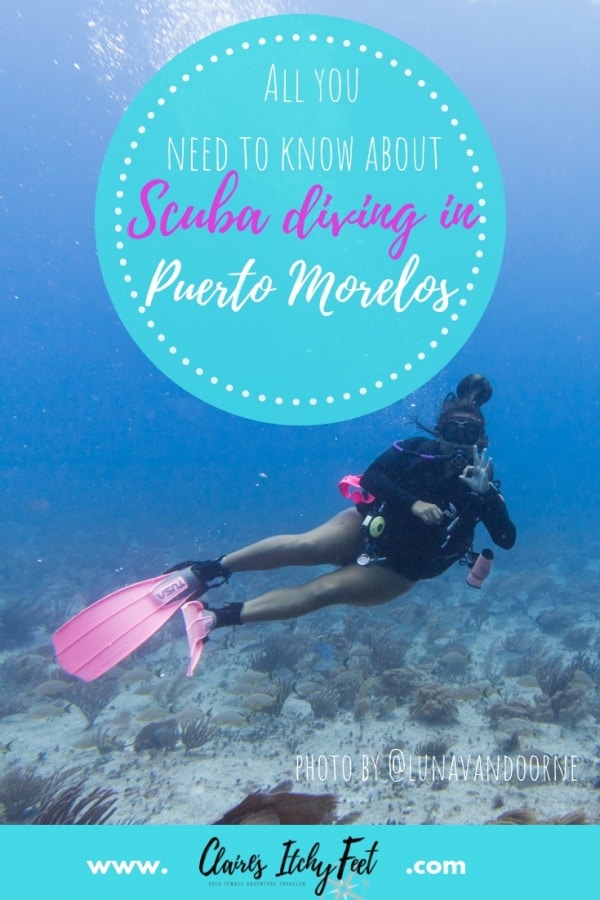 This post was proofread by Grammarly