If you want to find the best diving in the Riviera Maya there really is only one choice in location, Isla Cozumel. Having scuba dived in Cozumel, Playa Del Carmen, Tulum, Puerto Morelos, and Cancun, Cozumel for me is the best. In this blog post, I'm going to share with you everything you need to know about diving in Cozumel. I this post I am going to cover:
Where is Isla Cozumel?
If you are wondering where Cozumel even is I don't blame you. Before I arrived in Playa del Carmen I had never even heard of it. Cozumel is an Island close to Playa Del Carmen in the Riviera Maya area of Mexico.
Cozumel is best known for two things:
Being a large post for Cruise Ships
Having amazing Scuba Diving
Cozumel Mexico diving is world-class, and totally worth adding it to your Scuba Diving Bucket List.
How to travel to Cozumel
Getting to Cozumel couldn't be easier. If you are planning to just travel to Mexico for a diving vacation then I recommend flying into Cozumel airport direct. It is worth the extra money for the convenience. To help you decide I have added some details about how to get to Cozumel from Playa del Carmen and Cancun. If you are traveling from anywhere else in Mexico the easiest thing is to get yourself to Playa Del Carmen and then take the ferry (see below for details).
Flying directly to Cozumel Airport
This is by far the best option if you can find a decent priced flight. Flying into Cancun will mean you will have a bus, ferry and taxi ride to add on. Which could end up working out the same price as flying directly?
From the airport, you can take a taxi to your hotel which should cost around $400 pesos. You can check the Cozumel taxi rates online here.
How to get to Cozumel from Cancun Airport
From Cancun airport, you will need to take an ADO bus to Playa Del Carmen. When you arrive in Playa exit the bus station and you will be greeted by a barrage of people shouting Cozumel at you.
Read my full blog post on how to get from Cancun Airport to Playa Del Carmen here.
How to get to Cozumel from Playa Del Carmen
There are two companies currently operating ferries to Cozumel. I personally always go with Ultramar the prices are fixed and both companies charge the same and have ferries leaving at the same time.
Buy your ticket from one of the official sellers on the way down to the ferry. You can't really go wrong so don't panic about getting ripped off.
The ferry point is down at the bottom end of town close to the ADO station. It is difficult to miss because there are people everywhere selling tickets and shouting Cozumel.
Note: I was able to take my bike over of the ferry free of charge if you have a bike take it as it will save you money on taxis!
The ferry takes just 40 minutes and once you get to the other side you can take a taxi or walk to your accommodation. Be warned taxis in Cozumel aren't cheap. So my advice is to hire a bike to use while on the island. It is the cheapest and most eco-friendly option.
Shop my dive gear
Why I think Cozumel is the best place to dive in the Riviera Maya
Now you may be wondering why you should bother going to all of this trouble to get over to Cozumel from the mainland. Well, it's this simple:
Cozumel Mexico scuba diving is on another level from other dive sites in the area.
Just take a look at some of the pictures taken by the pro diving photographer Dive Paradise send with you from my dives.
Don't get me wrong Tulum is amazing for Cenote Diving and there is a cool reef and some wrecks to dive in Puerto Morelos. But after diving in several sites in Playa, Tulum, and Puerto, Cozumel comes out on to every single time.
There is drift diving Cozumel plus the most colorful reefs and marine life. I also saw sharks and turtles on almost every dive. I spend 3 days diving on Cozumel and visited 6 dive sites, all of which were totally different and equally as amazing.
If you are someone you are with isn't able to scuba dive then Cozumel is also really good for snorkeling.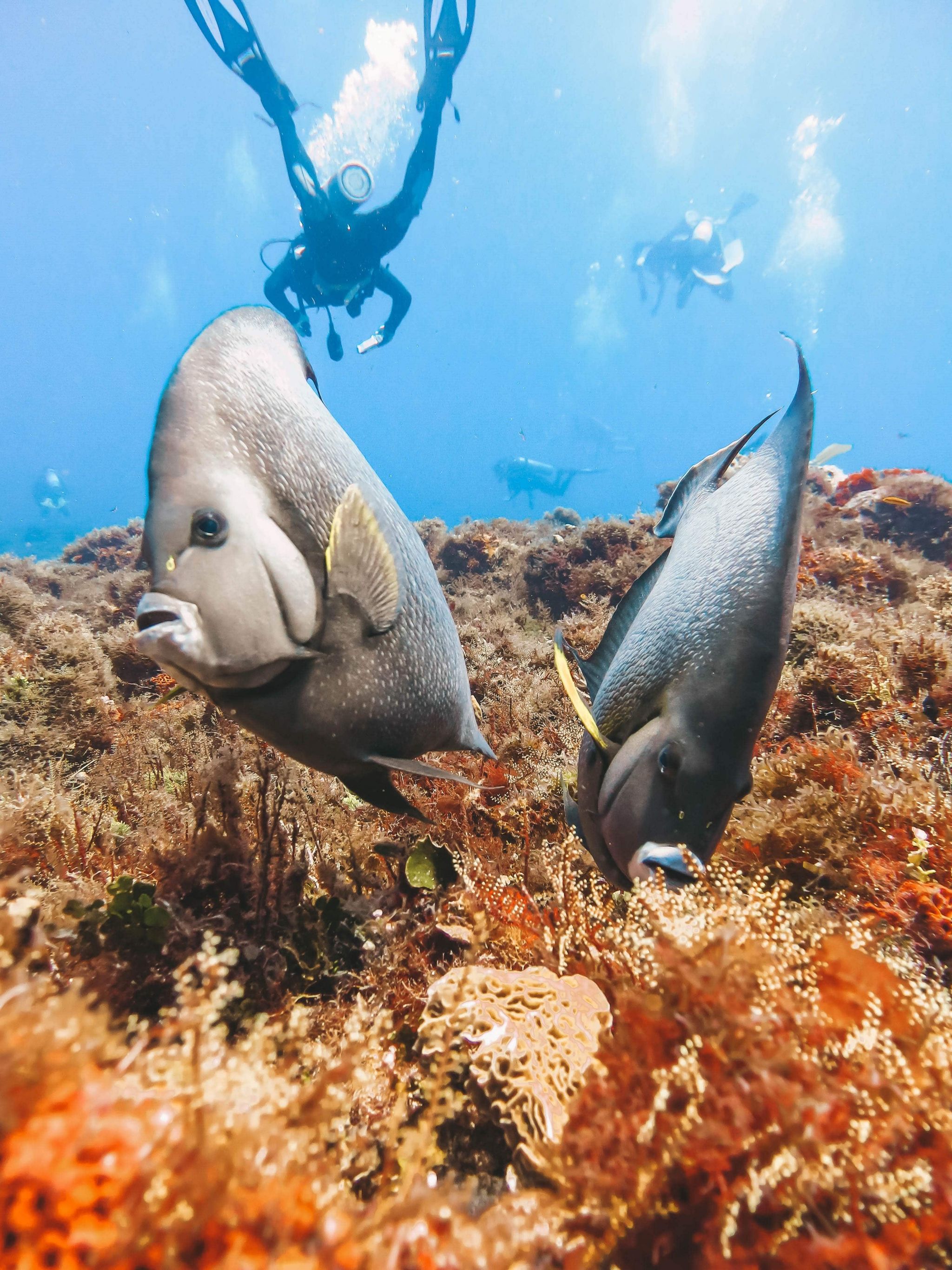 How to choose the best scuba diving company in Cozumel
The first thing you need to do when planning your diving vacation in Cozumel is to find a good dive center. There is a lot of choice, as you can image, so deciding who to go with is key. Trust me you don't want to go with the cheapest or the first company that approaches you when you get off the ferry.
My advice is, do your research. You want to find the best dive center Cozumel has to offer, depending on your needs. Although there are a lot of Cozumel dive operators with great reviews.
The first time I went diving I went with Dive Paradise. They are one of the oldest and most established companies on Cozumel. They have been awarded the Trip Advisor Certificate of Excellence 6 years in a row and for such a big company I was surprised at the customer service I received. It really did feel much more like a small family run business.
There were a few things I wanted from my scuba diving trip:
Good equipment to rent
Excellent customer service
Fast boats
Small groups
Divemasters who could support me as a new diver
They delivered on most of this and I had a great time with them. The boats weren't so small and there were often big groups. But they did split us up into two groups most days, plus it was nice having a bathroom on the boat.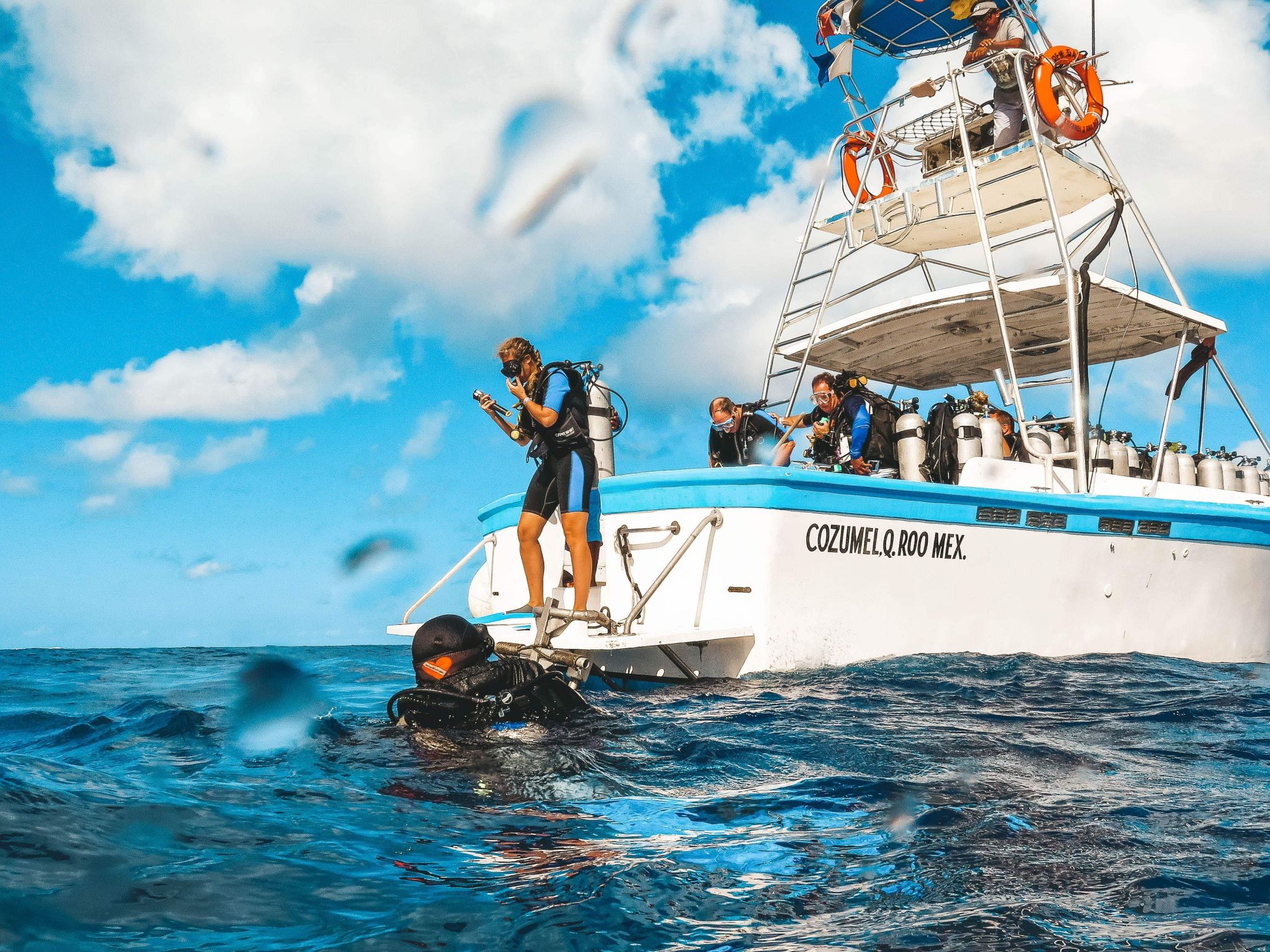 I met with different members of the dive paradise management team during the three days and spoke to them in depth about their plans for the future, which include opening up a dive resort on Cozumel as well as investing heavily in the local community to give local young people the opportunity to learn to dive as well as educating them on marine conservation and other environmental issues that affect our oceans.
Anything involving supporting the local youth adapted diving and protecting the Oceans is something I want to get behind.
Do you need a certification to scuba dive
If you are new to diving you may be wondering if you need to be certified to Scuba Dive in Cozumel. The answer is yes, and no. You need to be certified to dive for safety reasons. There are things you need to know and be able to do to keep you safe under the water. Therefore for your own safety, you have to have some instruction before you are able to go underwater.
There are a few different levels of certification with the most common one being an open water certification (this is what I have). With this certificate, I have been able to dive all over the world, including in some Cenotes. The course takes between 2-5 days and costs around $200-$400 depending on where you are in the world.

If you don't want to commit 2 days of your vacation learning to dive, and/ or you aren't sure if you are going to like diving then a good option is to do what is called a Discovery Dive.
It lasts 2-3 hours and after some instruction, you will be able to experience Scuba Diving in shallow waters close to one of the resorts.
My advice would be to do the scuba certification while in Cozumel, the crystal clear Caribbean water makes for a pretty perfect training ground.
Where to dive – Cozumel dive sites you don't want to miss
Scuba diving in Cozumel Mexico is amazing and after diving 6 of the sites I'm itching to go back for more!
Cozumel has 27 dive sites ranging in depths from the shallow waters of Shallow Columbia (15') to the deep diving of Chun Cha Kab (90-120').
The five dives sites I went to are:
Paradise Reef (Max 45')
This is a series of 3 small reefs running parallel to the shoreline. This is the place to spot the Splendid Toad Fish, which apparently only lives in Cozumel.
Chankanaab Reef (Max 55')
This is a great reef for beginner divers with mild currents and pretty clear waters.
Click to find out what marine life you can expect to find here.
Yucab Reef (Max 60')
One of the longest reefs in the Americas with a swift current and so much color. Yucab was one of my favorites. This was my first experience drift diving, something Cozumel is well known for. It took me a moment to get used to it, but once I had I loved being able to just drift along the reef.
Santa Rosa Wall (Min 50')
This is one of the most well-known sites in Cozumel, for good reason. It has great drift diving and amazingly colorful marine life. There are lots of swim throughs and caves. I was lucky enough to spot a turtle there and if you get lucky you can often see nurse sharks.
Palancar Caves (Best 60-90')
An intermediate dive full of caves and swim-throughs. This dive was a lot of fun and one of the more challenging ones I did.
For more detailed information about all of the reefs in Cozumel check out Reefs of Cozumel.

Cozumel diving packages – how much does it cost to dive on Cozumel
Cozumel scuba dive packages offered by Dive Paradise these packages include accommodation and diving and if your sole purpose is to go on a diving vacation in Cozumel then booking a dive package would be my recommendation. Most of the people I was diving with had booked a package and were picked up by boat from their hotel every morning (now that's service).
They offer 4 & 7-night scuba diving packages at the following hotels:
Hotel Barracuda
Casa del Mar Cozumel Hotel & Dive Resort
Hotel Cozumel & Resort
Villablanca Garden Beach Cozumel Hotel & Dive Resort
Coral Reef Inn
IslaMar Villas
You can expect to pay anything from $430 to $890 for a 4-day dive package and $740 to $1560 for a 7-day dive package
Scuba diving Cozumel prices
Prices for scuba diving on Cozumel are pretty reasonable. Expect to pay $50 for a tank dive trip and $80 for a 2 tank trip.
The more dives you book during your stay the better price you will pay.
Want a discount? If you book with Dive Paradise and quote Claire's Itchy Feet to them you will recive an exclucive 10% off… You're welcome 🙂

Terms and Conditions:

Diving only
Advance bookings only
Cannot be applied with any other discount.
Direct consumer bookings only (not groups)
Finding accommodation – Where to stay in Cozumel for diving
Resorts on Cozumel Mexico can be pricey so my recommendation would be to book one of the dive packages above if you prefer a resort. However, these are my recommendations for the best resorts in Cozumel and hotels on the beach.
High Budget:
The Landmark Resort of Cozumel
Click here to check the prices.
Presidente InterContinental Cozumel Resort & Spa
Click here to check the prices.
Ventanas al Mar Beach Front Cozumel
Click here to check the prices.
Mid Budget:
Casa del Solar Centro Cozumel
Click here to check the prices.
Hotel Villas Las Anclas
Click here to check the prices.
Caribo Cozumel
Click here to check the prices.
Tight Budget:
If you are on a tight budget then you are in luck as I found an amazing hostel perfect for divers in central Cozumel called Amigos Hostel. It was very close to Dive Paradise and had a pool, hot water, huge kitchen and plenty of space to hang up your wet clothes. As most people there were diving everyone was up in the morning so no worries about waking people up. Click here to check the prices.
The best places to eat in Cozumel
Cozumel Mexico restaurants I recommend are:
For lunch and local beer, a great local hang out is Punta Sur Cervecerīa they have awesome locally brewed beer and it's a favorite amongst locals. They brew on site and have the best pizza on Cozumel. If you purchase their Eagle Ray Stout they will make a donation towards conservation of the Spotted Eagle Rays… well if that isn't a good excuse to make you drink more beer I don't know what is!
For Tacos check out El Pique or Los Serás

Love Quesadillas? Then head to Chilangos
If you want to taste the best food in Cozumel you need to get yourself to Buccanos at night. I'm going to put it out there… It's the best meal I've eaten in Mexico, and the service is out of this world. Just go, trust me you will not regret it!
If you want to escape for the afternoon/ evening then take a taxi to the Money Bar. They do great food and you can jump into the sea to cool off if you get too hot.
What to pack for a diving trip on Isla Cozumel
Cozumel is a Caribbean Island off the coast of Mexico. It is generally hot and humid so you will need to pack for this. Short, t-shirts, and anything else to wear that will keep you cool. For my full Mexico, packing list click here.
[shopr_shopthepost collection="scuba-diving" size="medium"]
If you have all of your own dive gear bring it. A shortie wetsuit is preferable as the water is a nice temperature. It is what I used for the three days. Many people didn't dive wearing a wetsuit at all.
As the water is so blue you will need a red filter for your camera / GoPro.
I would strongly recommend investing in a dive computer. As a new diver, this was one piece of equipment I wish I'd had over anything else. As I was using my air much quicker than anyone else I was needing to surface 5-10 minutes before the rest of the group. This meant I was having to guess my depth and time when doing my stop on the way up. A dive computer would have been so useful.
Other things I would recommend investing in if you are a new diver:
You can get them online but for the mask, you really need to try it on. There are a few good Cozumel dive shops, but you will pay a high price due to it being an island. If you need a prescription mask for a clear vision then check out this great review.
Pro Dive is the largest dive shop although it can be expensive so check out some of the smaller ones first.
P.S Make sure you check out the Girls That Scuba Store they have some super cool accessories.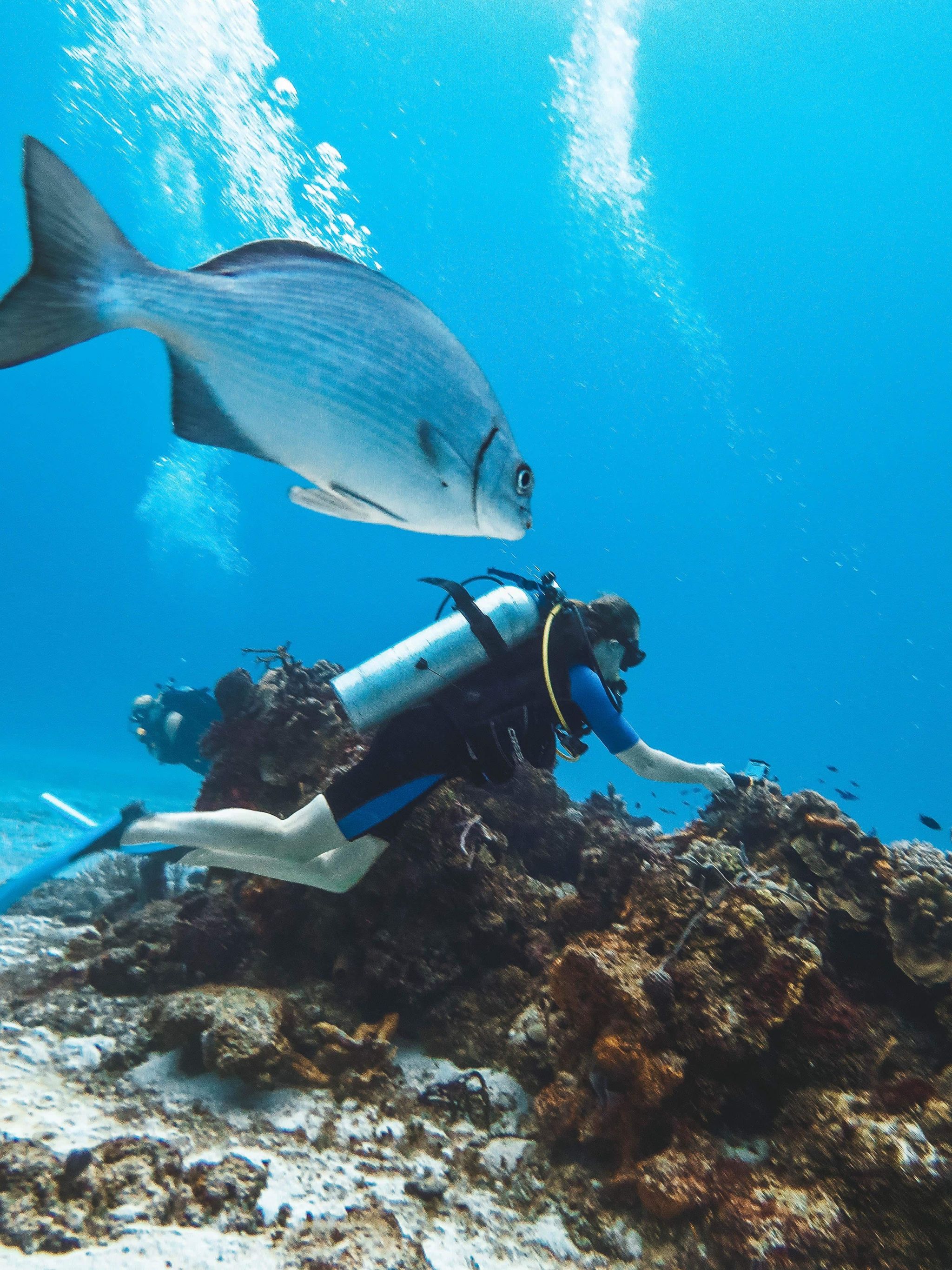 Other things to do in Cozumel
If you are looking for cultural activities in Cozumel to do when you aren't diving then my top picks are:
Visit San Gervasio Ruins
Take a do-it-yourself tour of the Mural for Oceans on a bike
Visit the Mayan Cacao Museum
Explore the Pueblo de Maíz
Learn about sustainable pearl farming at the Cozumel Pearl Farm
Final Thoughts
So that is my ultimate guide to diving on Isla Cozumel. I really hope you have found it useful and that it helps you to plan your trip to Cozumel. If you have any feedback, comments or if you think I have missed something then be sure to let me know in the comments below!
And remember if you want a discount when booking your Scuba Diving adventure with Dive Paradise just quote Claire's Itchy Feet to receive an exclusive 10% off.

Terms and Conditions:

Diving only
Advance bookings only
Cannot be applied with any other discount.
Direct consumer bookings only (not groups)
Offer expires Dec. 15, 2019
Looking for things to do in the Riviera Maya?
Check out these articles:
Visiting Cenote Azul and Cenote Cristalino
The Complete Guide to Chichen Itza in Mexico
How to see the Mayan Ruins in Tulum
How to spend a weekend in Merida
Food Tour in Playa Del Carmen Review
Doing a cooking class in Tulum
Choosing a Scuba Diving Company in Playa Del Carmen
Scuba Diving in Puerto Morelos
This post was proofread by Grammarly
Are you ready to book your trip?  To help you get the best deals and service here are the companies that I personally use to book all of my travel online. I always shop around before booking anything, but these are my tried and tested starting places.