If you are a scuba nut like me then you are going to LOVE diving in Cozumel. In my opinion of all the places you can go diving in the Riviera Maya, diving in Cozumel really is the best of the best. Having scuba dived in Cozumel, Playa Del Carmen, Tulum, Puerto Morelos, and Cancun, Cozumel diving for me is the best. In this blog post, I'm going to share with you everything you need to know about diving in Cozumel.
Where is Isla Cozumel?
If you are wondering where Cozumel even is I don't blame you. Before I arrived in Playa del Carmen I had never even heard of it. Cozumel is an island close to Playa Del Carmen in the Riviera Maya area of Mexico. It's easy to get to from anywhere in the Riviera Maya (read this) and it even has its own international airport that you can fly directly into from many places.
Cozumel is best known for two things:
Being a large post for Cruise Ships
Cozumel Mexico diving is world-class and totally worth adding it to your Scuba Diving Bucket List.
Did You Get Travel Insurance Yet?
If 2020 taught us anything, it's that you need to be prepared for anything! Travel insurance has always been high my list of things to get before I travel but now more than ever its at the top of my list.

I'm pretty sure we have all had travel plans messed up because of COVID and not all insurers covered this. So when looking for travel insurance it's important to check it covers travel disruption due to COVID-19, Hey Mondo, Passport Nomads, Safety Wing, and Travel Insurance Master all provide cover for this.

Hey Mondo is great if you are looking for a great value flexible policy. They offer single trip cover, annual multi trip cover, and long term travel cover. You even have the option to start the cover when you are already on your trip, although you won't be covered for the first 72 hours. For me my favourite feature is their app which offers you a 24/7 Dr chat and the ability to file a claim direct in the app.

Passport Nomads provides the most comprehensive cover for Digital Nomads. The game changer with them is that you have a red card and if you find yourself in need of medical care you just contact them and they will pre load your card with the funds to cover your treatment, meaning you won't need to pay out of pocket and then put in a claim later.

Safety Wing is great value with monthly cover starting at $39. It's super easy to use and it just renews each month. They have an excess of $250 and it's simple to make a claim through their website. I currently use them as they offer me free cover for my son as part of my policy and I like that it renews on a monthly basis, so I don't have to pay out a big lump sum up front.

I also use Travel Insurance Master for some short vacation type trips.

If you are doing shorter trips or an extended backpacking trip then Hey Mondo or Travel Insurance Master are the best option. If you are a digital nomad or planning travel of at least 6 months then go for Passport Nomads or SafetyWing.
How to Travel to Cozumel
Getting to Cozumel couldn't be easier. If you are planning to just travel to Mexico for a Cozumel diving vacation then I recommend flying into Cozumel airport direct. It is worth the extra money for the convenience. To help you decide I have added some details about how to get to Cozumel from Playa del Carmen and Cancun. If you are traveling from anywhere else in Mexico the easiest thing is to get yourself to Playa Del Carmen and then take the ferry. I've written a super detailed guide to getting to Cozumel which you can also read here.
Need to book transportation in Mexico?
I highly recommend booking all of your Mexico transportation with GuateGo. You can search for buses, shuttles, ferries, and Flights on their website. What I love most about them is their customer service. I know these guys personally from my time living in Guatemala and they really do look after their customers. So if anything happens and you get delayed and miss your bus, you can just call them and they are always there to help.

If you book through them you will pay a little more than if you book in person at the bus station. But it's worth it for the ease and security in my opinion. Click here to search for transportation in Mexico.
Flying Directly to Cozumel Airport
This is by far the best option if you can find a decent-priced flight. Flying into Cancun will mean you will have a bus, ferry, and taxi ride to add on. Which could end up working out the same price as flying directly?
From the airport, you can take a taxi to your hotel which should cost around $400 pesos. You can check the Cozumel taxi rates online here.
How to Get to Cozumel From Cancun Airport
From Cancun airport, you will need to take an ADO bus to Playa Del Carmen. When you arrive in Playa exit the bus station and you will be greeted by a barrage of people shouting Cozumel at you. You can book online with GuateGo here.
Read my full blog post on how to get from Cancun Airport to Playa Del Carmen here.
How to Get to Cozumel From Playa Del Carmen
There are two companies currently operating ferries to Cozumel. I personally always go with Ultramar the prices are fixed and both companies charge the same and have ferries leaving at the same time.
Buy your ticket from one of the official sellers on the way down to the ferry. You can't really go wrong so don't panic about getting ripped off.
The ferry point is down at the bottom end of town close to the ADO station. It is difficult to miss because there are people everywhere selling tickets and shouting Cozumel.
Note: I was able to take my bike over of the ferry free of charge if you have a bike take it as it will save you money on taxis!
The ferry takes just 40 minutes and once you get to the other side you can take a taxi or walk to your accommodation. Be warned taxis in Cozumel aren't cheap. So my advice is to hire a bike to use while on the island. It is the cheapest and most eco-friendly option.
You can also fly direct from Cancun or Playa del Carmen with Fly Cozumel. I did this recently and honestly, I'm not sure I ever want to take that ferry again!
Why I Think Cozumel Diving Is the Best in the Riviera Maya
Now you may be wondering why you should bother going to all of this trouble to get over to Cozumel from the mainland. Well, it's this simple:
Cozumel diving is on another level from other dive sites in the area.
Just take a look at some of the pictures taken by the pro diving photographer on one of my MANY Cozumel diving trips.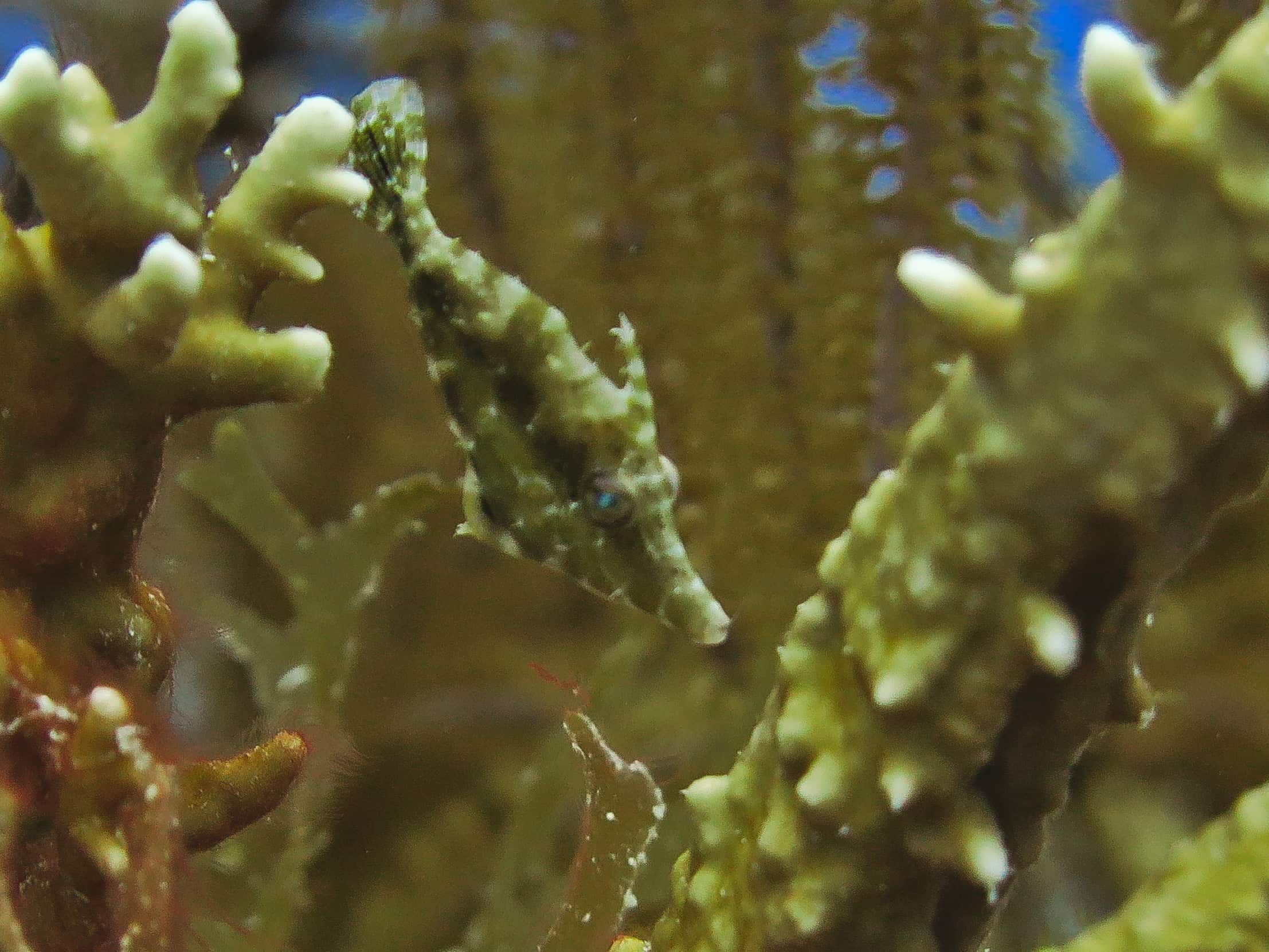 Don't get me wrong Tulum is amazing for Cenote Diving and there is a cool reef and some wrecks to dive in Puerto Morelos. But after diving in several sites in Playa, Tulum, and Puerto, Cozumel comes out on to every single time. The only reason I personally dive in Playa del Carmen is when it's Bull Shark season!
There is drift diving Cozumel plus the most colorful reefs and marine life. I also saw sharks and turtles on almost every dive. I spend 3 days diving on Cozumel and visited 6 dive sites, all of which were totally different and equally as amazing.
If you are someone you are with isn't able to scuba dive then Cozumel is also really good for snorkeling.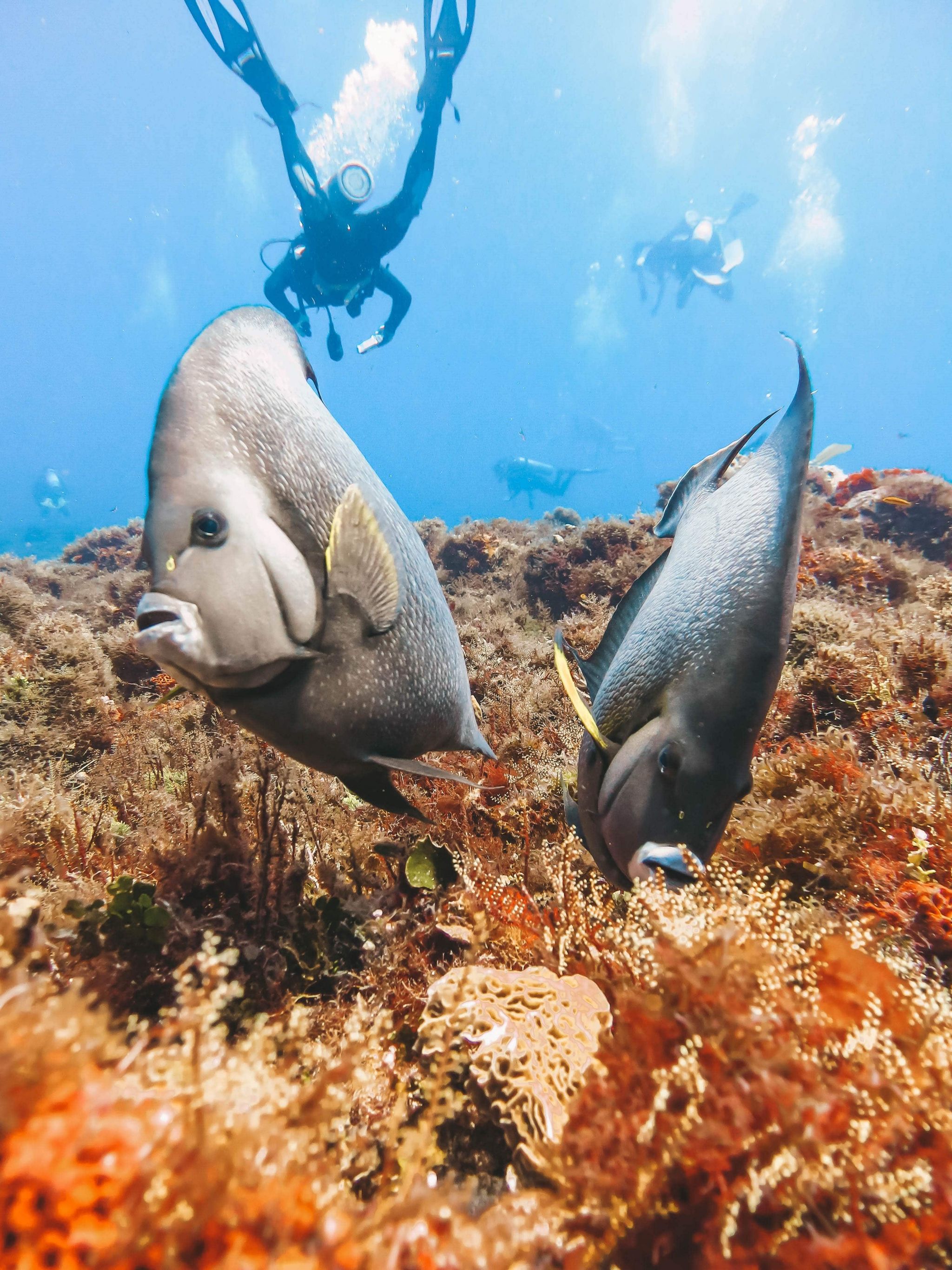 How to Choose the Best Company to Go Diving in Cozumel With
The first thing you need to do when planning your diving vacation in Cozumel is to find a good Cozumel dive center. There is a lot of choices, as you can imagine, so deciding who to go with is key. Trust me you don't want to go with the cheapest or the first company that approaches you when you get off the ferry.
My advice is, do your research. You want to find the best dive center Cozumel has to offer, depending on your needs. Although there are a lot of Cozumel dive operators with great reviews. The one that comes up on top, time and again. And the only company I ever dive with is ScubaTony Cozumel.
Whoever you decide to go diving in Cozumel with there are a few things you are going to want to look out for:
Good equipment to rent
Excellent customer service
Fast boats
Small groups
Divemasters who can support you wherever you are in your dive experience.
In my experience, ScubaTony delivers on all of this and so much more.
Do You Need a Certification to Scuba Dive in Cozumel?
If you are new to diving you may be wondering if you need to be certified to Scuba Dive in Cozumel. The answer is yes, and no. You need to be certified to dive for safety reasons. There are things you need to know and be able to do to keep you safe under the water. Therefore for your own safety, you have to have some instruction before you are able to go underwater.
There are a few different levels of certification with the most common one being an open water certification. With this certificate, I have been able to dive all over the world, including in some Cenotes. The course takes between 2-5 days and costs around $200-$400 depending on where you are in the world. I highly recommend doing your Open Water certification in Cozumel with ScubaTony. I did my advanced open water with them and had the best time!
If you don't want to commit 2 -3 days of your vacation learning to dive, and/ or you aren't sure if you are going to like diving then a good option is to do what is called a Discovery Dive.
It lasts 2-3 hours and after some instruction, you will be able to experience Scuba Diving in shallow waters close to one of the resorts.
My advice would be to do the scuba certification while in Cozumel, the crystal clear Caribbean water makes for a pretty perfect training ground.
Where to Dive – Cozumel Dive Sites You Don't Want to Miss
Scuba diving in Cozumel Mexico is amazing and no matter how many times I return to the same dive sites, I'm never now impressed by the beauty I see down there in these Cozumel dive sites.
Cozumel has 27 dive sites ranging in depths from the shallow waters of Shallow Columbia (15') to the deep-diving of Chun Cha Kab (90-120').
The Five Dives Sites I Went to During My First Cozumel Diving Trip Are:
Paradise Reef (Max 45')
This is a series of 3 small reefs running parallel to the shoreline. This is the place to spot the Splendid Toad Fish, which apparently only lives in Cozumel.
Chankanaab Reef (Max 55')
This is a great reef for beginner divers with mild currents and pretty clear waters.
Click to find out what marine life you can expect to find here.
Yucab Reef (Max 60')
One of the longest reefs in the Americas with a swift current and so much color. Yucab was one of my favorites. This was my first experience drift diving, something Cozumel is well known for. It took me a moment to get used to it, but once I had I loved being able to just drift along the reef.
Santa Rosa Wall (Min 50')
This is one of the most well-known sites in Cozumel, for good reason. It has great drift diving and amazingly colorful marine life. There are lots of swim-throughs and caves. I was lucky enough to spot a turtle there and if you get lucky you can often see nurse sharks.
Palancar Caves (Best 60-90')
An intermediate dive full of caves and swim-throughs. This dive was a lot of fun and one of the more challenging ones I did.
For more detailed information about all of the reefs in Cozumel check out Reefs of Cozumel.
In addition to the cool reef diving in Cozumel, you should also check out my review of this epic dive adventure Scavenger hunt. It's basically an underwater treasure hunt and so much fun!

Scuba Diving in Cozumel Prices
Prices for scuba diving on Cozumel are pretty reasonable. Expect to pay from $60 for a 1 tank dive trip and from $90 for a 2 tank trip.
If you want to do multiple days of diving then most places will offer you a discounted rate. ScubaTony have a 5 day deal where if you book 10 dives or more you get your 2 tank dives for the discounted price of $80. That works out at 10 dives over 5 days costing a total of $800 USD per person.
If you need to rent equipment then that costs extra. If you bring your own then they will keep hold of your gear for the entire trip and Prince it out for you in between dives.
I personally have my own equipment, but it's not totally necessary as the equipment they have is very well maintained. As a minimum, I'd recommend investing in a good dive computer though. If you're a beginner and you need a dive computer, check out my review of these dive computers for beginner divers here.
Visit the ScubaTony website here to book your Cozumel diving with them.
Finding Accommodation – Where to Stay in Cozumel for Diving
Resorts in Cozumel Mexico can be pricey so my recommendation would be to book one of the dive packages above if you prefer a resort. However, these are my recommendations for the best resorts in Cozumel and hotels on the beach. I've written a detailed guide and review of some of my favorite Cozumel Accommodations that you can read here. Or for ease, check out these options below.
High Budget:
The Landmark Resort of Cozumel
Click here to check the prices.
Presidente InterContinental Cozumel Resort & Spa
Click here to check the prices.
Ventanas al Mar Beach Front Cozumel
Click here to check the prices.
Mid Budget:
Casa del Solar Centro Cozumel
Click here to check the prices.
Hotel Villas Las Anclas
Click here to check the prices.
Caribo Cozumel
Click here to check the prices.
Tight Budget:
If you are on a tight budget then you are in luck as I found an amazing hostel perfect for divers in central Cozumel called Amigos Hostel. It was very close to Dive Paradise and had a pool, hot water, huge kitchen, and plenty of space to hang up your wet clothes. As most people there were diving everyone was up in the morning so no worries about waking people up. Click here to check the prices.
The Best Places to Eat in Cozumel
Cozumel Mexico restaurants I recommend are:
For lunch and local beer, a great local hang out is Punta Sur Cervecerīa they have an awesome locally brewed beer and it's a favorite amongst locals. They brew on-site and have the best pizza on Cozumel. If you purchase their Eagle Ray Stout they will make a donation towards conservation of the Spotted Eagle Rays… well if that isn't a good excuse to make you drink more beer I don't know what is!
For Tacos check out El Pique or Los Serás

Love Quesadillas? Then head to Chilangos
If you want to taste the best food in Cozumel you need to get yourself to Buccanos at night. I'm going to put it out there… It's the best meal I've eaten in Mexico, and the service is out of this world. Just go, trust me you will not regret it!
If you want to escape for the afternoon/ evening then take a taxi to the Money Bar. They do great food and you can jump into the sea to cool off if you get too hot.
What to Pack for a Diving Trip on Isla Cozumel
Cozumel is a Caribbean Island off the coast of Mexico. It is generally hot and humid so you will need to pack for this. Short, t-shirts and anything else to wear that will keep you cool. For my full Mexico, packing list click here.
If you have all of your own dive gear bring it. A shortie wetsuit is preferable as the water is a nice temperature. It is what I used for the three days. Many people didn't dive wearing a wetsuit at all.
As the water is so blue you will need a red filter for your camera / GoPro.
I would strongly recommend investing in a dive computer. As a new diver, this was one piece of equipment I wish I'd had over anything else. As I was using my air much quicker than anyone else I was needing to surface 5-10 minutes before the rest of the group. This meant I was having to guess my depth and time when doing my stop on the way up. A dive computer would have been so useful. Read my dive computer review here.
Other things I would recommend investing in if you are a new diver:
You can get them online but for the mask, you really need to try it on. There are a few good Cozumel dive shops, but you will pay a high price due to it being an island. If you need a prescription mask for a clear vision then check out this great review.
Pro Dive is the largest dive shop in Cozumel, although it can be expensive so check out some of the smaller ones first.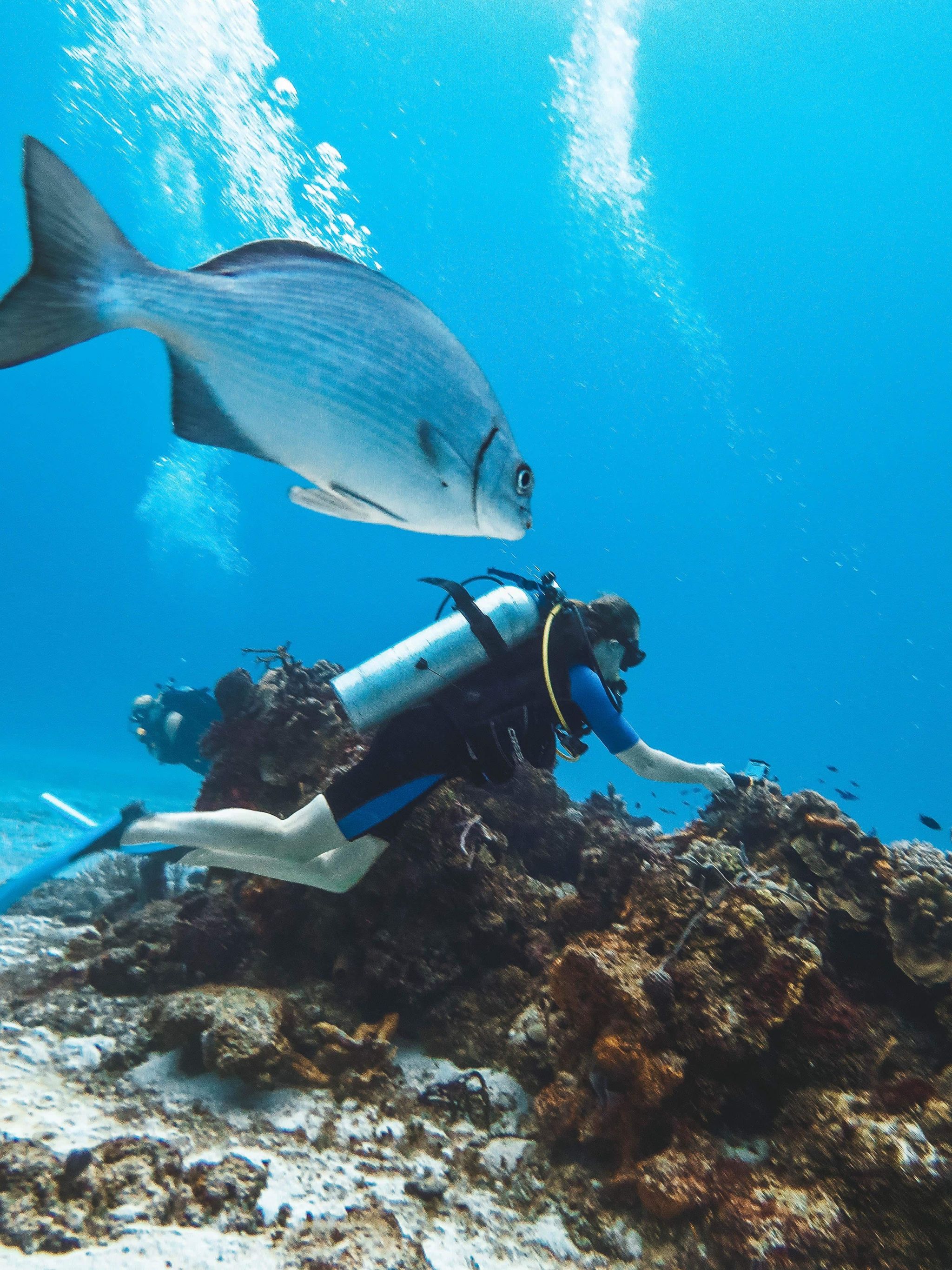 Other Things to Do in Cozumel
If you are looking for cultural activities in Cozumel to do when you aren't diving then my top picks are:
Visit San Gervasio Ruins
Take a do-it-yourself tour of the Mural for Oceans on a bike
Visit the Mayan Cacao Museum
Explore the Pueblo de Maíz
Learn about sustainable pearl farming at the Cozumel Pearl Farm
Final Thoughts
So that is my ultimate guide to diving on Isla Cozumel. I really hope you have found it useful and that it helps you to plan your trip to Cozumel. If you have any feedback, comments, or if you think I have missed something then be sure to let me know in the comments below!
Need to rent a car in Playa del Carmen?
Whenever I'm in Playa or Tulum I always rent a car through Turismo Channel as they include everything in the quoted price. Car rental companies in Mexico are notoriously tricky to deal with and 9 times out of 10 they will quote you a low price but then when you get there they add on all kinds of insurance and won't give the car to you unless you pay up. It can also take weeks or even months to refund your deposit. I wrote a whole blog post you can read here for more information. If you rent with Turismo channel use the code clairecaroff for a discounted price. You can also send her a WhatsApp message quoting the above codes to receive the discount.
This post was proofread by Grammarly