Yes I know, surviving Mexican hurricane season is a dramatic title. But this entire experience has felt pretty dramatic if I'm honest! It feels very strange to be sitting down to write another very personal piece for my blog, which is mostly about travel with a focus on 'how to' guides. But here I am, the day after hurricane Delta hit the Yucatan Peninsular trying to put my experience with Mexican hurricane season into words to share.
I'm from England, so we get a lot of wind and rain, but in general, our weather is mild and consistent. By that I mean I grew up in a country which is in a constant state of drizzle with the occasional sunny day, at which point everyone lathers on the oil and bakes themselves in the garden. We don't have earthquakes or hurricanes. There are no fires because of the heat. There are floods, sometimes, in certain areas when it rains so much the rivers burst their banks.
But that's pretty much it.
Dealing With Natural Disasters When Traveling
One of the things that has challenged me a lot since I started traveling is dealing with the fear of my natural environment. Something before I left the UK in 2016, I'd never really given much thought to.
The first time I felt and heard the volcano erupting, I felt it.
When I was in my first earthquake, I felt it even more.
During my first rainy season, I wondered if it would ever end and constantly feared landslides.
Leaving my house before my first hurricane in Mexico I wasn't sure if it would still be standing when I returned. I thought the fear and sadness I was feeling was going to swallow me up. But at the same time, at the back of my mind, I was also extremely aware of my privilege in all of this. If the hurricane did take my house and all of my things, I have the means to rebuild, or simply hop on a plane back to rainy England.
Not My First Natural Disaster
I experience 3 earthquakes in Guatemala, they were all around 6.9-7.4. They were all pretty terrifying but there is no build-up as they take you by surprise and they are over very fast. There was no drawn-out anxiety-filled lead into an earthquake.
It's just here and then it's gone.
The last earthquake I was in happened when I was in bed and it lasted for what felt like forever, I think it was a 7.4. Although I was not hurt and no physical damage was done, every time I lay in bed for months after I felt like there was an earthquake. I genuinely thought I was going crazy at first. But then I googled it and it turns out it's an actual thing. It's like a PTSD specific to earthquakes. The only way I could calm myself was to focus my gaze on things in the room with me and tell myself nothing was actually moving. Because inside my body I could feel the motion. It's hard to explain, but it felt so real that I was always so shocked when I looked around and nothing was actually moving.
Eventually, these earthquake feelings stopped and I moved on. But my point is, just because it's over, doesn't mean it doesn't take you a while to recover mentally, even if you are physically ok.
Hurricane Season For Cancun
I arrived in Playa del Carmen in 2018, 3 years ago, knowing it was an area prone to hurricanes. I'd mostly read about hurricane season for Cancun and that although tropical storms are common from August until the end of October. I also knew there hadn't been a bad one since Wilma in 2005 (15 years ago).
So yeah, if I'm honest I never really gave much thought to the fact that there is a hurricane season in Cancun much thought…
Yes, I heard the stories about Wilma and how bad it was. I've seen with my own eyes the damage that still hasn't been fixed in Cozumel, as all the recourses went to rebuilding Cancun.
Over the years we have had more tropical storms than I can remember. Most pass with little damage. We just stay indoors for a day and hope the power isn't out for too long. There have also been many hurricane warnings here. But they always change course, they never hit. Until Delta.
Hurricane Delta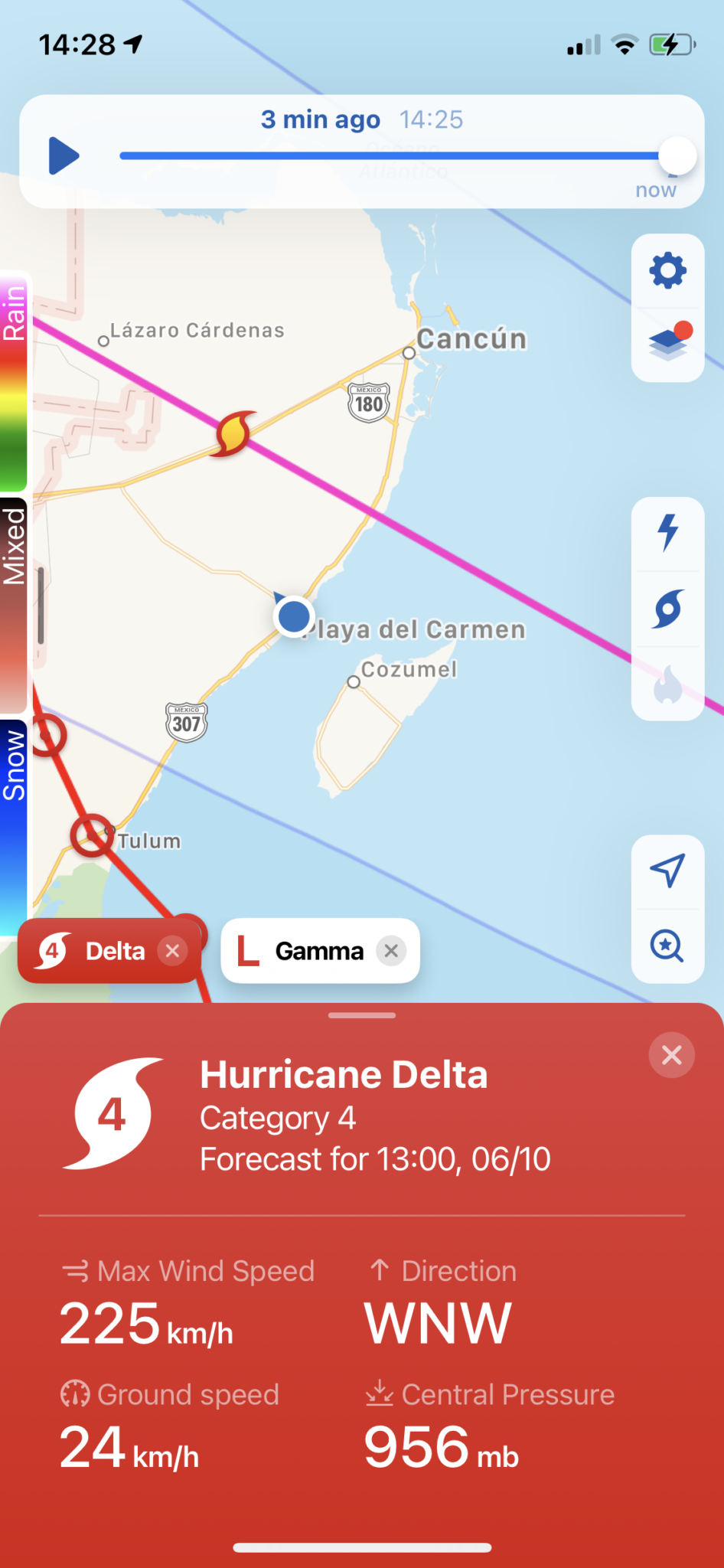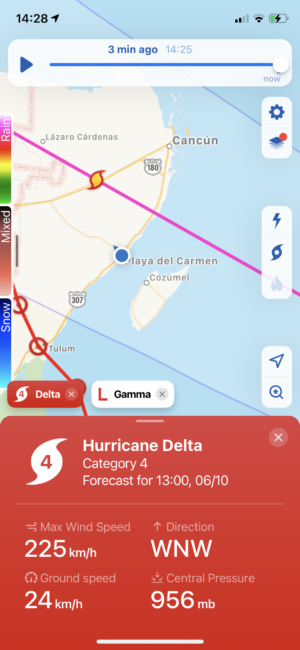 The first I heard about hurricane Delta was some people complaining that their flights were being canceled on Facebook. That was Monday night. Even know it looked like Delta was coming for us, I didn't really pay much attention. I was still planning to drive to Tulum Wednesday evening for my little staycation treat. "it will be fine" I said, "it will blow through in the morning and we can just leave a bit later on Wednesday, no need to cancel." That's how ignorant I was about all of this.
Tuesday morning came and the news was still reporting that Delta was coming for us. But now there were also reports that it could increase up to a category 5. I started paying attention. Delta was getting stronger and according to reports the last time the area had seen anything like this was Wilma.
People were being evacuated from the islands and the hotel zone in Cancun. Almost all of my ex-pat friends were self-evacuating to Bacalar and Chetumal. And after an hour of internet research on how to prepare for a hurricane I came to the conclusion, we were screwed.
But I still really thought it was going to change direction and completely pass us by like all the other hurricanes.
Deciding Not To Leave
Don't ask me why, but leaving didn't feel like an option to me. I did not want to leave. I know that may sound stupid and reckless. But I wanted to stay. Plus, we didn't have a car and it would have been too late to rent one and impossible to take a bus with 2 kittens! Also, this is my home and I didn't want to just abandon it, there was a lot to do to prepare. Because, as I've already mentioned, we were completely unprepared and clueless.
I now know there are 2 main things you need to do to prepare for a hurricane.
Prepare your house for the winds
Prepare yourself to be without power and water for several days
Prepare your house for a hurricane:
Bring inside anything that could fly away and become a potentially dangerous object it the wind picks it up. I even had to bring my scooter inside the house and store it in my friend's bedroom!
As well as bringing everything inside you should also make sure the drains are cleared (we were too late to do this) and board up your windows, unless you have hurricane shutters (we do not). We didn't have anyone to board up our windows and didn't know how to do it ourselves, so we gave up on this idea pretty quickly.
In an ideal world at the start of hurricane season, you make sure the drains are cleared and have some plywood on standby or at least have the number of 2 or 3 guys who you can call on to come and board up your windows. Next year when hurricane season in Mexico hits I will make sure we have this ready.
Too Little Too Late
When you get the announcement that a hurricane is due you have a very short window to get ready so prior preparation really helps so that you at least feel in control of something!
As for preparing for no power and water. This means no fridge, no way of cooking, no flushing the toilet or washing. So, you need water for drinking (1 gallon per person at least) and water for washing and flushing. As for food eat as much of the food in your fridge as you can and buy plenty of things you can eat that don't need to be kept in the fridge or cooking. I bought bread, tuna, and lots of snacks! I also cooked some food like pasta and lentils that would keep for a time without being in the fridge.
After we secured the house, I decided I didn't feel safe staying there. There are many reasons I won't go into here. But the main one was that we didn't have a single internal room with no windows. Plus, my friend was home alone and she did have an internal bathroom. This became my bathroom bunker. When Delta started, I locked myself in there with the kittens, my escape bag with all my important documentation, laptop, first aid kit, water, and some food.
Getting Off Lightly
We got off lightly with Delta, but this experience has made me stop being to ignorant and I've now got a hurricane kit in a box ready to go for next time (because there will be a next time).
In my hurricane survival kit:
Tape for windows
Flashlight
Headlamp
Mini radio (battery-powered)
Batteries
Power bank
First aid kit
Pocket tool
Sealable plastic wallet for passport and valuables
Camping stove and gas (because coffee)
Wet wipes
Other things I took with me were things to help me mentally. It's a difficult thing to go through mentally, especially if it's your first time so have some things with you that make you feel good. I've since spoken to friends who have experienced a lot of hurricanes and they were totally fine. Those of us for whom this was the first time were struggling to process what happened. Others were making a joke about how much everyone overreacted and were comparing Delta to Wilma.
Here's what I took in my mental health kit: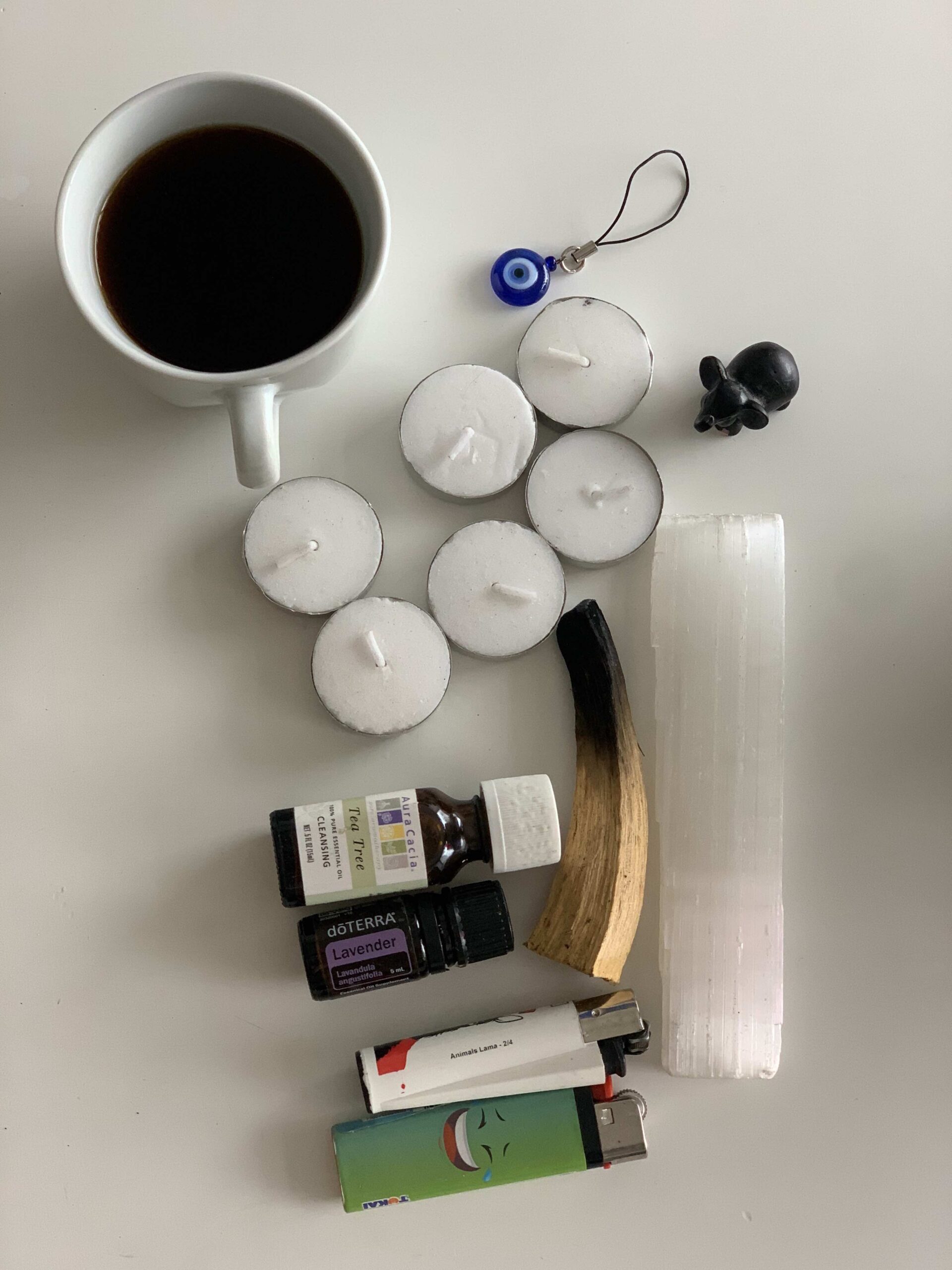 Selenite– It's a crystal for protection I used it to meditate with then the hurricane started.
Lavender oil – to keep me calm and help me sleep
Tea tree oil – This was part of my first aid kit
An evil eye – for protection
An elephant – for luck
Paulo Santo – to clean the energy
A woolen pashmina – I wrapped myself up in this and found it very comforting.
Cozy socks – Again it felt comforting to be cozy
The Aftermath
In all honestly, it took me a few days to ground myself. By 8 am the rain had stopped. By lunchtime, many people were out and about. At our house, we started the clean up around 3 pm. I pretty much slept for the entire day like most people I know. So I didn't get home till just before 3 pm. The actual clean up took several hours. We still had no power or water so we weren't able to clean. Just clear all of the damage from our garden and take all of the outside things from the house and put them back outside!
What took longer was dealing with the mental and emotional aftermath. I was exhausted. I had hardly slept in days, and the tole all of the stress took on me physically especially as I have an auto-immune disease was massive. I was wiped out. My muscles ached and I had the concentration of a goldfish. In all honesty, I was relieved that we didn't get full power back for a few days so I had an excuse not to work.
I pretty much spent a full day eating, snoozing, meditating, and watching Netflix. I've had many conversations with friends after and most of them felt the same.
Lessons Learnt
It's been a few days now and I'm back to normal. But Delta was a big lesson and one I won't forget in a hurry. I'll be putting my hurricane kit together and I already have some numbers of guys that can board up the doors and windows. Never again will I be this complacent during hurricane season in Mexico!