If there is one question I get asked a lot (especially on Instagram) it's about the best Tulum Beach Clubs to visit. As much as I love living in Playa del Carmen and visiting their beach clubs. Tulum's beach club game is on another level! But where are the best beach clubs in Tulum, and how do get to them?
In this blog post, I've asked some of my fellow bloggers to share with me their top pick for the best beach club in Tulum.
Did You Get Travel Insurance Yet?
If 2020 taught us anything, it's that you need to be prepared for anything! Travel insurance has always been high my list of things to get before I travel but now more than ever its at the top of my list.

I'm pretty sure we have all had travel plans messed up because of COVID and not all insurers covered this. So when looking for travel insurance it's important to check it covers travel disruption due to COVID-19, Hey Mondo, Passport Nomads, Safety Wing, and Travel Insurance Master all provide cover for this.

Hey Mondo is great if you are looking for a great value flexible policy. They offer single trip cover, annual multi trip cover, and long term travel cover. You even have the option to start the cover when you are already on your trip, although you won't be covered for the first 72 hours. For me my favourite feature is their app which offers you a 24/7 Dr chat and the ability to file a claim direct in the app.

Passport Nomads provides the most comprehensive cover for Digital Nomads. The game changer with them is that you have a red card and if you find yourself in need of medical care you just contact them and they will pre load your card with the funds to cover your treatment, meaning you won't need to pay out of pocket and then put in a claim later.

Safety Wing is great value with monthly cover starting at $39. It's super easy to use and it just renews each month. They have an excess of $250 and it's simple to make a claim through their website. I currently use them as they offer me free cover for my son as part of my policy and I like that it renews on a monthly basis, so I don't have to pay out a big lump sum up front.

I also use Travel Insurance Master for some short vacation type trips.

If you are doing shorter trips or an extended backpacking trip then Hey Mondo or Travel Insurance Master are the best option. If you are a digital nomad or planning travel of at least 6 months then go for Passport Nomads or SafetyWing.
The Top 11 Best Beach Clubs in Tulum in 2023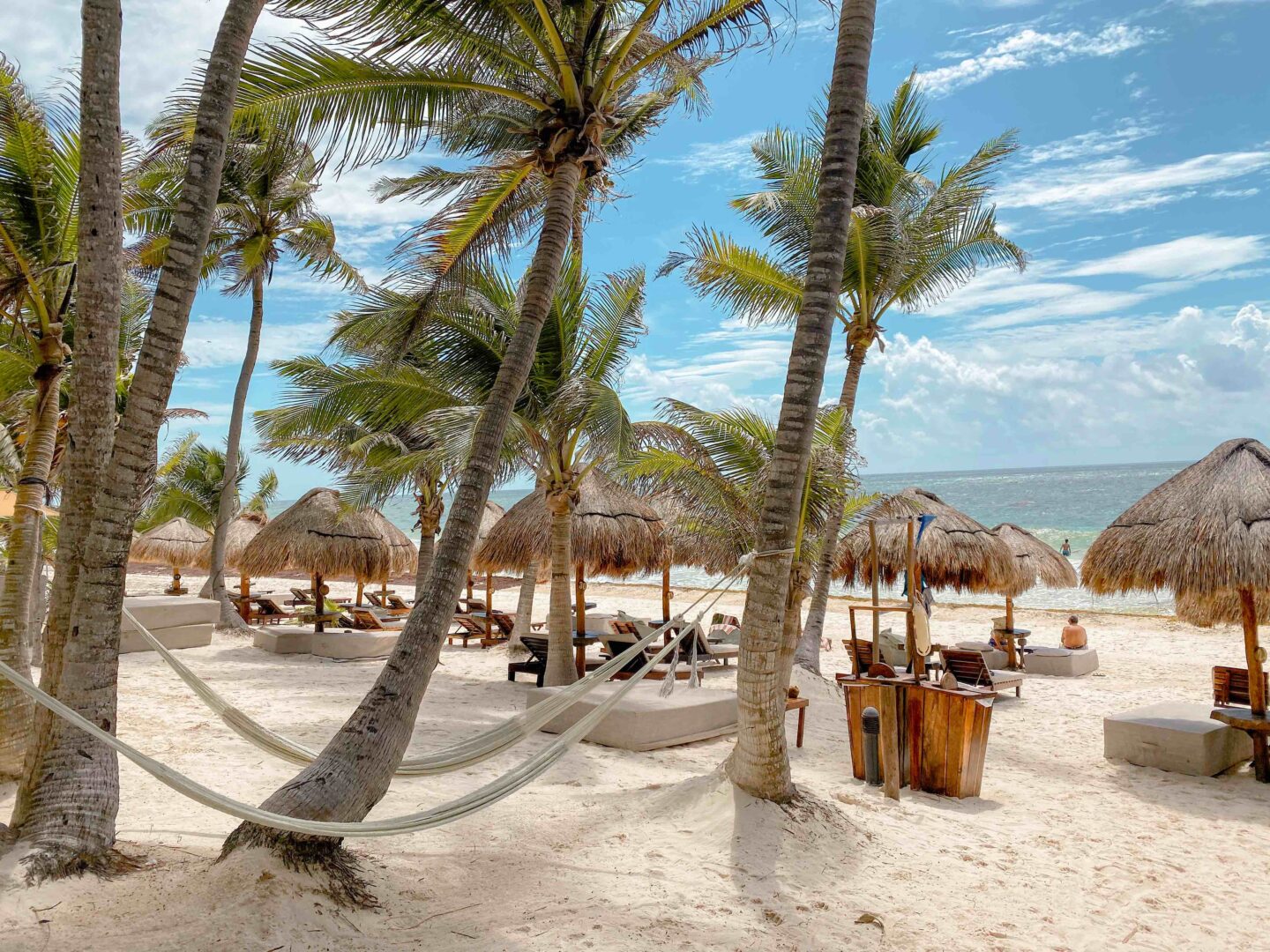 I moved to Cancun and I remember the first time I visited Tulum I couldn't believe how different and fun it was compared to the crazy city that Cancun is. They're also very similar to some of the best beach clubs in Huatulco.
During these years I have been able to explore Tulum a couple of times and one of my favorite things to do is go for a day to one of the beach clubs in Tulum. To be honest, as a local I'm never very happy about paying for expensive food and drinks, so whenever a local friend finds a good spot, that means we HAVE to go. For me, Rosa del Viento is the best beach club in Tulum if you are on a budget but don't want to compromise on luxury.
Earlier this year I was able to visit for the first time Rosa del Viento Beachclub Tulum and I was so impressed by the beautiful was and how the prices were definitely not as pricey as most of any other popular beach club spots normally see on social media, PLUS! The view is amazing, and it wasn't as crowded as most of the others.
The minimum consumption is $20 USD per person and with this, you definitely can have a meal and a soft drink. This beach club is located almost at the end of the hotel zone in Tulum, which makes it a little bit more private.
If you are staying in an apartment rental or you are just visiting from another town close by, this is a great spot to spend the day in Tulum.
Trust me, you won't be disappointed.
The day pass is from 10 am until 7 pm and they have parking there as well in case you are coming by car.
Karina from By Karina Bravo
Need to book transportation in Mexico?
I highly recommend booking all of your Mexico transportation with GuateGo. You can search for buses, shuttles, ferries, and Flights on their website. What I love most about them is their customer service. I know these guys personally from my time living in Guatemala and they really do look after their customers. So if anything happens and you get delayed and miss your bus, you can just call them and they are always there to help.

If you book through them you will pay a little more than if you book in person at the bus station. But it's worth it for the ease and security in my opinion. Click here to search for transportation in Mexico.
Casa Malca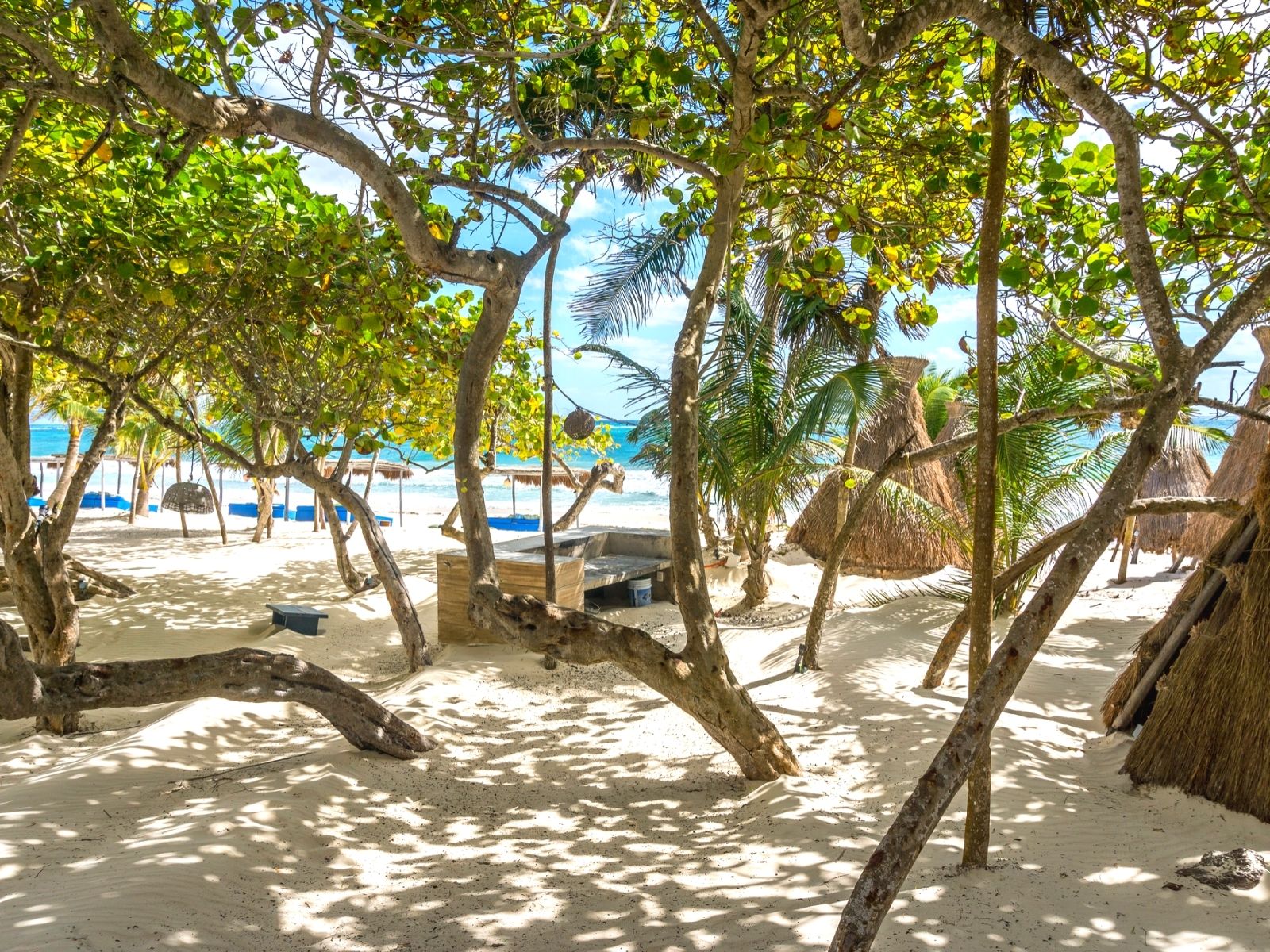 Photo by Neal Dub
Once owned by Pablo Escobar, this mansion-turned-resort is the brainchild of NYC art dealer, Lio Malca.
As you'd imagine, the interior of Casa Malca is basically a work of art in itself. Walking through the lobby, you'll notice an interesting mix of boho design and contemporary art pieces — make sure you don't miss the black & white Keith Haring bar, instafamous Hanging Couch, and Chandelier Room!
The eye candy continues as you make your way out to the beach.
Located on some of the most famous beachfront in Mexico's Quintana Roo state, Casa Malca's Beach Club has the perfect mix of colorful, woven Mayan hammocks, rustic teepees, and beach beds.
The vibe is tropical-sexy all the way — exactly what you'd expect from Pablo's former home.
Looking for some Tulum beach swing photos? Casa Malca, of course, has those too. Stroll out to the beach, past the labyrinth gardens, and you'll also find some beach swings just waiting for you to find your inner child on.
Day passes cost $160, which covers your entry with $110 USD of that going towards food/drink credit, with parking being an additional $10 USD. Casa Malca has three restaurants: Philosophy, Ambrosia, and the beachside Head of a Mad Man, named in homage to a Jean Michele Basquiat painting.
While inside, you also have access to all three pools at Casa Malca, including the underground pool, some areas of the spa, the showers, and the Rooftop Terrace to enjoy the amazing Tulum sunset.
Shelley from Travel Mexico Solo
Shop Tulum Style
Papaya Playa Project
Papaya Playa Project is one of the most popular beach clubs in Tulum situated within a sustainable boutique hotel along Mexico's Caribbean Sea. The Papaya Playa Project prides itself on its sustainable approach and is known as one of the artsiest eco-resorts in Tulum.
Located just a few miles away from the center of Tulum, this beach club is carefully blended into the surrounding jungle and comes with an artsy decor that adds to the special atmosphere of the place. Guests can not only come here for a fun night out but also stay here: the property features rustic cabins and cottages with incredible views of the Caribbean Coast or the lush tropical jungle that surrounds the property.
While this is one of the busiest beach clubs in Tulum during weekends, it's well worth a visit, as you will be treated to nice music and a chill vibe. Upon the entrance, guests get a wristband, on which they should load the money to be able to buy drinks and food at the bar. The entrance to Papaya Playa Project costs 600 Mexican Pesos ($30 USD) and excludes food and drinks.
The venue also hosts a full-moon party once a month with live music and DJ's from all over the world.
What's cool about this place is that the popular Tulum ruins are less than a mile away! This means that you can easily beat the crowds if you get up early and head to the historic site early in the morning.
Daria from the Discovery Nut
Looking for a reputable tour company in The Riviera Maya?
I've been working with Turismo Channel in Playa del Carmen for years and they are who I send all of my family and friends to when they visit the Riviera Maya. I really can recommend them enough for tours, private airport transfers, and rental cars. Vanessa and Oliver are personal friends of mine and I have 100% faith that you will have a wonderful time with them.
You can check out their tours by clicking here and using the following discount codes for the best prices clairecaroff (car rental), claire10off (for 10% off group tours), claireprivate (for a discount on private tours). You can also send her a WhatsApp message quoting the above codes to receive the discount.
Mia Restaurant & Beach Club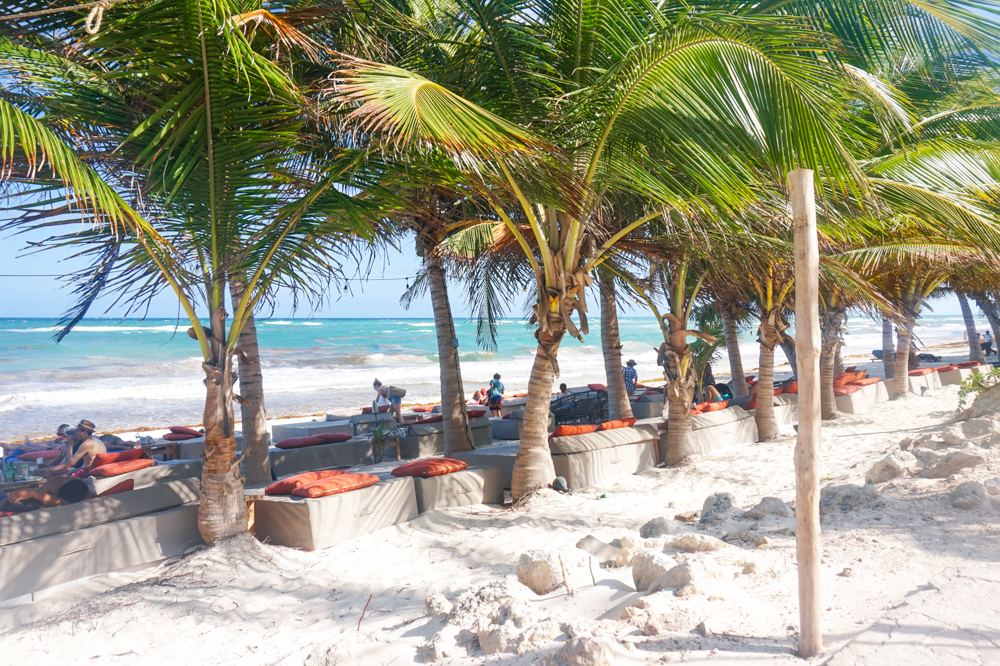 Located in the center of Tulum's famed Hotel Zone, Mia Restaurant & Beach Club is one of the trendier and more upscale beach clubs in Tulum. Mia offers a full-service restaurant and bar, as well as large day beds for rent on the beach. It's the perfect place to spend a full day relaxing at the beach or a great spot for drinks after your adventures in Tulum.
Upon entering you'll pass through a stylish open-air restaurant and bar, where you can dine or even work from a laptop with a nice ocean breeze. Just outside the restaurant, you'll be greeted with a wide view of the Caribbean sea and the rows of lounge beds at the beach club. A line of palm trees provides the perfect amount of shade making it a great place to spend the day relaxing and recharging on one of the most gorgeous beaches in Tulum. Mia also offers a small swimming pool and a unique wigwam style canopy bed that's perfect for photo ops.
The menu at Mia's offers upscale Mexican cuisine such as tacos, seafood, and ceviches, as well as a few American items like hamburgers and ribs. You can also order a variety of drinks and cocktails from your server. The menu at Mia's is a little more expensive but that is to be expected in Tulum and the food is definitely much higher quality. There is a minimum consumption fee that varies depending on the season but you can expect to pay around $35-$45 USD per adult. Overall Mia Restaurant & Beach Club offers a stylish atmosphere, excellent service, and curated cuisine.
Allison from Viva La Travalista
Shop Tulum Style
Ziggy's Beach Club
Ziggy's Beach Club is one of the best beach clubs in Tulum. It is a very relaxing place with a beautiful white sandy beach, palm trees, and amazing blue water. It is open every day from 9 AM till sunset. What's great about this beach club is that there is no entrance fee!
However, if you want to use any of the amenities of the beach club you have to pay $50 per person. The beach offers sunbeds, bathrooms, a pool table, showers, and more. So there is everything you need for a good time at the beach! Furthermore, there is live music every day for 2 hours starting at 7:30 PM, which really adds to your experience.
This is not the only event that takes place at the beach club. Every day of the week there is a separate event that you can enjoy. For example, on Thursdays, there is a Mexican Wine Tasting event and on Saturdays, you can listen to Caribbean Latin Rhythm music.
However, there is an additional fee to participate in these events. Another great aspect of this place is that the food is very tasty! Their food is made with local ingredients of the highest quality. Especially the Lentil Burger is delicious! Furthermore, you can drink some of their cocktails throughout the day. Another special thing you can do at Ziggy's Beach Club is to have a romantic dinner on the beach. If you contact the beach they can arrange for a private table for you and your partner.
Dymphe from Dymabroad

Shop Tulum Style
La Zebra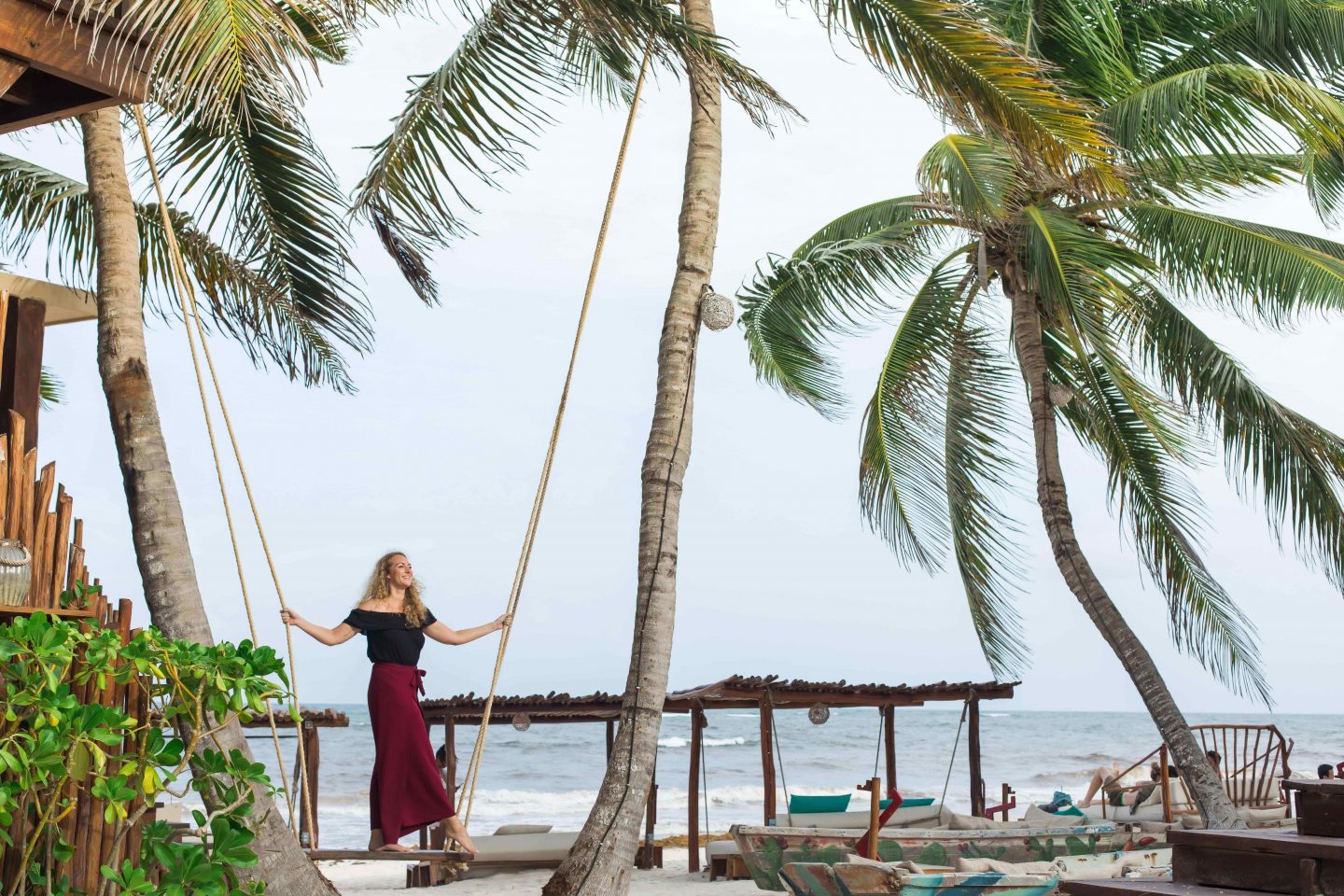 One of the most widely known facts about Mexico is that the country is home to some of the best beach clubs encompassing amazing beaches, good food, and friendly people.
One such example is La Zebra. This fine eco-friendly resort located in the center of the region's hotel zone offers panoramic views over the Mexican Caribbean. The modern decor, wooden palapas, and open scenery create a warm vibe with plenty of lounge chairs and giant sun beds to relax by the ocean. The waiters are usually very attentive and welcoming while the food is always a winner.
A couple of favorites include the steak nachos, grilled shrimp, and the seafood tacos. This all goes down well with their wide range of smoothies. The place is also known for having some of the best cocktails with a shipwreck-themed pop-up bar on the water's edge, better known as the Mulberry Project. Instead of ordering from the menu, a personalized cocktail is created just for you based on what you feel like drinking in the moment. The bar and restaurant open from 11 am until dark.
Do note that the prices are on the higher end with a minimum spend of $30 USD per person.
Raj from A Rai of Light
Shop Tulum Style
Habitas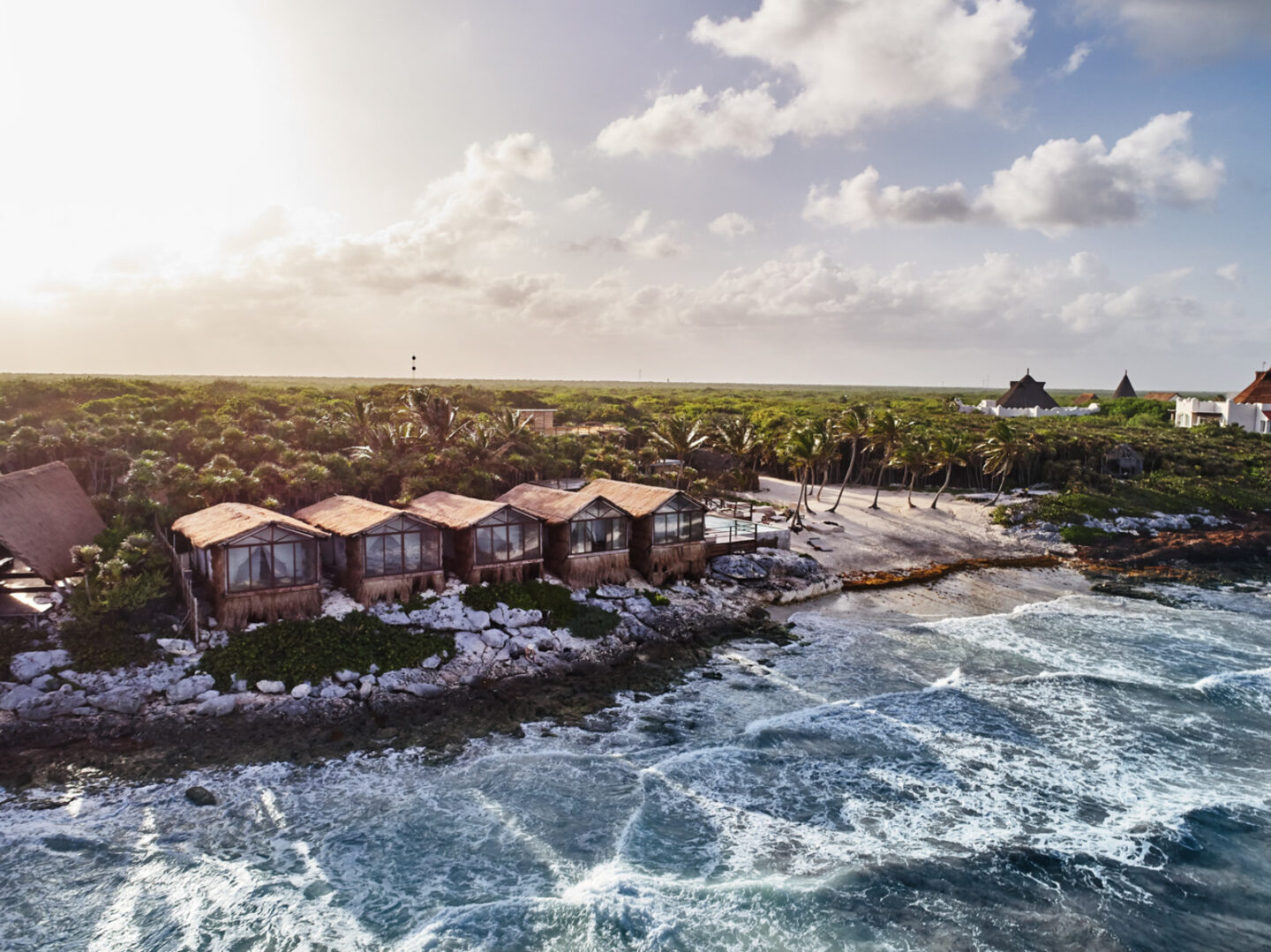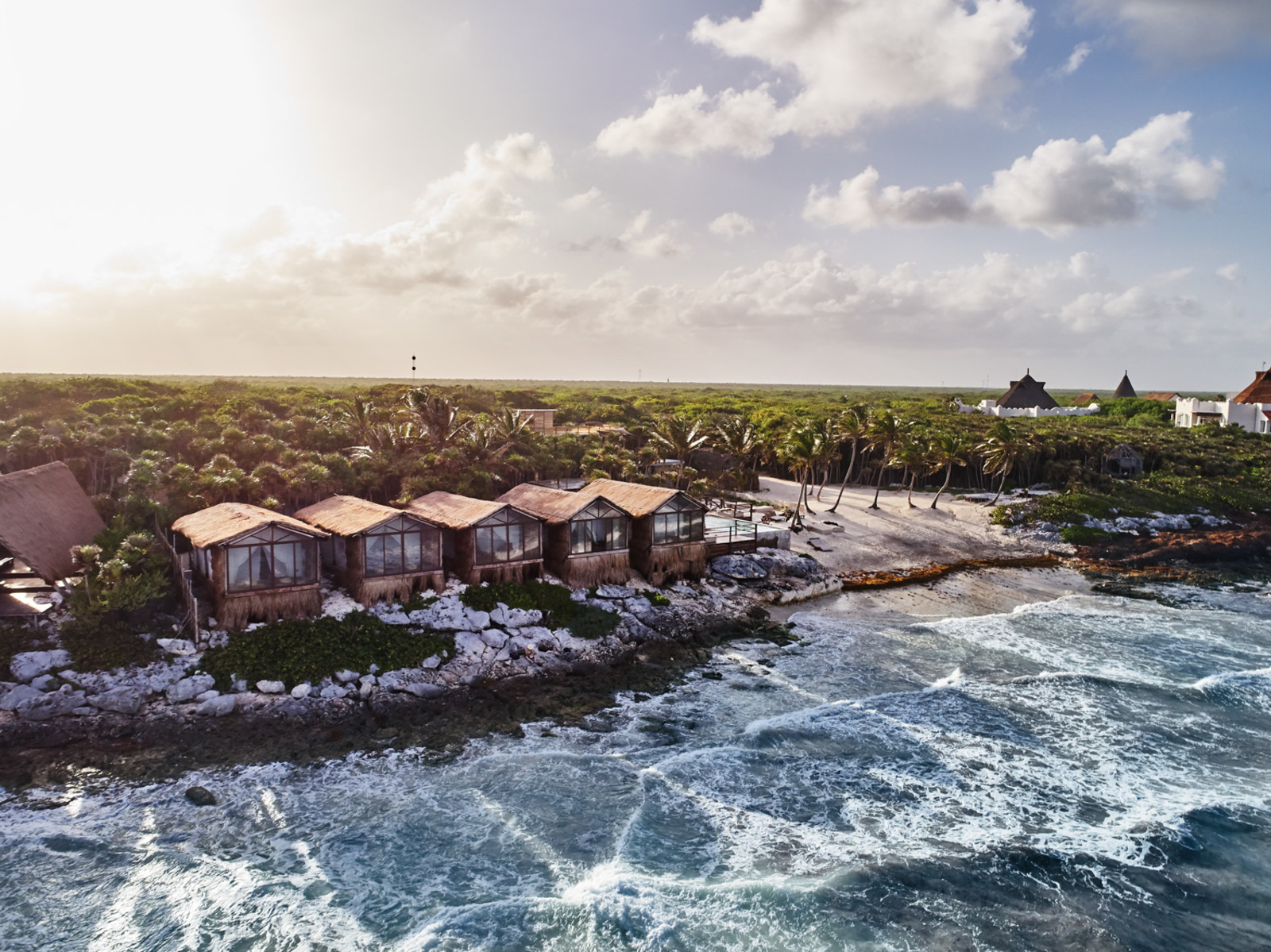 By Anni3carter – Own work, CC BY-SA 4.0
If you're looking for a beach club that will pamper you while inspiring your home's interior design, then head to one of the best beach clubs in Tulum at Habitas (located at the start of the Zona Hotelera).
Known for its eco-chic decor, natural palapa roofs, and private white-sand beach and jungly atmosphere, Habitas invites the sustainable traveler to come and rest and reflect. Even if you aren't a guest here, you can still enjoy all that Habitas has to offer. You can eat at their delicious open-air restaurant led by Chef Horatio for a full-on gastronomic experience with fresh, local, and organic ingredients from the area.
To access their plush lounge chairs and ocean-front turquoise pool, there is a $50 USD minimum spend. Which, to be fair, is fairly easy to do at the Moro restaurant at Habitas because their menus are on the pricier end (but totally worth it). So if you're not staying there, you could splurge on a nice meal while getting the perks of Habitas as if you were a guest. Habitas also serves up the best in mixology. Imagine spending a day by the pool, secluded amidst the jungle, with the Caribbean Sea at your feet and a mezcal cocktail in hand. Sounds like a pretty incredible way to spend the day, right?
So whether you're road tripping the Yucatan Peninsula and checking off the sights or staying in Tulum for a few days, you won't regret taking a day off and treating yourself to the natural wonders at the Habitas beach club.
Bri from Bucket List Bri
Nomade Tulum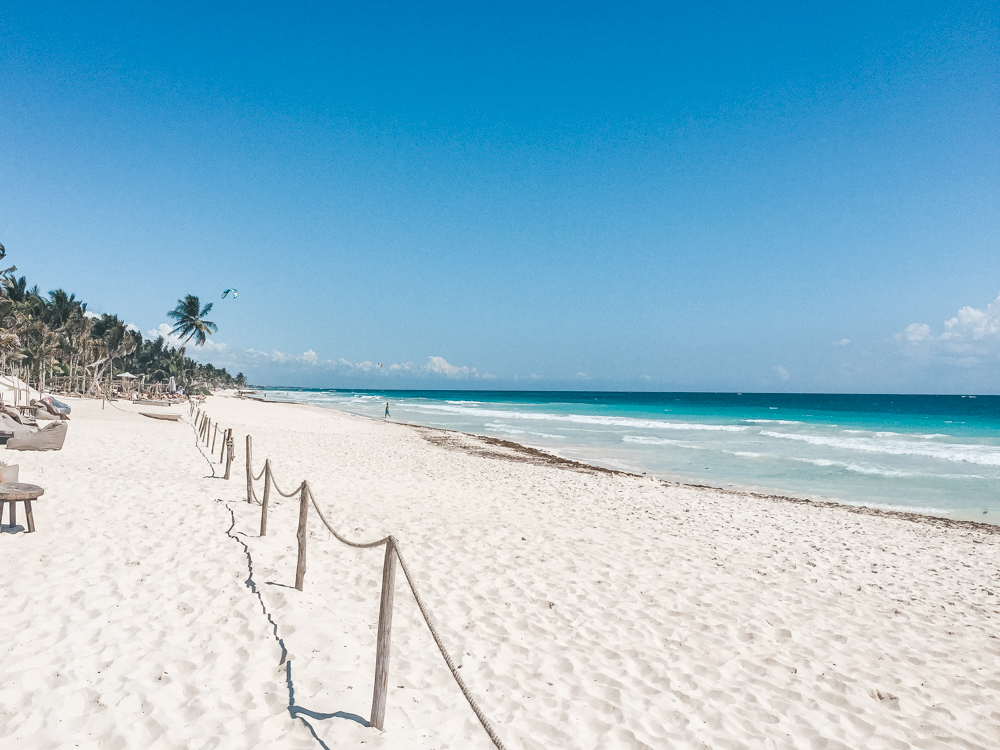 Situated along Tulum's well-known beach strip lies Nomade Tulum, an upmarket hotel and beach club with sophisticated boho vibes, great cocktails, and a private beach area that is cordoned off from the public.
Upon entering Nomade Tulum, visitors are led down what feels like a path in a tropical forest, through the upscale outdoor tents, and down to the fine white sand and crystal blue sea that Tulum has become synonymous with. After settling down in their very own private beach area, guests can make themselves comfortable on one of the numerous cushion-like sunbeds and order their favorite cocktail before taking a dip in the sea. 'Violet' comes highly recommended, especially for gin lovers!
The Nomade Tulum beach club is also home to a beachfront restaurant, La Popular. La Popular offers a variety of incredibly fresh seafood dishes, serving daily catches delivered by the local fishermen. It's worth noting that Nomade Tulum is a cashless hotel, so be sure to bring along cards to cover any expenses.
The location encourages a sense of holistic well-being, with unique attractions like a gratitude tent, as well as regular yoga classes. Meanwhile, the indoor restaurant, Macondo, features a plant-based menu served in a Moroccan-style dining area, designed to nourish both body and mind.
Whether a guest of the hotel or not, visitors will leave Nomade Tulum's beach club with full bellies and happy hearts, with memories of a beautiful day at the beach.
Sarah from Dukes Avenue
Alma Tulum Beach Club
Alma Tulum Beach Club is part of Alma Tulum Hotel, a boutique eco-hotel that occupies a prime position along the pristine waters of the Caribbean Sea in Tulum. This Tulum beach club offers a very "Tulum-esque", boho-chic vibe (yes, there are swings!), with palapas and beds right on the seafront that offer glorious views of the sparkling waters mere meters away.
Should you get peckish (or thirsty!) while lounging, Alma has a great restaurant adjacent to the beach club that offers a selection of Mexican-Italian fusion dishes straight to your sun lounger, if you should so desire. While this private beach club is part of the hotel, it is also open to daily visitors, subject to a food and beverage minimum spend charge, which is around 400 pesos ($20 USD). Don't worry about bringing a towel either, as towel rental is also available at a cost of 50 pesos. Service runs from 8 am – 6 pm daily and every day of the year too.
Location wise, Alma Tulum is set towards the end of the "zona hotelera", which is a long stretch of beach that is located approximately 2km from the main town center. This places the beach club at Alma in a great position to visit from other hotels in the area, and you can also pop out during your time at the beach club to one of the many restaurants and bars along this stretch during the day should you not wish to dine at Alma.
Isabelle Hoyne from Cultured Voyages
Selina Beach Club
A recent addition to the Tulum beach scene is the stunning new Selina location. This boutique Tulum hotel is a favorite of digital nomads for its co-working space and yoga studio. Best of all, they've partnered up with Mía Restaurant & Beach Club. Even if you're not a guest, you can enjoy a day at this trendy beachfront club. Kick back and relax on one of their super comfy day beds, which are shaded by lush palm trees. The best seat in the house just might be "The Nest," which makes for some great photo ops.
Seriously, your Instagram feed will be on point if you swing by Mía! You can easily spend all day here, starting off with a smoothie or fresh juice. Lunchtime here could be some tuna ceviche with mango and habanero or mouth-watering suckling pig tacos. When you're ready for an adult beverage, they've got some tasty cocktails with tequila or mezcal (this is Mexico, after all). Winos will love the impressive wine list here – a whopping 300 labels from all over the world! They also have one of the best selections of craft beer in Tulum here.
The music is chill here during the day making for a very laidback vibe. They often have parties on the weekend, so be sure to check their socials to see what's going on. You can even rent the whole place out if you're planning a dream Tulum wedding. I stayed at Selina during their Nomad Roadtrip across Mexico and thoroughly enjoyed the food, drinks, atmosphere, and music at Mía. This is definitely one Tulum beach club you don't want to miss!
Sasha from Grateful Gypseas
CoCo Tulum
Coco Tulum may come across as an elite beach club as the all-white decor blends perfectly with the white sand and sky-blue waves. However, this elegant place is in one of the cheapest places to travel.
In the daytime, you can sit on the swing and enjoy the breathtaking view of the wave, or you can spread a towel and lay under the sun while you sip a chilled drink. At night you can go clubbing, enjoy a bonfire or chill out under the stars.
The Coco Tulum clubhouse is full of attractions and activities. They include the exhilarating massage of the Zen Zone masseuse, the early morning yoga sessions at the oceanfront, and the Temazcal ancient sauna that cleanses the soul and body.
If you'd like to explore, there are tours available to guide you through the Yucatan peninsula and old Mayan ruins. The diverse variety of wildlife also adds color to the experience as you can go snorkeling and meet fishes, turtles, and other fascinating marine life. You can also reconnect with yourself and go for a Yoga Retreat in Tulum.
You can acquire accommodation through the Coco beach club hotel or the Zen Zone hotel either direct or through an accommodation search engine. Both offer a wide range of rooms to select from with views and gardens that will soothe you down to your soul.
The Coco Tulum beach club is perfect for both adults and kids. Also, the nearly endless food menu means you'd never run out of tasty options of what to eat or drink.
Chisom Evare from The Awesome Traveler Blog
Pin For Later