Want to know how to find the best flight deals online? In this post, I'm going to talk you through how I find the best flight deals online. Believe me, as a full-time traveler I know how to find a cheap flight. I have tried and tested all of the flight search engines (including google flights, I even wrote about it). I have tried to find one that beats Skyscanner and failed every time.
Why listen to me?
I've been traveling full-time since the end of 2016 and if there is one thing I've perfected it is finding cheap ways of travel! One of the biggest expenses can be finding flights that don't break the budget, and for that, you need not only know the best time to book but also know the right booking tools to use.

How to find the best flight deals online
The first thing you need to do to find the best deals on flights is to get to know Skyscanner. I personally don't use the app much as it isn't as easy to use. So click here to open up Skyscanner in a new window so you can follow along.
Why use a travel search engine?
The Internet has been a game changer for affordable travel. Anyone not using a travel search engine to book their flights is in danger of missing out on saving $$$. In my opinion, there are 2 main search engines:
I wrote a whole article comparing them both that you can read here. But to summarise, I prefer Skyscanner mostly because I find the interface more user-friendly. Plus they let me write cool articles for them and take over their Instagram sometimes!
Before checking anywhere else I advise you to check both, just to be sure. However if you want to get cheap flights you can also check on WayAWay to get 5% cashback on flights and save up to 10% on Hotels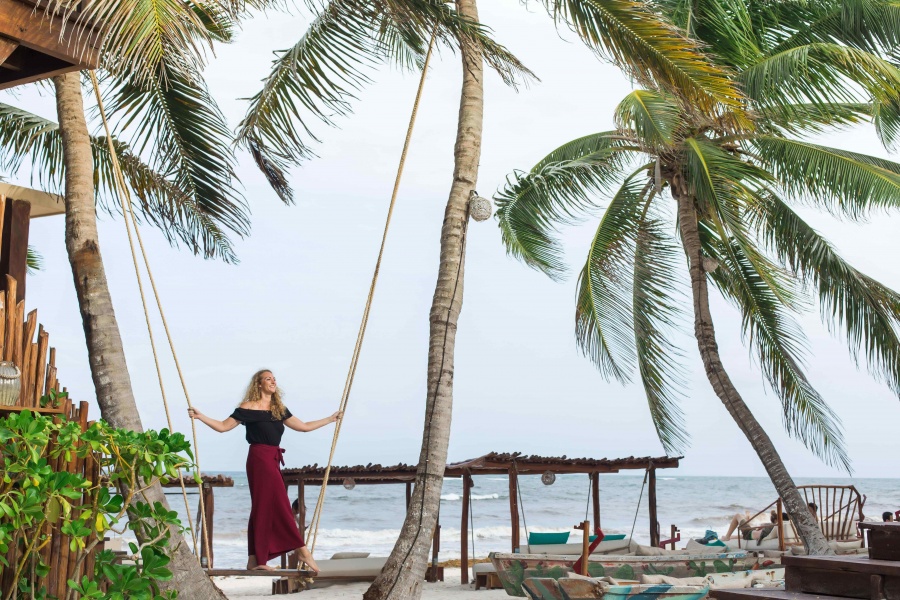 What kind of traveler are you?
This is important. I get at least 1 inbox every week from a friend or family member asking me for advice to find a cheap flight to XYZ. My response is always the same, how flexible are your dates and what kind of traveler are you.
There are many different types of traveler, but I'm going to separate people into three camps for this article:
Those who book package holidays and want every detail planned for them
Those who want to plan everything themselves but have fixed dates because of work
And finally, people like me who are super flexible love and can fly when it is cheaper.
This post will be focusing on the latter 2, those who want to do it themselves.
When planning a trip I go through the following step-by-step method each time:
Decide on the dates I can travel (this can be a month of fixed dates)
Find and book flights
Find and book accommodation (at least for the first night)
Research what to do when I get there and other important things I need to know before traveling (like culture, transport while there and fun things to see and do)
Once I have decided on my window of travel, flexibility is important, this is without a doubt the number one way you can save money. I book all of my flights through Skyscanner, always. I have yet to use a travel search engine that has found me a cheaper flight and trust me I have tried. It may look complex at first but once you figure out how to use Skyscanner you will never overpay for a flight again.
Skyscanner has a few key features that I love and help me find the best deals.
Here's my step-by-step guide to getting a great flight deal
Put in your starting destination
You can be as wide or narrow as you like; If you want to fly from a particular airport enter that, if you are flexible then you can put in a whole country! Check what kind of trip it is; a return flight, one way or multi-stop.
Where to
So in this box, if you are flexible about where you want to go then just hit search everywhere! If you know what country you want to go type that in, or if you want a specific airport you can enter that. I prefer to search everywhere for inspiration, plus it will order it so you get the best value deals at the top.
Enter your travel dates
Next, you will need to enter your travel dates. If you HAVE to travel on a specific date and can't be flexible at all then enter your dates here. If you are able to be flexible you are much more likely to get a great deal. I always click on the whole month and the month that I want to travel. There is also an option to check the cheapest month to travel if you can be that flexible.
Who's traveling
Enter the number of travelers and cabin class and then hit search!
Whole Month
If you have checked 'whole month' (which I recommend) you are able to get two views;
calendar view
chart View
I prefer the chart view as I can visually see what days it's cheaper to travel. Then you just click on the day you want to depart (and return if applicable) and it will give you the cost. Where possible go for the cheapest departure and return and then click on show flights.
Choose your flights
So now the fun part, choosing your flights. You may get over 600 options and the cheapest flight may not be the best! For example, for just a few pounds more you could get a direct flight rather than one with an 11-hour layover.
Check the stops
The first thing to check is the stops: what is the price difference between the direct flights and the one or 2 stop flights; if it's only £10 then you might want to uncheck 1 stop and 2+ stops.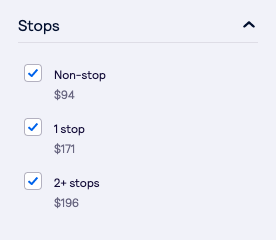 Duration
Next, I look at journey duration; if I know the flight is 9 hours direct then I don't really want more than a 5-hour layover if I can help it so I would slide this to 14 hours.
Airlines
Next, you can check or uncheck airlines. This means if you are an avid Airmiles collector like me you might uncheck the ones you don't collect miles with, or if you really hate a particular airline then you can uncheck them.
The fantastic thing is that you can see the lowest price of your flight offered by that airline in the box, so if they're offering the best price and it's a lot slower than the others you may be able to put your hatred aside in search of a great deal!
Check your results
Like magic, your results will automatically update and you should now be left with a more manageable list of flights that better suit your needs. Go through the list looking our for flight departure and arrival times, stops, length of flight (click on details to check changes and stopovers) once you are happy you have looked over all of your options than simply click select.
Sign up for discounts
Try subscribing for price alerts with WayAway. The alert will be sent directly to your email address. This way you will be able to buy tickets with the most profitable deal."
Booking your flight
It will then give you a list of options for your booking and how much your flight will cost with each agent. Click the one you like and it will take you through to their site so you can book. If you aren't quite ready to book then click on price alerts and enter your email address and Skyscanner will email you if the prices change.
Once you have spent some time on the platform you will soon learn how to use Skyscanner and it becomes really quick and easy.
I'd love to hear your tips and tricks and any success stories so please do leave a comment below.
Here are my other planning guides
Do you need travel insurance for longterm travel and backpacking
12 Travel apps to download before taking your trip
A step by step guide to planning the perfect trip
How to research for your next vacation
Who is better Skyscanner or Google Flights
This post was proofread by Grammarly