Thinking of going solo in Santa Barbara? In this guide to Santa Barbara, my friend Kylee from Passports and Preemies shares everything you need to know to have a great solo trip.
The Solo girl's guide to Santa Barbara
Santa Barbara, also known as America's Riviera, is California's best-kept secret. Bursting with charm, this little beach town is anything but ordinary. From top-notch wine tasting to hiking the San Ynez Mountains, Santa Barbara is nothing short of spectacular.
Things to do in Santa Barbara
Santa Barbara may be small (approx 50 sq miles), but there is no shortage of things to do in a place that is home to some of the best beaches in California. Start by exploring the main part of town – State Street. Begin on the north end and follow the street down to end at Stearns Wharf overlooking the Pacific Ocean. There are tons of things to see and do on State.
Pop into the number of boutiques that dot the street, or grab an outside table at a restaurant, Pascucci, and people watch. While you walk down State keep an eye out for McConnell's Fine Ice Cream – made from scratch and the best in town. Once you get to the end of State, cross onto the Wharf and make your way to Deep Sea Tasting Room. Grab a glass of wine, sit outside, and watch the sun set behind the San Ynez Mountains.
Visit the Funk Zone in Santa Barbara
Seen all that State Street has to offer? Another popular part of town is the hipster neighborhood known as the Funk Zone. A newly renovated area in Santa Barbara, the Funk Zone brings art, tasting rooms, breweries, and restaurants to town, all with a side of flare.
With over 20 wine tasting rooms, follow a map of the Urban Wine Trail, or blaze your own trail! You can find my favorite tasting rooms here.
Take a Photography tour in Santa Barbara
If you're more of a foodie, join a photography tour through the area – "Eat This, Shoot That". Whichever way you choose to spend your day, don't leave without ordering the seafood paella from Loquita.
Visit the Santa Barbara Beaches
If you're in the mood to lay low and relax, spend the day at one of the many Santa Barbara beaches. If you're looking to be close to the action, grab an acai bowl from Blenders in the Grass on State Street, and walk down to East Beach.
Here you can be a part of sand volleyball or watch the boats leave the harbor. If you're in the mood for more of an adventure rent a buggy from SB Buggie and make your way over to Butterfly Beach.
On your way home loop through Montecito to check out where the celebrities frequent these days. And if you're in the mood to get a bit further away head to the infamous dog-friendly beach, Arroyo Burro Beach. Here you can sit outside at The Boathouse for upscale seafood and panoramic ocean views.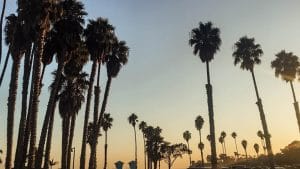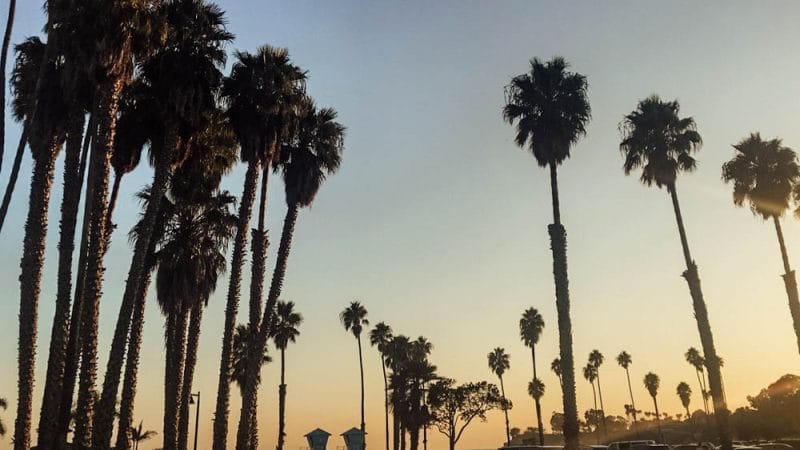 Things To Do at Night
Although it may be a sleepy beach town during the week, if you're visiting Santa Barbara on the weekend, there are plenty of things to do solo! Start with dinner at Brophy Bros in the harbor. Make sure to arrive early to get a spot at the bar.
You can watch the servers shuck oysters and you'll have a front row seat to the sun setting over the ocean. From Brophy's get an Uber or walk if you're up for it (approx 1 mile), to theRed Piano on State Street. The Red Piano serves great cocktails and has a lively atmosphere so you never feel alone!
Getting to Santa Barbara From the Airport
If you're flying into Santa Barbara Airport, you're in for an easy journey. A small airport that's only seven miles from downtown, you can easily grab an Uber or Lyft into town, which will take you approximately 20 minutes. However, because the airport is small, it is also very expensive. If you're on a budget I'd recommend flying into LAX and driving.
Rent a car in Santa Barbara
Drive up the 101 into Santa Barbara. With the smell of salty ocean air and the views of the Pacific Ocean on your left, this one and half hour drive (without traffic) will fly by. There are plenty of car rental options around the airport and buses that will shuttle you there for free.
Bus
Another option is to fly into LAX and take the Santa Barbara Airbus to Santa Barbara where it will drop you in the heart of town. The fee is $55 for a one-way ticket, $100 roundtrip.

Getting Around Santa Barbara
Santa Barbara is easy to get around because it is small and safe! You can access most of the city by foot, but if need be you can also take a car or bike. Uber and Lyft are common in the area, and bike rentals can be found at Wheel Fun Rentals.
Where to Stay in Santa Barbara
Here are some of my top picks for hotels in Santa Barbara and advice on Airbnb Santa Barbara.
Hotel Californian
If your budget allows, Hotel Californian is one of the best in the town. Located between State Street and the Funk Zone, and close to the ocean, Hotel Californian is smack in the middle of all that Santa Barbara offers.
Best Western Beachside Inn
For a middle of the road hotel, the Best Western Beachside Inn this is a good option. The hotel has a pool and is walking distance from both the beach and State Street.
Airbnb Santa Barbara
For more flexibility, Airbnb is popular throughout town. Here you'll find a range of low budget to higher budget options.
Safety Tips for Santa Barbara
Santa Barbara is a safe town to be in as a solo female traveler. Just don't forget the basics – be wary of your surroundings and keep an eye on drink, and your purse. You won't have any trouble!
Final Thoughts
While California draws people in for the fame of Los Angeles, the beautiful coastal drive of the Pacific Coast Highway, or the techy-city of San Francisco, this beach town is not to be overlooked. It's California's best-kept secret and quite frankly, I hope it stays that way.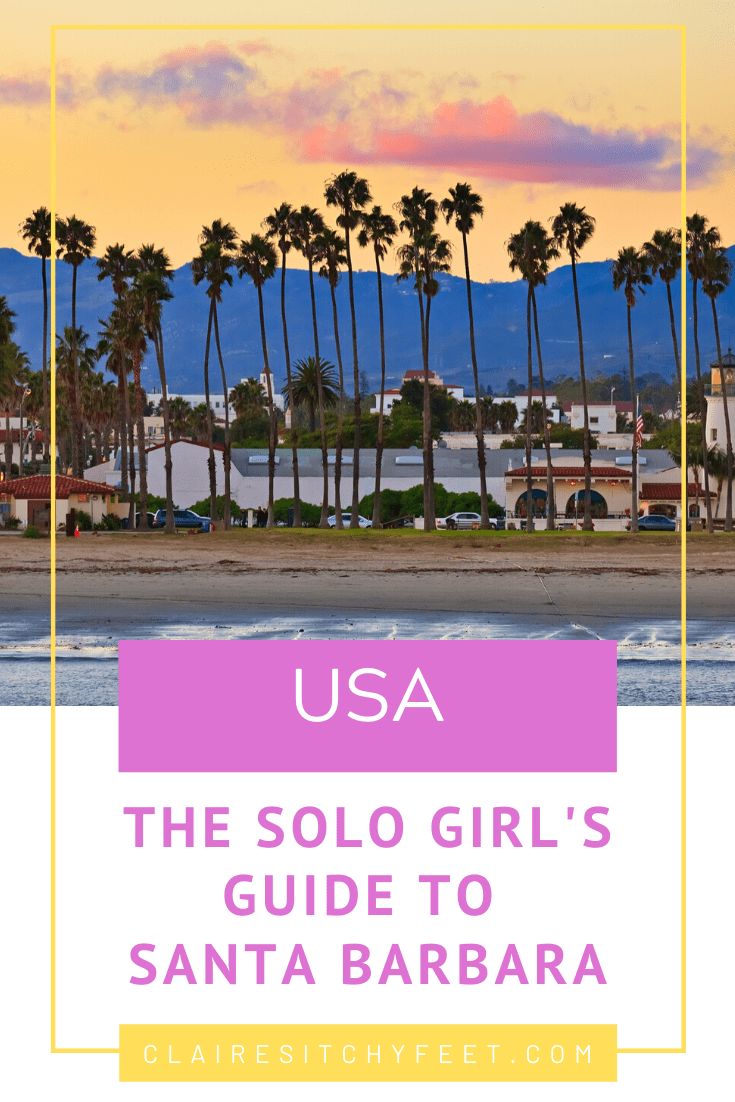 Love
Kylee x
Bio
Splitting my time as a traveling NICU nurse and as a traveler, I created my blog to share travels around the globe in order to inspire nurses and women everywhere to step out of their comfort zones and just go for it. After all, big journeys begin with small steps!
Follow Passports and Preemies on Social Media
Instagram | Facebook | Twitter | Pinterest
Check out our other Solo Girls Guides
Barcelona | Copenhagen | Israel | Kuala Lumpur | Moscow | Nepal | Queenstown | Prague | Santa Barbara | Stockholm | Uzbekistan | Vegas | Zurich