Guatemala is a country with a rich and interesting history. Because of this, it is important to know how to travel ethically in Guatemala and why ethical travel in Guatemala is important. I am always aware of my privilege as a traveler. I try to be conscious and aware of this privilege and ensure I travel in a sustainable way. ethically. If you are traveling to Guatemala there are some key things you need to understand to ensure that your presence there as a visitor is not having a negative impact.
While in Guatemala I spent time with Chelsea and Ana from The Heart of Travel, a company that really embodies what it is to travel ethically. Because of this, I asked them if they would write a guest post highlighting some of the issues and we can ensure we are being part of the solution, not part of the problem.
Did You Get Travel Insurance Yet?

If 2020 taught us anything, it's that you need to be prepared for anything!

The Insurance companies I personally recommend are Hey Mondo, Passport Nomads, Safety Wing, and Travel Insurance Master

Hey Mondo is great if you are looking for a great value flexible policy. They offer single-trip cover, annual multi-trip cover, and long-term travel cover.

Passport Nomads provides the most comprehensive cover for Digital Nomads. If you find yourself in need of medical care you just contact them and they will pre-load your card with the funds to cover your treatment, meaning you won't need to pay out of pocket and then put in a claim later.

Safety Wing is great value with monthly cover starting at $39. It's super easy to use and it just renews each month. I currently use them as they offer me free cover for my son as part of my policy.

I also use Travel Insurance Master for short trips.

Read my full travel insurance post here where I go into detail about all 4 companies.
The Heart of Travel Guatemala
The Heart of Travel was born out of Chelsea and Ana's shared vision to bring a different approach to tourism in Latin America. They wanted to dispel certain myths about Guatemala and its neighbors. These views have been damaging to their global reputation. And subsequently to their tourism sector and economy.
Ethical Travel in Guatemala
Guatemala is just beginning to shake off its bad image after 36 years of civil war. Visitors are now discovering the incredible amount of awe that Guatemala has to offer. This includes its stunning Mayan ruins and one of the richest indigenous culture in Central America.
With the tourism industry booming in a country that is still affected by high poverty levels in rural areas, we constantly ask ourselves.
How can we travel in Guatemala in a way that is both ethical and has a positive economic impact on people that need it the most?
We know from experience that responsible tourism in Guatemala can boost income in rural regions, creating sustainable employment with a much-needed focus on women and marginalized indigenous communities. We believe it is possible to practice ethical tourism in Guatemala. Offering a fair and a positive experience for both travelers and the people and places they visit. This is why ethical travel in Guatemala is so important.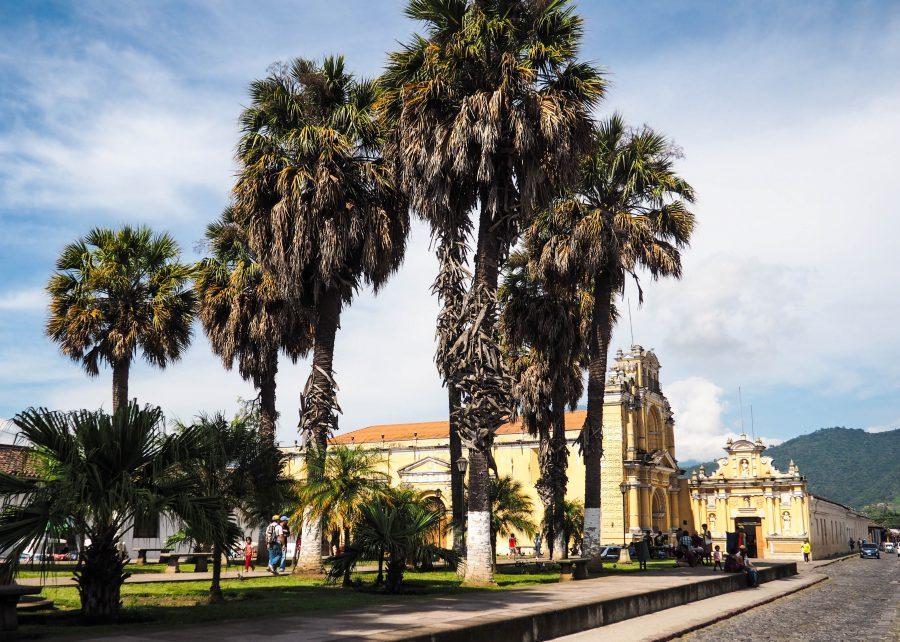 Understanding Guatemalan History, Tradition, and Culture
Understanding the culture of Guatemala and having a sense of the historical background of any country makes for a better travel experience. Ethical travel in Guatemala will open up your understanding of the country and it's people.
The History of Guatemala in Brief
One of the fascinating things for travelers is discovering that this is not all about ancient archaeology and lost civilizations: Mayan culture in Guatemala continues to this day. Despite an early Spanish invasion and a horrible genocide during the civil war that wiped away more than 400 villages, indigenous people (mostly Mayan) still make up for 40 percent of Guatemala's population. With another 40 percent identifying as mestizo or ladino (mixed indigenous and European). This makes Guatemala the most indigenous country in Central America. "Maya" refers to at least 21 ethnic groups, each with their own language, Ki'che' and Q'eqchi' being the most common.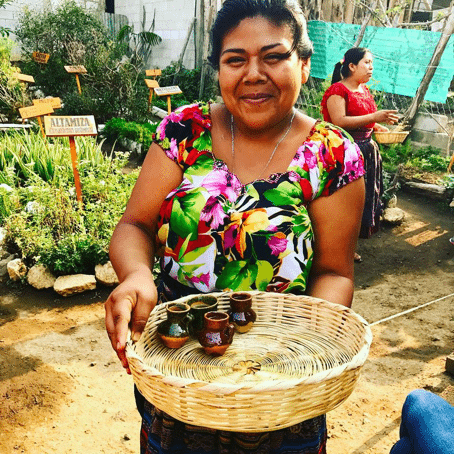 Travel Tips and for Ethical Travel in Guatemala
1. Learn about daily life
The villages around Lake Atitlán offer homestays with local families. In a homestay guests can learn more about daily life, and share traditionally prepared meals with their hosts. One homestay option is a visit to the weaving cooperative Casa Flor Ixcaco, in the mellow town of San Juan La Laguna. Before opening the door to their homes and families, these women walk us through the beautiful art form of the Mayan tradition of weaving. From hand-picking the cotton to creating colorful patterns with their naturally-dyed cotton fabric. Activities such as these support Mayan culture and encourage people to remain in rural areas and villages rather than migrating to the cities in search of work.
2. Ask BEFORE taking photographs of indigenous people
Mayan culture is colorful and incredibly photogenic. But please resist the urge to take photos of people and their crafts without asking for permission first. Better yet – ask the artisans their names, share a story, and then ask if you can take a picture. It will make the picture all that more meaningful.

3. Dress Conservatively
Guatemala is a largely traditional and conservative country. Dress modestly when visiting local communities, and cover up when visiting the churches.
4. Bartering
Bargaining is culturally accepted. But try to not go too below what was originally asked for, and pay a fair price for the crafts. Remember most, if not all of them are handmade, and a lot of time and effort are put into them.
In Antigua, 'Nim Po't is a vast warehouse of traditional crafts, including hand carved and painted wooden masks and ornaments, as well as the obligatory textiles. Here you won't be able to bargain, but prices are fair and the money goes directly into the hands of the artisans.
5. Don't buy Endangered Animal Parts
Do not buy any items which have been made from endangered animal parts, including tortoiseshell, exotic feathers, etc. As well as being environmentally damaging, they are also often illegal.
6. Learn the Language
Learning a bit of Spanish should be considered obligatory. Do not expect people from another country to speak English to you. Better yet, learn a few greetings, or "thank you", in the local Mayan dialects, you will be rewarded by smiles. This is a great way to break the ice, especially during a homestay. You can now learn Spanish online with us (click here) and we are offering a range of Spanish immersion opportunities in Latin America (click here to learn more).
7. Be Aware of your Environmental Impact
It's impossible not to contribute to the pollution issues if staying around Lake Atitlán. But you can at least minimize your impact. Don't buy goods packaged in plastic, and if you do, take it with you to somewhere it can be disposed of properly.
8. Get a Reusable Water Bottle
It is not safe to drink tap water in Guatemala, but buying large bottles of water and decanting it into a smaller drinking bottle will reduce the amount of plastic waste. Better still always have a reusable water bottle with you, there are many eco water filters in Guatemala where you can top up for free!
Ethical travel in Guatemala is important and these are all small ways you can do your part.
Final Thoughts on ethical travel in Guatemala
I hope you have enjoyed reading this post and it has opened up your understanding of Ethical travel in Guatemala. I loved my time in Guatemala and can honestly say that taking the time to learn about the country and its history enabled me to have a deep connection with the country and its people. For this, I will always be grateful. I love what The Heart of Travel do and can't recommend their tours in Guatemala enough. In addition, there are lots of ethical ways of volunteering in Guatemala, please just be sure to do your research first.
About Chelsea and Ana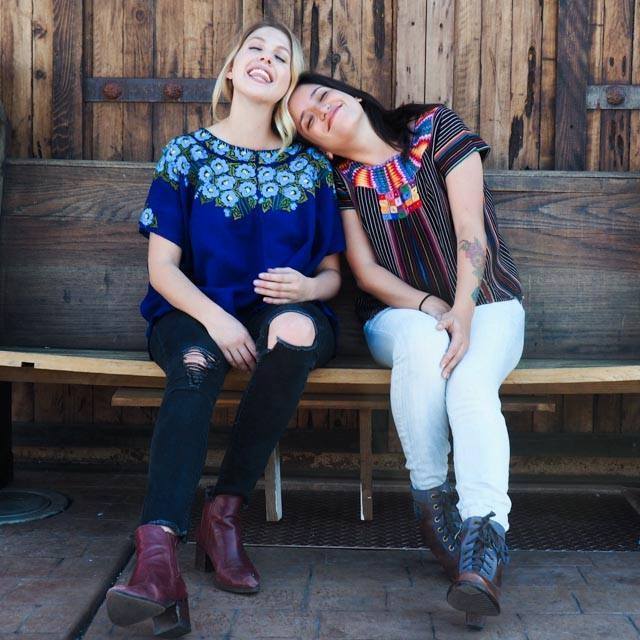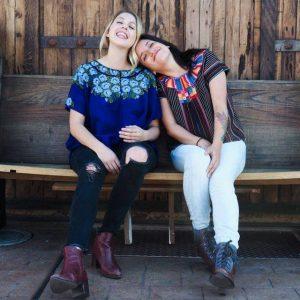 Ana
Born in Guatemala and raised in the city of San Lucas, Ana is 100% chapina through and through. Life, however, has taken Ana all over Asia and to many parts of Latin America and the U.S. She now works full-time at The Heart of Travel while also pursuing a degree in Cultural Anthropology. In her free time, she enjoys music, biking, spending time with family and friends learning about bugs and marine life!
Chelsea
At the age of 19, Chelsea boarded a plane to Guatemala on her first ever solo trip abroad, a decision that has permanently and drastically altered the course of her life. She now works full time as the owner and operator of The Heart of Travel balancing a busy travel schedule with entrepreneurship while also making time for family, friends, yoga, Orangetheory and a good book on a rainy day!
This post was proofread by Grammarly