If you're visiting Tulum or anywhere in the Riviera Maya, you have likely heard about Tulum cenotes and how you must visit a cenote in Tulum, especially during sargassum season!
But what is a cenote? And which of the hundreds of Tulum cenotes are the best to visit? In this post, I've asked some top bloggers to share with us their pick for the best cenotes in Tulum. After reading this you will be all clued up on Tulum cenotes to help you choose the best one to visit on your next trip to Tulum. After all, this is just one of the many reasons why Tulum will enchant you.
Disclaimer: There aren't actually many cenotes in central Tulum, and the ones that are there aren't all that great. Added to this is that many of the cenotes in the area are a bit off the beaten track I've tried to only share the Tulum cenotes that can be easily accessed by either car or collective.
Did You Get Travel Insurance Yet?

The Insurance companies I recommend are Hey Mondo, Safety Wing, and Travel Insurance Master

Hey Mondo is great if you are looking for a great value flexible policy. They offer single-trip cover, annual multi-trip cover, and long-term travel cover. Safety Wing is great value, with monthly coverage starting at $39. It's super easy to use, and it just renews each month. I currently use them as they offer me free cover for my son as part of my policy. I also use Travel Insurance Master for short trips.

Read my full travel insurance post here, where I go into detail about all companies.
What is a Cenote?
A cenote is basically a big sinkhole that's flooded with water. The entire Yucatan peninsular is made up of limestone (at one point it was a huge reef) and over time part of the limestone collapsed and flooded with water to create huge underground river systems. That's why visiting cenotes is an essential part of any Yucatan 2 week itinerary.
In the Yucatan Peninsular there are over 7000 cenotes. With only a fraction of them open to the public, in fact, to date, there are only 2200 registered cenotes. Most cenotes are privately owned and many of them are connected.
In general, you will find 4 different types of cenotes in the Riviera Maya.
Closed Cenotes – Where you have to enter through a hole and the entire cenote is enclosed inside a cave or cavern.
Open Cenotes – where there is no roof and the cenote is completely open like a lake
Half-open cenotes – where part of the cenote is closed and part is open. These are the most common ones open to the public.
Dry Cenotes – Cenotes with no water. Normally in these types of cenotes, you will find incredible rock formations.
Why Visit a Cenote?
So many reasons. Number 1 is to cool off from the heat! They are great places to go swimming, snorkeling, and even scuba diving in. They are fresh water and many are very deep so you can practice your diving/ jumping skills.
If you go to one of the bigger cenote parks you can also do ziplining, ATV driving, canoeing, Rappelling, etc. The adventures are endless!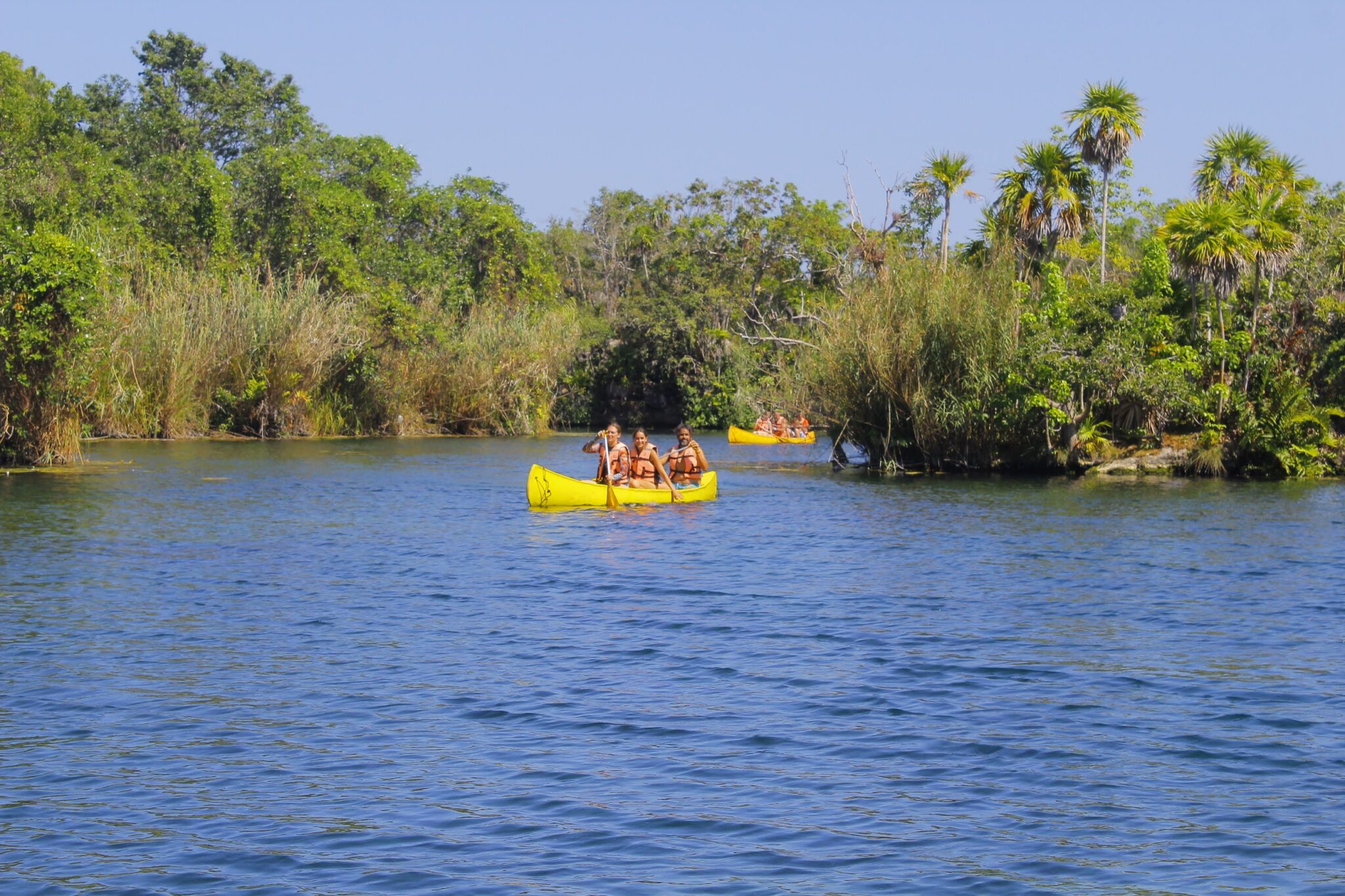 Quick Tip: I highly recommend booking all of your Mexico transportation with GottoGo. You can search for buses, shuttles, ferries, and Flights on their website. What I love most about them is their customer service. I know these guys personally from living in Guatemala, and they look after their customers.

If anything happens and you get delayed and miss your bus, you can just call them, and they are always there to help. If you book through them, you will pay a little more than booking in person at the bus station. But it's worth it for the ease and security. Click here to search for transportation in Mexico.
The water is always sargassum free, so it's ideal if you want to swim without the seaweed!
And of course, Cenotes are incredibly beautiful.
The biggest issue you are going to find is choosing which of the Tulum cenotes to go to. Many of the more popular ones can get super crowded. Some are hard to find, but empty of people. Others are very expensive. You really do need to do your homework in choosing the best Tulum cenote.
After living in Riviera Maya for three years, I had the chance to visit many Tulum cenotes and my best bit of advice would be, to avoid cenotes on Sundays as local residents get to enter for free, and if you want to go to a cenote for ziplining and ATV's then book a tour with Living Dreams Mexico as they will get you to the best cenote depending on what you want to do there.
Quick Tip: Book accommodation, tours, and transport ahead of time online to save money and stress.

Best Tulum Tours: Click here to check out the top Tulum tours
Best Tulum Accommodation: Click here to check out the best accommodation in Tulum
Best Tulum Transport: Click here to book a bus, ferry, or train in Tulum
What Can You Do in a Cenote?
Here are some activities that you can do in a cenote:
canoeing
Underwater photoshoot
Get married (I did this haha see picture bellow)
What You Can't Do in a Cenote?
On the top of my list is please SHOWER BEFORE YOU DIVE INTO A CENOTE. Cenotes are large bodies of fresh crystal clear water. However, overtourism has caused many cenotes to become contaminated and people using sunscreen is the biggest culprit. So please, make sure to shower first.
Please don't leave trash behind.
In some cenotes freediving is a no no. and in many, if you pull out a big professional camera they may ask you to pay a fee for using it.
QUICK TIP: Book your tours, rental cars, and transfers through my local contacts

I've been working with Living Dreams Mexico for years and they are who I send all my family and friends to when they visit the Riviera Maya. I really can recommend them enough for private tours and experiences. They have solid 5* reviews on Trip Advisor and Google from almost 4000 reviewers! You can view all their tours here.

If you're looking for private airport transfers and rental cars then Vanessa and Oliver from Turismo Channel are personal friends of mine and I can 100% recommend them to make an inquiry click here and complete the form. Someone will be in touch within 24 hours.
What to Take to a Cenote
Going to a cenote is like going on a day trip adventure out in nature. The things you should take are pretty basic: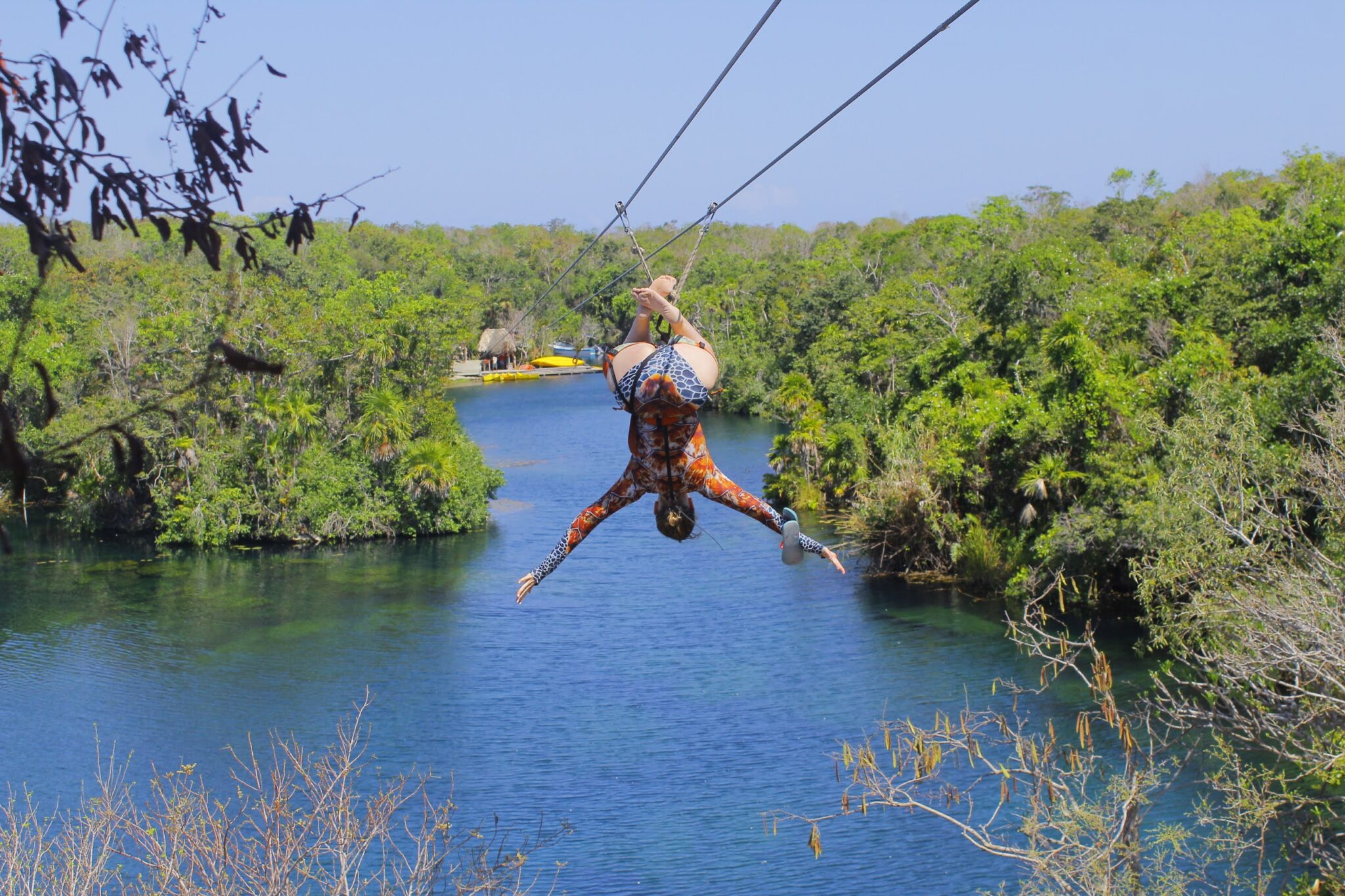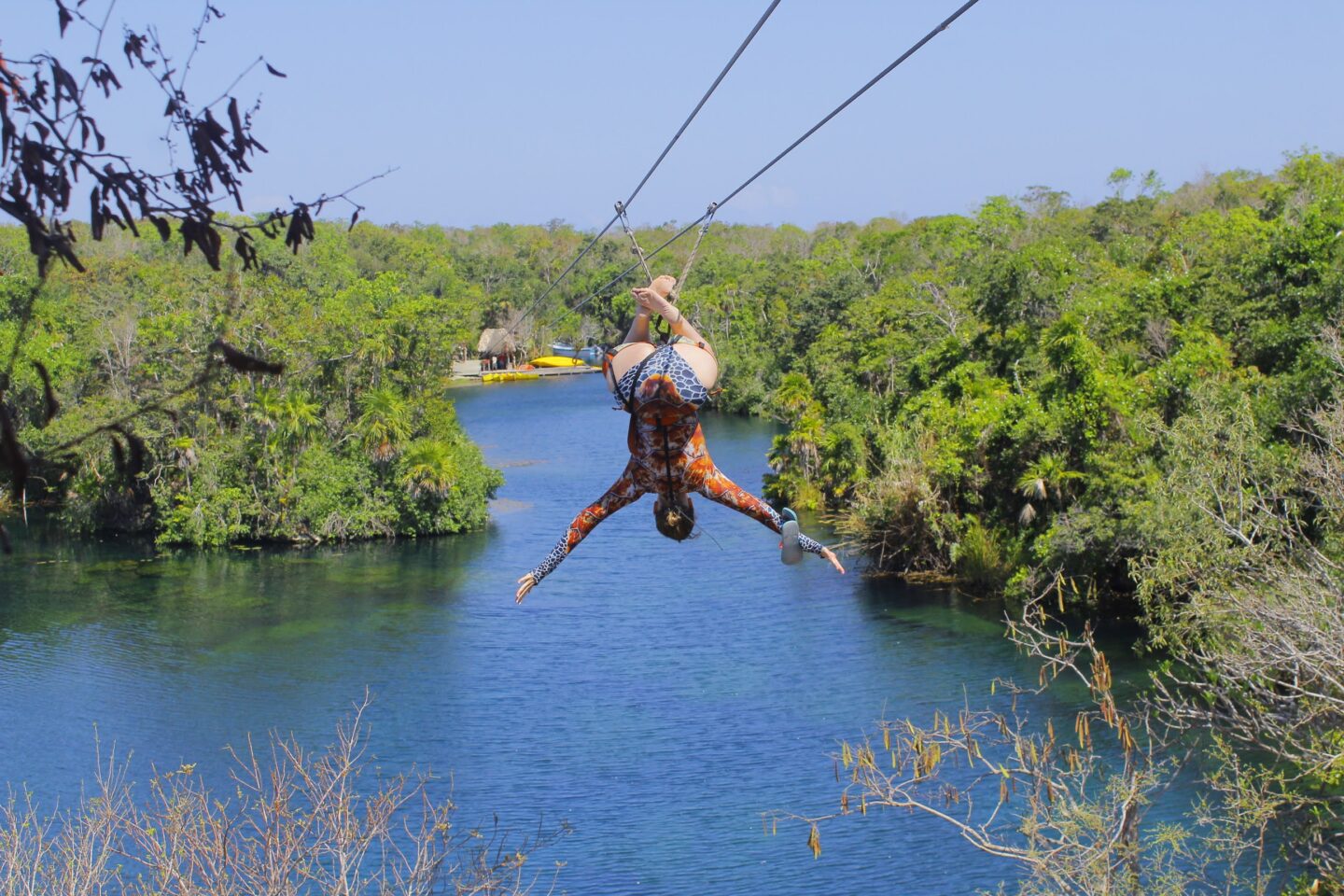 Need to rent a car in Playa del Carmen?
Whenever I'm in Playa or Tulum I always rent a car through Turismo Channel as they include everything in the quoted price. Car rental companies in Mexico are notoriously tricky to deal with and 9 times out of 10 they will quote you a low price but then when you get there they add on all kinds of insurance and won't give the car to you unless you pay up. It can also take weeks or even months to refund your deposit. I wrote a whole blog post you can read here for more information. If you want to get a quote to rent a car with Turismo channel click here to complete the form.
The Best Cenotes in Tulum
Located at only a 10-minute drive from Down Town Tulum, Cenote Corazon del Paraiso is one of the latest discovered cenotes in Tulum, and one of the prettiest.
Corazon means heart in Spanish and its name comes from the heart shape of the cenote, which has been created by adding a wooden platform in the center.
The crystal clear water allows you to see through to the rock formations and vegetation on the bottom of the sinkhole.
Different platforms along the cenote edge invite you to jump in the water or lay down on your towel and enjoy the peaceful surrounding nature.
Divers particularly appreciate cenote Corazon for its beautiful underwater landscape with caves and hooks.
Convenient wooden stairs make access to the water very easy for any kind of swimmer. The cenote is open every day from 9 am to 5 pm and I suggest you should be there as early as you can since it gets crowded after 10.30/ 11.00 especially if there are groups.
The entrance fee is 150 MXN per person and it includes the use of showers (mandatory) and toilets. Snorkel equipment and life jackets are available for rent as well.
The best way to get to Cenote Corazon from Tulum is by Car Rental so that you will have the opportunity to explore other attractions nearby in total freedom and at your own pace.
Otherwise, you can hire a taxi or, if you are feeling adventurous you can rent a bike.
If you prefer to use the local transportation from Tulum, you must look for the minivans (colectivos) heading to Felipe Carrillo Puerto and ask the driver to drop you off by cenote Corazon. Then you will have to walk about a mile on a dirt road in the jungle before getting to the cenote. It's advisable to bring a bottle of water with you as it gets really hot.
If you want to go from Tulum to Holbox you can book a colectivo or a transfer with my friends from GottoGo.
Kaan Loom in the Mayan language means Tierra Amarilla, (yellow earth) probably due to the soil that surrounds the spectacular lagoon and the thick mangrove forest around it.
Kaan Luum Lagoon is a huge round lake that contains one of the deepest cenotes in the Yucatan Peninsula and the best way to really capture its beauty with its multiple shades of greens and blues is by the aerial view.
The Cenote is 85 mt deep and for this reason, considered dangerous to swim in. It's in fact accessible only to certified divers accompanied by an authorized guide from a local dive center.
Tourists can enjoy swimming in the shallow water by the edge of the lagoon, observing the spectacular landscape from the newly built lookout tower, or swinging in the hammocks immersed in the water.
You can also rent a kayak to explore further around the lagoon, but within the limits marked by a cord, for safety reasons.
There are showers and toilets available for the visitors to use, and lifejackets are available for rent.
The entry fee is 300 mxn (15 USD per person) and to fly a drone it is an extra 150 MXN (8 USD)
Kaan Luum Lagoon is open from 9 to 5 every day but it is advisable to get there at 9 am to enjoy it before it gets too crowded.
To get to Kaan Luum lagoon from Tulum, you can either take a taxi or rent a car or a bicycle but I would advise against the latter option because it would be riding for 11 km in the hot sun.
In case you decide to use the local transportation, you must look for the colectivos (minivans) to Felipe Carrillo Puerto and ask the driver to drop you off at Kaan Luum Lagoon. Keep in mind that from the main road you will have to walk about 1 km to reach the lagoon.
When searching around for the best cenotes in Tulum, then you need to visit The Dos Ojos Cenote. It's located about 30 minutes (20 Kilometres) north of Tulum, just off the main highway between Cancun and Tulum. There are various options to get you there from Taxis, colectivo's, hiring a driver, renting your own car, or purchasing a tour with transfers included.
Dos Ojos is actually Spanish for "Two Eyes Cenotes" and suited for all kinds of visitors. This includes swimming, diving in two different cave systems, and snorkeling cenotes in Tulum in crystal clear waters. There is an entrance fee of 350MXN, and only cash is accepted as payment. This is during the hours of 8am and 5pm daily, and it's best to come early morning or late afternoon to beat the crowds.
The waters are extremely translucent, and the temperature is around 24 to 25 degrees Celsius (about 75F). There is a large wooden platform, easy stair access and a wide open area for the swimmers. Conveniently, you can bring your own gear, or they have life vests for hire, along with a snorkel and mask. This allows you to see the rock formations and freshwater fish swimming beneath you. They also have bathrooms, change rooms, and lockers to store your personal items.
It's one of the largest underwater cave systems, which features both stalactites and stalagmites. Therefore, if you're diving into the Dos Ojos Cenote, you'll see this firsthand. Although, this can only be done by organising a tour with a dive company in Tulum. Both the "Barbie Line" and the "Bat Cave" are classed as cavern diving and can be completed in half a day.
In the end, The Dos Ojos Cenote is a refreshing dip on a hot summer's day and shouldn't be missed.
Cenote Car Wash, also known as Cenote Aktun-Ha, is located en route to Coba and 9 km west of Downtown Tulum. Thanks to its location, it is easy to reach this cenote without car rental. Just take the colectivo from Tulum to Coba and ask the driver to drop you off at the cenote. While close to Tulum, biking there is not recommended, as there is no bike lane.
This stunning cenote is full of water lilies, which makes it the best cenote in Tulum for me. Schools of fish swim in the open area of the cenote, and if you are lucky, you can spot a freshwater turtle swimming among the water lilies.
Thanks to the water lilies, it is the ideal snorkeling cenotes Tulum. However, it is also popular amongst scuba divers. After all, it has a cavern section that can be explored by certified divers as long as they are accompanied by a certified guide. There is a jumping platform.
In terms of facilities, there are toilets and changing rooms. There is also a booth where you can buy fresh lime juice. It is possible to store your valuables at the lockers on site.
It is open daily from 8 AM to 5 PM. The current entry fee is 300 pesos per person. There is a camera fee of 150 pesos per camera and drone including GoPros. Life jackets can be rented for 30 pesos.
Cenote Azul by Sally from Sally Sees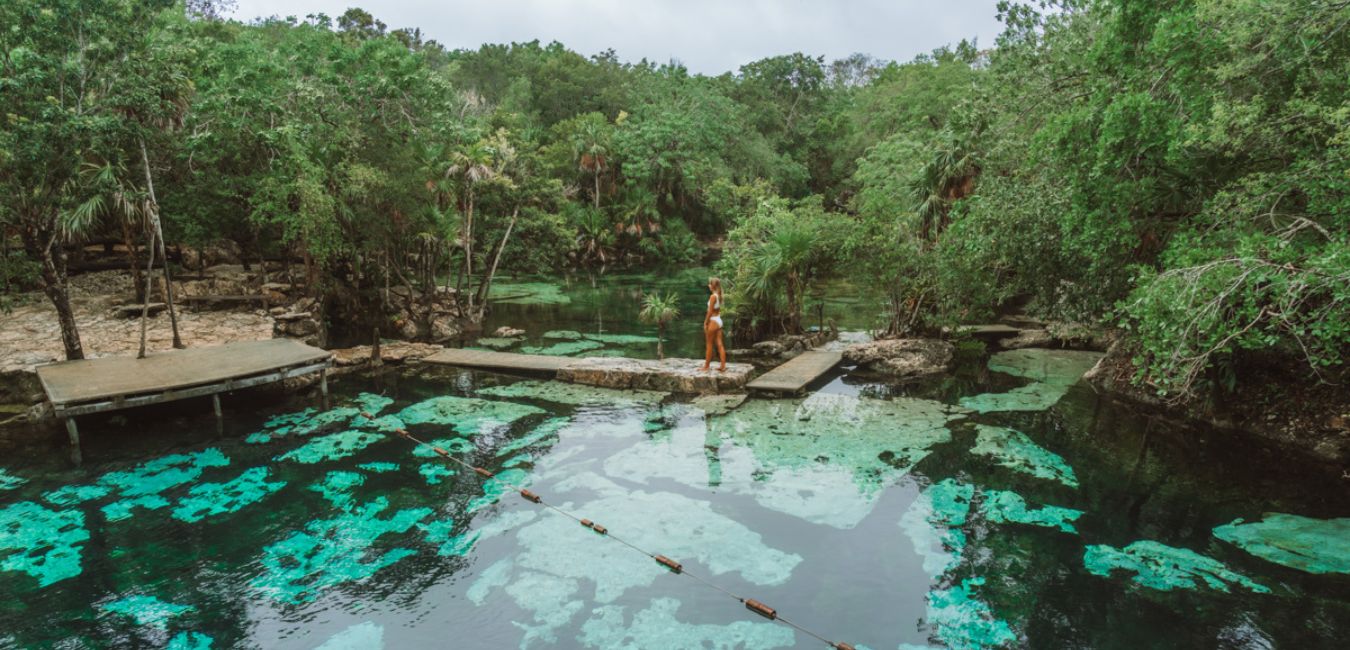 One of the prettiest cenotes in Tulum is Cenote Azul. Named for the blue color of the water, it has a spotted look as you can see right through the clear water to the white limestone rocks under the surface. Cenote Azul is an open-air cenote and is different to most other cenotes around Tulum. It is open and quite shallow, feeling more like a lake or lagoon than a cave-style cenote. There is one large main pool, and two smaller pools hidden down narrow, jungle-lined paths.
The main pool is 6 meters deep, and it's possible to jump in from a few different heights. There is a smaller jump from a wooden platform around the cenote, or if you want an extra thrill, there is a 4-metre jump from a cliff above the edge of the pool.
Being shallow, Cenote Azul is not a good spot for diving or free diving, and flippers are prohibited. However, you can bring along a mask and snorkel to explore underwater. They are also available for rent at the cenote. Life jackets are not mandatory, but you can also rent them if required. There are toilets and change rooms on-site, lockers, and a small stall selling snacks and drinks.
Cenote Azul is 30 minutes away from Tulum on the main highway heading towards Playa del Carmen. It easily reached via rental car, taxi, or any colectivo heading towards Playa del Carmen will drop you off at the entrance. While you're in the area, you can walk next door to Cenote Cristalino too!
The entry fee to Cenote Azul is 150 pesos for foreign adults. If you want to use a camera (anything besides a phone) there is an additional fee.
Quick Tip: Book your tours in Tulum with Living Dreams Mexico. You can find a lot of options here:

DREAM TULUM
DISCOVER TULUM AND COBA
TULUMSTAGRAM
Gran Cenote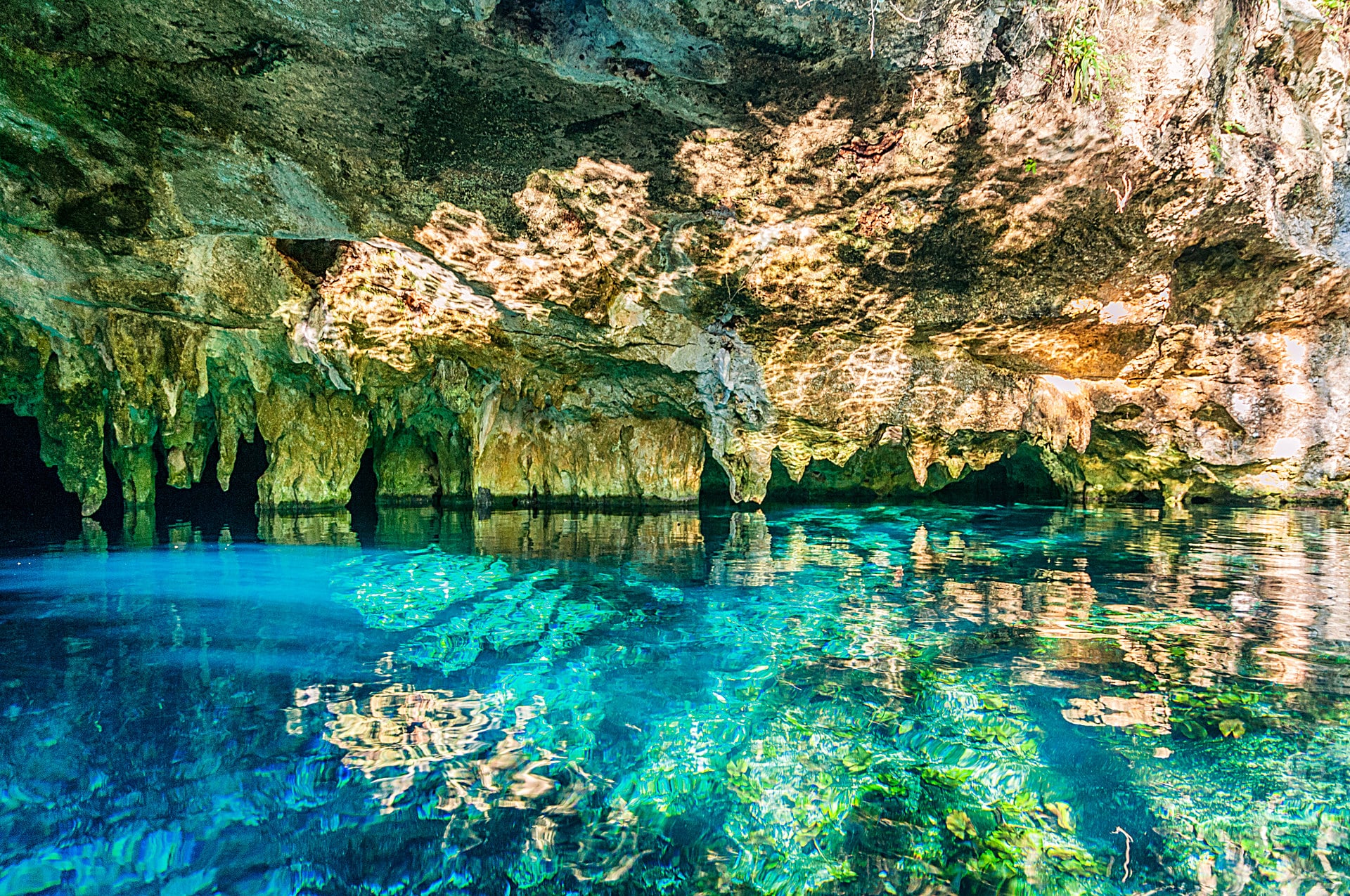 Gran Cenote is located just a short drive from Tulum, is one of the most iconic and beloved cenotes in the Yucatan Peninsula. Its name, while simple, doesn't fully capture the magical experience that awaits visitors.
As you approach Gran Cenote, the first thing that strikes you is the lush greenery that surrounds it, creating a natural oasis that feels like a world away from the bustling streets of Tulum. The cenote itself is a semi-open sinkhole, characterized by crystal-clear waters that sparkle under the sun, revealing a fascinating underwater world.
So what makes Gran Cenote one of the best cenotes Tulum? It's all about the water! The waters of Gran Cenote are a gateway to an intricate system of caves and tunnels, making it a paradise for snorkelers and scuba divers alike.
The cenote's underwater visibility is unparalleled, allowing you to clearly see the stunning rock formations, stalactites, and stalagmites that have formed over centuries. For certified divers, exploring these underwater caverns is an unforgettable experience, revealing the hidden beauty of the Yucatan's subterranean world. Its hands down one of the top snorkeling cenotes Tulum.
Swimming in Gran Cenote is not just about the adventure; it's also a serene experience. The water is refreshingly cool, offering a welcome respite from the tropical heat. As you float on the surface, you can gaze up at the open sky, surrounded by the natural beauty of this unique landscape.
For those who prefer to stay dry, there are wooden platforms and areas where you can relax and soak in the tranquil atmosphere. The sound of gently lapping water, combined with the chorus of birds from the surrounding jungle, creates a peaceful ambiance.
Facilities at Gran Cenote are well-developed, ensuring a comfortable visit. There are changing rooms, showers, and lockers available, making it easy to prepare for your swim. Life jackets are also available for rent, providing an extra layer of safety, especially for those who are not confident swimmers.
The entry fee for Gran Cenote is around 500 MXN (approximately 25 USD), it includes a life jacket and snorkeling equipment which is a small price to pay for such an extraordinary experience. It's open from 8 am to 4:45 pm, but I recommend arriving early in the morning to avoid the crowds and fully enjoy the serene environment.
Getting to Gran Cenote from Tulum is easy. You can take a short taxi ride, which is convenient and reasonably priced. Alternatively, renting a bike is a popular option for those who want to enjoy a scenic ride through the lush landscapes surrounding Tulum.
Absolutely, let's dive into the unique experiences offered by Cenote Calavera and Cenote Zacil-Ha near Tulum.
Quick Tip: View my full Mexico packing guide here including a downloadable checklist. And check out my Mexico Essentials shopping list here.
Cenote Calavera
Cenote Calavera, intriguingly named after the Spanish word for 'skull', offers an adventure like no other. Located just a short distance from Tulum, it's often referred to as the "Temple of Doom," a moniker that adds to its mysterious allure.
Upon arrival, the most striking feature of Cenote Calavera is its appearance. True to its name, the cenote has three openings on the surface, resembling the eyes and mouth of a skull. These openings not only provide natural light but also serve as unique entry points for the more daring visitors who choose to jump in.
Descending into the cenote, you'll find yourself in a large, open cavern with crystal-clear water. The play of light through the openings creates a mesmerizing dance of shadows and highlights, casting an almost ethereal glow on the underwater world. The water here is deep and refreshing, perfect for a leisurely swim or a snorkeling adventure.
Thanks to the depth of Cenote Calavera its a firm faviouritewith scuba divers. While diving or snorkeling you can observe the fascinating rock formations and the roots of trees hanging down from above, seeking water.
Facilities at Cenote Calavera are pretty basic, keeping with its more off-the-beaten-path vibe. However, there are changing areas and a few amenities for comfort. The entrance fee reflects this and is around 250 MXN (about 15 USD).
Because of its unique structure and deeper waters, Cenote Calavera is recommended for confident swimmers and those seeking a bit of adrenaline. It's less crowded than some of the other cenotes, offering a more peaceful experience.
Cenote Zacil-Ha
Cenote Zacil-Ha, in contrast, is a more family-friendly cenote located close to Tulum. Its name means "clear water" in the Mayan language, and it lives up to this name with its crystal-clear, shallow waters, making it perfect for families and less confident swimmers.
The cenote is more like a natural swimming pool, with beautifully turquoise, calm waters surrounded by lush greenery. It's the ideal place for a relaxed day out, where you can swim, float, or just bask in the sun.
One of the main attractions of Cenote Zacil-Ha is its zip line, which adds an element of fun and excitement. You can zip across the cenote and plunge into the refreshing water below.
For those who prefer a more laid-back experience, there are hammocks and loungers set up around the cenote, perfect for lounging and enjoying the serene environment. The shallow areas of the cenote are great for children to paddle and play in safely.
Cenote Zacil-Ha is well-equipped with amenities, including a restaurant, changing rooms, and showers. There's even a small hotel on-site, offering a unique overnight experience. The entrance fee is around 300 MXN (about 18 USD), making it an affordable and enjoyable outing.
Getting to Cenote Zacil-Ha is easy, with a short drive from Tulum. It's also accessible via bike if you are feeling energetic!
Need Somewhere to Stay in Tulum?

I wrote a guide to the Top Boutique Hotels in Tulum, Where to Stay in Tulum, and The Best Hostels in Tulum, Mexico.

Here are my picks:

Top Budget Pick: Chill Inn
Top Boutique Pick: Elements Tulum Boutique Hotel
Top Resort: Nah Uxibal Villa and Casitas
Top Luxury Pick: Nomade Tulum
Tulum Travel Guide Planning
🧳 Any recommendations on what I should pack for Tulum?
Yes! I have created a whole packing guide to Tulum which you can read here and you can also check out my packing list for Tulum on Amazon here.
🚗 Where can I book bus or private transportation while I'm in Tulum?
I strongly recommend using GottoGo. You can book almost all transport in the major Mexican tourist destinations through them online. They don't just cover buses they also cover shuttles, ferries, and private drivers.
🎫 Where can I buy tickets for museums, attractions, and tours in Tulum?
I recommend either Viator or GetYour Guide.
If you are traveling to Cancun you can use GoCity and save up to 55% of the initial cost of entrance tickets to various museums, tours, and attractions!
If you are traveling to Playa del Carmen then I recommend booking through my friend Vanessa at Turismo Channel. You can check out their tours by clicking here and using the following discount codes for the best prices clairecaroff (car rental), claire10off (for 10% off group tours), claireprivate (for a discount on private tours). You can also send her a WhatsApp message quoting the above codes to receive the discount.
👩‍⚕️ What is the best insurance to have while traveling?
I recommend using Heymondo for a great value policy. The app also offers you 24/7 Dr Chat. For Digital Nomads check out SafetyWing digital nomad insurance.
I have also written a blog post covering all my recommended travel insurance here
✈️ Any flight recommendations?
WayAWay offers you cheap flights with cashback. You can use this code CLAIRE22 to get 10% off. Otherwise Skyscanner or Expedia are my go-to flight searching platforms.
📱What do you use for internet connection while traveling?
I'm a big fan of personal WiFi devices and they have saved my ass so many times when traveling. I wrote a full review of the top travel WiFi devices you can read here. I personally use GlocalMe as I can either pop in a physical sim card or use their local carrier.
With regards to my phone connection, I use e-sims while traveling, so rather than having to swap out my regular sim card I can download the app and buy a virtual sim card. I recommend using eitherAirhub or Alosim. Both have great coverage of multiple countries and are very easy to use.
🛏️ What is the best platform to use for booking accommodation?
The 3 best platforms that I normally use are Booking.com, Hotels.com, and Expedia They offer great deals and multiple options. I always check all three to be sure of the best deals.
🛅 Do you have any luggage recommendations for traveling?
I do have a complete list of the best packing and luggage products that I recommend, you can check the list here. I'm currently traveling with this suitcase and this backpack.
PIN ME!