Looking for the best yoga tops for women? Then look no further, in this post, you will find the best yoga tops on the market reviewed.
As a yoga practitioner and teacher, I understand the importance of feeling comfortable, confident, and supported during my practice. One essential piece of yoga attire that I've always struggled a bit with is finding a great yoga top that stays put and looks cute!
Having a well-fitting and functional yoga top can really enhance your practice. The right yoga top allows unrestricted movement and provides breathability and style that aligns with your personal preferences.
In this blog post, I have curated a list of the ten best yoga tops for women, considering factors such as fabric quality, fit, design, and overall performance.
Whether you prefer a tank top, tee, or bralette, we've got you covered. So, let's dive in and explore the top-rated yoga tops that will elevate your practice and help you feel your best on and off the mat.
Get ready to find your new favorite yoga top and take your practice to new heights of comfort and style with my picks for the best yoga tops for women!
Did You Get Travel Insurance Yet?

The Insurance companies I recommend are Hey Mondo, Safety Wing, and Travel Insurance Master

Hey Mondo is great if you are looking for a great value flexible policy. They offer single-trip cover, annual multi-trip cover, and long-term travel cover. Safety Wing is great value, with monthly coverage starting at $39. It's super easy to use, and it just renews each month. I currently use them as they offer me free cover for my son as part of my policy. I also use Travel Insurance Master for short trips.

Read my full travel insurance post here, where I go into detail about all companies.
Factors to Consider When Choosing Yoga Tops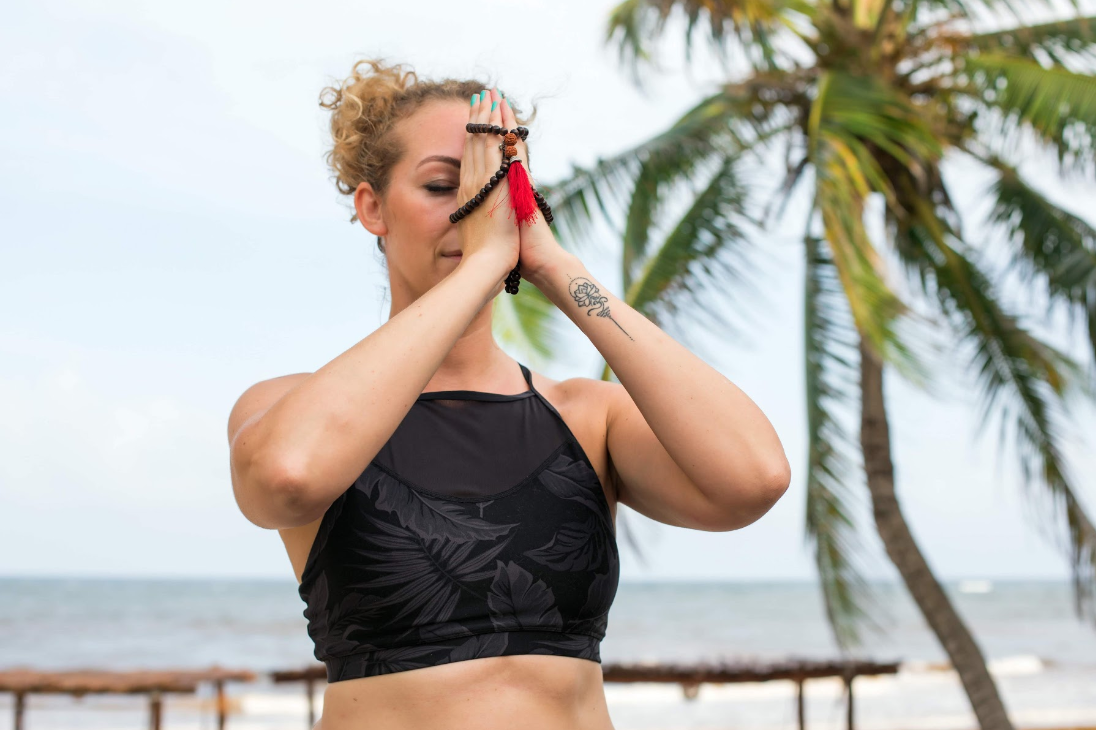 A. Fabric:
Not all yoga tops are created equal, so pay attention to the fabric and material to ensure you choose the right one for your practice. Many yoga tops for women are made with a blend of polyester, nylon, and spandex. This combination of fabrics is ideal for yoga practices because it guarantees stretch, comfort, and breathability. Moisture-wicking materials are crucial to avoiding excess sweat and feeling hot, sticky, and gross.
B. Fit:
Regarding the fit of your yoga top, find a shape and silhouette that works best for your body. Some yogis gravitate toward tight-fitting yoga tops that stay put and won't get in the way of movements and sequences. Others prefer loose, flowy clothing that offers plenty of airflow and breathability. Experiment with different tops for yoga to see which fit you're most comfortable in.
C. Waistband:
Another essential factor to consider when choosing a yoga top is the waistband and silhouette. Yoga tops can range in style from bralettes to cropped tanks and long, oversized shirts. This all comes down to personal preference and identifying what kind of top will further rather than hinder your yoga practice.
Quick Guide To The Best Yoga Tops for Women
Best Hot Yoga Tops

Lululemon Swiftly Tech Racerback
Beyond Yoga Spacedye Slim Racerback Tank
Nike Yoga Luxe Crop Tank
Sweaty Betty Power Workout Tank

Best Yoga Tops for Breathability

Athleta Tie-Back Tank
ALOSOFT FINESSE TEE
Fabletics Swift Tank
Spiritual Gangster Namaste Stripe Tank

Best Supportive Tops for Yoga

PrAna Elixir Bralette
How to Choose The Best Yoga Tops
Choosing the best yoga top is all about finding shirts with the right fit, design, and material to help you deepen your yoga practice. Think about what kind of yoga you practice most and the movements and sequences you tend to flow through. You'll want to find supportive, breathable, and, most importantly, comfortable tops.
If you sweat a lot during your yoga practice, opt for moisture-wicking tops that will help you stay cool with quick-drying fabric. Ask yourself whether you prefer slim-fitting tops with compression and support or loose pieces promoting airflow. Also, consider the actual shape and silhouette of the top to ensure you end up with a practical piece you feel comfortable and confident in. Of course, it's also important to find cute yoga tops that you feel confident in!
Table Comparison of Best Yoga Tops
Yoga Tops
Product
Material
Style
Price
Lululemon Swiftly Tech Racerback
59% Nylon, 38% Polyester, 3% X-STATIC Nylon
- Slim Fit
- Seamless
Click here
Beyond Yoga Spacedye Slim Racerback Tank

100% Spandex

- Slim Fit
- Spacedye Slim Racerback Cropped Tank Top
Click Here
Nike Yoga Luxe Crop Tank

88% Polyester, 12% Spandex

- Classic Fit
- Dri-fit One Luxe

Click Here
Sweaty Betty Power Workout Tank

62% Polyamide, 38% Elastane

- Fitted
- Power Zip Back Workout Tank to

Click Here
Fabletics Swift Tank

Recycled fabric

- Regular Fit
- Tank Top
Click Here
Spiritual Gangster Namaste Stripe Tank

100% Cotton

- Relaxed Fit
- Tank Top
Click Here
PrAna Elixir Bralette
42% Recycled Polyester 42% Polyester
16% Spandex

- Tank Top
Click Here
Athleta Tie-Back Tank
Polyester, lyocell & Spandex
- Shirt
- Top
Click Here
Alosoft Finesse Tee
87% Polyester, 13% Elastane
- Shirt
Click Here
Here Is My List Of The Best Yoga Tops for Women
The Lululemon Swiftly Tech Racerback is one of the top hot yoga tops for those who sweat a lot during their practice. This lightweight, sweat-wicking tank top offers a sleek design and superior moisture management for a comfortable experience. With minimal seams, lightweight fabric construction, and breathable design, this racerback can easily handle any yoga session.
More about the Top
100% Nylon
Machine Wash
Lululemon designed this anti-stink racerback with running (and sweating) in mind.
Lightweight fabric and seamless construction keep you moving freely.
Mesh venting encourages airflow and keeps you cool. Slim fit, hip length.
59% Nylon, 38% Polyester, 3% X-STATIC Nylon.
Pros
Odor-minimizing fabric
Hip-length coverage
Minimal seams
Perfect stretch
Cons
Slim fit might be uncomfortable for some.
With its soft, breathable fabric and adjustable tie-back, the Athleta Tie-Back Tank provides a flattering fit and allows for customizable airflow. The loose design of this tank top keeps you cool throughout your practice, while the modest, butt-covering length prevents annoying wardrobe malfunctions. With the Tank, you can easily flow from one move to the next.
More about the Top:
Material : Polyester, lyocell & Spandex
Style : Shirts & Tops
Pros:
Adjustable ties to customize your fit, long shape to cover your butt, breathable fabric.
Cons:
The tie-back feature can take some getting used to.
While many prefer tank tops for yoga, tees also make some of the best yoga tops for women. This relaxed-fit Alosoft Finesse Tee features a soft and stretchy fabric that moves with your body. It's perfect for layering or wearing on its own during yoga sessions. I love this short-sleeved tee's versatility, making it easy to transition from work or daily errands to the yoga mat.
More about the Top:
Ultra-soft fabric for cozy comfort
Stretchy fit & soft, brushed finish
Four-way stretch moves with you
Buttery soft & breathable with an airy feel
87% Polyester, 13% Elastane
Pros:
Classic silhouette, comfortable fabric, plenty of stretch.
Cons:
Sleeves can feel constricting in certain poses.
Quick Tip: Book Your Yoga Retreat ahead with BookYogaRetreats. There are online and offline options available.
Made from a buttery-soft and moisture-wicking fabric, the Beyond Yoga Spacedye Slim Racerback Tank offers a comfortable and flattering fit with a racerback design. This classic racerback top has a slim design that hugs your figure for ultimate freedom as you move between poses. The performance fabric works well at circulating air to keep you dry and cool, with the bonus of UPF 50+ protection for outdoor practices.
More about the Top:
100% Spandex
Made in the USA
Tumble dry
Slim fit hugs the body while still leaving room for movement.
Pros:
Built-in bra
UPF protection
Flattering on various body shapes.
Cons:
Slim racerback straps are not as supportive as other yoga tops.
This Nike Yoga Luxe Crop Tank is made from a smooth, stretchy fabric that feels luxurious against the skin, making it one of the best yoga tops for women. It offers a sleek design and moisture-wicking properties. Nike is one of the best athletic clothing companies, so you can trust this tank top will hold up against wear and tear and perform well. You can style the Nike hot yoga tops on their own or under a loose top, giving you extra versatility.
More about the Top:
88% Polyester, 12% Spandex
Machine Wash
Part of the Nike Luxe line, this top takes comfort to the next level with buttery-soft fabric that feels incredible.
The breathable design with Nike Dri-FIT technology moves sweat away from your body for quicker evaporation, helping you stay dry and cool.
Soft, smooth fabric with 4-way stretch helps you move without restrictions.
Pros:
Lightweight construction, good support, luxurious fabric feel.
Cons: Tight fit can feel restrictive.
Quick Tip: Check out my other Yoga posts all over the world here:

Asia:
Discover the 7 Best Yoga Teacher Training Programs in Thailand: A Comprehensive Guide
Get Your Zen On: Exploring the Best Yoga Retreats in Thailand
Yoga in Thailand | The Best Thailand Yoga Retreats Reviewed
The Insider's Guide to Yoga in Thailand
The Best 6 Places for an India Yoga Retreat
Bali Yoga Retreat | The Best Yoga Retreats In Bali Reviewed
Bali Yoga Training | The Best Bali Yoga Teacher Training

Europe:
Discover Serenity: Best Yoga Retreats in Ibiza to Reconnect with Yourself
Discover the Power Within Top 7 Life-Altering Yoga Retreats in Europe
The Best Places for a Yoga Retreat In The UK

America:
The Best Yoga Retreats In Mexico
A Guide to Yoga in Guatemala | Yoga Guatemala
Yoga Playa del Carmen
Yoga Retreats Colombia | The Best Colombia Yoga Retreats Reviewed
The Best Guatemala Yoga Retreat
The Best Costa Rica Yoga Retreats
What's Better? Online or In Person Yoga Teacher Training
How to do A Yoga Teacher Training While Traveling Full-Time

Tips & Packing Guide:

The Best Online Yoga Teacher Trainings (Including Pros and Cons of online yoga courses)
The Best Yoga Teacher Training Courses Worldwide
The Best Yoga Mats for Travel
The Best Yoga and Dance Bras Reviewed
Discover the Best Yoga Tops for Women

With its compressive fit and sweat-wicking fabric, the Sweaty Betty Power Workout Tank provides support and comfort during dynamic yoga movements. The material of this workout tank is impressively quick-drying, making it ideal for fast-paced, challenging yoga practices. This tank top features a unique high-neck design that adds stylish flair and is cropped at the perfect length to flatter your figure.
More about the Top:
62% Polyamide, 38% Elastane
Zipper closure
Wash at 40°C (104°F) on reduced spin. Do not bleach. Do not dry clean. See care label for additional information.
Fabric is sweat-wicking and quick-drying with 4-way stretch.
High neck with a half zip at the back.
Pros:
Impressive performance fabric and stylish design.
Cons:
The high neck may be uncomfortable for specific movements and sequences.

Quick Tip: Check out my other Yoga posts all over the world here:
Discover the 7 Best Yoga Teacher Training Programs in Thailand: A Comprehensive Guide
Discover Serenity: Best Yoga Retreats in Ibiza to Reconnect with Yourself
Discover the Power Within Top 7 Life-Altering Yoga Retreats in Europe
The lightweight and breathable Fabletics Swift Tank features a loose fit and a trendy cutout back, offering style and functionality during your yoga practice. You'll stay cool and dry throughout your training thanks to the open back that provides airflow and gives this tank a fashion-forward look. I'm a fan of the longer length on this tank top that lands just past the hips, giving plenty of coverage and freedom of movement.
More about the Top:
Recycled fabric
Pull On closure
Machine Wash
This super-soft tank with open back detail is made from recycled fabrics and will wick away moisture without feeling clingy in your next workout.
Made from recycled fabric!
Moisture-Wicking
Pros:
Breathability and fashionable design.
Cons:
No option to customize the size or fit of the back cutout.
Combining style and support, this PrAna Elixir Bralette offers a unique design with a strappy back and removable cups, providing comfort and versatility for your yoga sessions. You'll have all the support you need for your practice with this bralette's criss-cross back and adjustable straps. The padded cups offer the perfect coverage and security, while the moisture-wicking fabric ensures maximum comfort. PrAna makes a lot of cute yoga tops, and the Elixir Bralette is one of my favorites.
More about the Top:
42% Recycled Polyester / 42% Polyester / 16% Spandex
Imported
Pros:
Padded cups for plenty of support and eye-catching strappy back design.
Cons:
Not as much coverage as other yoga tops.
My last pick for the best yoga tops for women is the Spiritual Gangster Namaste Stripe Tank. With its relaxed fit and soft fabric, this Namaste Stripe Tank features a playful design and a positive message, adding a touch of joy to your yoga practice. Sweat in style with this casual tank top that combines function and fashion effortlessly. The tank itself has a classic, flattering design that compliments bodies of all shapes and sizes.
More about the Top:
100% Cotton
Machine Wash
A relaxed fit makes this tank well-suited for a yoga session or for casual everyday wear.
A retro-inspired "Namaste" graphic is printed across the chest.
Tank top has a round neckline and a slightly round hem to match.
50% cotton, 50% modal.
Pros:
Fun design that's easy to style on and off the mat.
Cons:
Limited support and fabric could be more moisture-wicking.
Quick Tip: View my full yoga retreat packing list essentials here.
Yoga Travel Guide Planning
🧘‍♀️ Where can I look for the best Yoga Retreats?
I always use BookYogaRetreats when planning my Yoga Retreats Journey. You can select by region and there are many options whether you want to do it online or not.
🧳 Any recommendations on what I should pack in my Yoga Retreats?
Yes! I have created an idea list of what you should pack when leaving for your Yoga Retreats. You can check the full list here
📚 What books would you recommend to someone who wants to learn more about Yoga?
There are so many books I can recommend for you who's just starting out or an advanced Yogi. I have the full list for you here.
🚗 Where can I book bus or private transportation while I'm traveling?
I strongly recommend using Bookaway. You can book almost all transport in the major tourist destinations through them online. They don't just cover buses they also cover shuttles, ferries, and private drivers.
👩‍⚕️ What is the best insurance to have while traveling?
I recommend using Heymondo for a great value policy. The app also offers you 24/7 Dr Chat. For Digital Nomads check out SafetyWing digital nomad insurance.
I have also written a blog post covering all my recommended travel insurance here
✈️ Any flight recommendations?
WayAWay offers you cheap flights with cashback. You can use this code CLAIRE22 to get 10% off. Otherwise Skyscanner or Expedia are my go-to flight searching platforms.
📱What do you use for internet connection while traveling?
I'm a big fan of personal WiFi devices and they have saved my ass so many times when traveling. I wrote a full review of the top travel WiFi devices you can read here. I personally use GlocalMe as I can either pop in a physical sim card or use their local carrier.
With regards to my phone connection, I use e-sims while traveling, so rather than having to swap out my regular sim card I can download the app and buy a virtual sim card. I recommend using eitherAirhub or Alosim. Both have great coverage of multiple countries and are very easy to use.
🛏️ What is the best platform to use for booking accommodation?
The 3 best platforms that I normally use are Booking.com, Hotels.com, and Expedia They offer great deals and multiple options. I always check all three to be sure of the best deals.
🛅 Do you have any luggage recommendations for traveling?
I do have a complete list of the best packing and luggage products that I recommend, you can check the list here. I'm currently traveling with this suitcase and this backpack.
Top 10 Tops for Yoga Conclusion
I hope this guide to the best yoga tops for women inspires you to add some new items to your yoga wardrobe collection. Yoga tops should help you feel supported and comfortable throughout your practice so you can focus on what matters.
With so many cute yoga tops, finding a piece that will flatter your figure, keep you cool and dry, and allow plenty of freedom to move from one sequence to the next is easy. With these comfortable and stylish yoga tops that stay put, you don't have to worry about awkward sweat stains or shirts that ride up and constrict your poses!
Pin for later