I made it to a year on the road!
Today it is officially 1 year since I got on a one-way flight to Guatemala. So, to celebrate her is my 2017 year in review. I would like to say that the whole year has been plain sailing, but that would be a lie, I have most definitely had my fair share of ups and downs. But it has been one of the most incredible, inspiring and life-changing years of my life. 
January
January for me really was a new beginning. Getting on the plane to Guatemala felt like a dream. As I flew over the volcanos to land at the airport I cried. Not for sadness, or even joy really, it felt like a release of emotion. I could finally start to breathe and live again after so long feeling like I was in the dark.
January was tough and I had to adjust quickly. I was living with an indigenous (Mayan) family high in the mountains in a place called San Pedro. My Spanish was nonexistent and I was trying to work 5 hours a day online as well as doing 5 hours a day of Spanish classes, plus adjust to life in a strange country living with people who I struggled to communicate with. It was hard!
Lucky for me I met Martina and we spent many evenings drinking Mojitos and pondering life as a nomad (thank you Martina, I couldn't have got through those few weeks without our moaning sessions). On our last day, we woke up at 3 am and hiked Indians Nose to watch the sunrise over Lake Atitlan. It really was the most magical way to end my first month in Guatemala.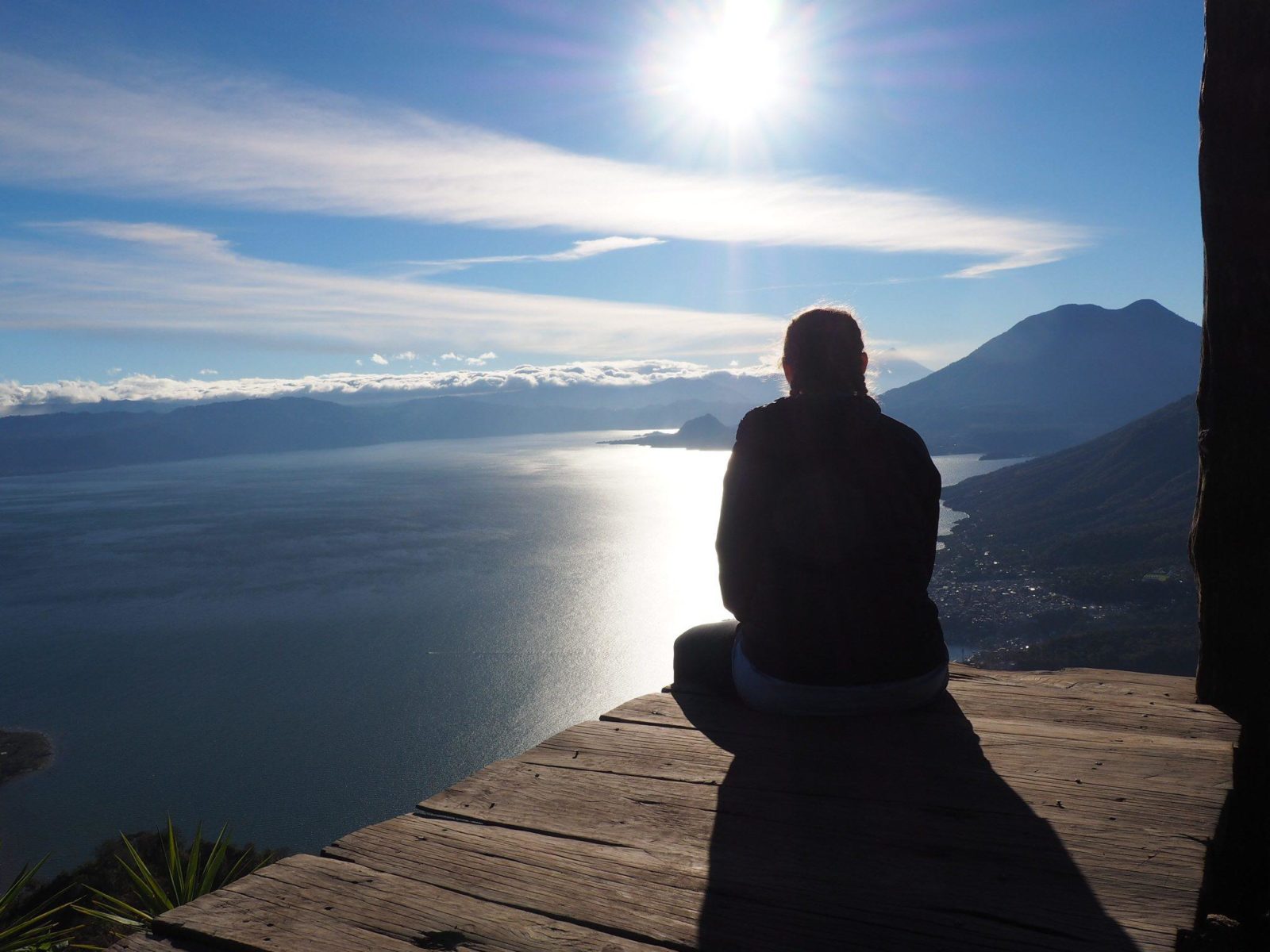 February and March
February brought me to Antigua. I expected to only stay for 3 weeks and then to move north towards Tikal… Yea that didn't happen! Although my first week sucked a bit. I was doing a pretty crappy Workaway, living in a nasty house (with 2 lovely people) and I got really sick. It got a whole lot better when I found an incredible Yogi called Lauren who then introduced me to her friend…but more of Lauren and Irene later!
In my second week, I moved to a different Workaway over at OX Expeditions. I clicked instantly with the other volunteers there that I was sharing a room with and my 2 weeks stay turned into a 2-month stay (it ended up being a lot longer actually!). I had so much fun living with these guys! We drank beers, got fake tattoos, cooked dinner together, made and ate a lot of Guacamole and we laughed a lot.
As well as volunteering for OX helping with their social media I got to hike the volcanos with their pro-guides. I mean come of how many people can say they got to stand on an active volcano while it was erupting?!
and I even got to help on one trip with these adorable kids!
One of the best parts for me of these two months was the AMAZING people I met. Not just the OX team but also some of the super cool clients who came and stayed at Base Camp like Bryan and Julia who I sat up all night with drinking some very strange vodka drink with and eating Guac… You guys rocked!
During this time I did manage to do a few trips including a visit to El Paradon with fellow Volunteer BJ.
And a trip over the border to Honduras with my Irish/ Tiwaneese twin sister Lyla (AKA Lilly).
April
Leaving Antigua was super sad for me. I was the first of our little gang to leave and I really didn't want to go. I was happy to be traveling but I felt so happy in my little Antigua bubble! I was especially sad to leave these two. But I had plans to return and settle in Antigua for the summer with Brandon, so it was all good!
On leaving Antigua I went North to meet Lyla and Maria, who I worked with in Antigua, in Semuc Champey. After 2 nights and an incredible tour of Semuc Maria and I continued north to Tikal.
Tikal was a bit of a nightmare! I had lost my bank card in Antigua and thankfully some of my friends lent me some money. But Tikal turned out to be expensive so I had to get some money wired from family. Getting money out of a Guatemalan bank is a NIGHTMARE. We also messed up going to Tikal, which you can read all about here. Anyway, after a few sleepless nights and the incredible heat of the jungle, I was ready to leave!
Next stop Mexico!
I got a writing assignment to write about the ruins close to Tulum so off I went on a long coach ride across Guatemala, Belize and up into Mexico. I met some guys from the UK and we took a taxi from Chetumal the rest of the way to Tulum which saved a 3rd long ass bus ride! Unfortunately, my hostel had no sign! And so my first night in Mexico was spent wandering up and down a rather dark and sinister looking street in Tulum at 11 pm in the evening. After 1 hour I eventually found it, alive and with all of my valuables. So far so good!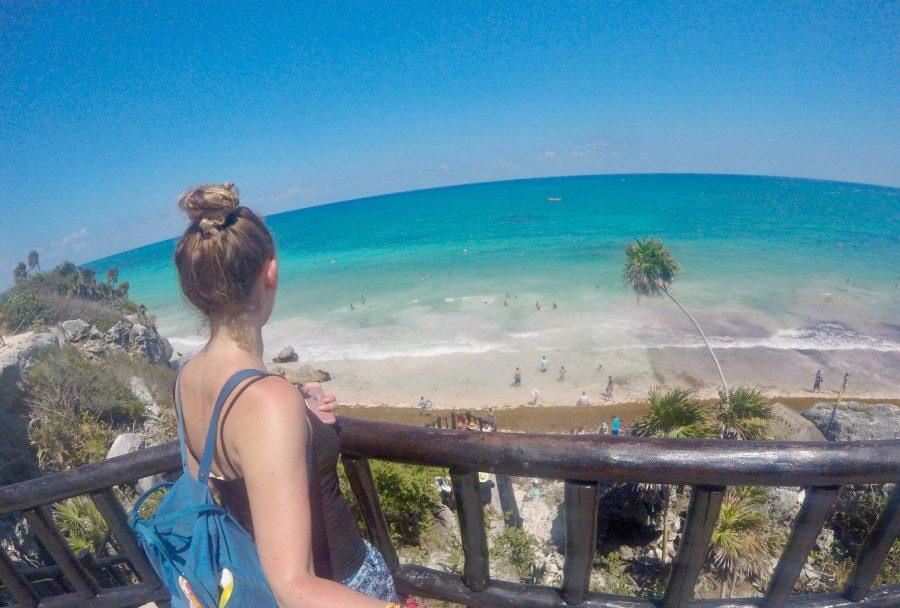 I LOVED Tulum. I spent 3 days zipping around on a push bike, swimming in the sea, sunbathing and eating Tacos on the beach. Pure bliss!
I also hitchhiked 'accidentally' for the first time. This trip to Tulum completely changed my view on Mexico. It was clean, I felt safe and the people were incredibly warm and friendly. The only sad part of my trip was how short it was!
After leaving Mexico I went to the USA to see my Mum briefly and then back to the UK for a flying visit to see family and celebrate my friend Fay's 30th Birthday in Manchester!
May
I had booked a flight to Costa Rica before I arrived in Guatemala as I had planned on spending 3 months there and in Nicaragua. Before I left Guatemala I has already booked a flight 3 days after I landed in Costa Rica back to Guatemala! So with only 3 days to explore I took a trip to La Fortuna. Where I staying the exclusive Lost Iguana Resort.
I didn't want to leave! Waking up to this view every morning was something else.
I spent the day at Mystico park horse riding and rappelling…Incredible!
By the time I arrived back in Guatemala my friend Brandon had already decided Antigua and the life of a Volcano Guide wasn't for him. So after a brief reunion, he peddled off into the distance leaving me in Antigua a little bit alone.
I moved into a shared house with some really nice girls and spent most of May working really hard on my blog and learning to edit videos!
June
June was a life-changing month after reconnecting with Lauren (who was away) and Irene who had just returned from India. I began 121 Ashtanga classes with Irene in exchange for being her personal photographer! What a dream, getting to photograph one of the most incredible Yogis and getting private tuition from her.
Over this month I learned so much more than Asana. I learned how to live as a Yogi. Irene also helped me to decide to finally do my Yoga Teacher training. So impulsively one evening I spent my last $500 on the deposit for an Ayurveda Yoga Teacher Training in Mexico! It was a big financial risk but I have no regrets as I knew it was the right thing to do.
During this month I also experienced my first of 3 big earthquakes and thought I was going to die after getting stunk 3 times by a scorpion. It was quite the month! Lucky for me I survived it all, although I think I'm still a little traumatized by the earthquake!
July
I spent most of July living in a little bamboo house on the side of a mountain in a remote indigenous lakeside village in Lake Atitlan. I was there dog sitting and creating my online course "Let's Get Social".
It was a blissful time. Just me, the dogs, a cat and some chickens…
Oh, and "Lilly" came to visit!
It was time for me to once again leave Guatemala! This time I flew back to the USA to see my mum get married.
Then we all went on Honeymoon to Hawaii!
August
I spent August in Ajijic Mexic for my Ayurveda Yoga Teacher Training.
I met some of the most incredible, open, generous, beautiful souls over the month and it was a truly transformative experience.
I also met my second BFF Mia! We had some great adventures together and I am so thankful I got to live with her for that month. She was a real gift and I still miss hanging out with her.
Our last day, after weeks of no drinking and meditation, we drank tequila and got tatoos..while in Mexico and all that!
You know what they say though… "Friends that drink Tequila and get tattoos together stay together." haha. Until next time mi hermana!
September
Back to Guatemala…again! Like I said I fell in love with Guatemala. I knew as soon as Lauren and Irene told me they were opening up a Yoga Studio in Antigua I wanted to be there. So as soon as my teacher training was done I hopped on a flight back to Guatemala to begin my month-long internship with them at Shakti Shala.
What a gift it was for me to share this special time with them. I learned so much, met some incredible people and got to help 2 people who had done so much for me and who I love dearly. I will always remember those weeks so fondly and I cried so much those last few days knowing I had to leave. Just writing this I'm filling up again. Oh how I wish I could have stayed, but I knew I needed to go, it was the right thing to do. But I also know I will be back one day.
To everyone who I met during this time at Shakti Shala you were all a blessing to me and I think of this time often. Thank you for being a part of my journey.
As well as volunteering at Shakti Shala I was living back at OX Basecamp and volunteering with them. OX had also become a family to me and I loved living there. What made this extra special was getting to share a room with another volunteer Polly. My 3rd BFF of the year. We had so much fun together and I miss her so much. I couldn't even say goodbye to her as I knew I would either start sobbing or not leave!
More Tattoos
But before we parted I got my second tattoo of the trip and Polly got her first ever tattoo! Which means like Mia, Polly and I are official friends for life haha! 
This one was special as it is Shakti in Sanskript which means female power, it is also the name of the studio I was working in here. So much of this whole trip has been about meeting so many incredible, inspiring and powerful women. This month in Guatemala and the one before in Mexico highlighted it even more. I feel like I have taken so much inspiration from each one of them. I know they have helped me to really start believing in myself and not being afraid of being powerful.  
I left Guatemala with such a sadness having to say goodbye to everyone (like for real, I cried so much!), but it was time for my next adventure…Colombia!
October and November
Oh, Bogota… This is going to be short. I didn't have a great time in Bogota. There are many reasons, many that have nothing to do with Bogota, so here are some bullet points to keep this quick:
I missed Guatemala

The rain

It was cold

I hated where I was living and felt really unsafe

Living on my own sucked

I missed Brandon, Mia, and Polly and messaged them a lot

My phone was stolen (so no more pestering my friends on WhatsApp)

I had no money due to some issues being paid from a new freelance client

My job sucked, I was teaching English there and traveling all over the city for hardly any money. My boss was the WORST and then he didn't pay me!
But it wasn't all bad!
Working with ConCurpos was incredible and the people I met through them were all amazing. It was what kept me going! Getting to choreograph again on this beautiful group of people was so special for me and I felt truly privileged to have the piece we created together presented at the National Museum of Colombia!
Then I discovered the world beyond the city and got to do some amazing day trips. Just outside Bogota is like a different world.
Before I left I also had a lot of fun doing lots of tours!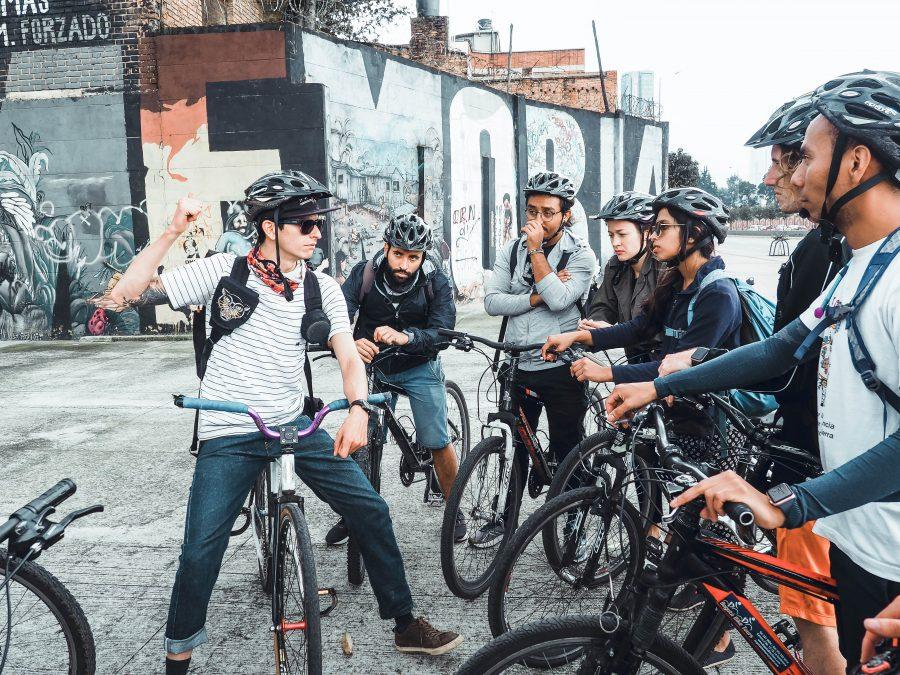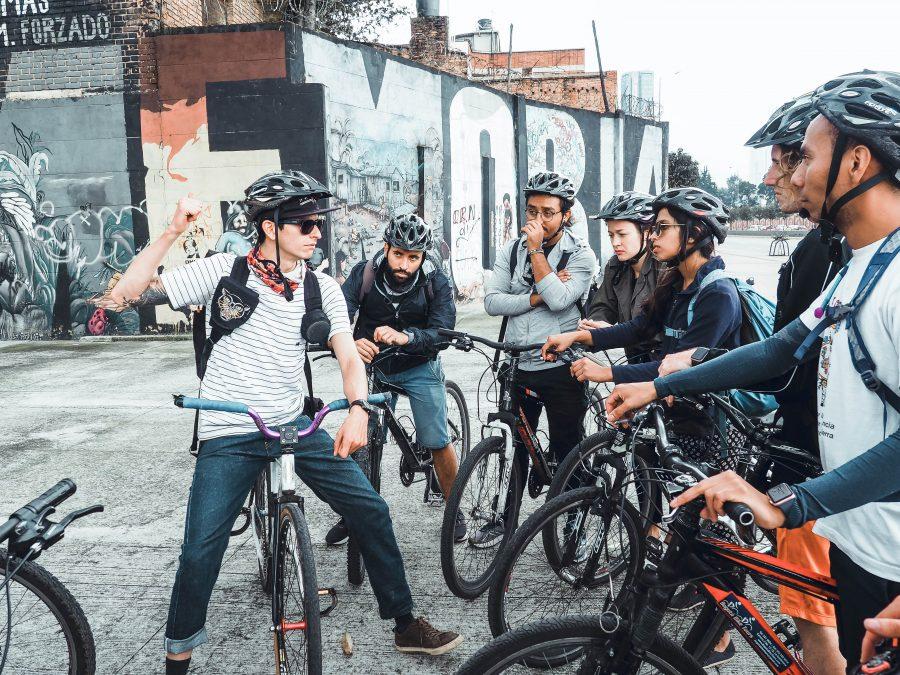 While I was in Bogota I started teaching online for DaDaABC which I LOVE. Plus it has brought me in a nice bit of regular money without restricting my travel.
So after just over 2 months of feeling pretty low, I decided Bogota just wasn't for me and I bought a plane ticket to Medellin… sadly I missed the flight haha so I had to take the bus instead!
December
Hello Medellin! Hello Sunshine! And hello super cool new housemates!
After a day of pounding the streets, I found the perfect place to live with the best roomies. I'm still settling in, I was only there for 2 weeks before leaving for the Caribbean coast, but so far I LOVE it. I feel settled and happy and I think I will stay here for at least 6 months and use this as a base to explore Colombia.
I left Medellin with one of my housemates Fannie, my small backpack and my tent mid-December and I saw the year out exploring Colombia's Carribean coast.
The Carribean
What a few weeks. People told me how diverse Colombia was, but you really do have to see it to believe it sometimes. The coast from Cartagena to Punta Gallinas (the most Northern point of Colombia) is just over 400 miles (651km). The diversity in those 400 miles is mind blowing! In 3 weeks I visited Caribbean Islands, remote beaches, The Siera Nevada mountains, waterfalls in the middle of the jungle and the desert.
I hiked…
Camped in the jungle…
I swam…
Floated down a river in the Siera Nevada down to the sea…
Relaxed…
Covered my face in chocolate…
Found a dog to pretend was mine for a few days…
January (so far)
We are only 11 days into 2018 and it's already been quite eventful! I'll be writing all about my desert tour with Magic Tour Colombia very soon and I'm just putting the finishing touches on the video! But here are a few pictures to whet your appetite!
What's to come in 2018?
Sadly due to a visa mishap, my Colombian adventure may be shorter than I had hoped. But that just means I have more to pack in the next 2 months! I've been busy planning and my February and March should look something like this:
Lots of adventures in Medellin and the surrounding area. Including paragliding!
Back to Spanish School in Medellin (yes again)
Ciudad Perdida (Lost City Trek) with Magic Tour Colombia
Scuba Diving in Taganga
Trip to Colombia's Coffee Region
Salsa Dancing in Cali
Life after Colombia
I have decided to head back to the USA for a few months to see family and explore New York State with my friend Pedal Nomad (Brandon). Then I'll be traveling south again late May/ June. I'm not sure where I'll be starting but I'm planning to be traveling to these countries in 2018:
Mexico (again)
Cuba
Aruba
Equador
Peru
Bolivia
Argentina
I know 2018 is going to be a game changer and I can't wait to take you all with me! What are your plans for 2018? Leave me a message in the comments below I'd love to hear from you 🙂
Love and light
Claire xx